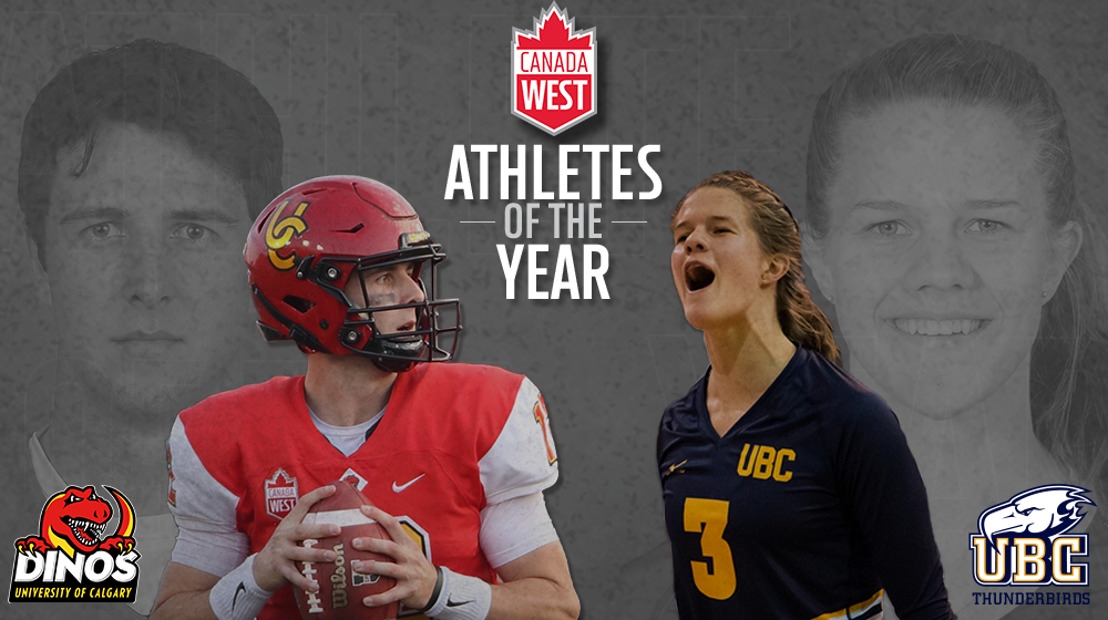 Sinagra, Van Ryk named CW Athletes of the Year
Pair move forward as conference nominees for national honours
EDMONTON - Calgary Dinos quarterback Adam Sinagra and UBC Thunderbirds volleyball star Kiera Van Ryk are the 2018-19 Canada West Athletes of the year, as announced Tuesday.
The duo now move forward as the conference nominees for the U SPORTS Lieutenant Governor Athletic Awards, which will be awarded to the nation's top male and female student-athletes Thursday, May 2 in Calgary.
Sinagra and Van Ryk were selected by Canada West's 17 members, and will be vying for the national awards against nominees from Atlantic University Sport (AUS), Réseau du sport étudiant du Québec (RSEQ), and Ontario University Athletics (OUA).
The national awards are celebrating their 27th anniversary this season, and were rebranded as the Lieutenant Governor Athletic Awards to acknowledge the continued support of His Honour Doug Mitchell and Her Honour, the Honourable Lois Mitchell, Lieutenant Governor of Alberta.
Sinagra beat out Alberta's Austin Cole (track & field), and UBC's Markus Thormeyer (swimming) for the honour. Cole and Thormeyer were announced as finalists for the conference honour last week.
On the women's side, Van Ryk edged out Trinity Western's Seina Kashima (soccer), and Alberta's Alex Poznikoff (ice hockey), who were the other conference finalists.
For more information on the conference's Athlete of the Year finalists, click here.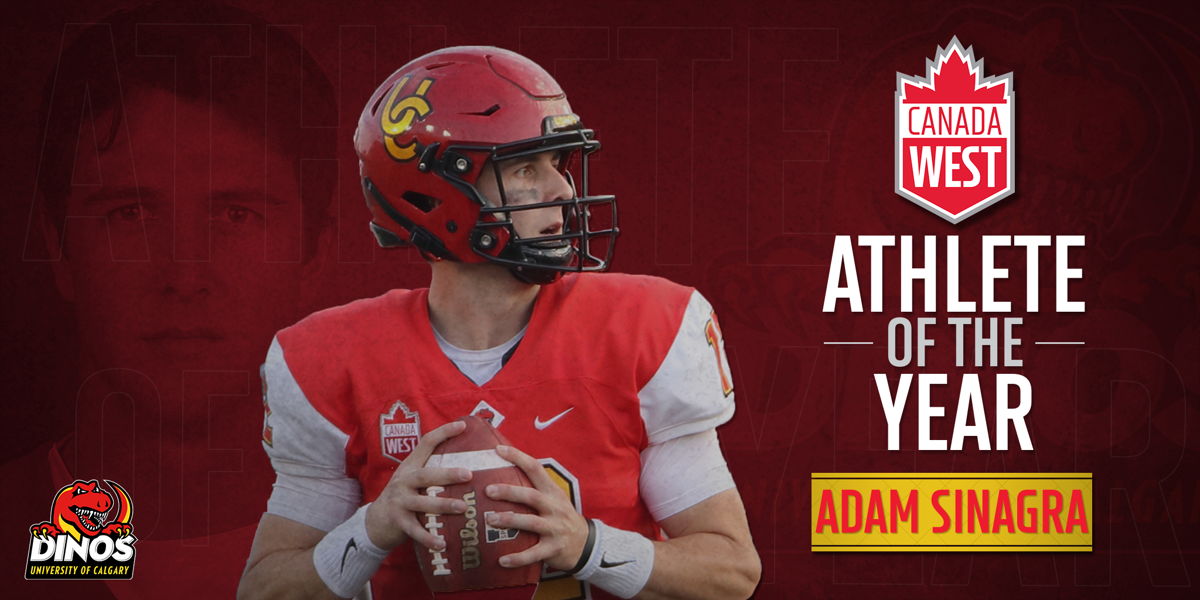 CW Male Athlete of the Year: Adam Sinagra

University of Calgary

Sport: Football

Year of Eligibility: 4th

Academic Program: Economics

Hometown: Pointe Claire, Que.


After learning from CFL greats Dave Dickenson and Bo Levi Mitchell during his time in Calgary Stampeders camp las spring, Sinagra, a fourth-year arts student from Pointe Claire, Que., proceeded to have one of the best seasons in U SPORTS football history.

His 3,233 passing yards set a new U SPORTS record as he led the Dinos to a perfect 8-0 season and the most potent offence in the nation, averaging 570.9 yards per game. Sinagra ranked second in the nation in passing touchdowns this season with 23 and led the conference with a passer rating of 126.

Training under the tutelage of the likes of former Hec Crighton-winning quarterbacks Erik Glavic (2007) and Andrew Buckley (2014 and 2015) – who are now coaching with the Dinos – Sinagra has now joined his mentors as a Hec Crighton winner, marking the fifth consecutive season a CW player has taken home Canadian university's biggest individual prize.

The 2018 season was Adam's second full campaign as the Dinos' starter, though he did see action in relief in the 2016 season, earning Hardy Cup MVP honours that year as the Dinos advanced to the Vanier Cup. He joined the Dinos after two seasons of CEGEP football at John Abbott College.

Adam's confidence level and his leadership have really emerged this season. It's something we didn't see a lot of in his first two years where he was more of a quiet leader. Now, he says the right things at the right time and shares the information with his receivers and line," said Dinos head coach Wayne Harris Jr. "He learned what it's like to prepare as a professional – the way he watches film, makes notes in meetings on our systems and our opponents has significantly changed. Canada West has its share of fast guys, but it's nothing like the speed of the CFL and that experience really slowed things down for him and has helped with those reads and adjustments. Everything he has learned has helped him be a better quarterback.

"This nomination is truly humbling experience and a great honour," said Sinagra. "I have been surrounded by outstanding people who have afforded me the opportunity to learn and develop, without whom this never would have been possible.

"It has taught me the importance of; work ethic, resilience, accountability, time management, and leadership. It has provided me an opportunity to improve myself with a real-world education, while playing the sport I love.  The success one reaches in school or sports doesn't come easy, and there is a lot to say about how someone handles failure. I think being able manage the highs and lows and learn from them is the greatest teacher you can have, and that I believe is where a strong character is formed."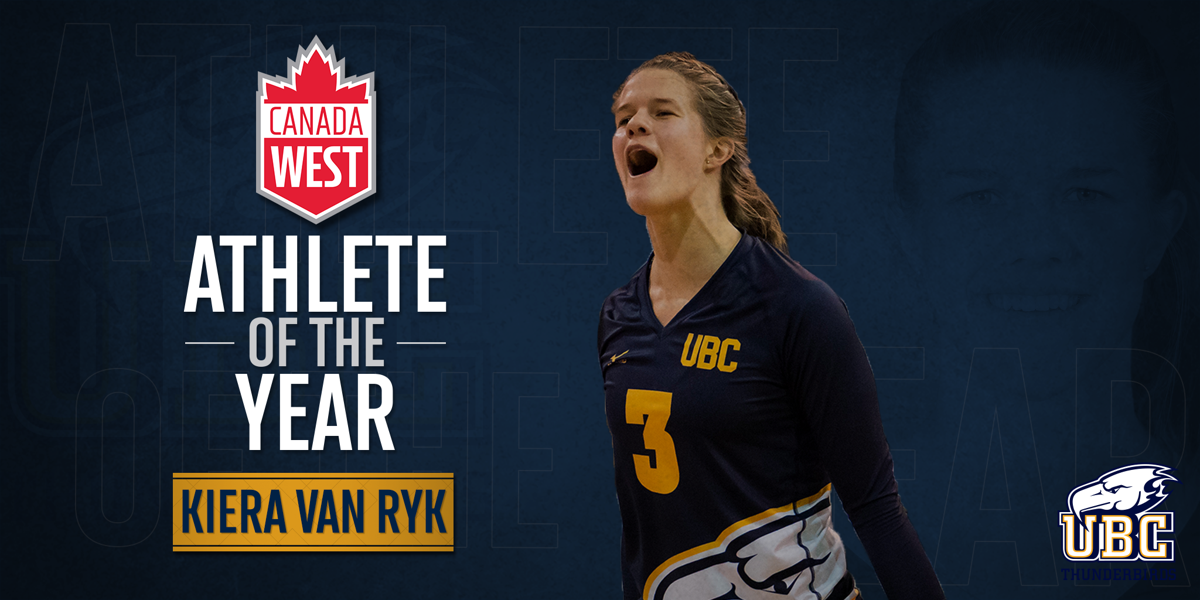 CW Female Athlete of the Year: Kiera Van Ryk

University of British Columbia

Sport: Volleyball

Year of Eligibility: 2

Academic Program: Kinesiology

Hometown: Surrey, B.C.

Kiera Van Ryk joins an impressive list of UBC Thunderbirds who have earned U SPORTS Female Athlete of the Year nominations.

The volleyball player from Surrey, B.C., is the ninth Thunderbird to represent Canada West and compete for U SPORTS Female Athlete of the Year honours in 11 seasons.

She hopes to add her name to UBC's list of winners, which includes swimmer Annamay Pierse (2009), and volleyball standouts Liz Cordonier (2010) and Shanice Marcelle, a two-time nominee who triumphed in 2013.  

In just her second year of university volleyball, Van Ryk reached U SPORTS supremacy individually and with her team. She led her Thunderbirds squad, seeded eighth at the national tournament, to an unprecedented championship. UBC beat top-ranked Trinity Western and No. 4 Dalhousie to reach the final against the sixth-seeded defending titlists Ryerson. The Thunderbirds came back from two sets down to claim the school's record 12th U SPORTS banner. Van Ryk had 24 kills, three aces and 13 digs, all team highs, in the final.

She was named the tournament's Most Valuable Player, after averaging 5.07 kills and 5.7 points per set in three matches. The championship MVP honour was her third major individual award of the 2018-19 season.

After an outstanding regular season in which she topped the entire country in kills (398), kills per set (4.52), points (489), points per set (5.6), service aces (68) and aces per set (0.77), Van Ryk was named the Canada West MVP and the Mary Lyons Award winner as the U SPORTS Player of the Year.

She became the first player to win the Mary Lyons Award in her second season of eligibility in 16 years.

Van Ryk's 0.77 service aces per set established a Canada West record, while kills, kills per set, points, points per set, service aces, and aces per set statistics were all UBC records.

Last season, the UBC School of Kinesiology student won the Canada West and U SPORTS Rookie of the Year awards, while earning a place on the second All-Canadian team.

Then last summer, she played with Canada's senior national team, earning best server honours at the XVII NORCECA Pan American Cup, leading the squad to a bronze medal - its second-ever podium finish at the event. Van Ryk then appeared at the FIVB Volleyball Women's World Championship in Japan.

"For her to accomplish what she has as a second-year player is so impressive," remarks UBC head coach Doug Reimer. "Her high-end is incredible and I've been impressed with her development over the season in terms of her consistency of play. Beyond her velocity and skill in attacking and serving, she works so hard and contributes so much defensively, and in her passing as well. I'm very happy for Kiera, without question she's a very impressive player and has carried a heavy load for us this season."

"Being a part of sports my whole life has taught me many life lessons and shaped me into the woman I am today," reflects Van Ryk. "A key lesson I have learned is the value in embracing struggle and adversity, and learning how to overcome these trials. Through athletics I have learned the importance of teamwork. Teamwork comes with so many different pieces of the puzzle and teaches many life-long traits. Some of which are responsibility, leadership, perseverance, dedication and resilience.

"An aspiration for my future is to be a part of the Canadian Women's Volleyball National Team and help lead the team to the Olympics. I also aspire to encourage young athletes to striving for excellence in everything they do. If I was to win the Athlete of the Year award it would be a testament to a collective effort of all my coaches, teammates, friends and family who have pushed me to be the athlete and person I am today."