O'Connor headlines CW players selected in CFL Draft
UBC quarterback one of 18 conference players drafted
3 May 2019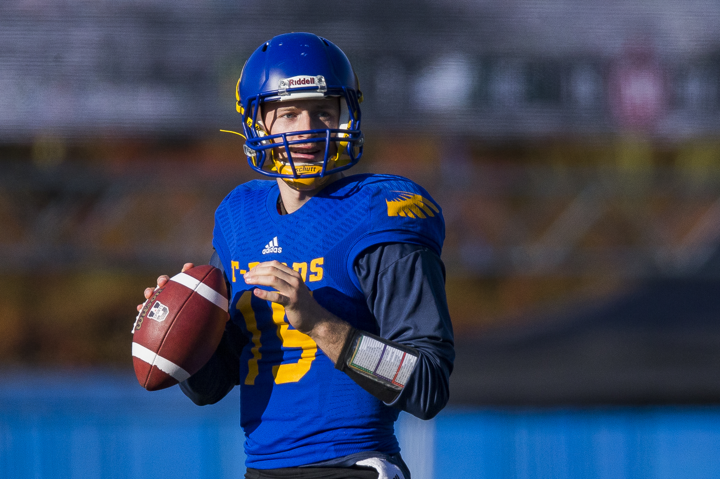 EDMONTON – UBC quarterback Michael O'Connor's journey to pro football took another step forward Thursday night, as the newly minted Toronto Argonaut was the first Canada West player taken in the Canadian Football League Draft.
A total of 18 CW players were selected, marking the second highest total for the conference in an eight-round draft, behind only the 2017 edition.
O'Connor, who has spent the last four seasons at UBC, went 20th overall to the Argos, becoming the second highest quarterback ever taken in the CFL Draft. Jesse Palmer is the only Canadian QB to have gone higher, as he was selected 15th overall by the Montreal Alouettes in 2001.
O'Connor led UBC to the Hardy Cup and Vanier Cup as a rookie in 2015, and was ranked 17th in the final CFL Scouting Bureau rankings released last month. He was ranked seventh in the CW CFL Prospect Rankings, which were selected by the conference's six head coaches.
O'Connor started a string of UBC selections, as teammates Sheriden Lawley (DL) went 24th overall to the Hamilton Tiger-Cats, before Connor Griffiths (DL) was selected 25th overall by the Winnipeg Blue Bombers.
Along with UBC's third round trio, Manitoba Bison Zack Williams (OL) was taken 28th overall by the defending Grey Cup champion Calgary Stampeders. Williams was the top ranked CW player in the annual CW Prospect Rankings, after an outstanding season with the Herd.
In terms of CW team representation, the Bisons led the way with a total of seven players selected, including running back Jamel Lyles, who capped off the CW content in the Draft when he went 69th to the BC Lions.
WATCH TOMORROW'S CFL STARS THIS SEASON
The 2019 Canada West season opens Friday, August 30, as future CFLers begin the road to the Hardy Cup.
CanadaWest.TV is the only place to watch all 27 CW games this fall, with passes going on sale in June, with early-bird pricing in effect until the start of the season.
CW PLAYERS SELECTED IN THE 2019 CFL DRAFT (18)
Position /Name (overall draft position) / University / CFL team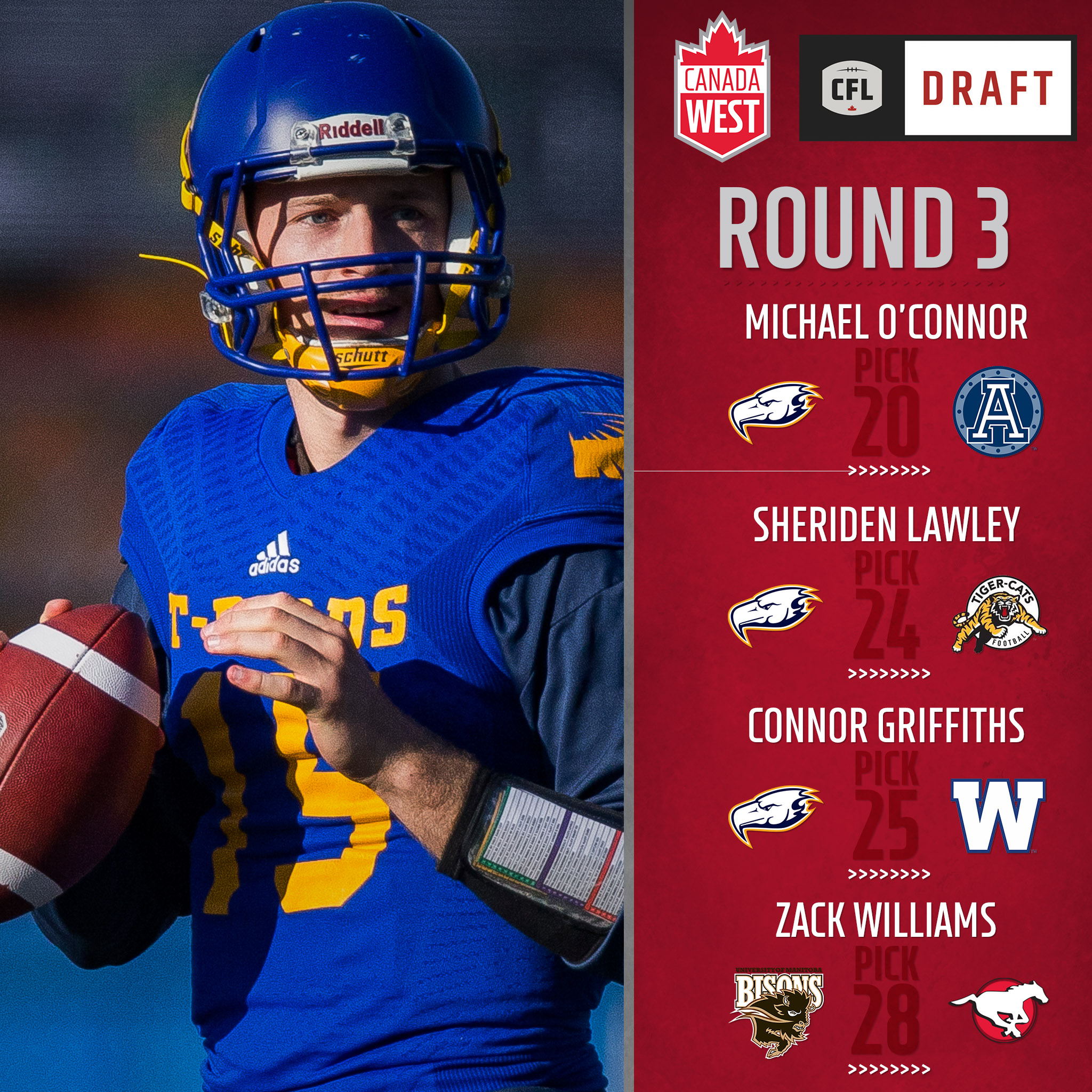 ROUND 3
QB / Michael O'Connor (20) / UBC / Toronto Argonauts
DL / Sheriden Lawley (24) / UBC / Hamilton Tiger-Cats
DL / Connor Griffiths (25) / UBC / Winnipeg Blue Bombers
OL / Zack Williams (28) / Manitoba / Calgary Stampeders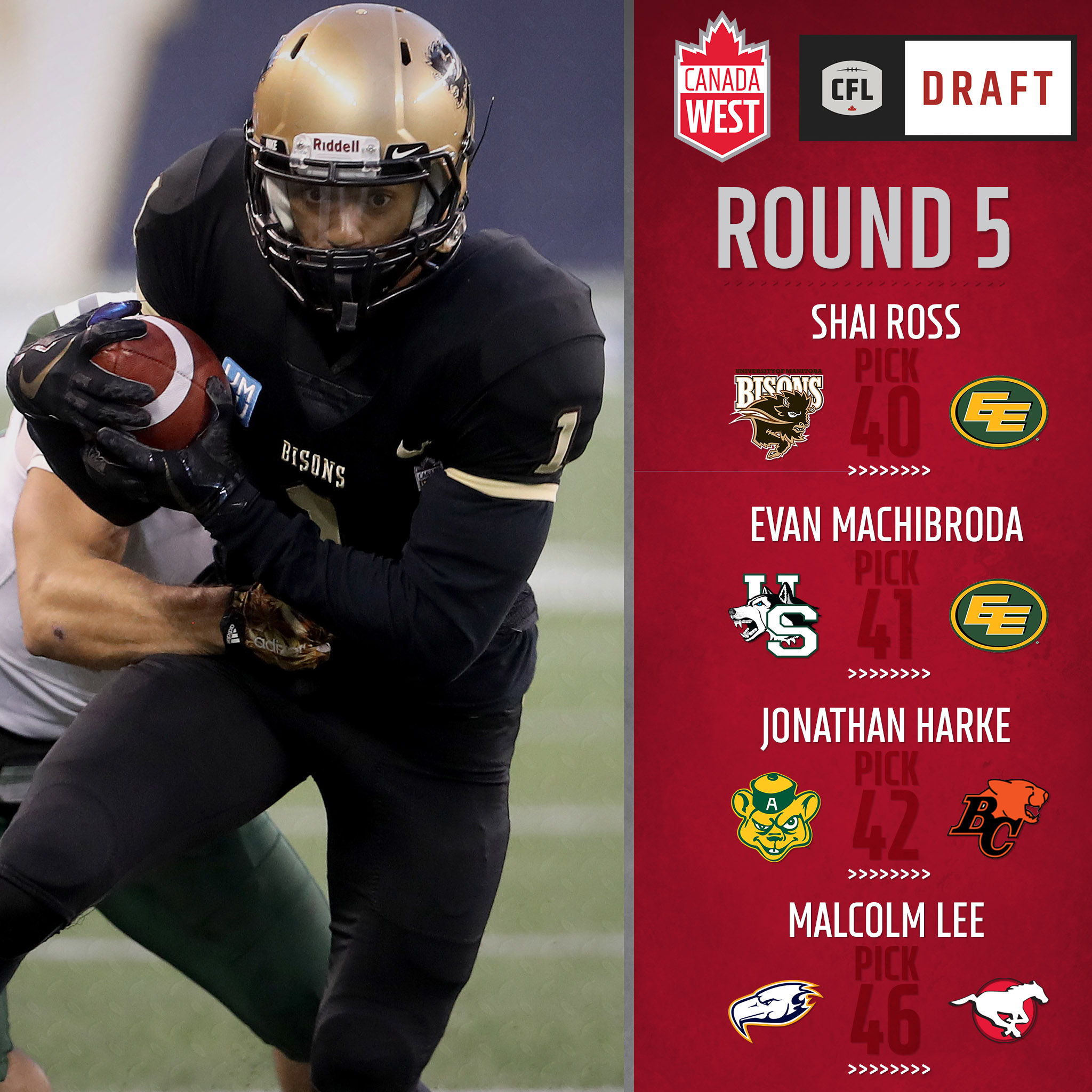 ROUND 5
WR / Shai Ross (40) / Manitoba / Edmonton Eskimos
DL / Evan Machibroda (41) / Saskatchewan / Edmonton Eskimos
OL / Jonathan Harke (42) / Alberta / BC Lions
DB / Malcolm Lee (46) / UBC / Calgary Stampeders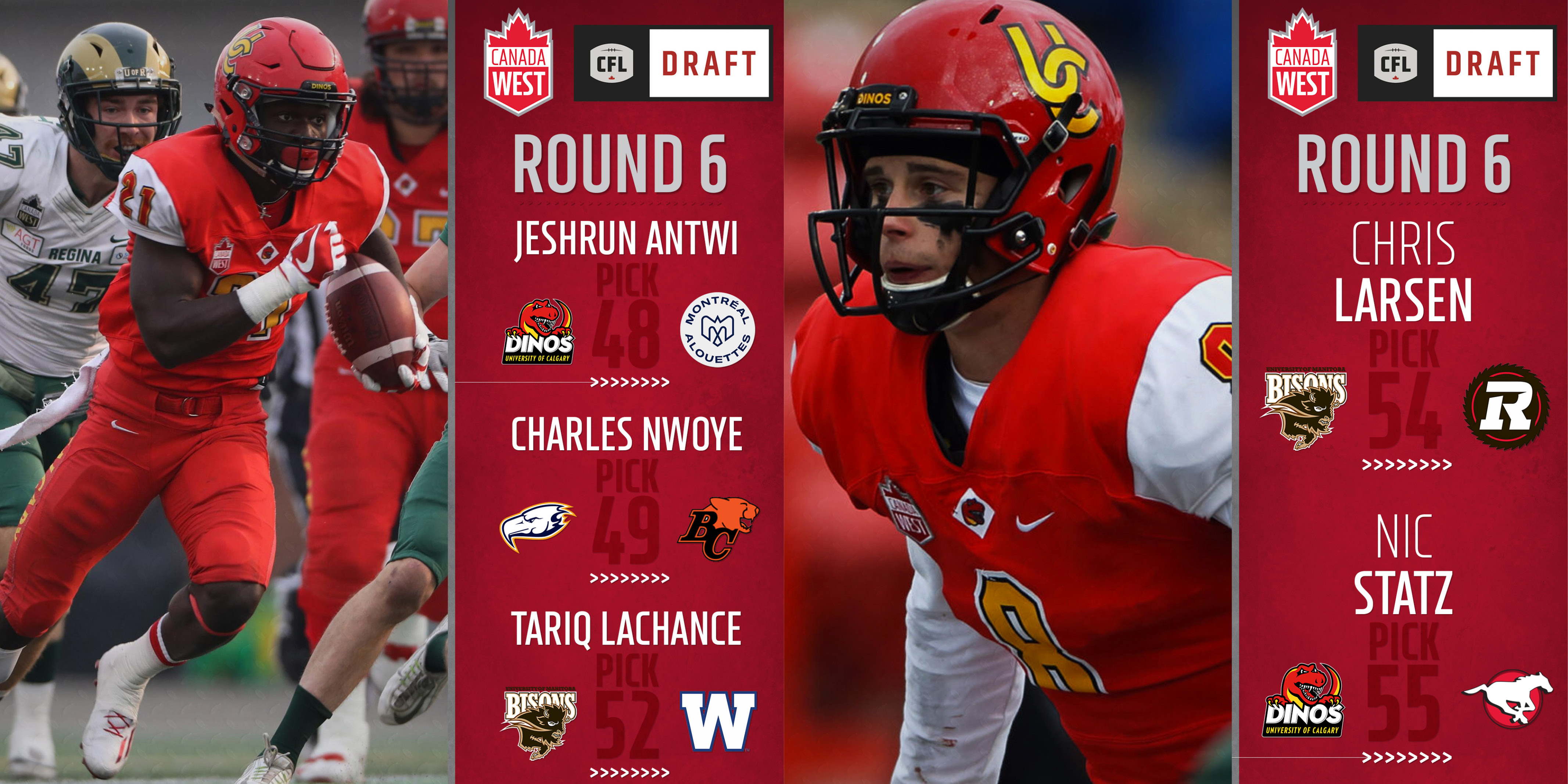 ROUND 6
RB / Jeshrun Antwi (48) / Calgary / Montreal Alouettes
DE / Charles Nwoye (49) / UBC / BC Lions
DL / Tariq Lachance (52) / Manitoba / Winnipeg Blue Bombers
DL / Chris Larsen (54) / Manitoba / Ottawa REDBLACKS
DB / Nicholas Statz (55) / Calgary / Calgary Stampeders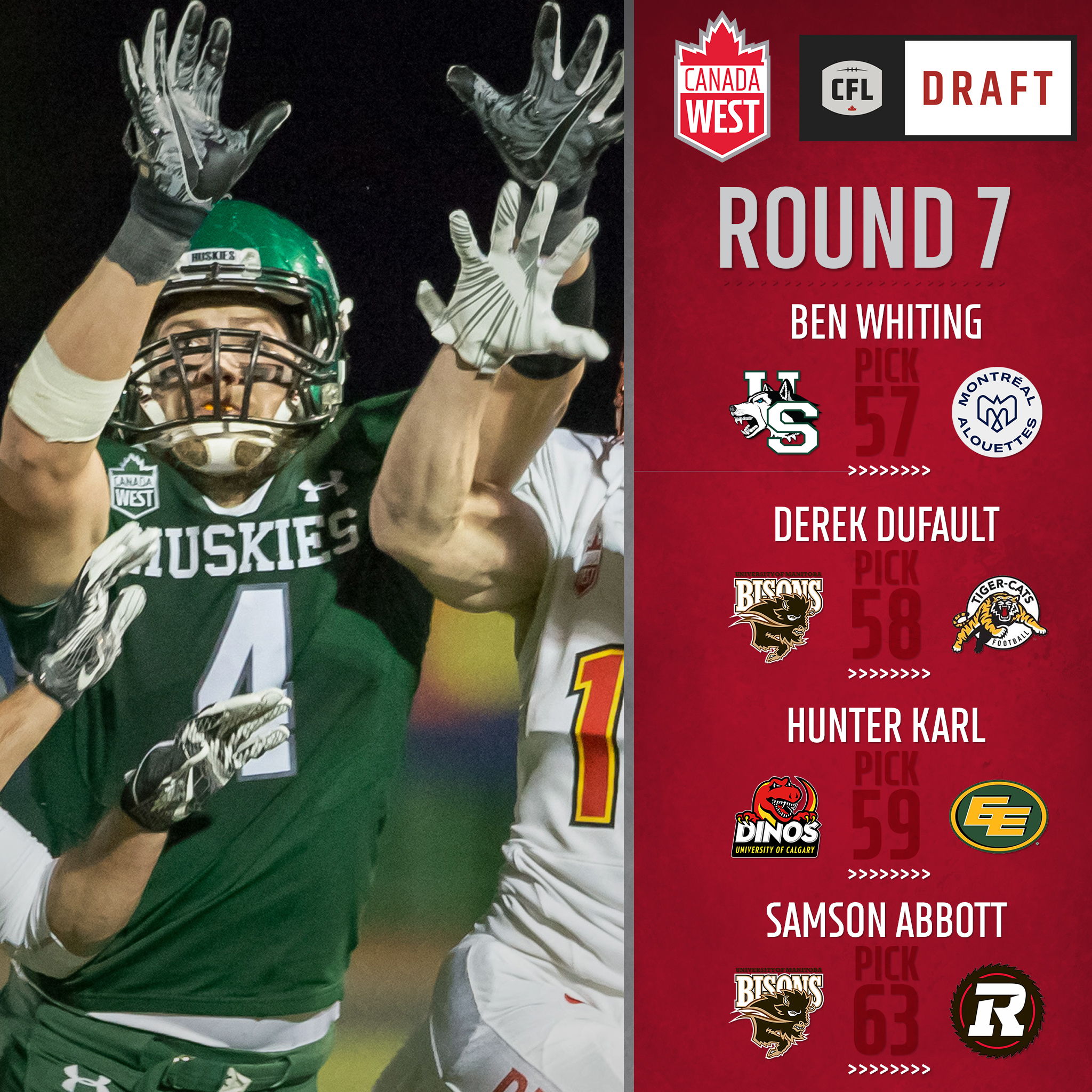 ROUND 7
LB / Ben Whiting (57) / Saskatchewan / Montreal Alouettes
DL / Derek Dufault (58) / Manitoba / Hamilton Tiger-Cats
WR / Hunter Karl (59) / Calgary / Edmonton Eskimos
DL / Samson Abbott (63) / Manitoba / Ottawa REDBLACKS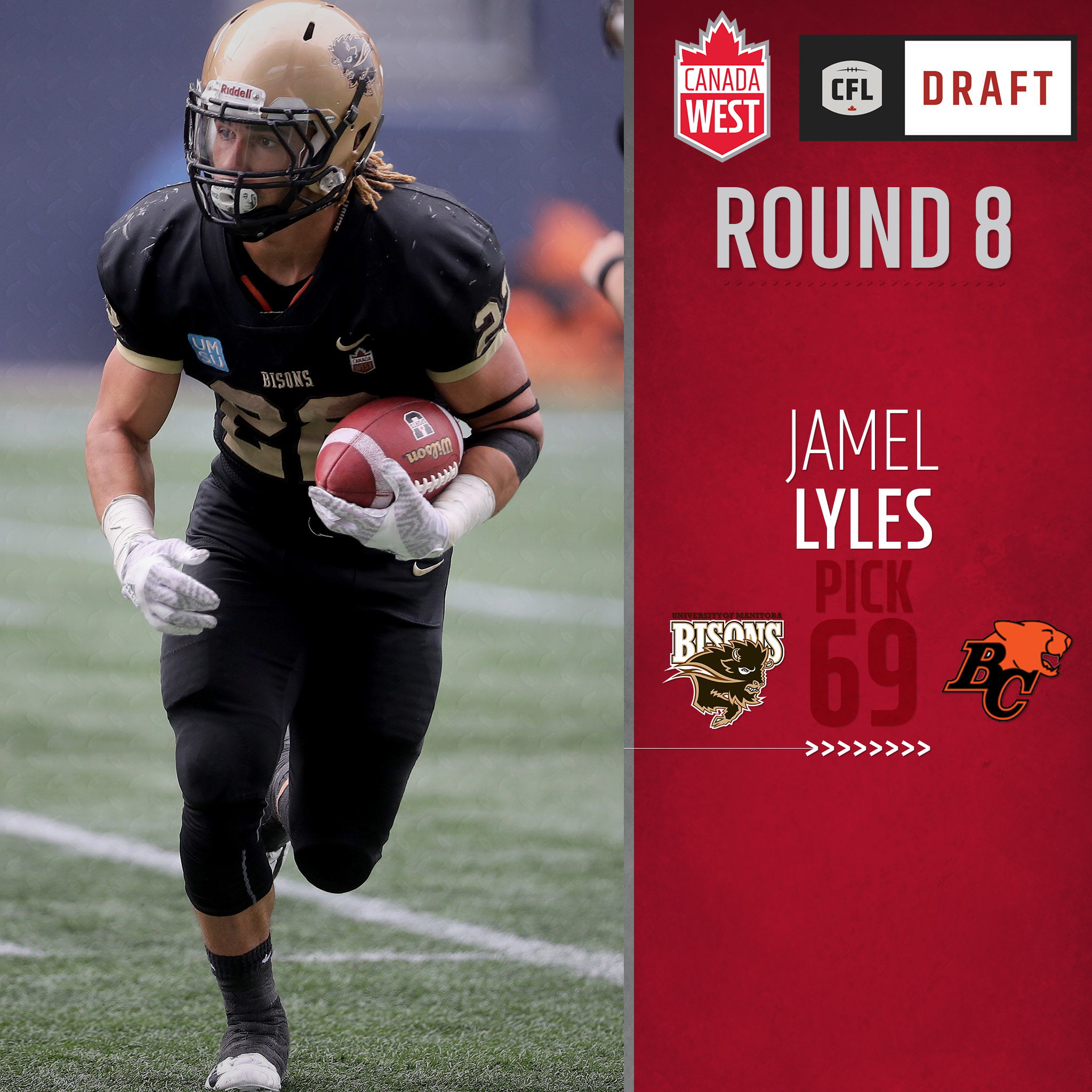 ROUND 8
RB / Jamel Lyles (69) / Manitoba / BC Lions