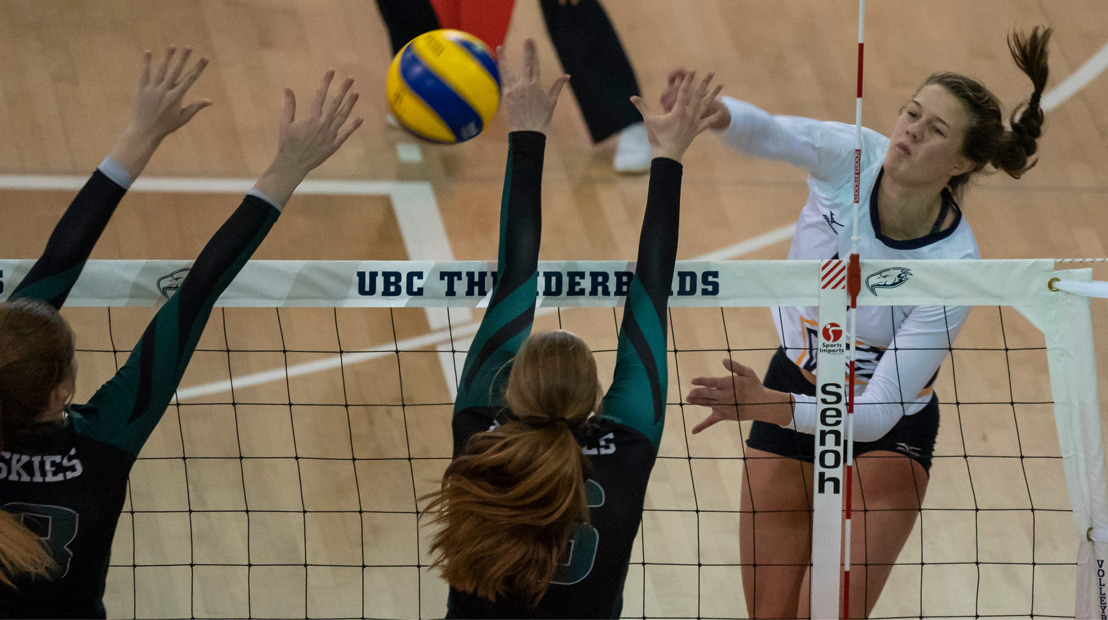 WVB: Van Ryk takes home top honour
UBC outside hitter named CW Player of the Year
EDMONTON – Standout second-year Kiera Van Ryk has been named the Canada West Women's Volleyball Player of the Year.
Van Ryk took home the top conference honour Tuesday, as a total of four major awards were handed out in advance of this weekend's CW Championship Game between the the host Calgary Dinos and visiting Trinity Western Spartans.
The national team player was selected as the conference's best by the 13 Canada West women's volleyball head coaches, who picked last week's all-stars and all-rookies in addition to the major awards.
Joining Van Ryk as award winners were Trinity Western's Savannah Purdy (Rookie of the Year), along with Ashlee Sandiford (Student-Athlete Community Service) and Melanie Sanford (Coach of the Year) from Regina.
The final CW women's volleyball game of the year is set for Friday night in Calgary, as the defending conference champion Dinos welcome the Spartans to town.
The game is set for 6 p.m. MST and can be seen live on Canada West TV.
Both teams have advanced to the U SPORTS Men's Volleyball Championship March 14-17 at the University of Alberta.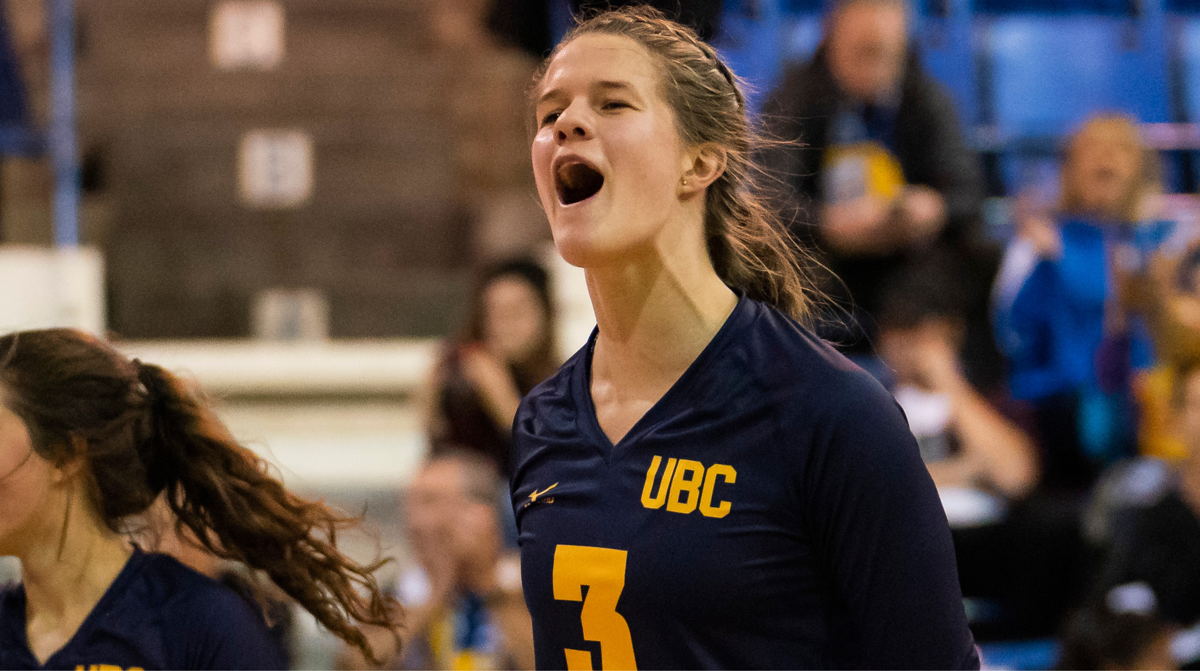 PLAYER OF THE YEAR: Kiera Van Ryk
UBC Thunderbirds

Outside Hitter

2nd-year

Surrey, B.C.

Kinesiology
For the second year in a row, UBC Thunderbird Kiera Van Ryk has landed a Canada West major award.
After being named the conference's top rookie a year ago, Van Ryk has now been the CW Player of the Year.
The Canadian national team member was dominant yet again for UBC, topping the conference in kills with 398, and points with 489, while also ranking eighth in hitting percentage at .263.
The second-year Surrey, B.C. product was named the Canada West Female Athlete of the Month twice this season, taking home the honour in both November and January.
Coach's comments:
"I'm very happy for Kiera. Without question she's a very impressive player and has carried a heavy load for us this season. For her to accomplish what she has as a second-year player is so impressive. Her high-end is incredible and I've been impressed with her development over the season in terms of her consistency of play. Beyond her velocity and skill in attacking and serving, she works so hard and contributes so much defensively and in her passing as well." – UBC Head Coach Doug Reimer.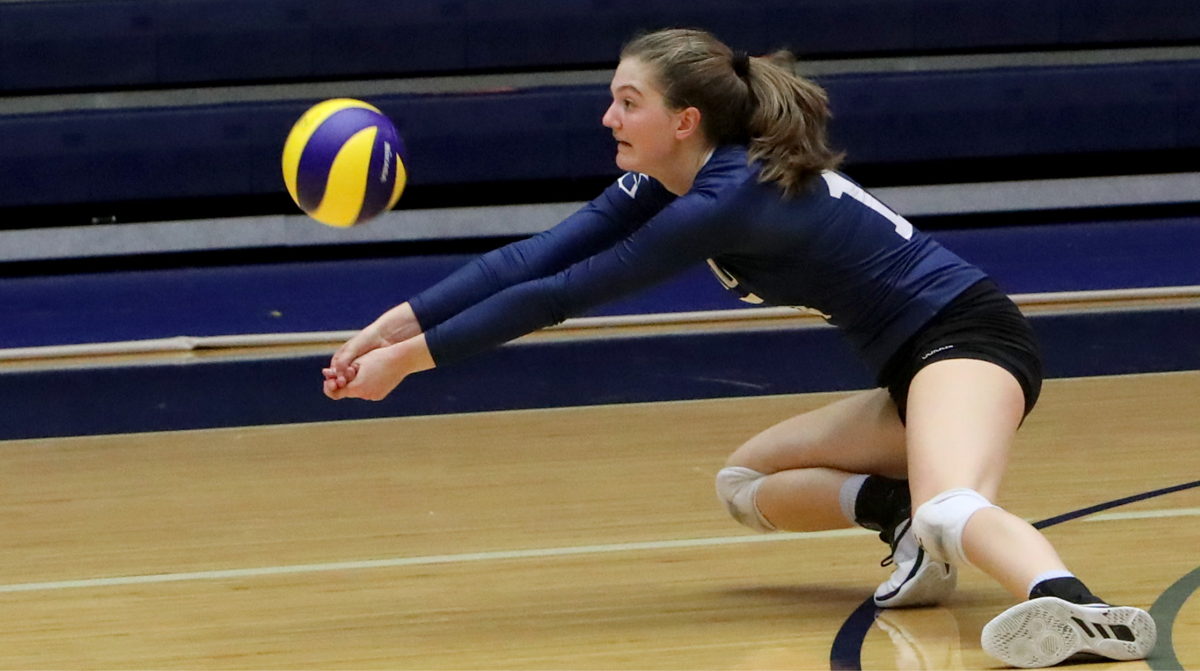 ROOKIE OF THE YEAR: Savannah Purdy
Trinity Western Spartans

Outside Hitter

1st-year

Victoria, B.C.

Science
Trinity Western Spartan Savannah Purdy is the Canada West Rookie of the Year.
The freshman outside hitter started 19 games for the Spartans this season, making an immediate impact for the perennial powerhouse.
Purdy finished second on Trinity Western in kills per set with 2.62, while ranking 16th overall in the conference in that category. Her .258 hitting percentage was good for 10th in Canada West.
The Victoria, B.C. product helped TWU to a 19-5 record this season, which was good for second in Canada West.
Coach's comments:
"It's been a pleasure to coach Savannah this year. She comes in each day and you know what you are going to get from her; hard work and consistency in all aspects of the game. She loves to learn and is willing to try and work on new things that will help her game improve. It's been exciting to see the impact that she has made in Canada West as a freshman, taking on a heavy serve receive load and attacking with an efficiency that we would normally see in a more senior athlete. She's a great teammate that plays with a humble confidence and works to excel in all that she does on and off the court. We're very excited to see her impact on the league and our program over the upcoming seasons." – Trinity Western Head Coach Ryan Hofer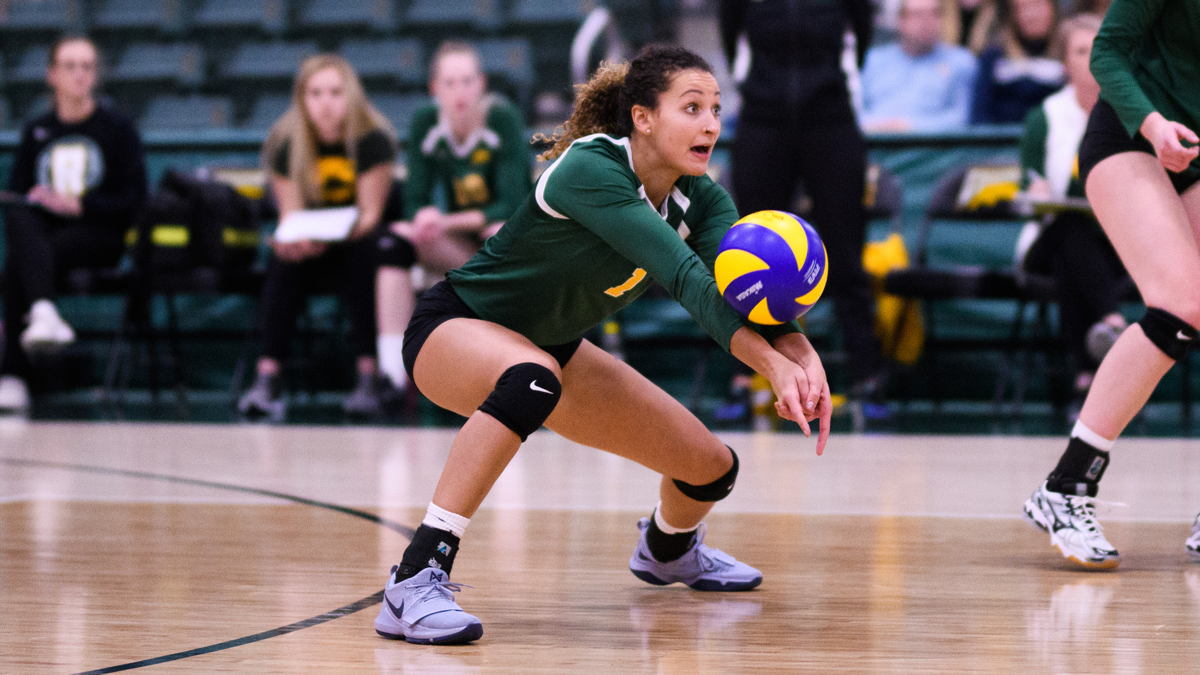 STUDENT-ATHLETE COMMUNITY SERVICE: Ashlee Sandiford
Regina Cougars

Outside Hitter

5th-year

Weyburn, Sask.

Education
Veteran fifth-year outside hitter Ashlee Sandiford has been acknowledged by the conference's coaches as the Student-Athlete Community Service award winner.
The Weyburn, Sask. product started all 24 games for the Regina Cougars this season, finishing top 10 in several conference categories, including eighth in kills with 286 and total points with 341.5.
A soon-to-be four-time Academic All-Canadian, Sandiford has balanced sport with her commitment to her future career as a teacher and her personal passion for social justice through her community service endeavours.
When Sandiford isn't competing or training, she devotes her time to EYES (Educating Youth in Engineering and Science) and works with the Regina Police Service program called TRiP, which provides programs and social opportunities to at-risk and vulnerable youth.
Sandiford has also volunteered her time coaching young volleyball players in various camps and clinics. She has shared her volleyball experiences with young players and is part of our volleyball program's relationship with Ochapawace Sport Academy.
Coach's comments:
"Ashlee is a very worthy recipient of this award as she has a tremendous ability to balance her stellar academic performance, with an outstanding athletic contribution this past season in addition to her many pursuits in community service. Through teaching and coaching, Ashlee is a role model in our community and passionate about motivating youth to pursue their dreams. This is a great honour for Ashlee to be selected for the Canada West Student-Athlete Community Service award." – Regina Head Coach Melanie Sanford.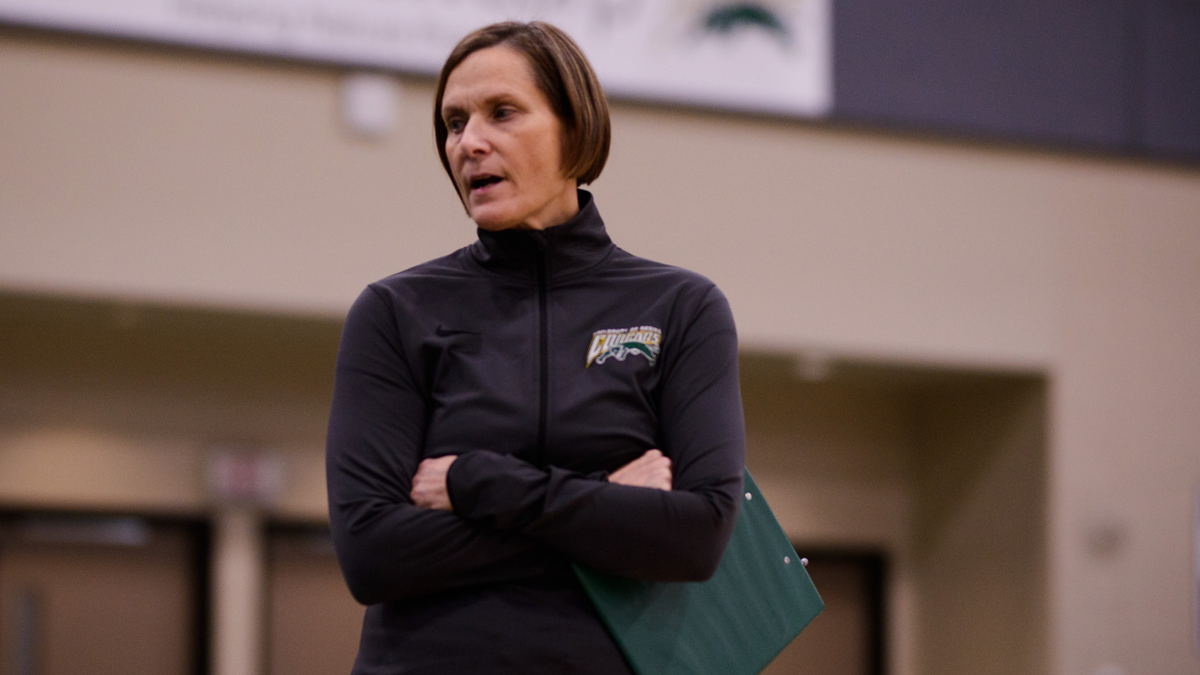 COACH OF THE YEAR: Melanie Sanford
Regina Cougars

16th season
For the second straight year, Regina Cougars head coach Melanie Sanford is the Canada West Coach of the Year.
After guiding Regina to a 12-12 record a year ago, the Cougars were even better this season, finishing fourth in the conference with a 16-8 record.
A standout at the University of Saskatchewan as a player, Sanford has been at the helm of the Cougars since the 2002-03 season, accumulating 146 career regular season wins over 16 seasons.
Athletic director's comments:
"I'm thrilled that Melanie has been recognized again this year. Her passion for the game and care for the student-athletes is second to none. She led her team to another season of growth and on-court success, so this is a very well-deserved honour." – University of Regina Director of Sport, Community Engagement, and Athlete Development  Lisa Robertson