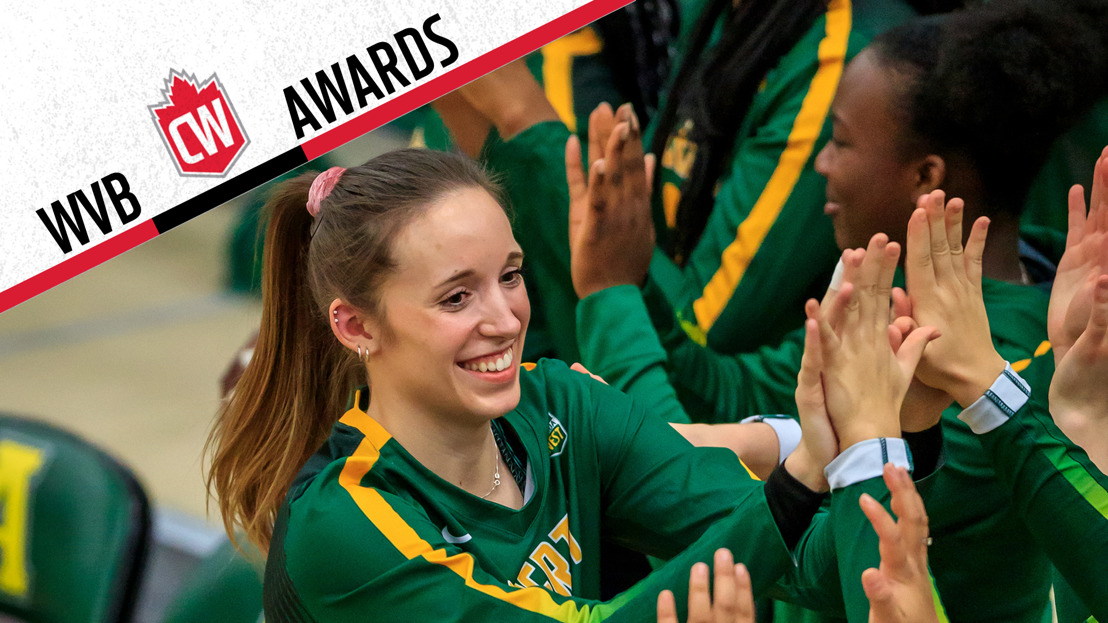 WVB: Centrepiece of Pandas attack honoured
Alberta's Kory White named Canada West Player of the Year
EDMONTON – Alberta's Kory White has landed the top honour in Canada West women's volleyball.
The fourth-year outside hitter was named Wednesday as the conference's Player of the Year, after leading the Pandas attack all season long.
White topped the conference in kills per set with 4.78, while being one of only two players in CW with more than 1,000 total attacks (1,051) along with Winnipeg's Emma Parker (1,009).
The conference's Rookie of the Year is UBC Okanagan's Amaya Perry, who led a strong first-year group for the Heat. Her win marks the first of its kind for UBCO, who first competed in CW during the 2011-12 season.
Thompson Rivers' Kendra Finch is the Student-Athlete Community Service award winner thanks to her extensive volunteer work for the WolfPack, including on their #IBelieveYou campaign to raise awareness for sexualized violence.
Rounding out the winners is MacEwan's Ken Briggs, who is the Coach of the Year after guiding the Griffins to their first CW playoff appearance in program history thanks to a 17-7 record.
The final conference game of the season is set for Saturday, March 7, as the Alberta Pandas travel to take on the Trinity Western Spartans in the CW Championship Game. The game is scheduled for 7 p.m. PST and can be seen on Canada West TV Presented by Co-op.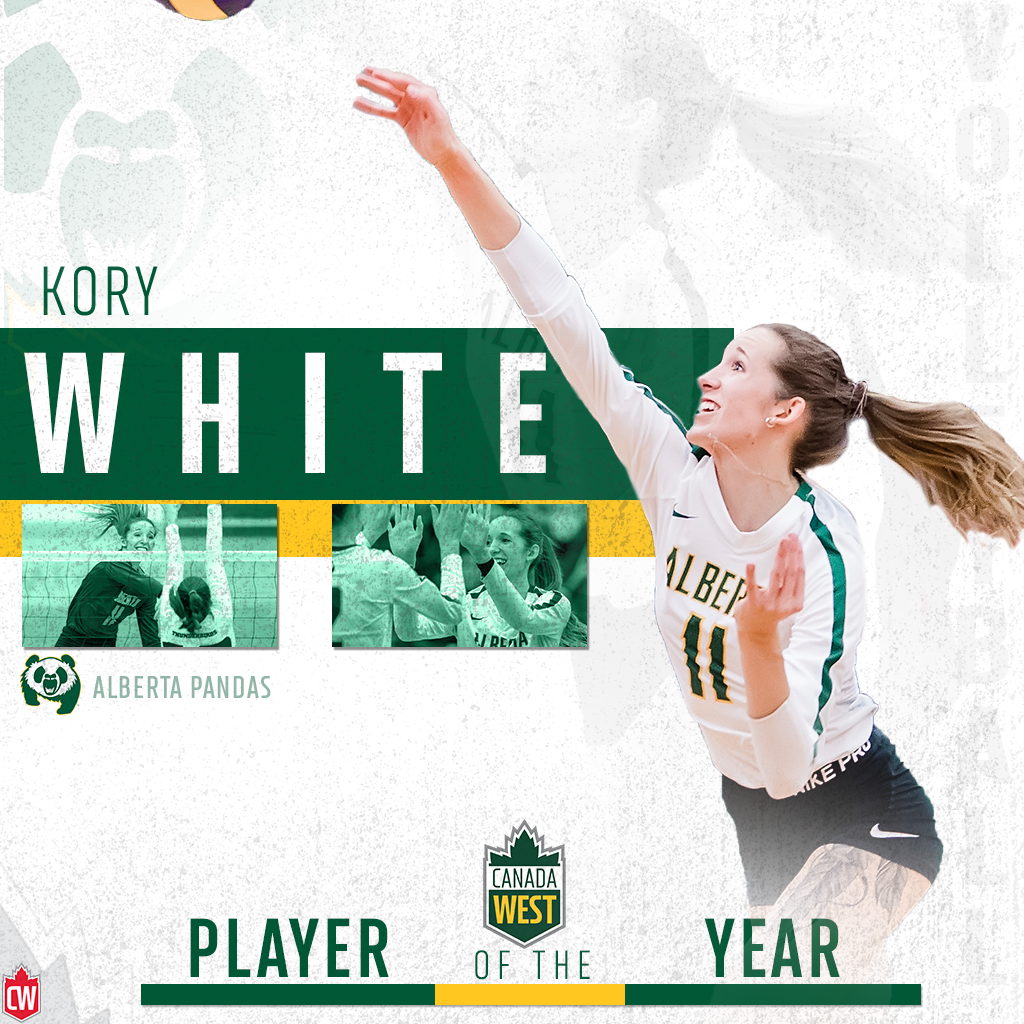 Alberta Pandas

Outside hitter

4th-year

Edmonton, Alta.

Agriculture, Life & Environmental Sciences
The conference's kills per set leader at 4.78, Alberta's Kory White is the CW Player of the Year.
White was dominant for the Pandas this season, starting all 24 games during Alberta's 18-6 season. Leading the Pandas attack from start to finish, White concluded the season with a .271 hitting percentage. Her 1,051 total attacks exemplify the workload put on the Edmonton product, as she was one of only two players in the conference to register more than 1,000 attacks.
She is the latest Panda to claim the conference's top honour, with Meg Casault (2016-17) the last Alberta player to accomplish the feat.
Coach's comments:
"We are thrilled that Kory has been selected as Player of the Year for Canada West. She is a tremendous athlete who is fully committed to becoming the best player she can be, and to helping the team as much as she can. Kory is never satisfied with where she is at, but is always looking for ways to improve her game and aspires to continue to play beyond the U SPORTS level. She is a great team player and an absolute pleasure to coach." – Alberta Head Coach Laurie Eisler.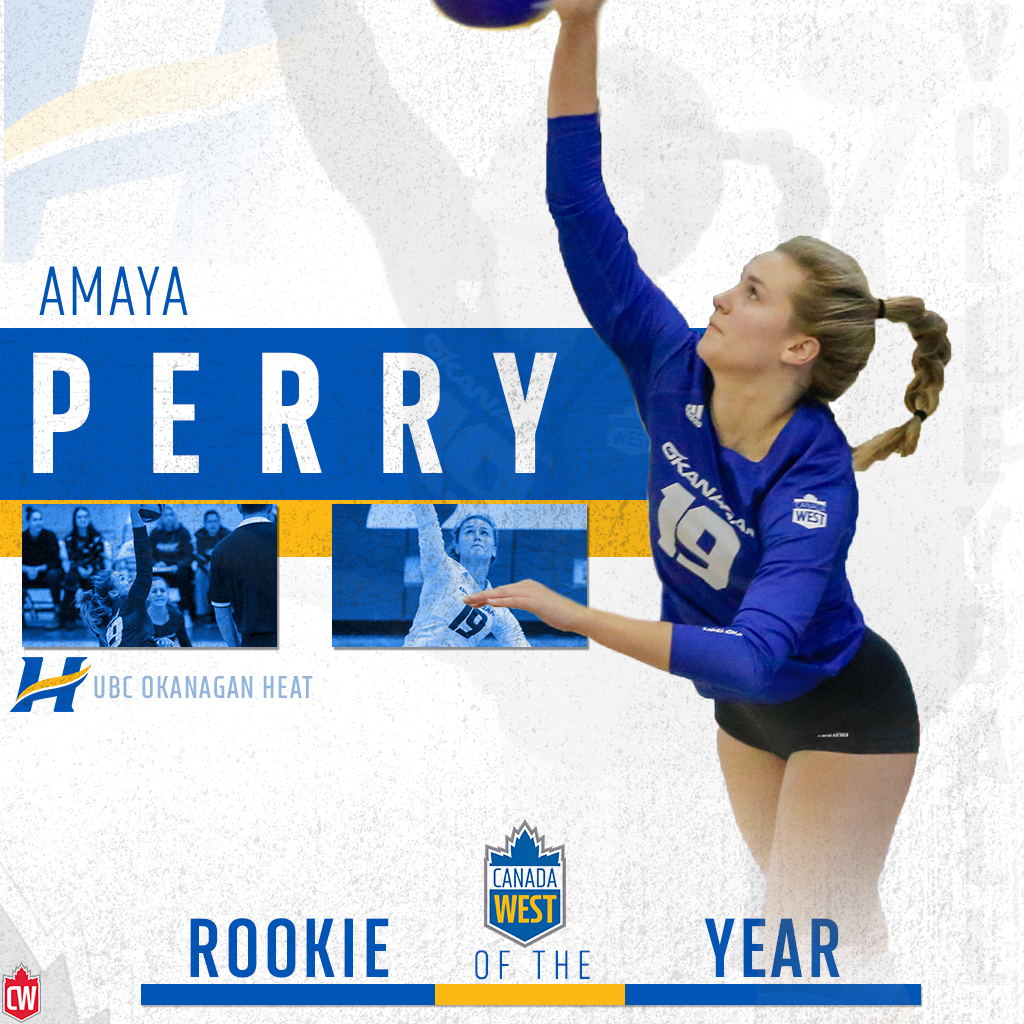 UBC Okanagan Heat

Outside hitter

1st-year

Chin, Alta.

Sciences
Amaya Perry is the CW Rookie of the Year, making her the first UBC Okanagan Heat volleyball player to earn the conference top honour for first-year player.
The Chin, Alta. native finished inside the top 25 in several key statistical categories this season, including second in service aces with 59. Other top 25 stats included: kills per set (2.36), total attacks (679), and points per set (3.2).
Starting all 24 of UBCO's games this season, Perry was the best of an excellent Heat rookie group that also included fellow CW All-Rookie team member Abigail Dueck.
Coach's comments:
"We counted on Amaya to play like a veteran all season, and she did not disappoint. Fearless from the service line, she used her devastating float serve as a weapon to keep teams off balance every single time she stepped back to the end line. A joy to coach and a fierce competitor, our coaching staff is excited to continue to work with her in the coming years and we couldn't be happier for her win of this much deserved award. We also wish her the best of luck as she goes on as a candidate for the national rookie of the year." – UBC Okanagan Head Coach Steve Manuel.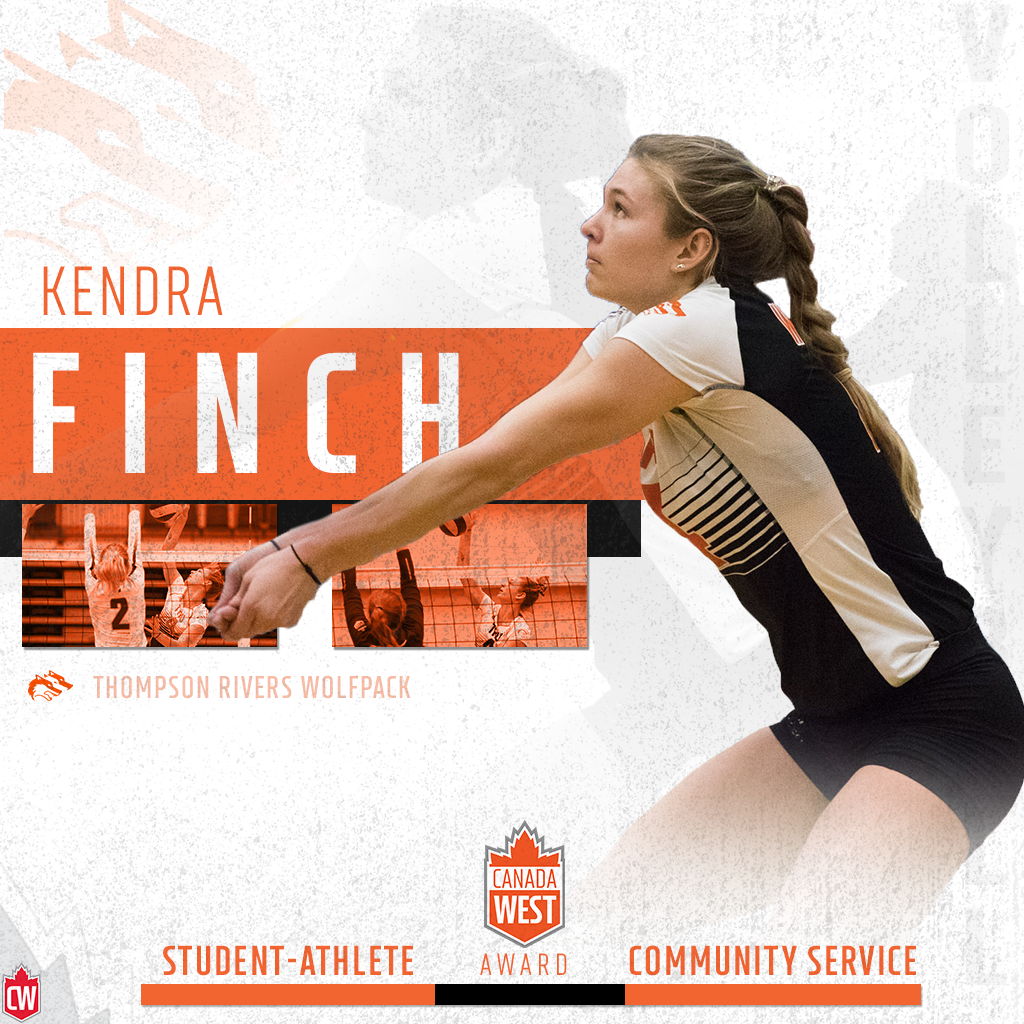 Thompson Rivers WolfPack

Outside hitter

5th-year

North Vancouver, B.C.

General Studies
Veteran outside hitter Kendra Finch is the CW Student-Athlete Community Service award winner, exhibiting all the traits needed to excel in the classroom, on the court, and in the community.
A multi-year U SPORTS Academic All-Canadian, Finch had an excellent season for the WolfPack, finishing seventh in the conference in kills per set at 3.16, and ninth in the conference in digs per set with 3.2, while starting all 24 of TRU's matches.
In the community, Finch has volunteered regularly for multiple organizations. Over the last two years, Finch has volunteered three hours per week at TRU's Education and Skills Training Program, which provides students with cognitive disabilities the practical knowledge and hands-on training needed to prepare them for future meaningful employment opportunities. She has also volunteered seven hours weekly at the TRU Wellness Center, while also serving as a volunteer coach for the Kamloops Volleyball Association.
In addition to these volunteer activities, Finch has played a key role in the WolfPack's #IBelieveYou social media campaign, which has raised awareness for sexualized violence.
Athletic director's comments:
"Kendra is everything you want a student-athlete to become and the legacy she leaves at TRU goes well beyond the court. While she has been a key contributor on the court, she is also an outstanding student, leader, and someone who gives back to the campus and community in many other ways. Kendra devotes her time to many worthwhile initiatives and she takes her responsibilities as a student-athlete seriously. She is a perfect role model to our other student-athletes. I am so proud of her, am thankful for her contributions, and pleased to see her receive this conference recognition." – Thompson Rivers Athletic Director Curtis Atkinson.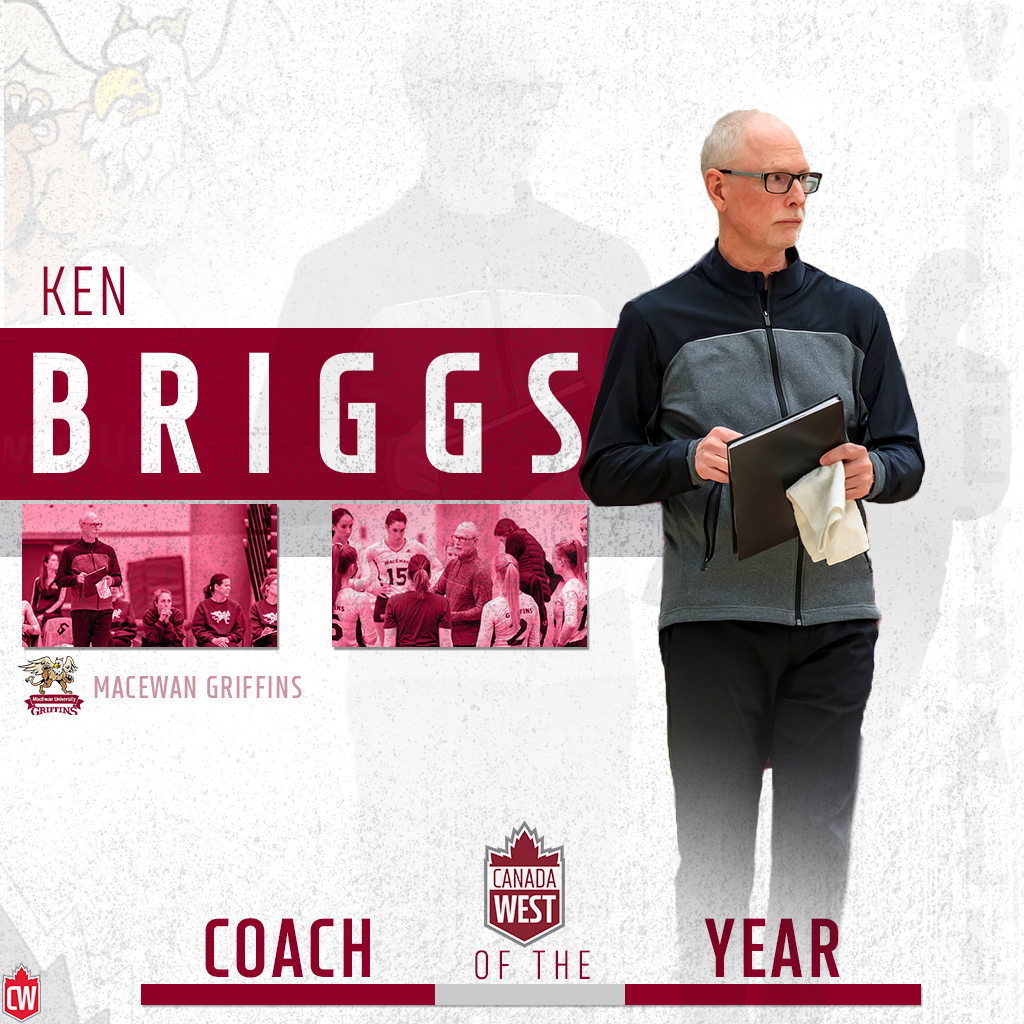 MacEwan Griffins

18th season
After leading his program to its best Canada West finish ever, Ken Briggs of the MacEwan Griffins has been named conference Coach of the Year.
Briggs guided the Griffins to a fourth-place finish during the regular season, compiling a record of 17-7, earning MacEwan its first playoff appearance since joining Canada West volleyball for the 2014-15 season
The Griffins have been trending upwards under Briggs the last several seasons, going from four wins in 2017-18, to 12 a year ago when they narrowly missed out on the postseason.
Athletic director's comments:
"I think it's a tremendous honour for the institution and a testament to all the hard work of the student-athletes and coaching staff. We're really proud of their accomplishments and Ken's ability to motivate those young women to higher levels. He's got a very experienced roster and he's put in a lot of time in developing their skills, so it's nice to see him get rewarded. They came together at the right time. I think that's a tremendous credit to them as a group of women." – MacEwan Athletic Director Ken Schildroth.