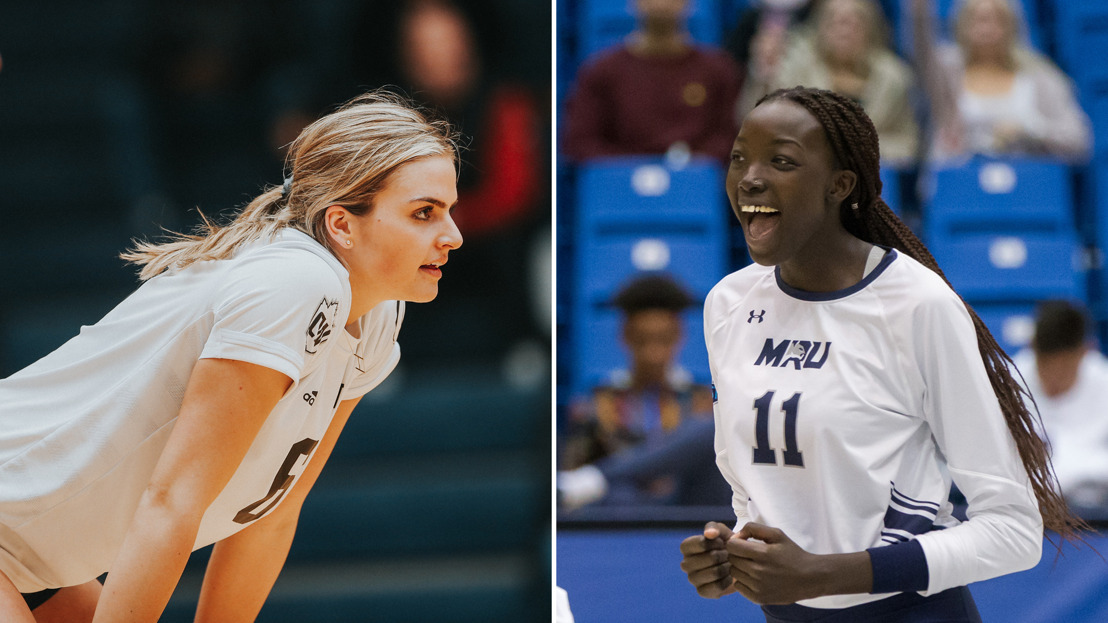 WVB: Conference all-stars, all-rookies announced
Canada West semifinals set for Langley and Calgary this weekend
EDMONTON –The nation's top women's volleyball conference unveiled its best Tuesday, as the Canada West all-star and all-rookie teams were announced.
Canada West's major award winners will be announced Wednesday, March 4 at 10 a.m. MST ahead of the CW Championship game later that week.
11 of the conference's 13 teams landed at least one honouree, with the No. 2 seed Mount Royal Cougars leading the way with three players earning respect from the conference's head coaches, who selected the winners.
MRU is set to host a conference semifinal this weekend in Calgary, as the Alberta Pandas travel south for the best-of-three series beginning Friday. In the other semi, the Trinity Western Spartans welcome the Thompson Rivers WolfPack, with that series opening Thursday evening in Langley, B.C.
CW WOMEN'S VOLLEYBALL PLAYOFF CENTRAL
You can watch every game on the road to the CW Volleyball Championship Games by tuning into Canada West TV Presented by Co-op.
POSITION / NAME / UNIVERSITY / YEAR / PROGRAM / HOMETOWN
M / Gabrielle Attieh / UBC / 3 / Arts / Surrey, BC

OH / Kendra Finch / Thompson Rivers / 5 / General Studies / North Vancouver, BC

M / Haley Gilfillan / MacEwan / 5 / Arts / Edmonton, AB

OH / Hillary Howe / Trinity Western / 4 / Business. / Calgary, AB

OH / Emily Koshinsky / Saskatchewan / 4 / Kinesiology / Jansen, SK

M / Nyadholi Thokbuom / Mount Royal / 2 / Open Studies / Calgary, AB

OH / Kory White / Alberta / 4 / Ag., Life & Environ. Sciences / Edmonton, AB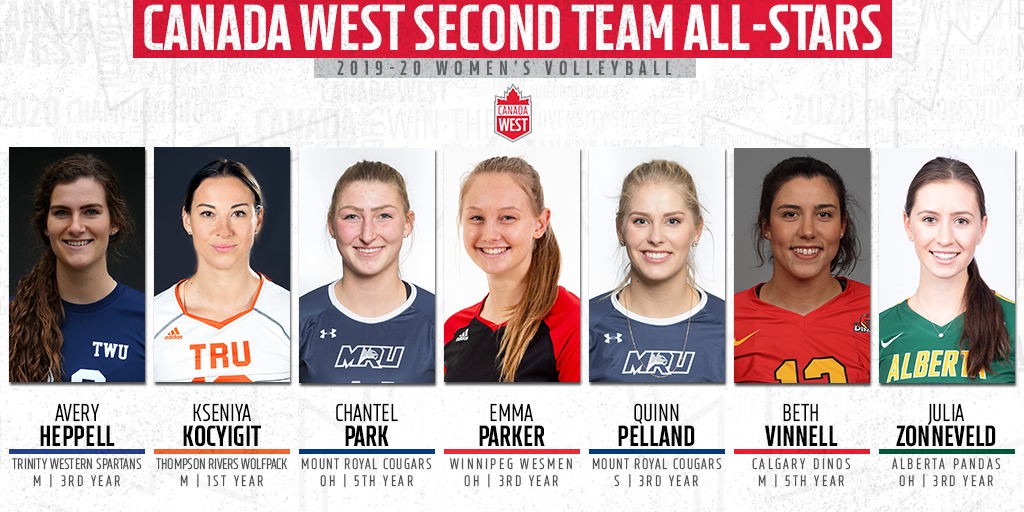 M / Avery Heppell / Trinity Western / 3 / Business / Langley, BC

M / Kseniya Kocyigit / Thompson Rivers / 1 / Education (Masters) / Byaroza, Belarus

OH / Chantel Park / Mount Royal / 5 / Health & Phys. Ed. / Blackfalds, AB

OH / Emma Parker / Winnipeg / 3 / Education / St. Adolphe, MB

S / Quinn Pelland / Mount Royal / 3 / Business / Wanham, AB

M / Beth Vinnell / Calgary / 5 / Kin. & Education / Cochrane, AB

OH / Julia Zonneveld / Alberta / 3 / Engineering / Calgary, AB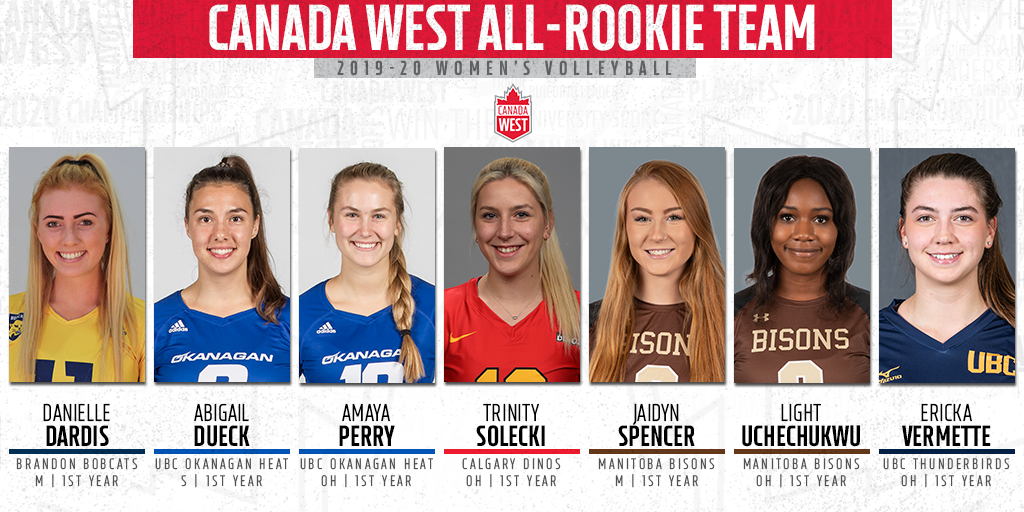 M / Danielle Dardis / Brandon / Business Admin. / Calgary, AB

S / Abigail Dueck / UBC Okanagan / Sciences / Winnipeg, MB

OH / Amaya Perry / UBC Okanagan / Sciences / Chin, AB

OH / Trinity Solecki / Calgary / Open Studies / Calgary, AB

M / Jaidyn Spencer / Manitoba / Kin. & Rec. Management / Bloomington, Minnesota

OH / Light Uchechukwu / Manitoba / Arts / Winnipeg, MB

OH / Erika Vermette / UBC / Kinesiology / Morris, MB