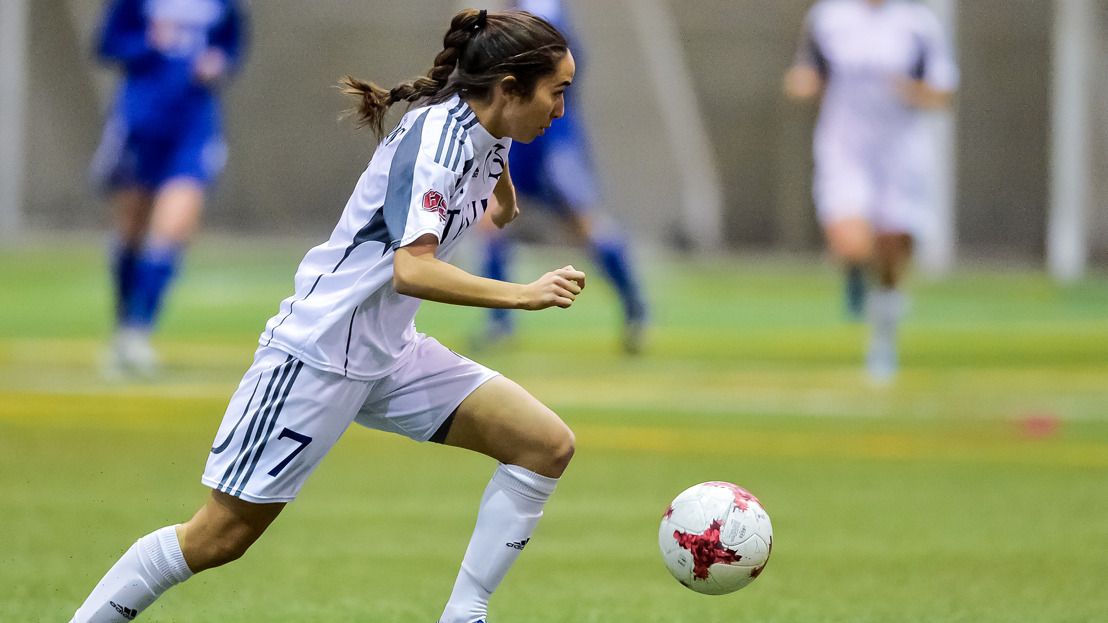 WSOC: Spartans top CW pre-season poll
Wednesday, 5 September 2018 — EDMONTON – If the coaches pre-season poll is any indication, it'll be a West Coast battle for top spot in Canada West women's soccer this season.
The Trinity Western Spartans topped the annual poll with 213 points, while rivals UBC (209 pts.), and Victoria (189 pts.) slotted in just behind the defending conference champions
Highlights:
The defending CW champion Trinity Western Spartans have topped the annual pre-season coaches poll
TWU topped the poll despite finishing with fewer first-place votes (six) than second-place finisher UBC (seven)
The first full weekend of conference women's soccer is set for this Friday through Saturday
It was a tight battle for top spot in the poll, which is voted on by all 16 conference head coaches, as TWU edged out UBC by just four points. The Spartans topped the poll despite receiving fewer first-place votes (six) than the Thunderbirds (seven). Trinity Western earned the edge thanks to consistent support from the conference's coaches, who ranked the Spartans no lower than third, while UBC's votes ranged from first to fourth.
In the chase pack behind TWU and UBC are the Victoria Vikes, Alberta Pandas (186 pts.), and Calgary Dinos (182 pts.). The Vikes, who opened their season last weekend with a 1-0 loss to UBC in the lone women's regular season game of the weekend, didn't earn any first-place votes, while both Alberta (two) and Calgary (one) did earn first-place nods.
You can watch extensive CW WSOC action all season long by tuning into Canada West TV – the official streaming home of Canada West.
All Pacific Division teams will webcast all home games this season, while select Prairie Division teams will also webcast every home game. New for 2018, you can also watch every game on demand, even from those schools who don't webcast live.
To purchase your 2018 Canada West TV pass, click here.
2018 CANADA WEST WSOC PRE-SEASON COACHES POLL
TEAM / POINTS (FIRST-PLACE VOTES)
1. Trinity Western Spartans / 213 (6)
2. UBC Thunderbirds / 209 (7)
3. Victoria Vikes / 189
4. Alberta Pandas / 186 (2)
5. Calgary Dinos / 182 (1)
6. Saskatchewan Huskies / 153
7. MacEwan Griffins / 139
8. Fraser Valley Cascades / 134
9. Manitoba Bisons / 96
10. Mount Royal Cougars / 95
11. UBCO Heat / 74
12. Regina Cougars / 71
13. UNBC Timberwolves / 61
14. Lethbridge Pronghorns / 51
15. Winnipeg Wesmen / 40
16. Thompson Rivers WolfPack / 27
NOTES: Coaches rank all conference teams excluding their own. First-place vote worth 15 pts., second-place 14 pts. etc.