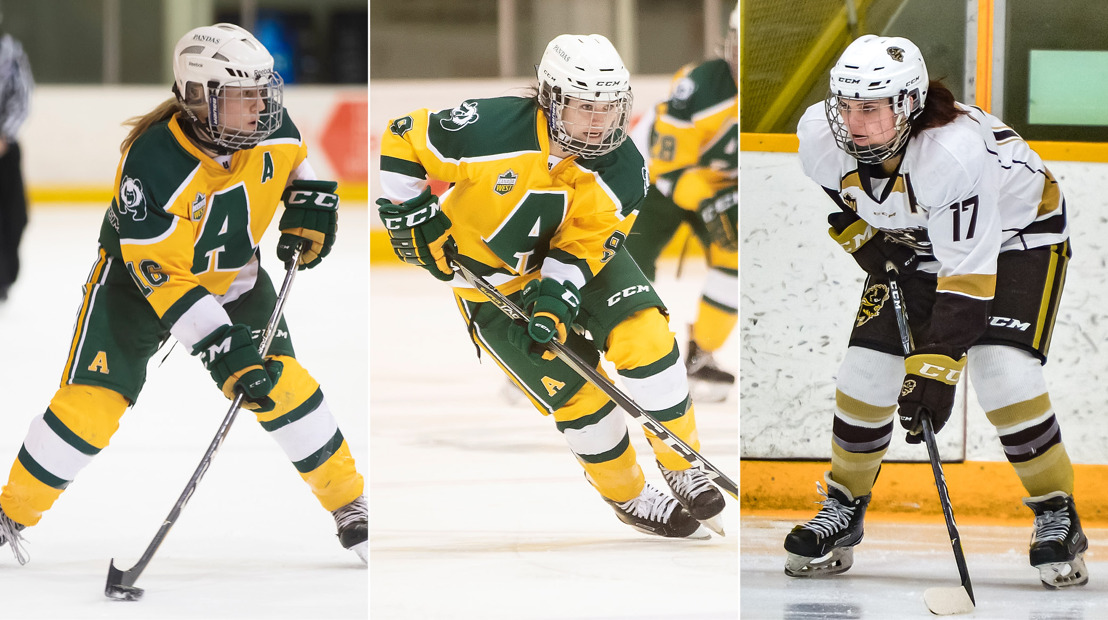 WHKY: Trio return to top all-star team
Canada West all-stars and all-rookies unveiled ahead of semis
EDMONTON – A trio of familiar faces are back on the Canada West women's hockey's first all-star team, which was unveiled Wednesday.
Alberta Pandas Alex Poznikoff (F) and Autumn MacDougall (F), along with Manitoba Bison Erica Rieder (D) were named to the conference's top team, as the trio were the only players from the 2017-18 first team to repeat.
Highlights:
Returning first teamers Alex Poznikoff, Autumn MacDougall, and Erica Rieder were among the highlights from the conference all-star announcement made Wednesday

A total of 18 players were honoured by Canada West ahead of this weekend's semifinal series

The conference's major awards will be released on Wednesday, February 27
For both MacDougall and Rieder it marked their second straight first team honour, while Poznikoff has now been a conference first team all-star three straight seasons. She was also an all-rookie during the 2015-16 season.
Along with Rieder, the Bisons had forward Lauryn Keen named to the top team, which also featured UBC goalie Tory Micklash, and Saskatchewan defender Leah Bohlken.
In terms of rookie representation, the Mount Royal Cougars seem well-positioned for the future, landing three players on the all-rookie team.
MRU's Mackenzie Butz (D), Camryn Amundson (F), and Breanne Trotter (F) received praise from the conference's eight women's hockey head coaches, who selected the all-stars and all-rookies.
Trotter led all rookies in scoring this season, registering nine goals and 11 assists to finish fifth in the conference scoring race with 20 points.
She'll be vying for the conference's rookie of the year award, which will be announced on Wednesday, February 27, along with the rest of the CW major awards.
The Canada West women's hockey playoffs continue this weekend with semifinal action, as first-place Alberta hosts the Saskatchewan Huskies, and Manitoba welcomes the UBC Thunderbirds to Winnipeg.
All conference playoff action can be seen exclusively on Canada West TV.
FIRST ALL-STAR TEAM
POSITION / NAME / UNIVERSITY / YEAR / HOMETOWN
G / Tory Micklash / UBC / 3 / East St. Paul, Man.

D / Leah Bohlken / Saskatchewan / 4 / Moose Jaw, Sask.

D / Erica Rieder / Manitoba / 5 / Regina, Sask.

F / Lauryn Keen / Manitoba / 5 / Manitou, Man.

F / Autumn MacDougall / Alberta / 4 / Cole Harbour, N.S.

F / Alex Poznikoff / Alberta / 4 / Edmonton, Alta.
SECOND ALL-STAR TEAM
G / Alicia Anderson / Lethbridge / 4 / Calgary, Alta.

D / Alexandra Anderson / Manitoba / 5 / Winnipeg, Man.

D / Cayle Dillon / Alberta / 4 / Edmonton, Alta.

F / Tatum Amy / Mount Royal / 2 / Birtle, Man.

F / Hannah Clayton-Carroll / UBC / 4 / Vancouver, B.C.

F / Kennedy Ganser / Alberta / 3 / Provost, Alta.
ALL-ROOKIE TEAM
G / Halle Oswald / Alberta / Sanford, Man.

D / Mackenzie Butz / Mount Royal / Sherwood Park, Alta.

D / Rylind MacKinnon / UBC / Cranbrook, B.C.

F / Camryn Amundson / Mount Royal / Debden, Sask.

F / Ashley McFadden / UBC / Winnipeg, Man.

F / Breanne Trotter / Mount Royal / Okotoks, Alta.