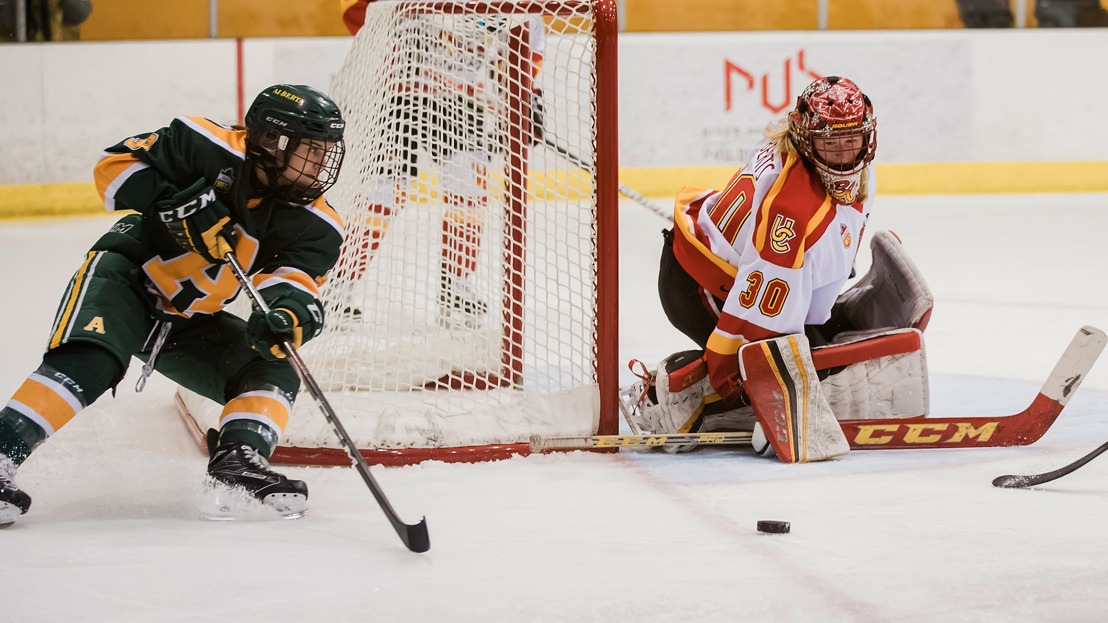 WHKY: Pandas, Dinos lead all-star charge
Alberta and Calgary ready to host semifinal series
EDMONTON – The Alberta Pandas and Calgary Dinos combined to dominate the Canada West first all-star team, as the conference unveiled its women's hockey all-stars and all-rookies Wednesday.
The conference's top two teams during the regular combined for eight honourees, including five of six spots on Canada West's top team. Goaltender Kelsey Roberts and forward Elizabeth Lang represented the Dinos on the top team, while Alberta saw defender Cayle Dillon, along with forwards Autumn MacDougall and Kennedy Ganser earn places on the first team.
Alberta and Calgary finished one-two in the CW regular season and are readying to host this weekend's best-of-three conference semifinals, which open Friday. The Pandas host the UBC Thunderbirds, who are coming off an upset win of Saskatchewan in the semis, while the Dinos face crosstown rival Mount Royal.
CW WOMEN'S HOCKEY PLAYOFF CENTRAL
Both semifinals go Friday and Saturday (Sunday if necessary).
You can watch every game on the road to the CW Final by tuning into Canada West TV Presented by Co-op.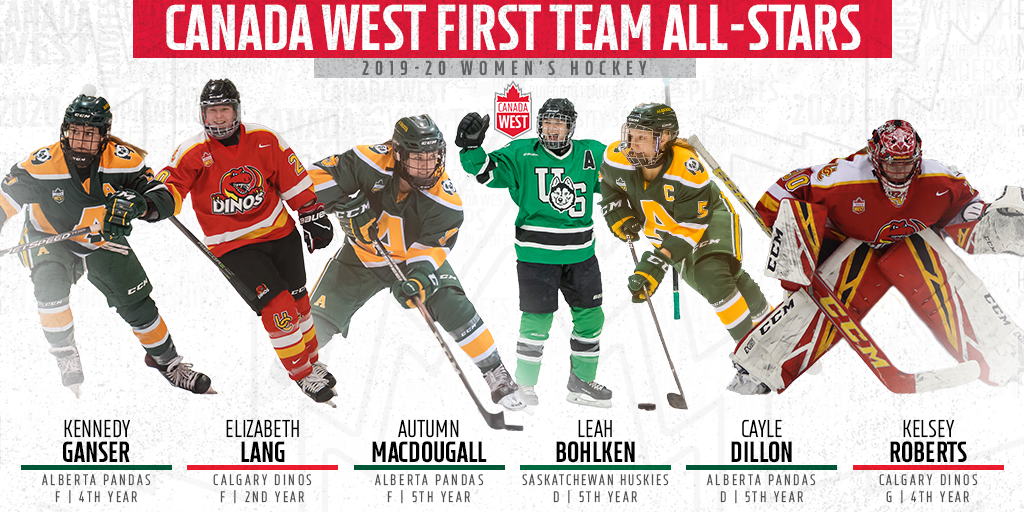 POSITION / NAME / UNIVERSITY / YEAR / PROGRAM / HOMETOWN
F / Kennedy Ganser / Alberta / 4 / Education / Provost, AB

F / Elizabeth Lang / Calgary / 2 / Arts / Edmonton, AB

F / Autumn MacDougall / Alberta / 5 / Kin., Sport, & Rec. / Cole Harbour, NS

D / Leah Bohlken / Saskatchewan / 5 / Arts & Science / Moose Jaw, SK

D / Cayle Dillon / Alberta / 5 / Kin., Sport, & Rec. / Edmonton, AB

G / Kelsey Roberts / Calgary / 4 / Arts / Kitimat, BC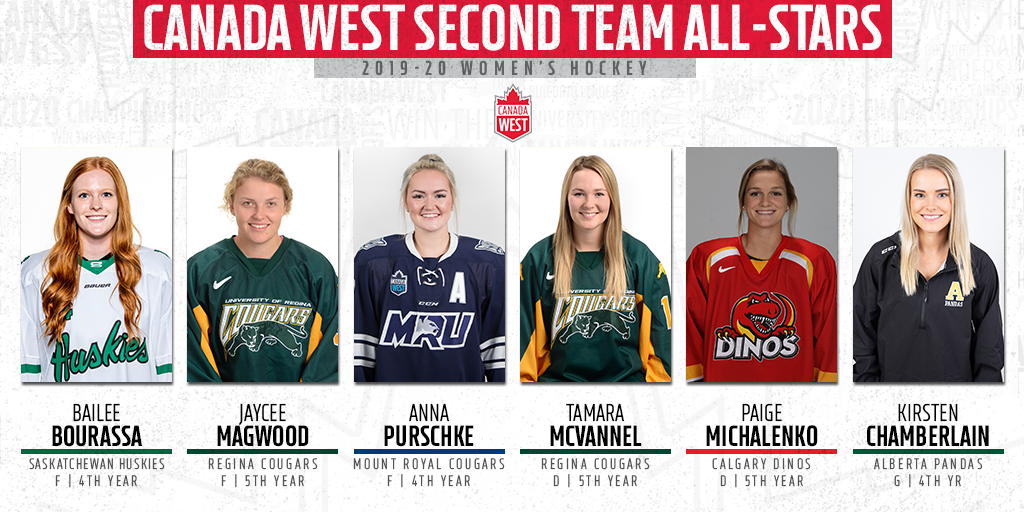 F / Bailee Bourassa / Saskatchewan / 4 / Nursing / Weyburn, SK

F / Jaycee Magwood / Regina / 5 / Education / Killarney, MB

F / Anna Purschke / Mount Royal / 4 / Business / Sherwood Park, AB

D / Tamara McVannel / Regina / 5 / Kin. & Health Studies / MacGregor, MB

D / Paige Michalenko / Calgary / 5 / Arts / Saskatoon, SK

G / Kirsten Chamberlain / Alberta / 4 / Science / Cochrane, AB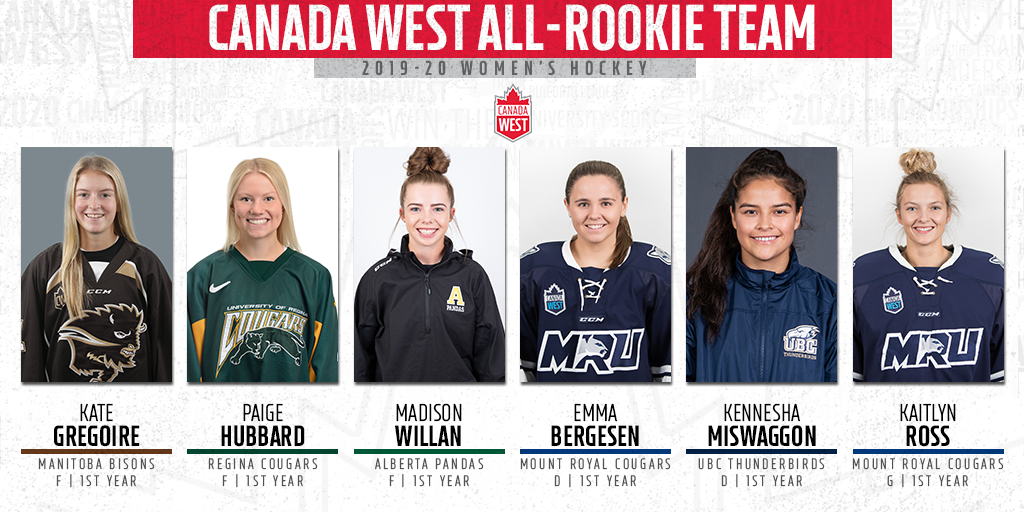 F / Kate Gregoire / Manitoba / Univ. 1 / Ste. Anne, MB

F / Paige Hubbard / Regina / Education / Brandon, MB

F / Madison Willan / Alberta / Ag., Life, & Env. Sciences / Edmonton, AB

D / Emma Bergesen / Mount Royal / Sociology / Stavanger, Norway

D / Kennesha Miswaggon / UBC / Kinesiology / Cross Lake, MB

G / Kaitlyn Ross / Mount Royal / Arts / Redcliff, AB