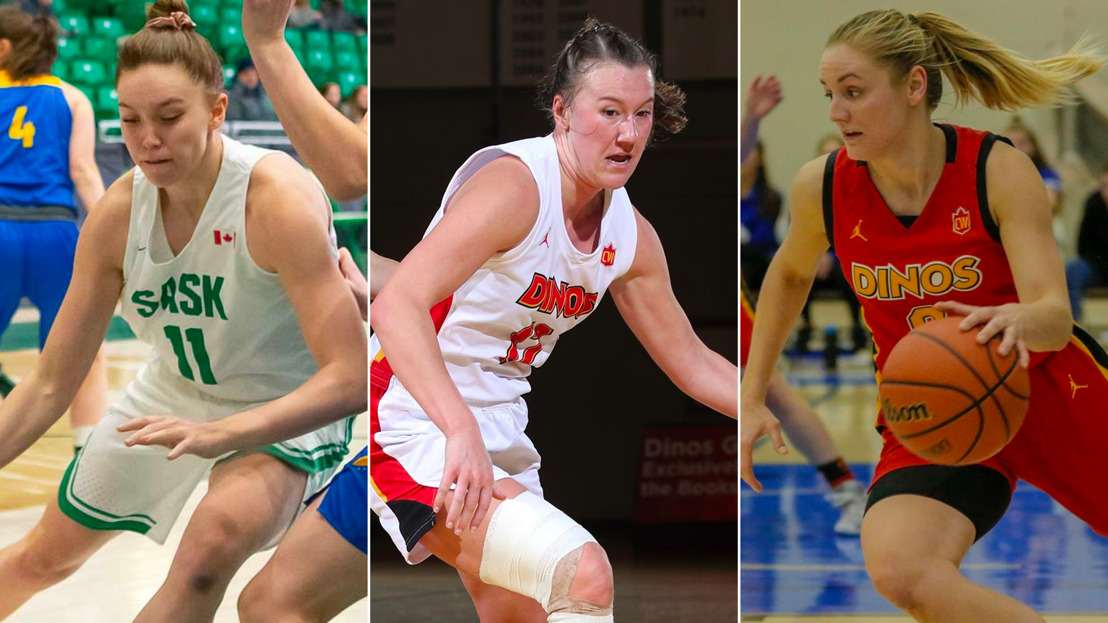 WBB: All-stars, all-rookies ready for conference quarter-finals
Canada West playoffs set to continue in Calgary, Saskatoon
EDMONTON – Canada West's top women's basketball players were acknowledged Thursday, as the conference's all-star and all-rookies teams were unveiled.
13 teams landed at least one player on one of the four teams (three all-star and one all-rookie), with seven teams having multiple players honoured.
Canada West's women's basketball award winners will be unveiled Thursday, February 27 at 10 a.m. MST.
More than a dozen all-stars and all-rookies will be in action this weekend when the conference quarter-finals and semifinals take place in Calgary and Saskatoon, as the Calgary Dinos and Saskatchewan Huskies get set for hosting duties. Among the players who will be in action are first team all-star Summer Masikewich of the Huskies, along with Calgary's second team duo of Erin McIntosh and Liene Stalidzane.
CW WOMEN'S BASKETBALL PLAYOFF CENTRAL
You can watch every game on the road to the CW Basketball Championship Games by tuning into Canada West TV Presented by Co-op.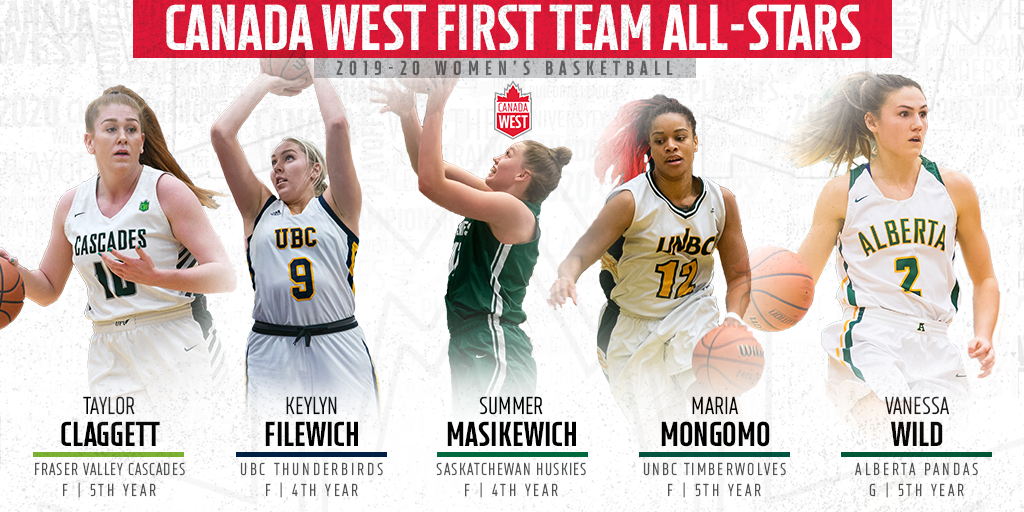 POSITION / NAME / UNIVERSITY / YEAR / PROGRAM / HOMETOWN
F / Taylor Claggett / Fraser Valley / 5 / Arts / Mission, BC

F / Keylyn Filewich / UBC / 4 / Science / Winnipeg, MB

F / Summer Masikewich / Saskatchewan / 4 / Arts & Science / Calgary, AB

F / Maria Mongomo / UNBC / 5 / Psychology / Las Palmas, Spain

G / Vanessa Wild / Alberta / 5 / Business / Spruce Grove, AB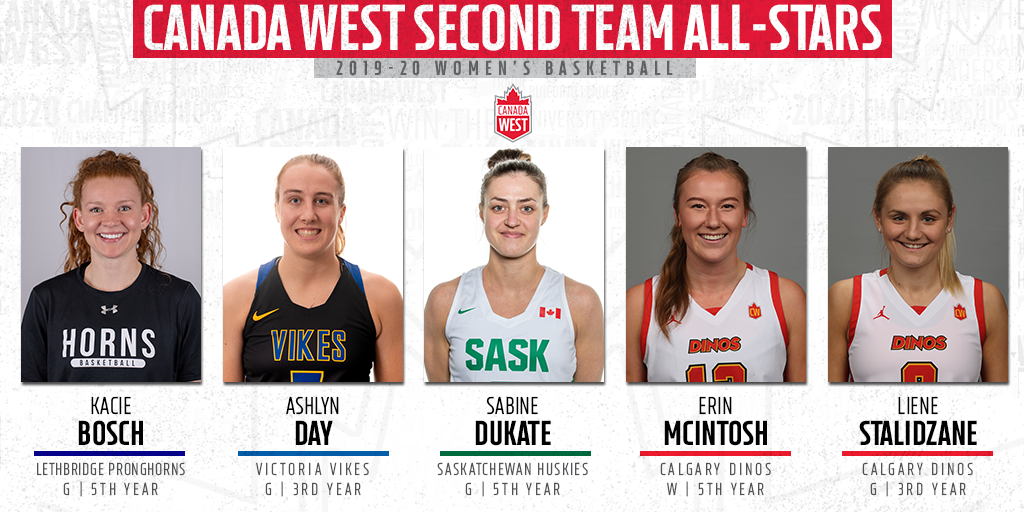 G / Kacie Bosch / Lethbridge / 5 / Arts / Lethbridge, AB

G / Ashlyn Day / Victoria / 3 / Business / Kelowna, BC

G / Sabine Dukate / Saskatchewan / 5 / Arts & Science / Ventspils, Latvia

W / Erin McIntosh / Calgary / 5 / Kinesiology / Calgary, AB

G / Liene Stalidzane / Calgary / 3 / Arts / Jelgava, Latvia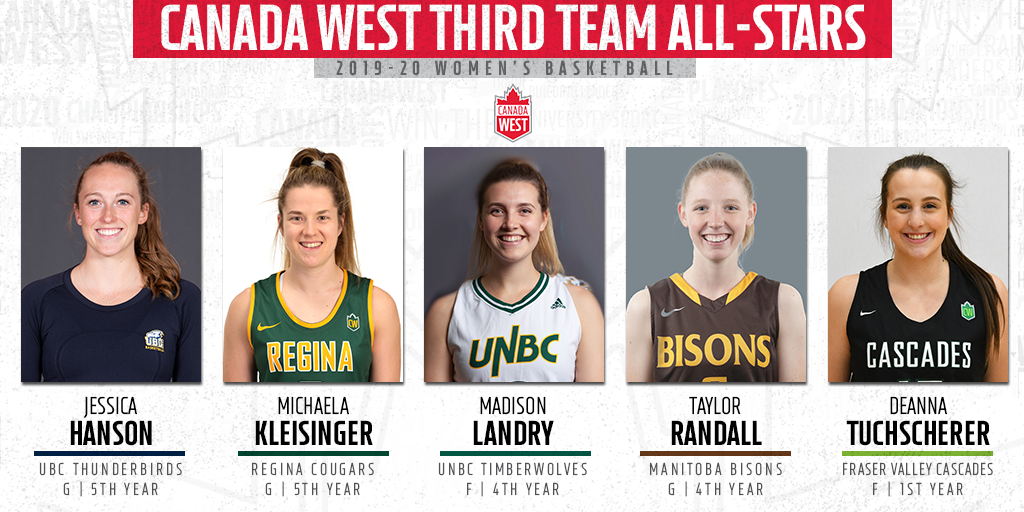 G / Jessica Hanson / UBC / 5 / Kinesiology / Vancouver, BC

G / Michaela Kleisinger / Regina / 5 / Kin. & Health Studies / Regina, SK

F / Madison Landry / UNBC / 4 / Biomedical Studies / Prince George, BC

G / Taylor Randall / Manitoba / 4 / Management / Dundas, ON

G & F / Deanna Tuchscherer / Fraser Valley / 1 / Kinesiology / Chilliwack, BC
G / Lauren Bartlett / Manitoba / Management / Winnipeg, MB

F / Jaeli Ibbetson / UBCO / Sciences / Kelowna, BC

G / Anna Kernaghan / Winnipeg / Kinesiology / Winnipeg, MB

F / Jenika Martens / Mount Royal / University Entrance / La Crete, AB

G & F / Deanna Tuchscherer / Fraser Valley / Kinesiology / Chilliwack, BC