Versatile record-setter inducted into CW Hall of Fame
Former UBC guard, Ron Thorsen earns honour
4 August 2022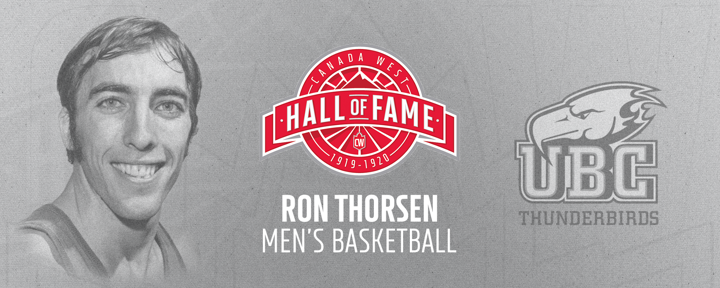 CALGARY - Few athletes leave such a resounding mark on their program that it echoes through the halls half a century later. But that's exactly what Ron Thorsen accomplished through his raw athletic talent, team-first mentality, strong character and winning ways.
Thanks to that lethal combo, he's now a member of the Canada West Hall of Fame.
Thorsen took the collegiate basketball scene by storm when he arrived at the University of British Columbia in 1967. The highly regarded guard dribbled circles around the competition as freshman. It was at this same time, Thorsen was being lauded by a federal cabinet minister for his all-around citizenship.
Thorsen continued to impress when he moved up from junior varsity the following year. His play was described as "brilliant" as he showed why some considered him the top basketball talent in the country. Thorsen's tool kit had everything: quick driving, accurate passing, scoring prowess and unselfish team play.
In 1969-70, Thorsen led his team to an undefeated regular season record that culminated with national championship glory. Thorsen was selected the tournament's MVP and named an All-Canadian. The individual accomplishments didn't stop there as he notched three UBC basketball records throughout the season as well.
Thorsen led the team back to familiar grounds in 1971-72 as the team captured its second national title in three years. Thorsen was again the standout, as he set a Canadian university career record for points.
Thorsen went on to be drafted into the NBA and play with the Canadian national team. Although he did go on to play in the NBA, he captured a third national university title, this time as the coach of the UBC women's team in 1973-74.
His UBC scoring records long stood at the school, and his legacy will remain forever. ​
---
ABOUT THE CANADA WEST HALL OF FAME
For the last century, organized university sport has been a central part of the student experience at institutions across Western Canada. Beginning with the University of Manitoba capturing the first Western Canadian Intercollegiate Athletic Union (WCIAU) men's hockey banner in 1919-20, student-athletes have been competing to reach their full potential in sport and the classroom, while enriching campus life. 
To commemorate 100 years of university sport across Western Canada, the Canada West Hall of Fame was created in the spring of 2019. This year's induction class will be unveiled throughout the summer of 2022.
VISIT: CanadaWestHallofFame.org