Undefeated UBC Thunderbird team earns Hall of Fame nod
The 1986-87 UBC men's soccer team finds place among greats
16 June 2022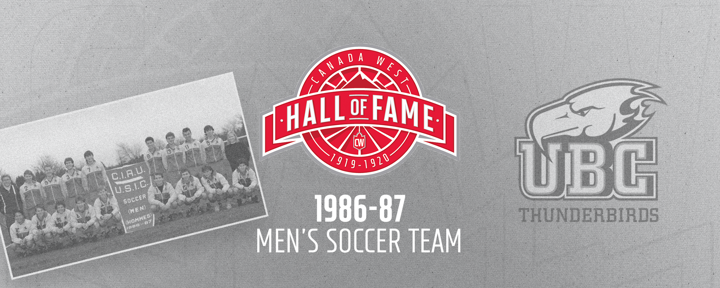 CALGARY - The 1986-1987 University of British Columbia men's soccer team is the newest addition to the Canada West Hall of Fame, the conference announced Thursday.
That team featured Mike Allina, Mike Malana, Alex Percy, Steve Burns, Andrew Mardon, Joe Pesht, Kevin Colbow, Gary Mordecai, Brian Petersen, John Gasparac, Ken Moysiuk, Kevin Reilly, Byron Gayfer, Ken Mulleny, Gregor Young, Brian Kennedy, and David Partridge. Recent Hall of Fame inductee and UBC legend Dick Mosher was the coach while Heather Pickering was the team's trainer.
The Thunderbirds were dominant from the season's opening kick to the national championship's trophy presentation. When they lifted it, it held a special sense of greatness.
The team didn't suffer a single loss that year, going 11-0-2 overall, with a 10-0-1 conference record. In their 13 games, they shut out opponents an astounding 10 times.
Ken Mulleny was the team's offensive leader, finishing the season atop Canada West in scoring with six goals. Mike Allina was close behind with four. UBC boasted two more players in the top ten, with John Gasparac and Byron Gayfor each posting three goals on the season.
The team was just as impressive, if not moreso, at the other end of the pitch. Gregor Young led the brick wall on defence, while goalkeeper Brian Kennedy shone in net. Kennedy, Young, Mulleny and Gasparac were named CW all-stars and CIAU all-Canadians while Mosher earned the CW Coach of the Year nod. The recognition of talent on the team wasn't done there, as Alex Percy was the national championship's MVP.
In that national championship game, UBC sealed their stamp of dominance with a 4-0 victory over Toronto, a fitting end to a remarkable season. ​
"This was Dick Mosher's first year as coach of the UBC Men's team and in turn it became his first national championship. Even in his first year, inheriting defending champions, he was able to craft a team culture that saw players bond in training, games, dressing rooms and wherever beers were being served. We went into games with no doubt about winning and no doubt that everyone on the field with them was committed to this mentally and physically. Dick's legacy, in addition to the championships, is that 35 years later his players still respect him, each other and look forward to getting together to catch up. As a still tight-knit group we're all tremendously honoured that our accomplishments are being recognized by the Canada West Hall of Fame," said Gregor Young, 1986-1987 CIAU All-Canadian.
Four players from the team went on to play professional soccer.
---
ABOUT THE CANADA WEST HALL OF FAME
For the last century, organized university sport has been a central part of the student experience at institutions across Western Canada. Beginning with the University of Manitoba capturing the first Western Canadian Intercollegiate Athletic Union (WCIAU) men's hockey banner in 1919-20, student-athletes have been competing to reach their full potential in sport and the classroom, while enriching campus life. 
To commemorate 100 years of university sport across Western Canada, the Canada West Hall of Fame was created in the spring of 2019. This year's induction class will be unveiled throughout the summer of 2022.
VISIT: CanadaWestHallofFame.org