Ultimate sportsman earns his place in CW Hall of Fame
Dr. Gary Bowie inducted as a builder
12 July 2022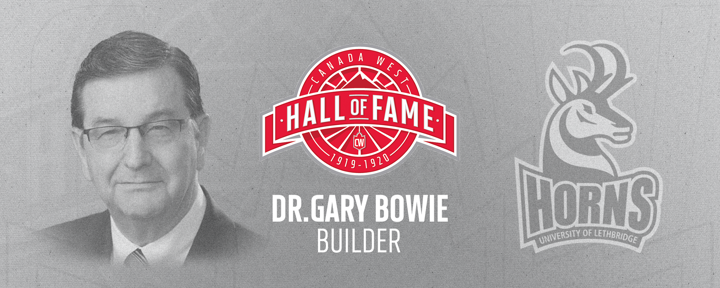 CALGARY - Few people impact sport and sport organizations like Dr. Gary Bowie. The Claresholm, Alberta product did it all – as a coach, participant, professor, administrator, founder, vice president, commissioner, and author.
Dr. Bowie completed his bachelor's degree in physical education at Brigham Young University, his master's degree at Washington State University and his doctorate (philosophy) at Utah State University.
Dr. Bowie coached the first University of Lethbridge men's basketball teams from 1967 to 1972. It was during this time he became the Pronghorns' athletic director, a position he held for an unprecedented four terms. Fulfilling the duties of the athletic department's highest position didn't stop him from coaching, as he went from basketball to curling, a role he filled from 1972 to 1983.
Dr. Bowie's four terms as athletic director (1970 to 1974, 1980, 1981 to 1988 and 1989) left a lasting legacy on the conference level as well, as the ultimate sportsman became a founding member of the Western Inter-College Conference. Dr. Bowie served as the CIAU's secretary-treasurer for four years, a role he would also fill for the Canada West conference before becoming its vice-president. He was the conference's basketball commissioner from 1984 to 1992.
"When I think of Pronghorn Athletics history and positive impact on the sporting scene here at the University and the broader community, the conversation starts and ends with one name, Gary Bowie. Being a pioneer with establishing the Pronghorns as solid members of the Canada West University scene for decades is an accomplishment that he can stand proud of. He has always been a sports administrator hero for me and I try hard to make him continue to be proud of Pronghorn Athletics. It's a legacy that is worth striving for. Congratulations and thank you Dr. Bowie," said Executive Director of Pronghorn Athletics Neil Langevin.
Despite the number of shoes he already filled, Dr. Bowie's work in sport reached far into the community as well. He coached several community basketball teams, from junior high squads to the Alberta Senior A men's basketball championship team.
He also served on committees outside of university sport, having helped launch the Lethbridge Sports Hall of Fame in 1984. He chaired the board of the 1996 Alberta Winter Games and directed 1975 Canada Winter Games. He spent time with the Lethbridge Sports Council, Lethbridge Family Services, the Society for the Prevention of Child Abuse and Neglect and the Lethbridge School District No. 51. His care for his community further showed itself when he served as the Alberta Secretariat for Action on Homelessness.
For his work, Dr. Bowie was awarded the Queen Jubilee Commemorative Medal and an Alberta Centennial Medal.
In 1996, Dr. Bowie was named the Lethbridge Sportsperson of the Year. His name is already in the Lethbridge Sports Hall of Fame and the Alberta Hall of Fame.
---
ABOUT THE CANADA WEST HALL OF FAME
For the last century, organized university sport has been a central part of the student experience at institutions across Western Canada. Beginning with the University of Manitoba capturing the first Western Canadian Intercollegiate Athletic Union (WCIAU) men's hockey banner in 1919-20, student-athletes have been competing to reach their full potential in sport and the classroom, while enriching campus life. 
To commemorate 100 years of university sport across Western Canada, the Canada West Hall of Fame was created in the spring of 2019. This year's induction class will be unveiled throughout the summer of 2022.
VISIT: CanadaWestHallofFame.org