T&F record-holder honoured with induction into CW Hall of Fame
Former University of Manitoba runner adds Hall of Fame nod to list of accolades
2 June 2022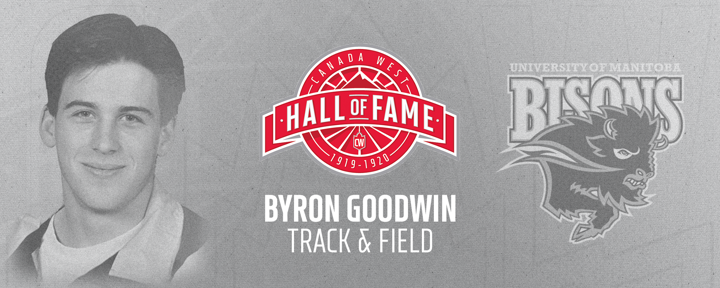 CALGARY – Byron Goodwin is the newest member of the Canada West Hall of Fame, the conference announced Thursday. Goodwin competed at the University of Manitoba from 1991 to 1997.
Goodwin was a graduate of Winnipeg's Grant Park High School, where he was a track and field record-setter before going on to do the same on the senior national stage. ​
A superhero on the track, Goodwin is a double Canadian record holder. He boasts all-time best times in the indoor 600-metre race (1:16.10) and 4 x 400-metre (3:07.77) indoor race, marks that remain to this day.
"Byron is the most decorated Track & Field athlete in Bison history. He was a fierce competitor who always came prepared to compete at the biggest meets. He never lost an individual race at the CIAU Championships in all the years he competed. As impressive as his results are, he was just as motivated to help the team win Championships. On multiple occasions he would run on all three relay teams to help the team score points. ​ The Bison family was an important part of his life and made the most of his university career," said Bisons track and field head coach Claude Berube.
Goodwin won an astounding 12 U SPORTS gold medals in a variety of distances in his time as a University of Manitoba Bison. Individually, he shined in the 300-metre, 600-metre and 1000-metre. He was also a member of the 4 x 200-metre, 4 x 400 metre and 4 x 800 metre medal-winning teams.
Goodwin's high-level versatility made him a special athlete, the one to watch regardless the distance of the race.
Goodwin's excellence on the track shone beyond university athletics. He was a member of Team Canada, competing at the 1992 Olympics, 1995 and 1999 Pan Am Games, and 1999 World Championships. On the international stage, he earned a bronze medal in the 4 x 400-metre relay at the Jeux de la Francophone.
ABOUT THE CANADA WEST HALL OF FAME
For the last century, organized university sport has been a central part of the student experience at institutions across Western Canada. Beginning with the University of Manitoba capturing the first Western Canadian Intercollegiate Athletic Union (WCIAU) men's hockey banner in 1919-20, student-athletes have been competing to reach their full potential in sport and the classroom, while enriching campus life. 
To commemorate 100 years of university sport across Western Canada, the Canada West Hall of Fame was created in the spring of 2019. This year's induction class will be unveiled throughout the summer of 2022.
VISIT: CanadaWestHallofFame.org