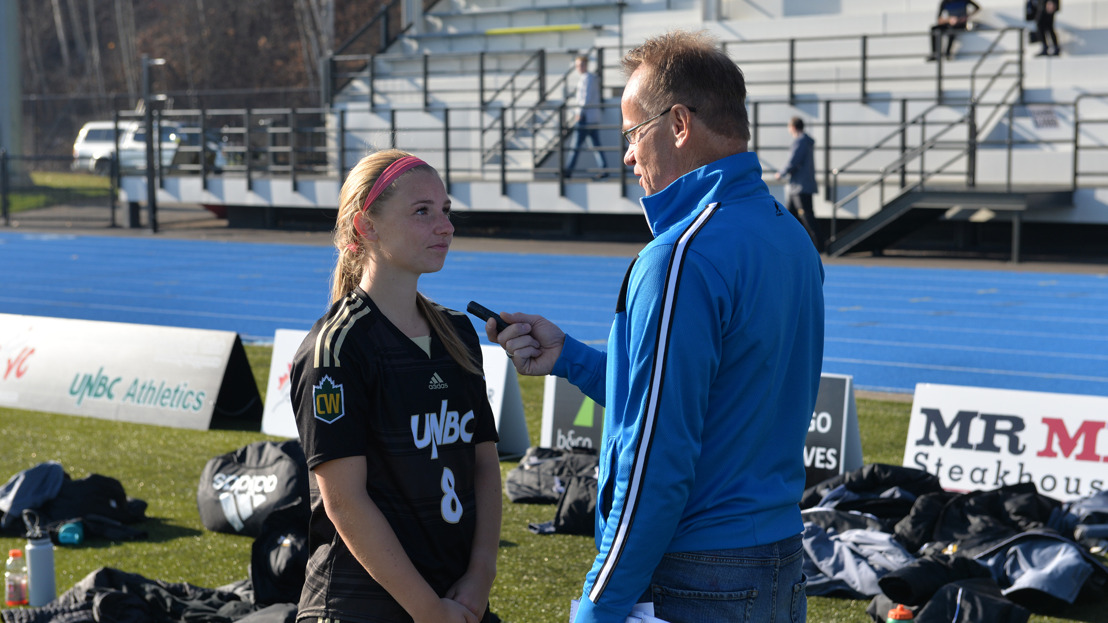 Ted Clarke named Fred "Gus" Collins Award winner
Longtime Prince George Citizen journalist honoured for Canada West coverage
EDMONTON – Ted Clarke's outstanding coverage of university sport has landed the longtime Prince George Citizen sports reporter the 2019-20 Fred "Gus" Collins Award.
Clarke, who has covered the University of Northern British Columbia Timberwolves for the last 20 years including the last eight at the Canada West level, was announced Friday as the winner after being selected for the honour by CW's sports information directors.
The award is handed out annually to a member of the media who works tirelessly covering Canada West and it student-athletes, and is named in honour of the late Fred "Gus" Collins. Collins was a longtime member of the Calgary Herald sports department and was a major contributor to the development, success and promotion of university sport, particularly through his role as conference statistician from 1979 to 1999.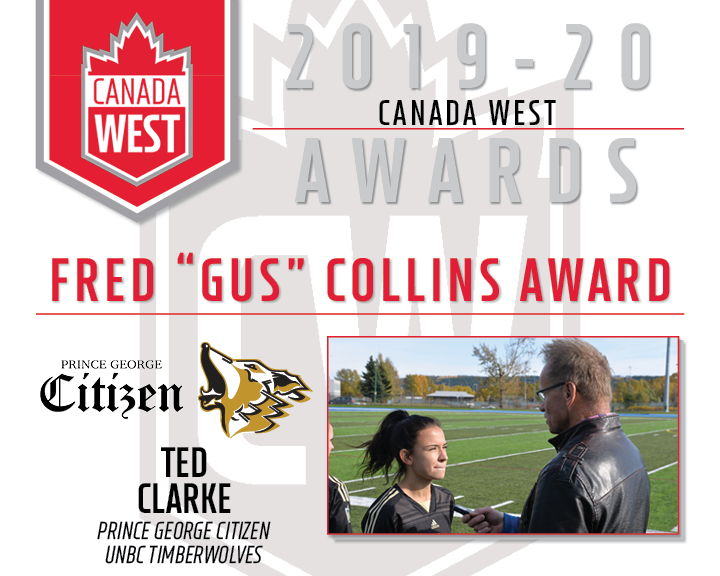 "I just wanted to thank Canada West for this Fred "Gus" Collins Award award. I had the pleasure of working with Gus when I was just starting out as a sportswriter in 1990. I had the good fortune to get hired out of Mount Royal College on an internship at my hometown paper, the Calgary Herald," said Clarke.
"Fred loved stats and showed me how to write up agate results. At the time he had the Calgary Cannons triple-A baseball beat and he was one of the guys at the Herald who really took me under his wing. He showed my a few tricks about how to spice up a game story that I still utilize today."
Clarke's dedication to telling the stories of amateur sport in Prince George and the value he places on interviewing athletes, coaches, and others face-to-face has yielded exceptional coverage of the Timberwolves.
"The four UNBC teams and the success they have shown on the basketball court and the soccer field are a source of pride for the people of Prince George," said Clarke.
"In addition to watching local kids shine at the highest level, UNBC attracts international athletes of the highest quality. Not only are they a joy to watch but you never have to look hard to find an interesting angle for a feature story on how they ended up in Northern B.C."
As a sports department of one, Clarke can often be found at UNBC covering the Timberwolves, while also keeping tabs on the city's WHL, BCHL squads, and others.
"As someone who worked in media and witnessed the shrinking windows of time and resources available, Ted stands out as an outlier in the journalism world," said UNBC Sports Info Officer Rich Abney. "We are incredibly thankful for his dedication, honesty, willingness to dig deeper for compelling stories, and his work ethic that provides UNBC and Canada West with significant exposure."
Through his excellent coverage of UNBC, Clarke also heightened the profile of Canada West as a whole, emerging as this year's Collins Award winner from a talented and dedicated list of nominees from across Western Canada.
"Ted's excellent coverage of UNBC and Canada West is greatly appreciated, especially considering the fact that newsrooms are shrinking and fewer resources are being dedicated to telling the incredible stories of student-athlete success on our campuses," said CW Associate Director of Communications and Marketing Evan Daum.
"We had several outstanding nominees for the Fred "Gus" Collins Award this season, which only serves to highlight the work Ted did, as he was selected as the best from a very talented and dedicated group of nominees."
Clarke will now move forward as the CW nominee for the Fred Sgambati Media Award, which is awarded annually by U SPORTS.
PREVIOUS FRED "GUS" COLLINS AWARD WINNERS
2018-19: Marty Hastings, Kamloops This Week

2017-18: Jason Hills, Postmedia (Edmonton)

*2016-17: Cleve Dheensaw, Times Colonist (Victoria)

*2015-16: Rita Mingo, Postmedia (Calgary)

2014-15: Earl Seitz, CFJC TV/B-100 / CIFM Radio (Kamloops)

*2013-14: Darren Zary, StarPhoenix (Saskatoon)

2012-13: Ron Rauch, Times Colonist (Victoria)

2011-12: Evan Daum, Edmonton Journal / CJSR

2010-11: David Larkins, Brandon Sun

2009-10: Esther Madziya, Global TV (Saskatoon)

*2008-09: Howard Tsumara, Vancouver Province

2007-08: Jason Pires, A-Channel (Victoria)

2006-07: Neil Shewchuk, CK750 (Saskatoon)

2005-06: Howard Tsumara, Vancouver Province

*2004-05: Ian Hamilton, Leader-Post (Regina)
*Denotes Fred Sgambati Award winner (national award)