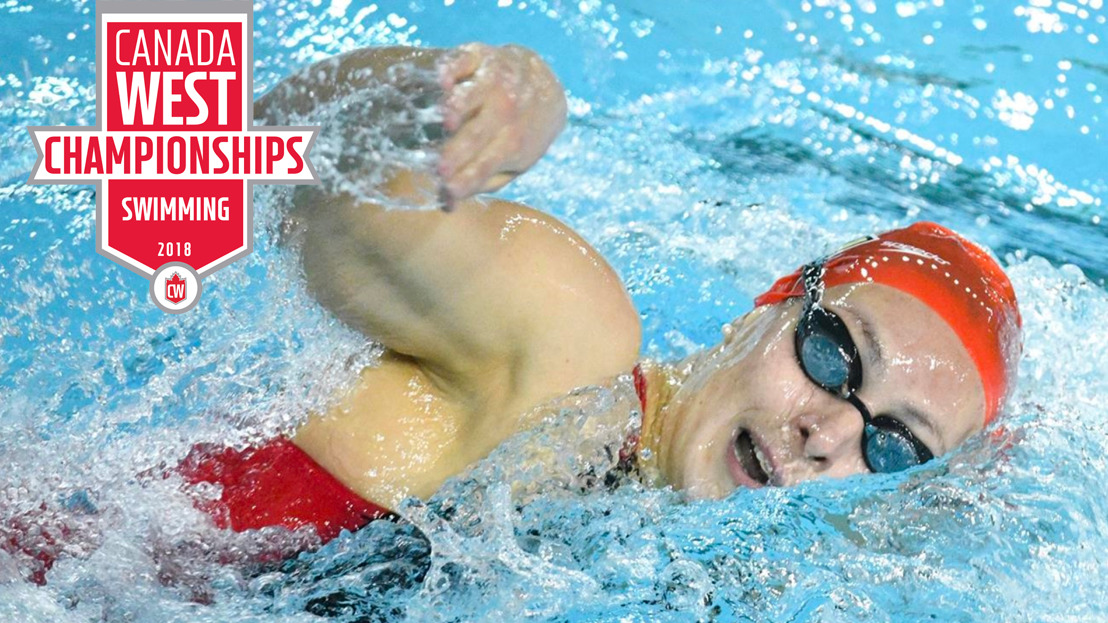 SWIM: Calgary set to host conference championships
Event goes Friday through Sunday, as UBC looks to continue string of dominance
CALGARY – Student-athletes from across Canada West are making a splash this weekend at the UC Aquatics Centre where the Calgary Dinos are hosting the 2018 Canada West Swimming Championships.
From Friday through Sunday, medals are up for grabs in more than three dozen events.
With multi-time Canada West swimming Coach of the Year Steve Price at the helm, UBC is pursuing a tenth straight women's and sixth consecutive men's team title. The T-Birds will face plenty of challengers in Calgary's Dino-infested waters, with a U of C team that finished second in both the men's and women's standings at the 2017 championships. Meanwhile, Alberta, Lethbridge, Manitoba, Regina, Thompson Rivers and Victoria also have designs on landing conference medals.
The meet is a homecoming for UBC's Ingrid Wilm, a Calgary native that last year broke records in the women' 50-metre butterfly, 50-metre backstroke, and 200-metre backstroke while winning six gold medals. Fellow T-Birds Josiah Binnema and Markus Thormeyer are two of the most accomplished Canada West swimmers, each winning four golds, including one together as part of UBC's record-setting relay in the 4 x 100-metre medley.
Setting the pace for the hosts is fourth-year swimmer Robert Hill, the Canada West record holder in the men's 200-metre backstroke, who stood atop the podium three times at last season's championships. Hill's Dinos teammate Danica Ludlow stopped the clock first in the women's 400-metre freestyle in 2017.
Having been named the 2017 Canada West Women's Swimmer of the Year and 2016 Rookie of the Year, Manitoba's Kelsey Wog is poised to add to her trophy case this year. The third-year Bison is the defending gold medalist in the 50-metre breaststroke, 100-metre breaststroke, and 200-metre individual medley.
Victoria's Eric Hedlin and Danielle Hanus return after winning titles at the 2017 championships, when they helped the host Vikes to place third and fourth in the men's and women's standings, respectively. Hedlin rewrote the record book in the men's 1,500-metre freestyle while Hanus did likewise with the women's 100-metre butterfly.
Other competitors to watch include Lethbridge's Joel Robinson, the reigning champ in the men's 50-metre breaststroke, and the Regina women's 4x100-metre medley relay team, which returns three of its four members from last year's silver-medal winning unit.
Twenty records were broken at the 2017 Canada West championships, a figure that could certainly be equaled or bettered this weekend.
Calgary is the all-time leader with 20 Canada West men's team swimming championships, two more than UBC. The T-Birds have won 29 women's titles, while the Dinos are in second place with eight.
Canada West's top performers will move on to compete in the 2019 U SPORTS Swimming Championships, hosted Feb. 21 – 23 by UBC in Vancouver.
EVENT SCHEDULE
All events available live on Canada West TV
Friday, Nov. 23
Session 1: 4:00 – 5:00 p.m.

Session 2: 5:30 – 7:30 p.m.
Saturday, Nov. 24
Session 3: 10:00 a.m. – 12:00 p.m.

Session 4: 5:30 – 7:30 p.m.
Sunday, Nov. 25
Session 5: 9:00 – 11:00 a.m.

Session 6: 3:00 – 5:00 p.m.