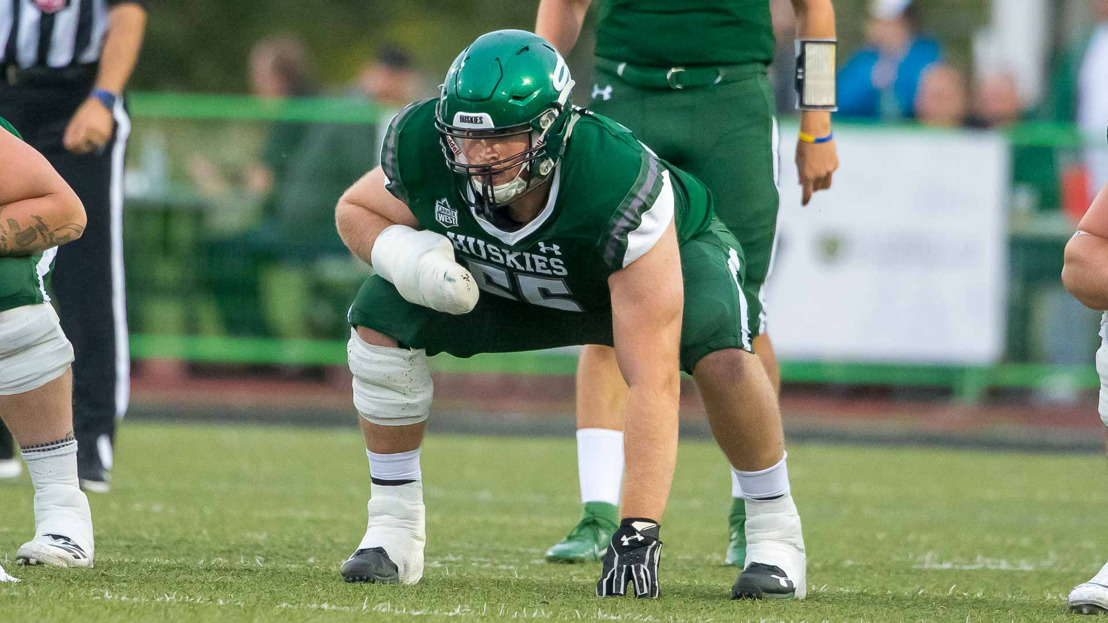 Saskatchewan's Riley stays home with Riders in CFL Draft
Huskie lineman one of 14 Canada West players selected
EDMONTON – Thursday night was one to celebrate for the 14 Canada West football players taken in the 2020 CFL Draft, as for one night fans shifted their focus to a future with football.
Mattland Riley of the Saskatchewan Huskies was the first CW player taken in the draft, as the Saskatchewan Roughriders took the offensive linemen seventh overall.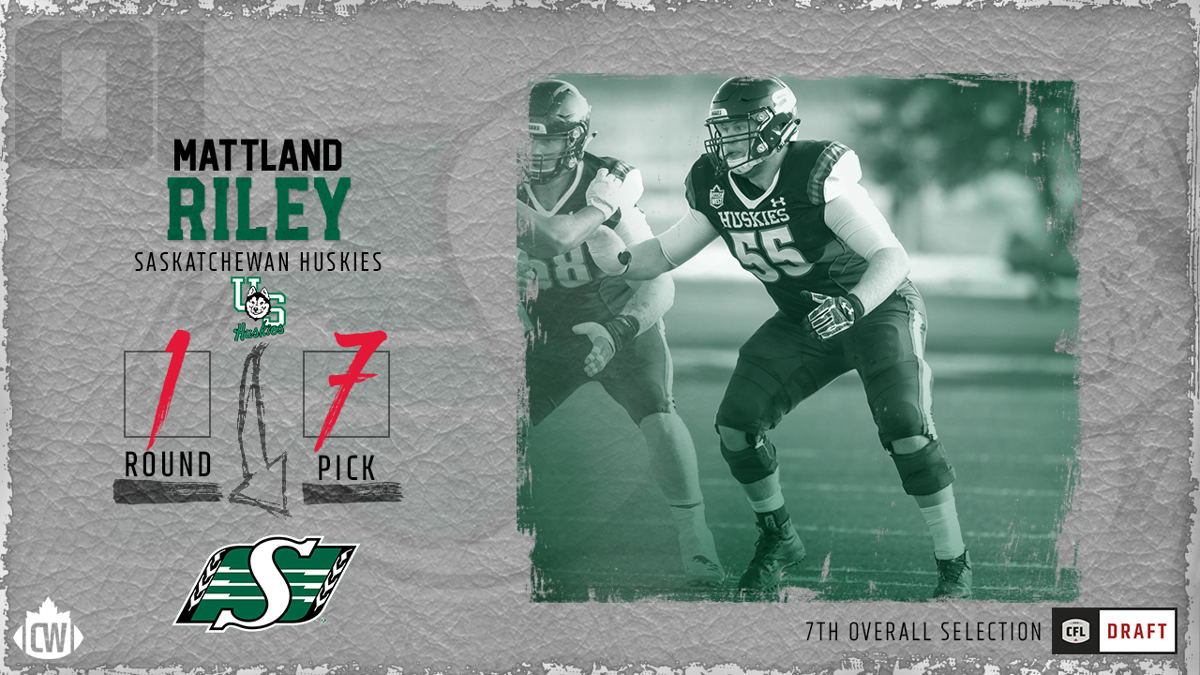 The Melfort, Sask. product was the second-ranked player in the CW CFL Prospect Rankings released earlier this week, as the conference's coaches anticipated the six-foot-three engineering student would be a high pick after being a unanimous conference all-star in 2019.
Riley was one of five Huskies taken on the night, as Saskatchewan led the Canada West charge in terms of draftees.
Along with Riley, Regina Ram Theren Churchill was the other CW product selected in the first round. The offensive lineman was the fourth Ram all-time taken in the first round and first since 2008.
Overall, all six CW teams had at least one player selected, with eight of the CFL's nine teams taking at least one CW player.
CW PLAYERS SELECTED IN THE 2020 CFL DRAFT
Position /Name (overall draft position) / University / CFL team
ROUND 1 (2)
OL / Mattland Riley (7th) / Saskatchewan Huskies / Saskatchewan Roughriders

OL / Theren Churchill (9th) / Regina Rams / Toronto Argonauts
ROUND 2 (1)
REC / Trivel Pinto (12th) / UBC Thunderbirds / Calgary Stampeders
ROUND 3 (1)
OL / Carter O'Donnell (22nd) / Alberta Golden Bears / Montreal Alouettes
ROUND 4 (1)
DB / Stavros Katsantonis (36th) / UBC Thunderbirds / Hamilton Tiger-Cats
ROUND 5 (2)
DB / Treshaun Abrahams-Webster (38th) / Calgary Dinos / Ottawa REDBLACKS

DL / Nicholas Dheilly (46th) / Saskatchewan Huskies / Winnipeg Blue Bombers
ROUND 6 (3)
REC / Sam Baker (48th) / Saskatchewan Huskies / Toronto Argonauts

OL / Andrew Becker (49th) / Regina Rams / Montreal Alouettes

DB / Jean Ventose (54th) / UBC Thunderbirds / Hamilton Tiger-Cats
ROUND 7 (1)
OL / Nicholas Summach (57th) / Saskatchewan Huskies / Edmonton Eskimos
ROUND 8 (3)
DL / Brock Gowanlock (66th) / Manitoba Bisons / Montreal Alouettes

REC / Colton Klassen (69th) / Saskatchewan Huskies / Montreal Alouettes

DL / Tom Schnitzler (72nd) / UBC Thunderbirds / Hamilton Tiger-Cats