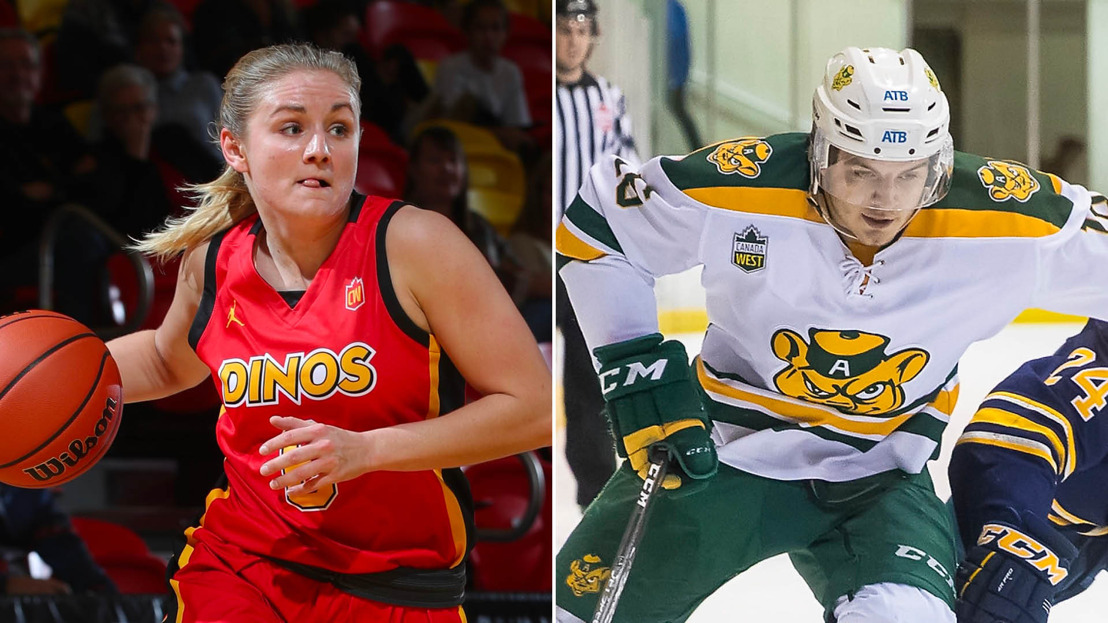 Playoff pictures set for basketball, hockey
Canada West postseason action returns with basketball play-ins and hockey quarter-finals
EDMONTON – The road to conference glory in Canada West basketball and hockey has come into focus.
CW regular season play concluded in both sports Saturday night, as basketball play-in games and best-of-three quarter-finals in hockey are set for this coming week.
On the hardcourt, the Calgary Dinos (women's) and Alberta Golden Bears (men's) will head into the playoffs as the conference's top basketball seeds. Meanwhile on the ice, Alberta earned both No. 1 seeds, with the Golden Bears and Pandas (women's) finishing atop the regular season standings.
In basketball, seeding was determined by RPI for a fourth consecutive season. RPI accounts for varying strengths of schedules resulting from the conference's unbalanced schedule.
All basketball play-in games are set for Friday, February 14, as four teams will advance to the second week of the postseason, joining the conference's top four seeds who are set to enjoy first round byes.
2020 CW BASKETBALL PLAYOFFS (CLICK BELOW)
In hockey, the Saskatchewan Huskies (men's) and Calgary (women's) will join Alberta with first round byes after second-place finishes. The group awaits the winners of the upcoming best-of-three quarter-final series, which all open Friday and conclude with Game 3s (if necessary) on Sunday, February 16.
2020 CW HOCKEY PLAYOFFS (CLICK BELOW)
You can watch every game on the road to the CW Hockey Finals and CW Basketball Championship Games by tuning into Canada West TV Presented by Co-op. Postseason sport passes are available now for $19.99 and provide access to every men's and women's playoff game in a single sport.