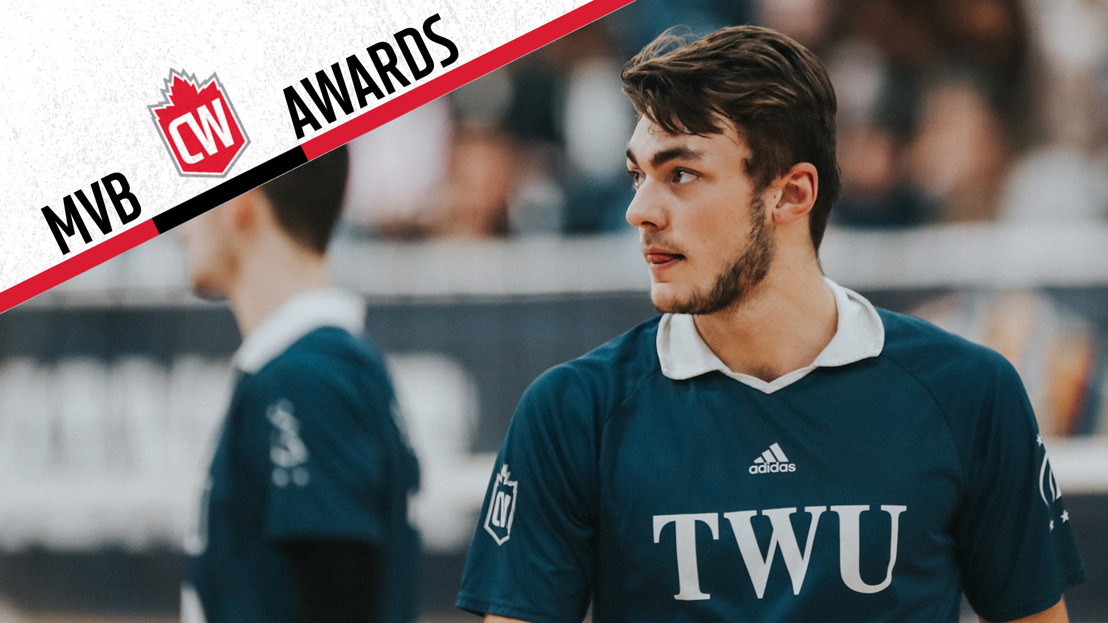 MVB: Loeppky adds Player of the Year to Canada West hardware
Former CW Rookie of the Year led Trinity Western to first-place
EDMONTON – From CW Rookie of the Year in 2016-17 to the conference's Player of the Year this season, Trinity Western's Eric Loeppky has had quite the university career.
The fourth-year outside hitter was named Wednesday as the conference's top player after another stellar season.
Loeppky posted a remarkable .443 hitting percentage, finishing the season as the lone player in the conference above the .400 mark. He also posted the second-best kills per set total in the conference at 3.89.
This season's Rookie of the Year is Thompson Rivers WolfPack Nimo Benne. The Dutchmen drove the offence for TRU, finishing ninth in CW in kills per set at 3.23.
Seth Friesen has been selected as the conference's Student-Athlete Community Service award winner for a second consecutive season. Despite missing time this season with a concussion, the standout science student continued to excel on the floor. His academics stayed strong as well, as his perfect university GPA remains intact.
Joining Loeppky as a winner from TWU is Coach of the Year Ben Josephson. The veteran coach has built a powerhouse, and guided his team to a Canada West-best 20 wins this season.
Josephson and his Spartans have one more CW game on the schedule, as they host the 2020 CW Men's Volleyball Championship Game on Saturday, March 7 against the Alberta Golden Bears. The game is set for 8:30 p.m. PST and can be seen on Canada West TV Presented by Co-op.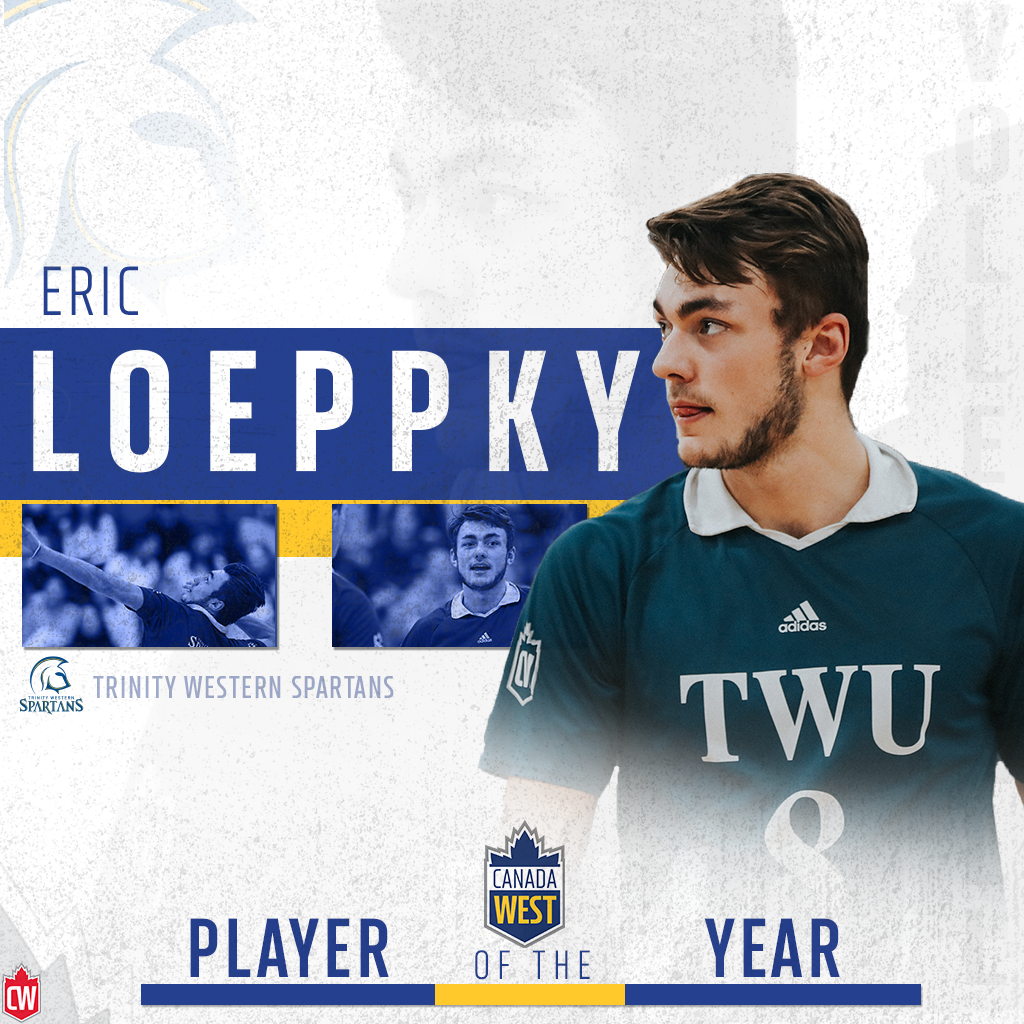 Trinity Western Spartans

Outside hitter

4th-year

Steinbach, Man.

Education
For the third time in the last four years, the Canada West Men's Volleyball Player of the Year is a Trinity Western Spartan.
Fourth-year outside hitter Eric Loeppky takes home the honour after another outstanding season for the Spartans, leading the conference with a sparkling .443 hitting percentage, while finishing second in CW in kills per set at 3.89. His 0.47 service aces per set were also top 10 in the conference (6th).
Loeppky was a key part of TWU's 20-2 regular season, which earned the Spartans the best record in Canada West.
This year, Loeppky became the Canada West all-time leader in career aces, finishing with 153. His 0.563 career aces per set also has him atop Canada West. His 4.570 career points per set, which included 1,002 career kills, sees him slot in sixth overall on the conference's all-time leaderboard.
Coach's comments:
"When Eric is on your team you know you have to be at your best because he is always at his best. That leadership by example is largely why we've been as successful as we've been during his career. Eric leaves an incredible legacy with our program and an amazing example for future Spartans to aspire to be like. It has been one of my greatest honours in my career to coach Eric these past four years and I'm overjoyed to see him honoured by my coaching peers as the Canada West Player of the Year." – Trinity Western Head Coach Ben Josephson.
Thompson Rivers WolfPack

Outside hitter

1st-year

Castricum, Netherlands

Computing Science
Thompson Rivers WolfPack outside hitter Nimo Benne is the CW Rookie of the Year.
The computing science student was the WolfPack's main offensive threat for most of the season, finishing ninth in CW kills per set (3.23), and 12th in digs per set (1.60) and hitting percentage (.254) this season.
His 30-kill game on January 4th against Winnipeg was the second highest total this season in CW.
The Dutch national is the third WolfPack player to be named CW Rookie of the Year, joining current Canadian senior national team captain Gord Perrin (2007), Robin Schoebel (2006), and Kevin Tillie (2010).
Coach's comments:
"Nimo had the opportunity early on and improved as the season went on. This was quite a good year for rookies in Canada West, with many players on the all-rookie team getting significant playing time. His numbers, when you put them on paper, are really quite good. He was on the leaderboard for not only rookies, but all players in Canada West in terms of kills and digs. It showed that he is a complete player." – Thompson Rivers Head Coach Pat Hennelly.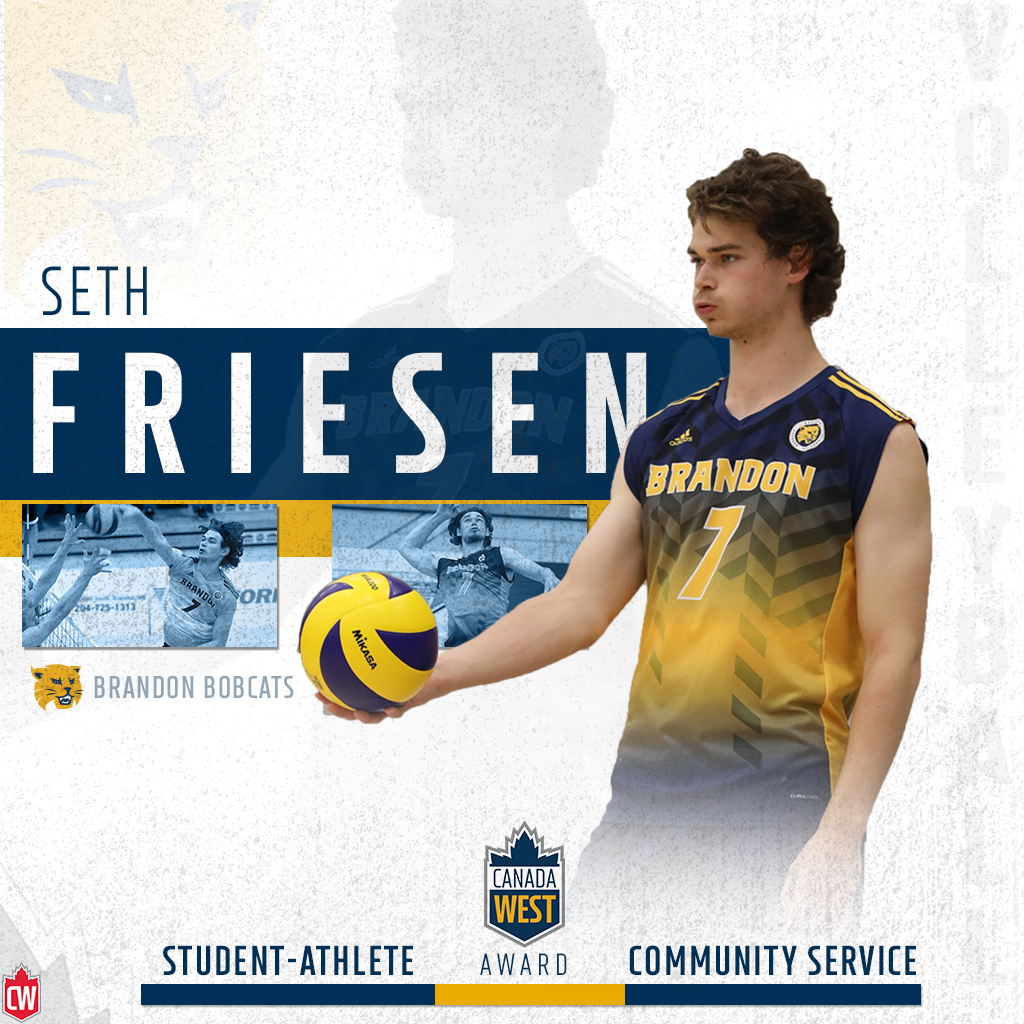 Brandon Bobcats

Left side

5th-year

Brandon, Man.

Science
For the second time in as many years, Brandon's Seth Friesen is the conference Student-Athlete Community Service award winner.
Friesen, who was a U SPORTS Top 8 Academic All-Canadian last season, has had an exceptional university career. Brandon's Male Athlete of the Year in 2018-19, Friesen has maintained a perfect GPA during his math and chemistry double-major while making a significant impact on the court for the Bobcats.
The local Brandon product was a CW second team all-star last season, and was once again impactful this season for BU. The Bobcats were a different team with Friesen in the lineup, going 13-1 with the veteran on the floor during a season which saw him miss significant playing time with a concussion.
Coach's comments:
"It's great to see Seth recognized for such a prestigious award again this year. It maybe wasn't the fairy tale season Seth had wished for on the the court due to his concussion but that doesn't take away from his excellence in the classroom and his continued commitment to all his community endeavours. He's more than deserving of this recognition and we are super proud of him." – Brandon Head Coach Grant Wilson.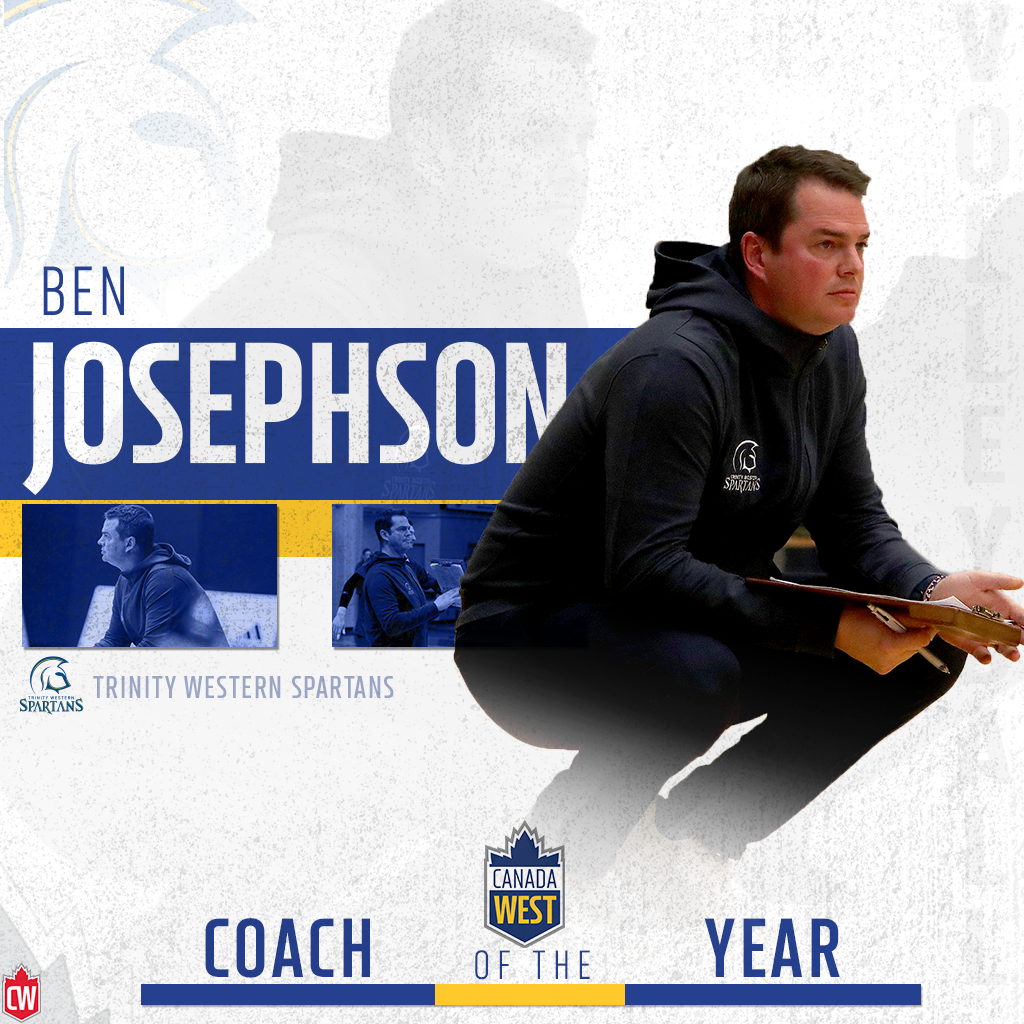 Trinity Western Spartans

13 seasons
Ben Josephson is the CW Coach of the Year, adding to his previous wins in 2011-12 and 2013-14.
Josephson led the Spartans to a 20-2 record this season, topping the nation's toughest men's volleyball conference in the regular season for the fourth time in program history (2011-12, 2013-4, 2017-18). The defending national champions also went wire-to-wire as the nation's No.1-ranked team.
The Strathmore, Alta. native is looking to win his third national award after claiming the CIS honour during both of his previous CW award-winning seasons.
Athletic director quotes:
"Ben is a complete coach who is able to relate to his athletes and set a high standard both on and off the court for our guys. That's not always easy to find in a coach. The balance of attention to detail and keeping the game enjoyable is rare, but Ben does that. His commitment to constant improvement, his willingness to innovate, his meshing of technology/analytics with relationship building is what makes him an exceptional coach and a true volleyball leader. Of course, Ben would be the first to thank his tremendous staff and this year his assistant coaches did an outstanding job developing this group and helping to lead this team throughout an amazing season." – Trinity Western Athletic Director Jeff Gamache.