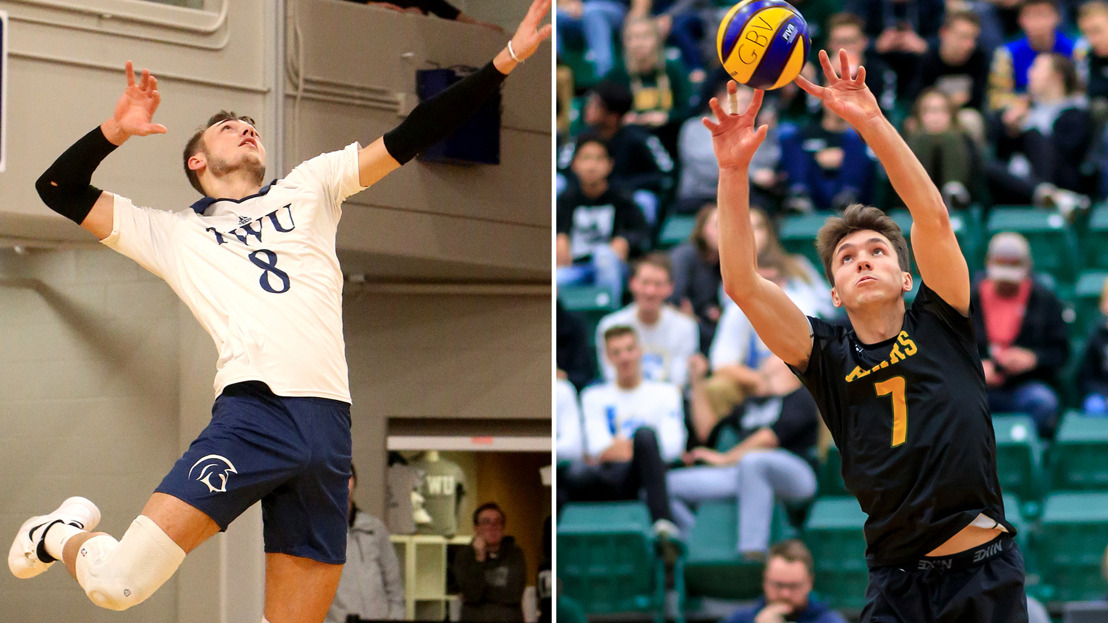 MVB: Spartans, Bears lead all-star and all-rookie selections
TWU and Alberta ready to host CW semis this weekend
EDMONTON – With the Canada West semifinals set for this weekend, the conference released the 2019-20 all-star and all-rookie teams Tuesday.
The three teams serve as a showcase of the country's top university players, with the CW major awards set to be announced Wednesday, March 4 at 1 p.m. MST.
Leading the charge on the first all-star team were the Trinity Western Spartans and Alberta Golden Bears. The pair finished one-two during the CW regular season and both landed two players on the top team, with TWU represented by Derek Epp and Eric Loepkky, while Alberta's Max Elgert and Jackson Kennedy made the team.
Both teams are set to host best-of-three semifinals this weekend, as the No. 1 Spartans welcome the defending CW champion Brandon Bobcats beginning Thursday, while the Bears host the UBC Thunderbirds.
CW MEN'S VOLLEYBALL PLAYOFF CENTRAL
You can watch every game on the road to the CW Volleyball Championship Games by tuning into Canada West TV Presented by Co-op.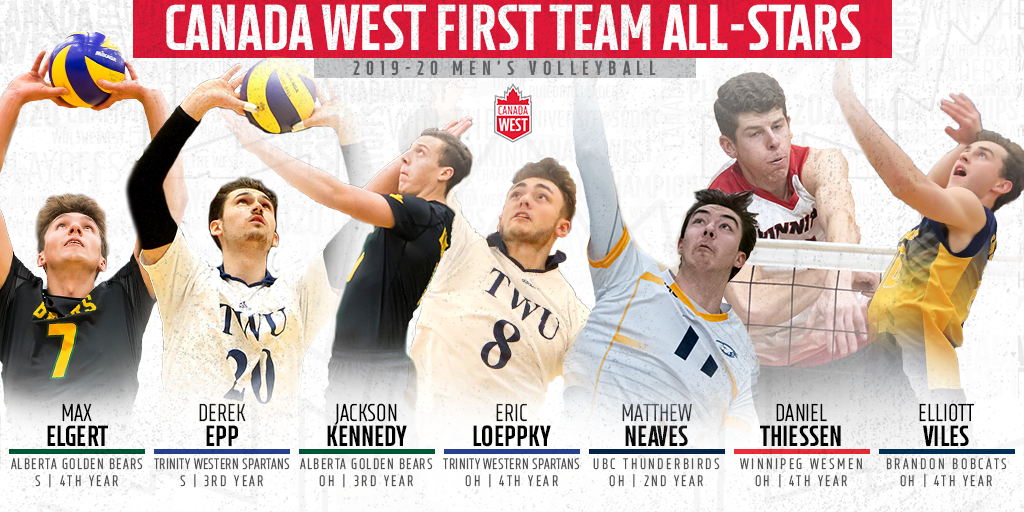 POSITION / NAME / UNIVERSITY / YEAR / PROGRAM / HOMETOWN
S / Max Elgert / Alberta / 4 / Engineering / Athabasca, AB

S / Derek Epp / Trinity Western / 3 / Human Kinetics / Saskatoon, SK

OH / Jackson Kennedy / Alberta / 3 / Kin., Sport, & Rec. / Edmonton, AB

OH / Eric Loeppky / Trinity Western / 4 / Education / Steinbach, MB

OH / Matthew Neaves / UBC / 2 / Business / Calgary, AB

OH / Daniel Thiessen / Winnipeg / 4 / Econ. & Finance / Winnipeg, MB

OH / Elliott Viles / Brandon / 4 / Business Admin. / Adelaide, Australia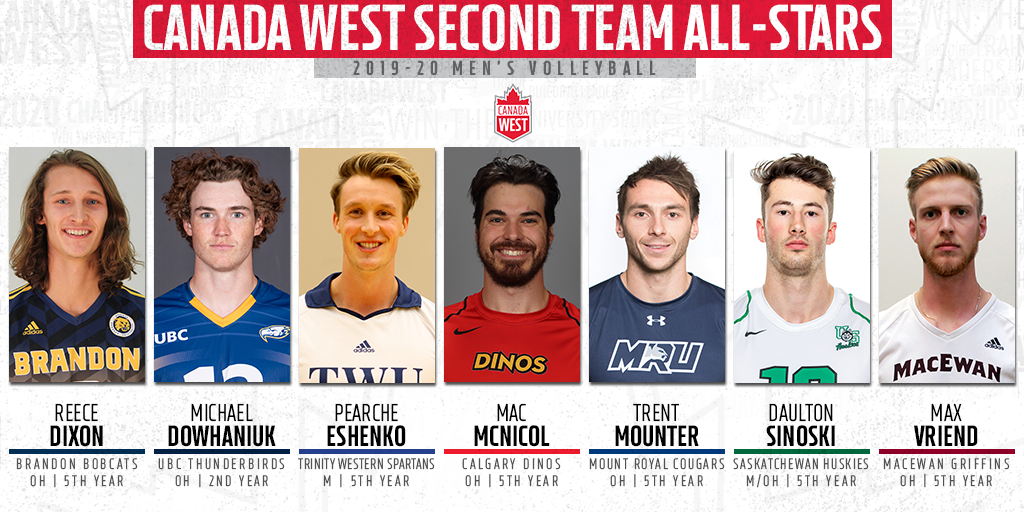 OH / Reece Dixon / Brandon / 5 / Science / Sherwood Park, AB

OH / Michael Dowhaniuk / UBC / 2 / Applied Science / Surrey, BC

M / Pearce Eshenko / Trinity Western / 5 / Human Kinetics / Banff, AB

OH / Mac McNicol / Calgary / 5 / Open Studies / Calgary, AB

OH / Trent Mounter / Mount Royal / 5 / Business / Perth, Australia

M & OH / Daulton Sinoski / Saskatchewan / 5 / Education / Prince Albert, SK

OH / Max Vriend / MacEwan / 5 / Commerce / Barrhead, AB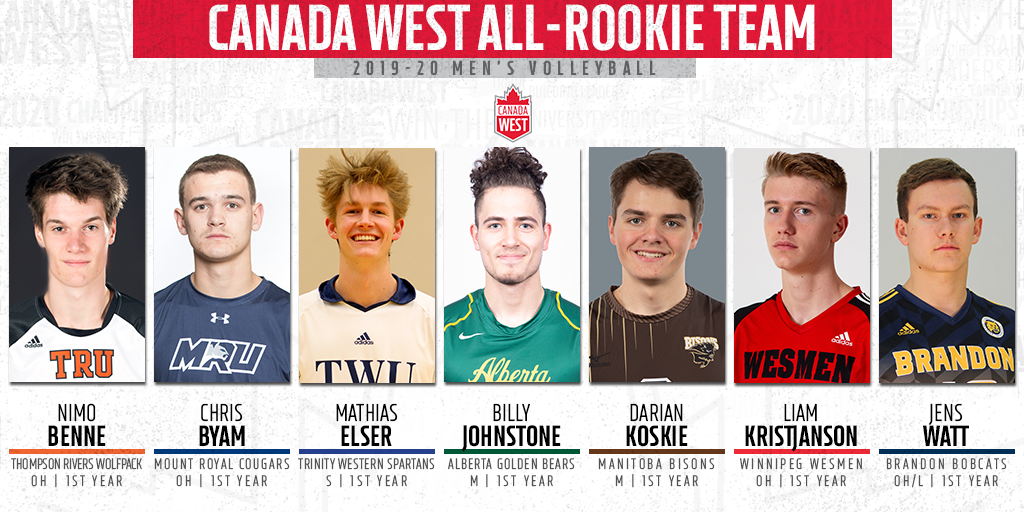 OH / Nimo Benne / Thompson Rivers / Computing Science / Castricum, Netherlands

OH / Chris Byam / Mount Royal / Health & Phys. Ed. / Bow Island, AB

S / Mathias Elser / Trinity Western / Business / Calgary, AB

M / Billy Johnstone / Alberta / Kin., Sport, & Rec. / Gisborne, New Zealand

M / Darian Koskie / Manitoba / Arts / Winnipeg, MB

OH / Liam Kristjanson / Winnipeg / Applied Computer Science / Oak River, MB

OH & L / Jens Watt / Brandon / Science / Lethbridge, AB