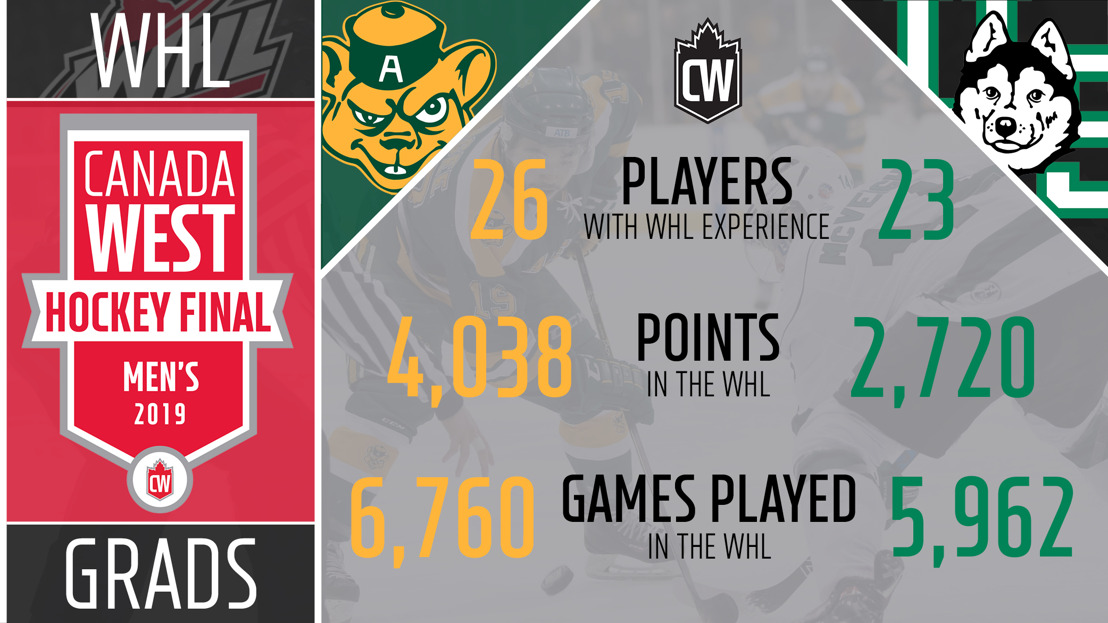 MHKY: WHL grads go head-to-head in Canada West Final
49 WHL grads set for Saskatchewan-Alberta matchup
EDMONTON – Familiar foes meet this weekend in the Canada West Men's Hockey Final, and there will be plenty of recognizable faces for fans of the Western Hockey League.
A combined 49 WHL grads dot the rosters of the Saskatchewan Huskies and Alberta Golden Bears, who will be relying heavily on products of the WHL to claim conference bragging rights when the best-of-three CW Final opens Friday night in Saskatoon.
23 Huskies have WHL experience, while Alberta has 26 players on their roster with WHL résumés.
The series is the 17th CW Final meeting between the conference's most successful men's hockey programs since 1997, and fourth consecutive.
The two rosters feature no shortage of players who had outstanding WHL careers, as the 49 WHL grads combined for 12,722 games played and 6,758 points during their time playing major junior hockey across Western Canada and the United States.
Among the WHL Grads in the series are 2018-19 CW major award winners Luke Philp (Player of the Year), Grayson Pawlenchuk (Rookie of the Year), Jason Fram (Defenceman of the Year), and Riley Kieser (Student-Athlete) of Alberta, along with Saskatchewan's Taran Kozun (Goaltender of the Year).
The 49 WHL grads competing in the CW Final are part of more than 140 WHL grads who played in CW this season, and the more than 380 total WHL Scholarships granted by the WHL and its member clubs this season.
Every player who plays in the WHL is eligible to receive the WHL Scholarship. For every season a player plays in the WHL, they receive a guaranteed, full-year WHL Scholarship including tuition, textbooks and compulsory fees to a post-secondary institution of their choice.
Last season, the teams also had a combined 49 WHL grads on their rosters when they met in the CW Final, as Alberta won their second consecutive CW banner, en route to a University Cup victory.
You can watch the Huskies and Bears in the best-of-three CW final by tuning into Canada West TV – the official streaming home of every conference men's hockey game.
Game 1 of the series goes Friday at 7 p.m. CST. For a complete look at the CW Final schedule, click here.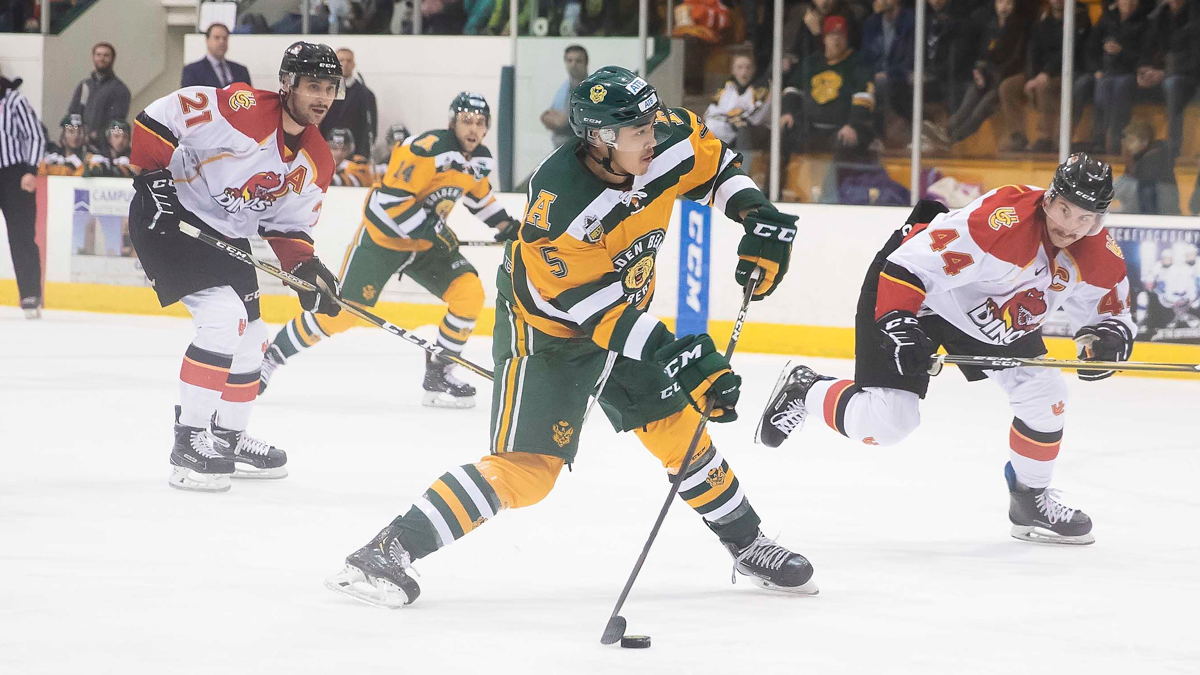 FRAM NAMED WHL GRAD OF THE MONTH
Recently crowned CW Defenceman of the Year Jason Fram is the WHL Grad of the Month for February.
The former Spokane Chief recorded six goals and three assists over the month, including two goals and an assist last weekend in Alberta's semifinal sweep of the Calgary Dinos.
Fram finished the 2018-19 regular season with 30 points (9G-21A) in 28 games to lead all conference defenders.
He became the first CW defenceman to record a 30-point season since 2013-14, when Calgary's Giffen Nyren and Alberta's Jordan Rowley both recorded 30 points.
2018-19 Recipients:
October: Carson Stadnyk, Saskatchewan
November: Riley Sheen, Calgary
First Half Top Performer: Luke Philp, Alberta
January: Zach Sawchenko, Alberta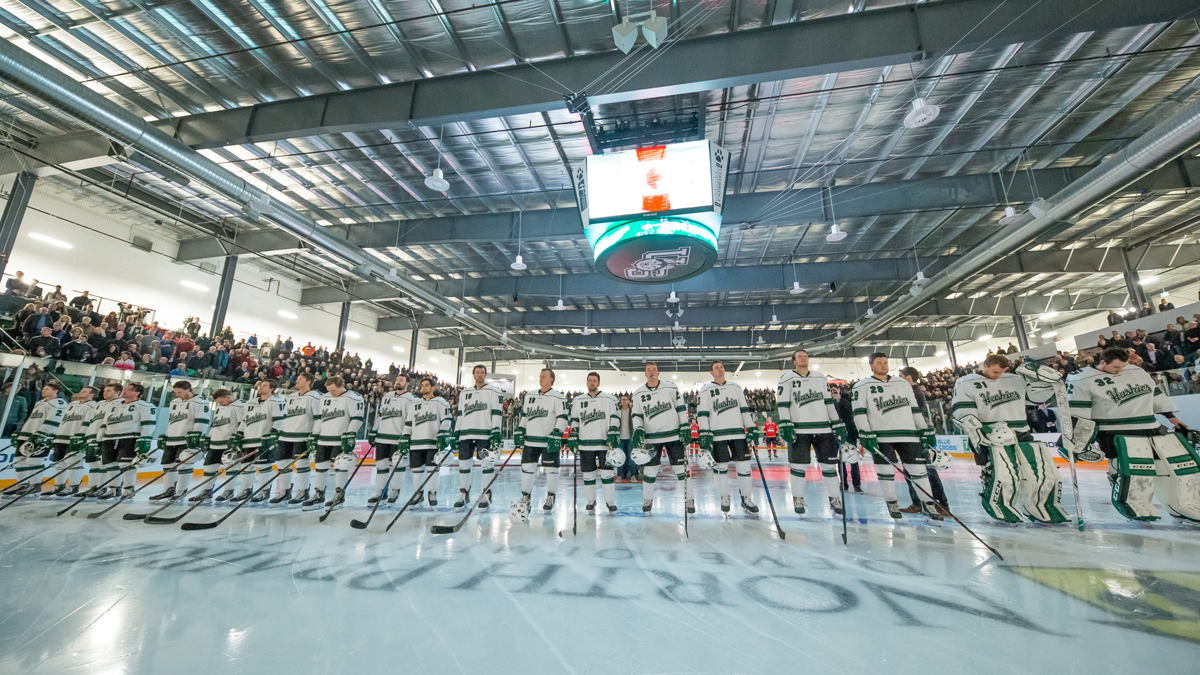 SASKATCHEWAN HUSKIES - WHL GRADS IN THE CW FINAL
23 WHL grads / 5,962 combined WHL GP / 2,720 combined WHL points
NAME / POSITION / HOMETOWN / LAST WHL TEAM (WHL GP/PTS.)
Sam Ruopp / D /  Zehner, SK / Prince George Cougars (272/95)

Gordie Ballhorn / D / Wetaskiwin, AB / Kelowna Rockets (214/64)

Colby Harmsworth / D / Saskatoon, SK / Calgary Hitmen (275/55)

Jesse Forsberg / D / Waldheim SK / Moose Jaw Warriors (307/112)

Shane Collins / D / Rosetown, SK / Prince George Cougars (196/42)

Tanner Lishchynsky / D / Saskatoon, SK / Kootenay Ice (180/45)

Jordan Tkatch / F / Prud'homme, SK / Prince Albert Raiders (341/189)

Levi Cable / F / Hudson Bay, SK / Kootenay Ice (291/132)

Collin Shirley / F / Saskatoon, SK / Kamloops Blazers (362/246)

Connor Gay / F / Saskatoon, SK / Saskatoon Blades (246/189)

Carter Folk / F / Regina, SK / Victoria Royals (255/81)

Logan McVeigh / F / Kenaston, SK / Kamloops Blazers (340/156)

Michael Sofillas / F / Morden, MB / Lethbridge Hurricanes (119/26)

Carson Stadnyk / F / Saskatoon, SK / Everett Silvertips (314/188)

Donovan Neuls / F / Grenfell, SK / Seattle Thunderbirds (332/219)

Jaimen Yakubowski / F / Dalmeny, SK / Moose Jaw Warriors (252/126)

Kohl Bauml / C / Saskatoon, SK / Everett Silvertips (294/176)

Andrew Johnson / F / Saskatoon, SK / Swift Current Broncos (294/107)

Wyatt Johnson / C / Saskatoon, SK / Spokane Chiefs (250/143)

Evan Fiala / D / Clavet, SK / Saskatoon Blades (278/71)

Alex Forsberg / F / Waldheim, SK / Victoria Royals (294/258)

Taran Kozun / G / Nipawin, SK / Seattle Thunderbirds (148)

Travis Child / G / Killam, AB / Edmonton Oil Kings (108)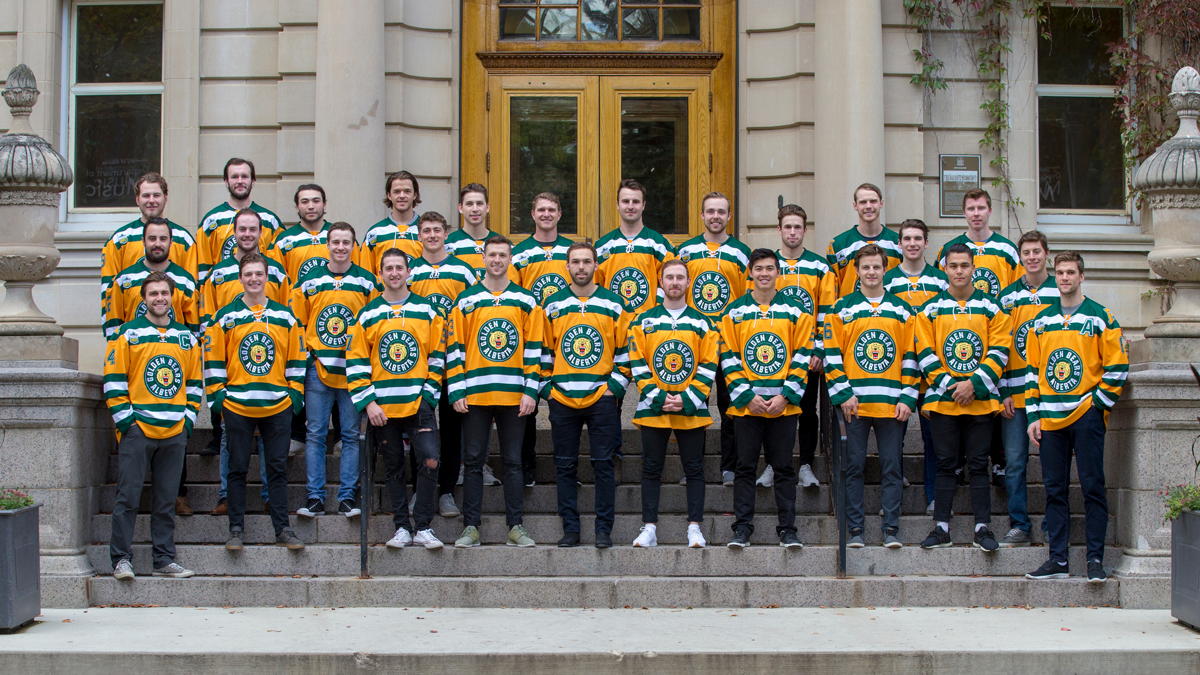 ALBERTA GOLDEN BEARS - WHL GRADS IN THE CW FINAL
26 WHL grads / 6,760 combined WHL GP / 4,038 combined WHL points
NAME / POSITION / HOMETOWN / LAST WHL TEAM (WHL GP/PTS.)
Brendan Burke / G / Scottsdale, Arizona / Calgary Hitmen (170)

Clayton Kirichenko / D / Sherwood Park, AB / Medicine Hat Tigers (249/125)

Jason Fram / D / Delta, BC / Spokane Chiefs (346/201)

Graeme Craig / D / Red Deer, AB / Prince Albert Raiders (336/71)

Sawyer Lange / D / Prince Albert, SK / Prince Albert Raiders (260/119)

Ryan Rehill / D / Edmonton, AB / Kamloops Blazers (265/87)

Stephane Legault / F / Edmonton, AB / Edmonton Oil Kings (228/144)

Tyler Soy / F / Surrey, BC / Victoria Royals (368/358)

Taylor Cooper / F / Sherwood Park, AB / Regina Pats (230/132)

Luke Philp / F / Canmore, AB / Red Deer Rebels (309/292)

Steven Owre / F / Rocklin, California / Medicine Hat Tigers (322/245)

Riley Kieser / F / Sherwood Park, AB / Edmonton Oil Kings (186/82)

Grayson Pawlenchuk / F / Edmonton, AB / Red Deer Rebels (310/157)

Jayden Hart / F / Spruce Grove, AB / Prince Albert Raiders (247/160)

Tyson Baillie / F / Fort Saskatchewan, AB / Kelowna Rockets (393/373)

Brandon Magee / F / Edmonton, AB / Victoria Royals (345/293)

Ben Carroll / D / Sherwood Park, AB / Edmonton Oil Kings (203/85)

Wil Tomchuk / D / Fort McMurray, AB / Prince George Cougars (132/11)

Cole Sanford / F / Coldstream, BC / Regina Pats (308/303)

Curtis Miske / F / Beaumont, AB / Prince Albert Raiders (273/165)

Kenny Cameron / G / Edmonton, AB / Medicine Hat Tigers (14)

Zach Sawchenko / G / Calgary, AB / Moose Jaw Warriors (194)

Trevor Cox / F / Surrey, BC / Vancouver Giants (365/341)

Lucas Nickles / F / Salmon Arm, BC / Tri-City Americans (290/115)

Cole Linaker / F / Edmonton, AB / Kelowna Rockets (315/147)

Nick Charif / D / Edmonton, AB / Spokane Chiefs (102/32)