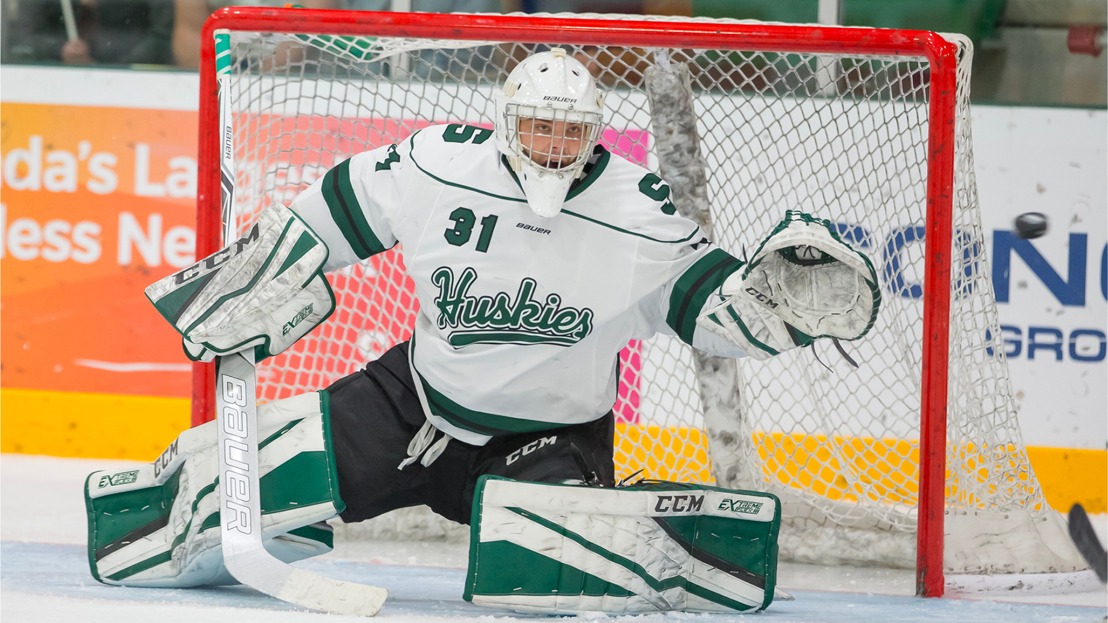 MHKY: WHL grads power CW through opening month
138 CW players utilizing their WHL Scholarship this semester
EDMONTON – A total of 138 Canada West men's hockey players are making the most of their WHL Scholarship this semester.
The Western Hockey League (WHL) released their fall WHL Scholarship data Thursday, and once again WHL grads are fuelling Canada West men's hockey, as WHL grads account for 66 per cent of current CW rosters.
All eight CW men's hockey programs have a significant WHL presence on their roster, with the Saskatchewan Huskies leading all CW teams in terms of WHL grads competing at the Canada West level. The first-place Huskies feature 22 former WHLers, who have helped Saskatchewan to a 7-1-0 start this season.
Coming in just behind Saskatchewan in terms of WHL grads on their rosters are the Alberta Golden Bears (21), and UBC Thunderbirds (20).
Heading into the month of November, WHL grads have scored a total of 145 goals this season in Canada West play, representing 75 per cent of all conference goals.
In net, WHL grads have registered a total of 24 wins through 32 conference games in 2018-19.
Through Canada West's continued partnership with the WHL, players are given the opportunity to achieve their athletic and career goals. Canada West's eight hockey members provide additional scholarship opportunities, as well as excellent coaching and academic support to WHL grads.
WHL graduates who made the most of their WHL Scholarship at Canada West schools now compete in pro leagues across North America and Europe, while others are making an impact in their communities in various professions.
Overall, the WHL issued 386 scholarships during the fall semester, with 242 recipients furthering their education at post-secondary institutions in Western Canada.
The University of Saskatchewan leads all post-secondary institutions with 39 WHL graduates enrolled in full-time studies, while 32 former WHL players are registered at the University of Alberta. The University of British Columbia (27), University of Calgary (23), University of Lethbridge (23), University of Regina (23), Mount Royal University (22) and University of Manitoba (20) also lead the way in WHL graduate enrollment.
Administered by the WHL Office, WHL Scholarships are solely funded by the member Clubs of the WHL. This season, WHL Clubs will contribute in excess of $2.6 million to WHL graduates utilizing the WHL Scholarship. Over the past 10 years, WHL Clubs have awarded 3,458 WHL Scholarships, representing a contribution in excess of $20 million by WHL ownership to WHL graduates.
For more on the WHL Scholarship numbers, click here.
WHL grads playing Canada West:
NAME / HOMETOWN / MOST RECENT WHL CLUB
University of Saskatchewan Huskies (22)
Gordon Ballhorn – Wetaskiwin, AB – Kelowna

Kohl Bauml – Saskatoon, SK – Everett

Levi Cable – Hudson Bay, SK – Kootenay

Travis Child – Killam, AB – Swift Current

Shane Collins – Rosetown, SK – Prince George

Evan Fiala – Clavet, SK – Spokane

Carter Folk – Regina, SK – Lethbridge

Alex Forsberg – Waldheim SK – Prince George

Jesse Forsberg – Waldheim SK – Moose Jaw

Connor Gay – Saskatoon, SK – Regina

Colby Harmsworth – Saskatoon, SK – Calgary

Andrew Johnson – Saskatoon, SK – Swift Current

Wyatt Johnson – Saskatoon, SK – Red Deer

Taran Kozun – Nipawin, SK – Kamloops

Tanner Lishchynsky – Saskatoon, SK – Kootenay

Logan McVeigh – Kenaston, SK – Medicine Hat

Donovan Neuls – Grenfell, SK – Seattle

Sam Ruopp – Regina, SK – Prince George

Collin Shirley – Saskatoon, SK – Kootenay

Carson Stadnyk – Saskatoon, SK – Everett

Jordan Tkatch – Prudhomme, SK – Prince George

Jaimen Yakubowski – Dalmeny, SK – Seattle
University of Alberta Golden Bears (21)
Tyson Baillie – Edmonton, AB – Kelowna

Brendan Burke – Scottsdale, AZ – Portland

Ben Carroll – Sherwood Park, AB – Edmonton

Taylor Cooper – Sherwood Park, AB – Lethbridge

Trevor Cox – Surrey, BC – Medicine Hat

Graeme Craig – Red Deer, AB – Saskatoon

Jason Fram – Delta, BC – Spokane

Jayden Hart – Spruce Grove, AB – Prince Albert

Clayton Kirichenko – Sherwood Park, AB – Vancouver

Sawyer Lange – Prince Albert, SK – Prince Albert

Cole Linaker – Edmonton, AB - Kelowna

Brandon Magee – Edmonton, AB – Victoria

Curtis Miske – Beaumont, AB – Spokane

Lucas Nickles – Salmon Arm, BC – Tri-City

Steven Owre – Edmonton, AB – Medicine Hat

Grayson Pawlenchuk – Edmonton, AB – Red Deer

Luke Philp – Canmore, AB – Kootenay

Ryan Rehill – Edmonton, AB – Kamloops

Cole Sanford – Coldstream, BC – Medicine Hat

Zach Sawchenko – Calgary, AB – Moose Jaw

Wil Tomchuk – Ft. McMurray, AB – Tri-City
University of British Columbia Thunderbirds (20)
Kyle Becker – Langley, BC – Medicine Hat

Joe Carvalho – Burnaby, BC – Prince George

Chase Clayton – Abbotsford, BC – Saskatoon

Josh Connolly – Prince George, BC – Prince George

Patrick Dea – St. Albert, AB – Edmonton

Shaun Dosanjh – Richmond, BC – Vancouver

Devan Fafard – Carlyle, SK – Lethbridge

Tanner Faith – Wilcox, SK – Kootenay

Austin Glover – Saskatoon, SK – Kelowna

Raymond Grewal – Prince George, BC – Prince George

Riley Guenther – Calgary, AB – Prince Albert

Maxwell James – Vancouver, BC – Tri-City

Colton Kehler – Port Coquitlam, BC – Edmonton

Carter Popoff – Richmond, BC – Vancouver

Matt Revel – Abbotsford, BC – Saskatoon

Adam Rossignol – Surrey, BC – Portland

Tyler Sandhu – Richmond, BC – Everett

Jerret Smith – Surrey, BC – Seattle

Rylan Toth – Saskatoon, SK – Red Deer

Austin Vetterl – Surrey, BC – Kootenay
University of Lethbridge Pronghorns (17)
Taz Burman – Vancouver, BC – Red Deer

Ryan Chynoweth – Lethbridge, AB – Tri-City

Clint Filbrandt – Calgary, AB – Kootenay

Jonny Hogue – Lethbridge, AB – Lethbridge

Garret Hughson – Medicine Hat, AB – Spokane

Spenser Jensen – Airdrie, AB – Medicine Hat

Brooks Maxwell – Calgary, AB – Red Deer

Russell Maxwell – Magrath, AB – Lethbridge

Sam McKechnie – Airdrie, AB – Lethbridge

Blake Orban – Calgary, AB – Vancouver

Jeff Rayman – Cranbrook, BC – Spokane

Jordan Roy – Lethbridge, AB – Tri-City

Connor Sanvido – Maple Ridge, BC – Seattle

Dalton Sward – Abbotsford, BC – Vancouver

Dallas Valentine – Red Deer, AB – Moose Jaw

Evan Wardley – Calgary, AB – Seattle

Torrin White – Balzac, AB – Moose Jaw
University of Calgary Dinos (16)
Matt Alfaro – Calgary, AB – Kootenay

Cal Babych – North Vancouver, BC – Calgary

Dylan Busenius – Sherwood Park, AB – Prince Albert

Logan Fisher – Red Deer, AB – Victoria

Ryan Gagnon – Quesnel, BC – Victoria

Coda Gordon – Cochrane, AB – Swift Current

Ryan Graham – Calgary, AB – Saskatoon

Luke Harrison – Westbank, BC – Victoria

Jared Hauf – Calgary, AB – Seattle

Jordan Henderson – Surrey, BC – Spokane

Regan Nagy – Ogema, SK – Victoria

Jordan Papirny – Edmonton, AB – Brandon

James Shearer – Brandon, MB – Brandon

Riley Sheen – Edmonton, AB – Medicine Hat

Josh Uhrich – Rosetown, SK – Moose Jaw

Tim Vanstone – Swift Current, SK – Prince Albert
Mount Royal University Cougars (16)
Austin Adamson – Richmond, BC – Red Deer

Brandan Arnold – Dodsland, SK – Swift Current

Colton Bobyk – Red Deer, AB – Spokane

Connor Chartier – Calgary, AB – Spokane

Taylor Green – Calgary, AB – Brandon

Tyson Helgesen – Fairview, AB – Spokane

Wyatt Hofflin – Spruce Grove, AB – Kootenay

Keegan Iverson – Minneapolis, MN – Portland

Kade Jensen – Calgary, AB – Lethbridge

Colton Kroeker – Port Coquitlam, BC – Regina

Jesse Lees – Calgary, AB – Kelowna

Ryley Lindgren – East St. Paul, MB – Brandon

Mitchell Lipon – Regina, SK – Kamloops

Kord Pankewicz – Leduc, AB – Brandon

Connor Rankin – Calgary, AB – Tri-City

Jamal Watson – Calgary, AB – Lethbridge
University of Regina Cougars (15)
Tyler Adams – Regina, SK – Swift Current

Keith Anderson – Hermiston, OR – Victoria

Conner Chaulk – Regina, SK – Swift Current

Tate Coughlin – Victoria, BC – Kelowna

Ben Dupperault – Wilcox, SK – Moose Jaw

Michael Herringer – Comox, BC – Victoria

James Hilsendager – Lloydminster, AB – Regina

Tyler King – Pilote Butte, SK – Spokane

Dawson MacAuley – Prince Albert, SK – Medicine Hat

Zach McPhee – Vernon, BC – Kootenay

Arthur Miller – Regina, SK – Swift Current

Landon Peel – Virdin, MB – Kootenay

Brennan Riddle – Balgonie, SK – Calgary

Isaac Schacher – Kimberley, BC – Saskatoon

Zak Zborosky – Regina, SK – Kootenay
University of Manitoba Bisons (11)
Garrett Armour – Winnipeg, MB – Saskatoon

Tyler Brown – Winnipeg, MB – Regina

Mackenzie Dwyer – Winnipeg, MB – Saskatoon

Adam Henry – Winnipeg, MB – Lethbridge

Thomas Lenchyshyn – Steinbach, MB – Lethbridge

Dawson Martin – Winnipeg, MB – Calgary

Justin Paulic – Thompson, MB – Moose Jaw

Devon Skoleski – St. Adolphe, MB – Everett

Lucas Skrumeda – Winnipeg, MB – Everett

Brett Stovin – Stony Mountain, MB – Saskatoon

Nick Zajac – Headingley, MB – Saskatoon
WHL grads playing CW by most recent WHL club:
Kootenay ICE – 12

Lethbridge Hurricanes – 10

Spokane Chiefs – 10

Saskatoon Blades – 9

Medicine Hat Tigers – 8

Moose Jaw Warriors – 7

Prince George Cougars – 7

Swift Current Broncos – 7

Victoria Royals – 7

Kelowna Rockets – 6

Red Deer Rebels – 6

Seattle Thunderbirds – 6

Tri-City Americans – 6

Brandon Wheat Kings – 5

Everett Silvertips – 5

Prince Albert Raiders – 5

Vancouver Giants – 5

Calgary Hitmen – 4

Regina Pats – 4

Portland Winterhawks – 3

Edmonton Oil Kings – 3

Kamloops Blazers – 3