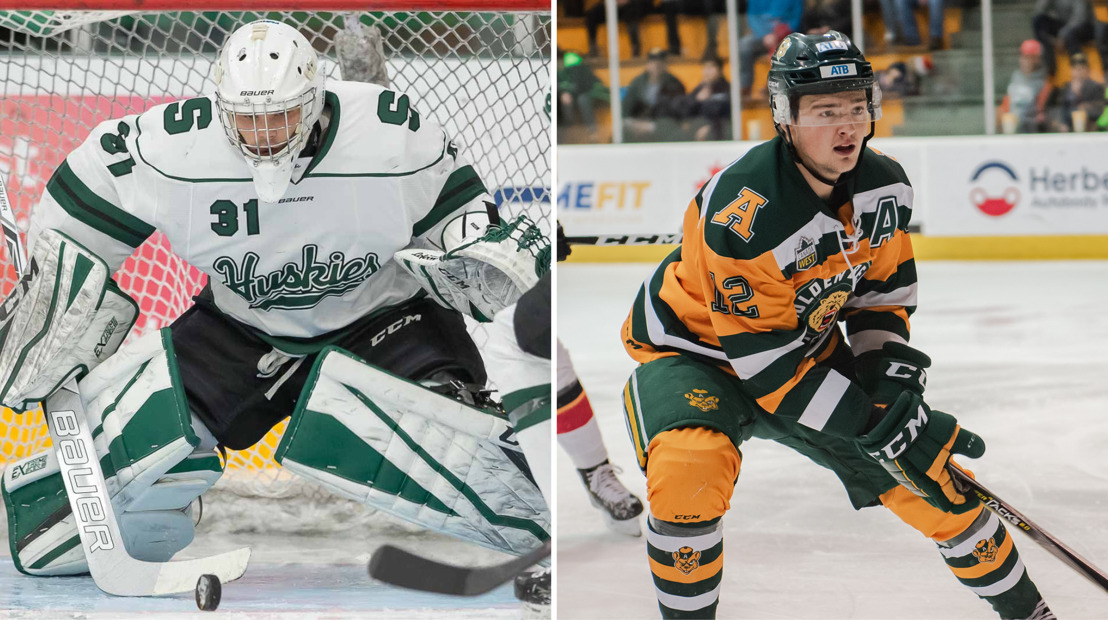 MHKY: Top two lead CW all-star, all-rookie selections
16 of 18 players honoured are WHL graduates
EDMONTON – A combined 11 Saskatchewan Huskies and Alberta Golden Bears were honoured Wednesday by Canada West, as the conference's men's hockey all-stars and all-rookies were unveiled.
Once again, Western Hockey League (WHL) graduates formed the foundation for the Canada West selections, as 16 of the 18 total players selected are products of the major junior league.
Highlights:
Saskatchewan and Alberta led the way in terms of all-stars and all-rookies, combining for 11 selections

The conference's eight men's hockey head coaches selected the teams, along with the CW major award winners, who will be announced next week

Conference semifinal action is slated for this weekend in Saskatoon and Edmonton
Leading the way in terms of selections were the Golden Bears, who had six players acknowledged, while the Huskies were a close second with five. Both teams return to action this weekend after first round byes, as Alberta hosts the Calgary Dinos, while Saskatchewan welcomes the Mount Royal Cougars.
The first-place Huskies had three players named conference first teamers, while the Bears had a pair.
The only player stopping a Sask-Alta first team sweep was Calgary Dino Riley Sheen, who used a 34-point season to earn a first team spot at forward.
Among the most interesting ballot battles decided by the conference's eight men's hockey head coaches, who selected the winners, was at the goaltending position.
Saskatchewan's Taran Kozun edged out Zach Sawchenko for the first team spot. The pair were undoubtedly the conference's best between the pipes this season, tying for the best save percentage in the conference at .926. The pair also set a new conference record for shutouts in a single season, both registering five perfect nights.
In terms of the all-rookie team, the future is bright for the conference's Calgary-based schools, as both the Dinos and their crosstown rivals the Mount Royal Cougars had a pair of first-year players honoured.
Among the players named all-rookies was MRU netminder Riley Morris. The former Okotoks Oiler finished third in conference save percentage at .919, as the first-year goalie earned 10 wins in 19 games played.
The conference major awards will be announced on Wednesday, February 27 in advance of the CW Final, which gets underway Friday, March 1.
You can watch all the CW playoff action by tuning into Canada West TV.
FIRST ALL-STAR TEAM
POSITION / NAME / UNIVERSITY / YEAR / HOMETOWN / MOST RECENT WHL CLUB
G / Taran Kozun / Saskatchewan 2 / Nipawin, Sask. / Seattle Thunderbirds

D / Jesse Forsberg / Saskatchewan / 5 / Waldheim, Sask. / Moose Jaw Warriors

D / Jason Fram / Alberta / 3 / Delta, B.C. / Spokane Chiefs

F / Luke Philp / Alberta / 3 / Canmore, Alta. / Red Deer Rebels

F / Riley Sheen / Calgary / 3 / Edmonton, Alta. / Red Deer Rebels

F / Carson Stadnyk / Saskatchewan / 3 / Saskatoon, Sask. / Everett Silvertips
SECOND ALL-STAR TEAM
G / Zach Sawchenko / Alberta / 2 / Calgary, Alta. / Moose Jaw Warriors

D / Dylan Busenius / Calgary / 5 / Sherwood Park, Alta. / Saskatoon Blades

D / Jerret Smith / UBC / 3 / Surrey, B.C. / Seattle Thunderbirds

F / Kohl Bauml / Saskatchewan / 4 / Saskatoon, Sask. / Everett Silvertips

F / Riley Kieser / Alberta / 5 / Sherwood Park, Alta. / Edmonton Oil Kings

F / Cole Sanford / Alberta / 3 / Coldstream, B.C. / Medicine Hat Tigers
ALL-ROOKIE TEAM
G / Riley Morris / Mount Royal / Calgary, Alta. / Okotoks (AJHL)

D / Gordie Ballhorn / Saskatchewan / Wetaskiwin, Alta. / Kelowna Rockets

D / James Shearer / Calgary / Brandon, Man. / Brandon Wheat Kings

F / Colton Kroeker / Mount Royal / Surrey, B.C. / Kootenay Ice

F / Grayson Pawlenchuk / Alberta / Edmonton, Alta. / Red Deer Rebels

F / Bradley Schoonbaert / Calgary / Brandon, Man. / Steinbach (MJHL)