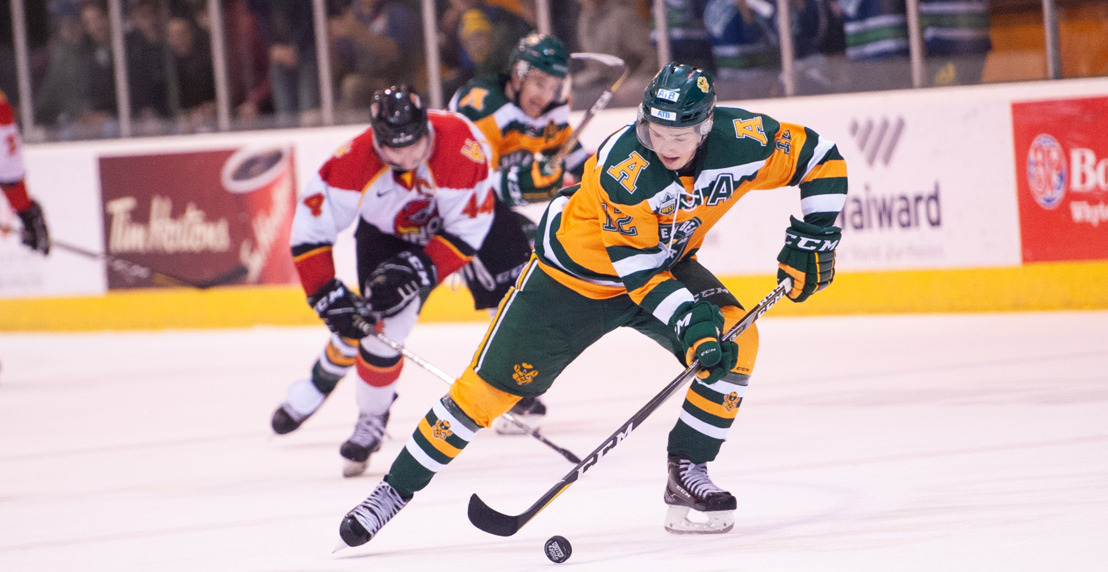 MHKY: Alberta's Philp named CW First Half Top Performer
New Canada West-WHL award honours first half's top player
EDMONTON – Alberta Golden Bear Luke Philp is the Canada West Men's Hockey First Half Top Performer, as announced Thursday by CW and the Western Hockey League (WHL).
The new award honours the top WHL grad from the first half of the CW men's hockey season and is selected by the conference's eight head coaches.
Highlights:
Alberta forward Luke Philp is the CW Men's Hockey First Half Top Performer

Philp, who played 264 career WHL regular season games, is tied for the CW scoring lead with 20 points

The Business student led the conference in scoring last season with 40 points
Philp, who has 20 points (9G-11A) through 12 games this season, joined Alberta for the 2016-17 season after spending four full seasons in the WHL between 2012 and 2016.
The former Kootenay Ice forward is hoping to use his CW career as a stepping stone to professional hockey after securing his university degree. The Business student wants to stay in the game after his time on the ice is complete, with a career in hockey management, or business operations.
"With the competitiveness of our league, it's a humbling accomplishment to receive this award," said Philp, who finished his WHL career with Red Deer in 2016.
"Whenever someone wins an individual award, the team they play for has a lot to do with it. Looking at our team, I truly believe we have numerous guys who could've received this acknowledgement."
The Canmore, Alta. native is one of four Golden Bears inside the the conference's top 10 in scoring at the December break, as Alberta sits second in the CW standings heading into 2019.
"It's nice to see Luke being recognized by the Canada West coaches for his first half. Luke has been a leader on and off the ice for us this season, and I think this award exemplifies that," said Golden Bears head coach Ian Herbers.
"His skill is incredible, but it's the work ethic and leadership he brings to the rink everyday that sets him apart. I have little doubt that he will be able to lead us to further success in the second half."
A total of 21 former WHL players are putting their WHL Scholarships to work this semester for the Golden Bears, who sported 11 Academic All-Canadians last season and are looking to defend their CW and U SPORTS titles this season.
Administered by the WHL Office, WHL Scholarships are solely funded by the member Clubs of the WHL. This season, WHL Clubs will contribute in excess of $2.6 million to WHL graduates utilizing the WHL Scholarship. Over the past 10 years, WHL Clubs have awarded 3,458 WHL Scholarships, representing a contribution in excess of $20 million by WHL ownership to WHL graduates.