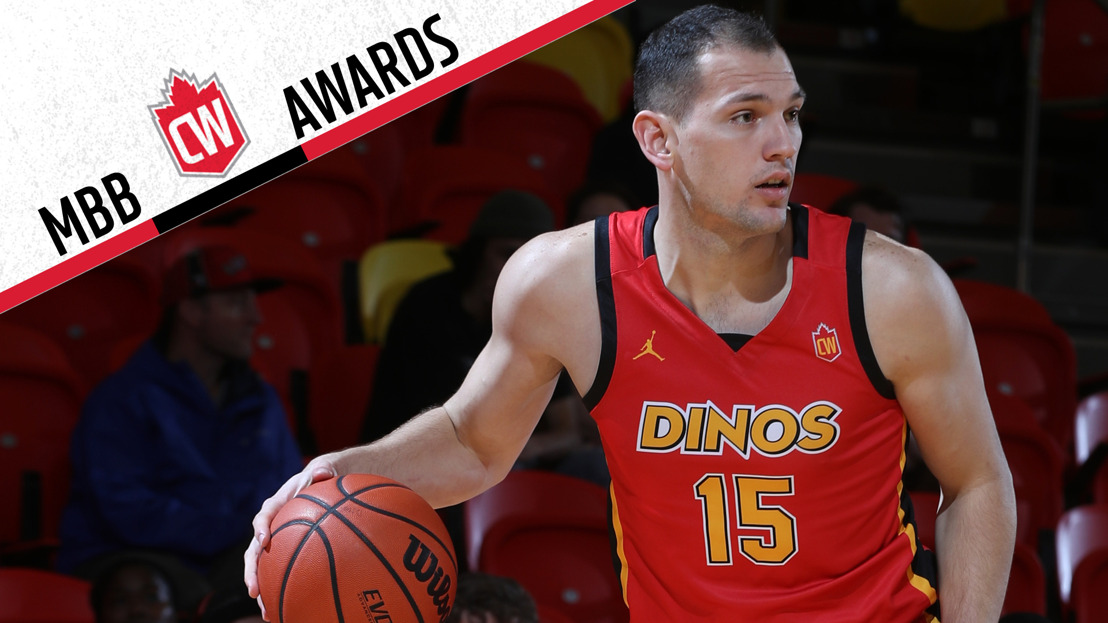 MBB: Layton balances life, law and basketball during epic season
Calgary Dino named Canada West Player of the Year
EDMONTON – When it comes to student-athlete success stories, Brett Layton's is among the best in recent memory.
The Calgary Dinos star was named Thursday as the 2019-20 Canada West Player of the Year after leading the nation with 299 rebounds – a conference record for a 20-game season – while leading CW in field goal percentage (62.8) and blocks (43).
Along with Layton, teammate Max Eisele also earned a conference award, being named CW Defensive Player of the Year. Eisele was a key part of the Dinos' stingy defence, which allowed a conference best 70.8 points per game and held opponents to just 38 per cent shooting.
The 2019-20 Rookie of the Year is Brandon's Anthony Tsegakele. The Gatineau, Que. product averaged a double-double this season with 17.4 points per game and 11.9 rebounds per game.
On and off the court, Thompson Rivers WolfPack guard Mike Rouault got it done in Kamloops and is the Student-Athlete Community Service award winner. The four-time Academic All-Canadian finished fourth in total rebounds (169), while also posting 28 steals and 12 blocks.
Claiming the conference's Coach of the Year honour is Barnaby Craddock of the Alberta Golden Bears. The veteran coach led his team to a first-place finish, posting a 19-1 record.
Craddock and the Bears are in action this weekend when they host the Canada West Men's Basketball Championship in Edmonton against the UBC Thunderbirds. The game goes Saturday, February 29 at 8 p.m. MST and can be seen live on Canada West TV Presented by Co-op.
All CW award winners now move forward as the nominees for the U SPORTS awards, which will be handed out next week in Ottawa.
---
Calgary Dinos

Forward

4th-year

Calgary, Alta.

Law
Fourth-year forward Brett Layton was the straw that stirred the drink for the University of Calgary Dinos all season long, and his consistent performance down low have earned him the conference's top honour.
With plenty to juggle from his second year in law school to his family with two young children, Layton still found a way to dominate most nights he took the floor. Among his myriad of accomplishments in 2019-20, he became the first player in conference history to record a 40-point, 20-rebound night Nov. 23 against Trinity Western. On the final night of the regular season he set a single-game conference record with 27 rebounds at his old stomping grounds, Mount Royal's Kenyon Court. He led the nation with 299 rebounds – also a CW record for a 20-game season – while leading Canada West in field goal percentage (62.8) and blocks (43) – third and second in the nation, respectively, in those two categories.
It is the ninth time a Dino has been honoured as the conference's top player, with former teammate Mambi Diawara earning the award in 2019.
Coach's comments:
"We wouldn't have won many games without Brett Layton. He has the ability to impact a game on offence, both scoring and rebounding the ball, and then defensively he can alter shots, then sprint the floor. The guy is a very, very special player. In 20 years I've never had a player that has to manage as many things as he does, from law school and the demands that entails along with articling and interviews to having a wife and children and home responsibilities. For him to be able to manage all of that and keep things in the right priority and in the right perspective says a lot about his character. For him to receive a player of the year award is not only based on just what he's done on the floor, it's about who he is as a human being altogether." – Calgary Head Coach Dan Vanhooren.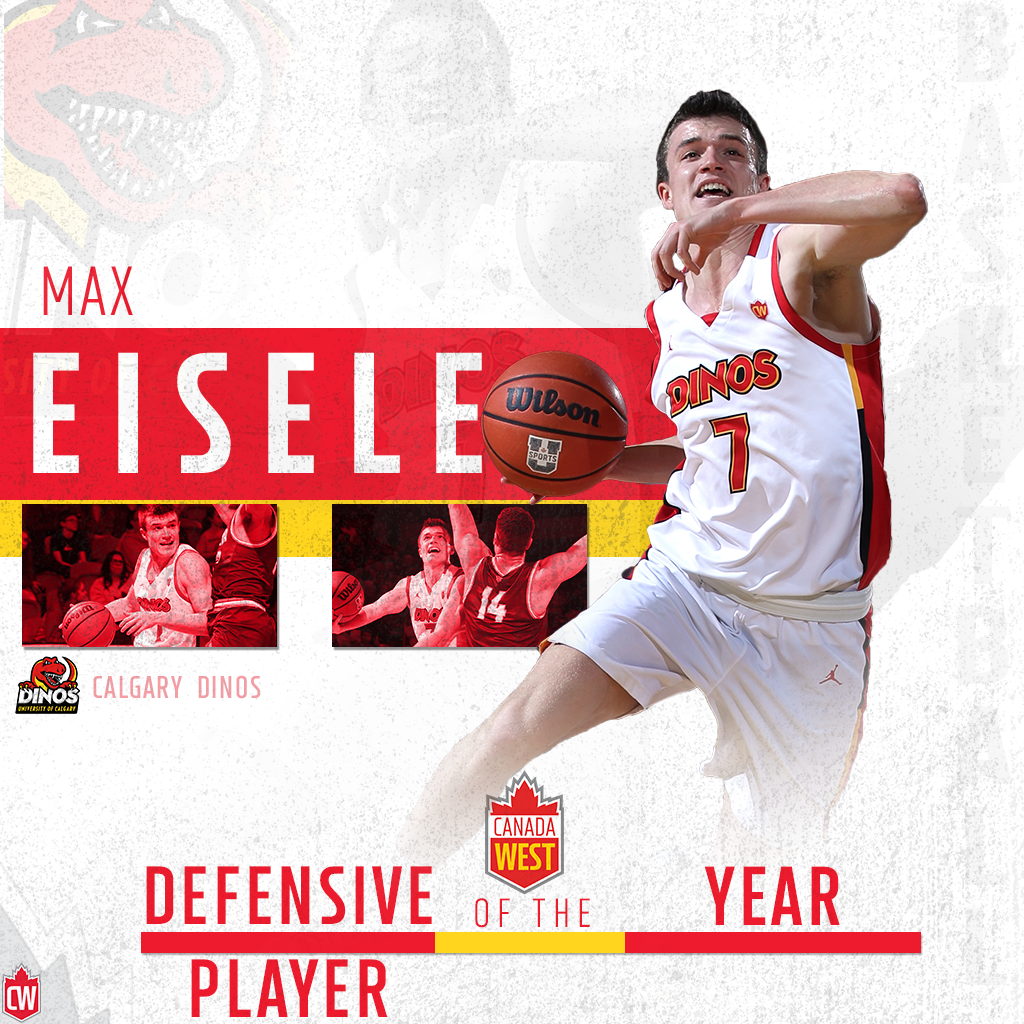 Calgary Dinos

Guard

4th-year

Ulm, Germany

Kinesiology
One of the top defenders in the nation, fourth-year University of Calgary Dinos guard Max Eisele is the Canada West Defensive Player of the Year.
The Dinos led the conference in both points per game allowed (70.8) and opponents' field goal percentage (38.0), and much of that success can be attributed to Eisele's performance on Calgary's end of the floor. Usually pitted against the opponents' top shooter, Eisele's athleticism and competitiveness has frustrated opponents all year.
He's the second Dino in three years to earn the honour, joining former teammate Jhony Verrone (2018).
Coach's comments:
"Max has unique athleticism laterally. Then you add on his physical strength, and add on again that he's hyper-intellectual, can follow a scout and do the right thing, it just makes him overall a terrific defender. He's a massive piece to our ability to defend the best perimeter players in the country, and when you add in his leadership, our ability to hold teams to different point margins than they are used to is much more probable." – Calgary Head Coach Dan Vanhooren.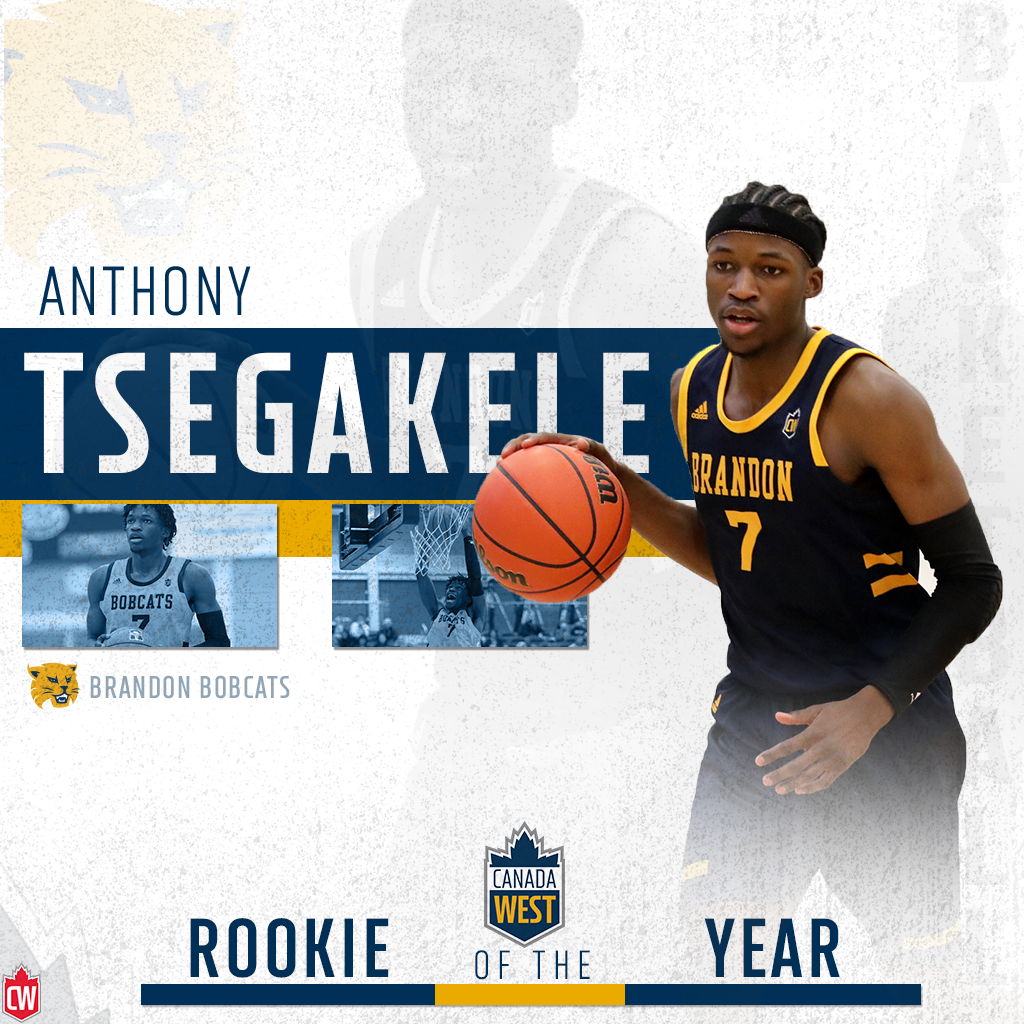 Brandon Bobcats

Guard

1st-year

Gatineau, Que.

Arts
Anthony Tsegakele takes home the CW Rookie of the Year award after emerging as a leader for the Brandon Bobcats.
Tsegakele had an excellent season for the Bobcats, logging more than 33 minutes per game, while averaging a double-double for Brandon. His 17.4 points per game was good for 10th in the conference, while his 11.9 rebounds per game was second only to Player of the Year Brett Layton.
He is the second Bobcat to be named the top first-year player in CW, joining Ilarion Bonhomme who won the honour during the 2011-12 season.
Coach's comments:
"We are excited for Anthony on receiving such a prestigious award after his first season as a Bobcat. We as a team know how hard he works, but to have him recognized by all the other coaches across Canada West is something he should be very proud of. He not only led us in many statistical categories, but he helped us return to the playoffs as a freshman, which is no small feat in such a competitive conference." – Brandon Head Coach Gil Cheung.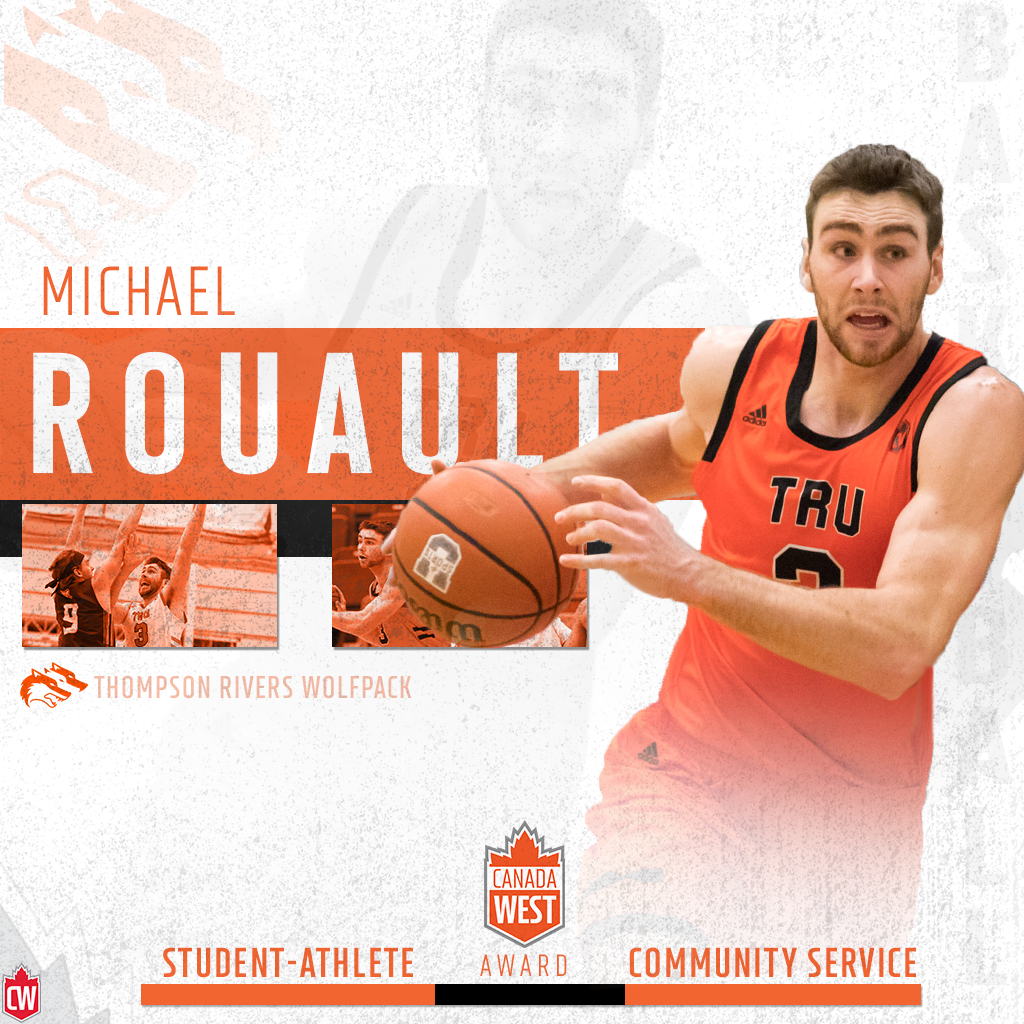 Thompson Rivers WolfPack

Forward

5th-year

Vernon, B.C.

Science
Four-time Academic All-Canadian Mike Rouault is the CW Student-Athlete Community Service award winner.
The Thompson Rivers WolfPack captain finished fourth in total rebounds (169), while also posting 28 steals and 12 blocks in 18 games this season.
Away from the court, Rouault has been acknowledged twice with TRU's Cliff Russell Student-Athlete leadership award and has a current GPA of 4.11. In the community, the Vernon, B.C. native has volunteered for Special Olympics B.C., the Mustard Seed, and the Terry Fox Run among others.
Coach's comments:
"It's a huge accomplishment to be named the Canada West winner of this award. It's the culmination of years of work by Micheal, who will be a five-time Academic All-Canadian. From an athletic standpoint, he worked to be a one of the leaders in the league in rebounding, scoring, offensive rebounds, free throws made …a whole bunch of basketball categories. Not to mention the leadership that he brings to our club, and the community. He's been a very well rounded student-athlete." – Thompson Rivers Head Coach Scott Clark.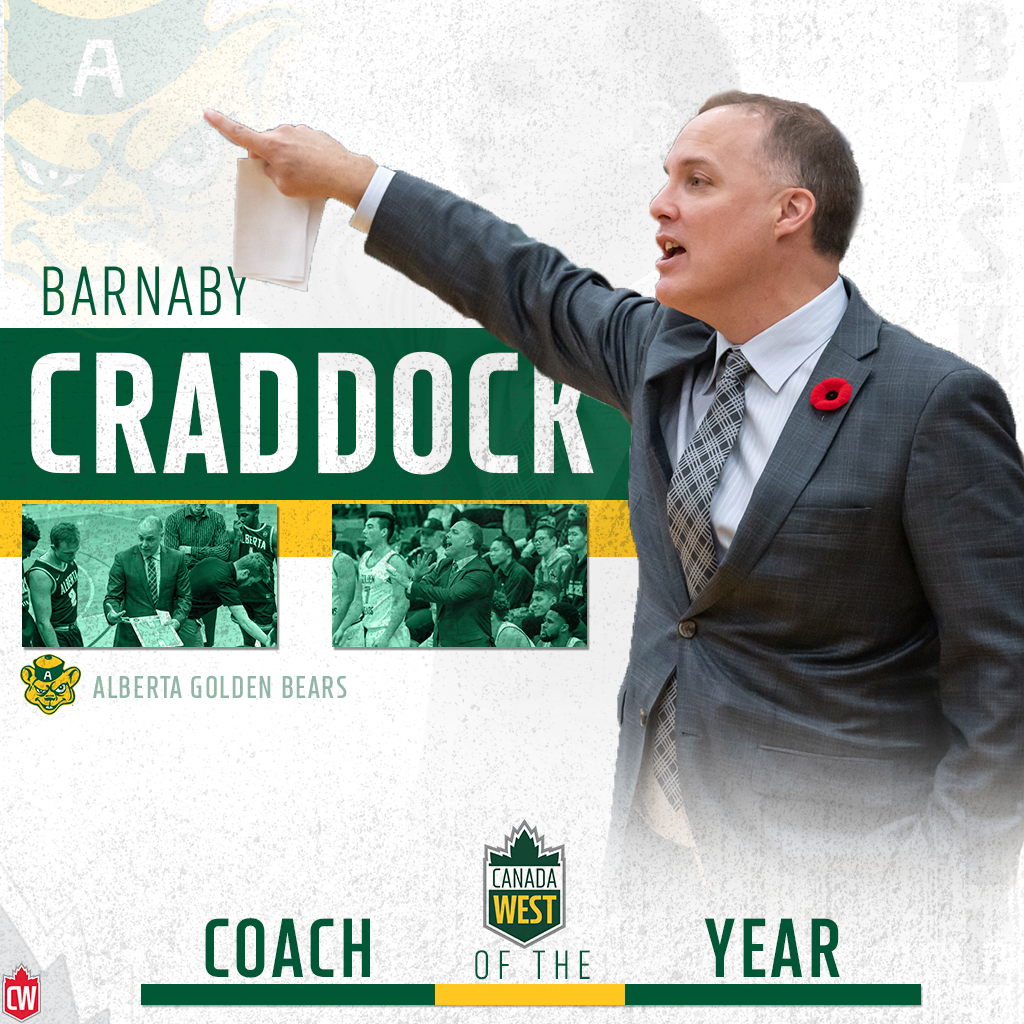 Alberta Golden Bears

8 seasons at Alberta (15 total)
For the second time in three seasons, the Alberta Golden Bears posted a 19-1 record to top the conference standings.
Head coach Barnaby Craddock has been rewarded for his work with his third conference Coach of the Year award after previously winning in 2007 (Brandon) and 2017 (Alberta).
The longtime CW head coach is now searching for his second national coach of the year award, after earning the honour back in 2007.
Athletic director's comments:
"For the Golden Bears to be without one of the best players in the conference for most of the regular season, and still finish with the best record in Canada West, is a testament to the job Barnaby has done with that program. Barnaby has become one of the winningest coaches in school history, and has consistently raised the level of his student-athletes, both on and off the court. I look forward to watching the Bears make another run at a Canada West championship." – Alberta Athletic Director Ian Reade.