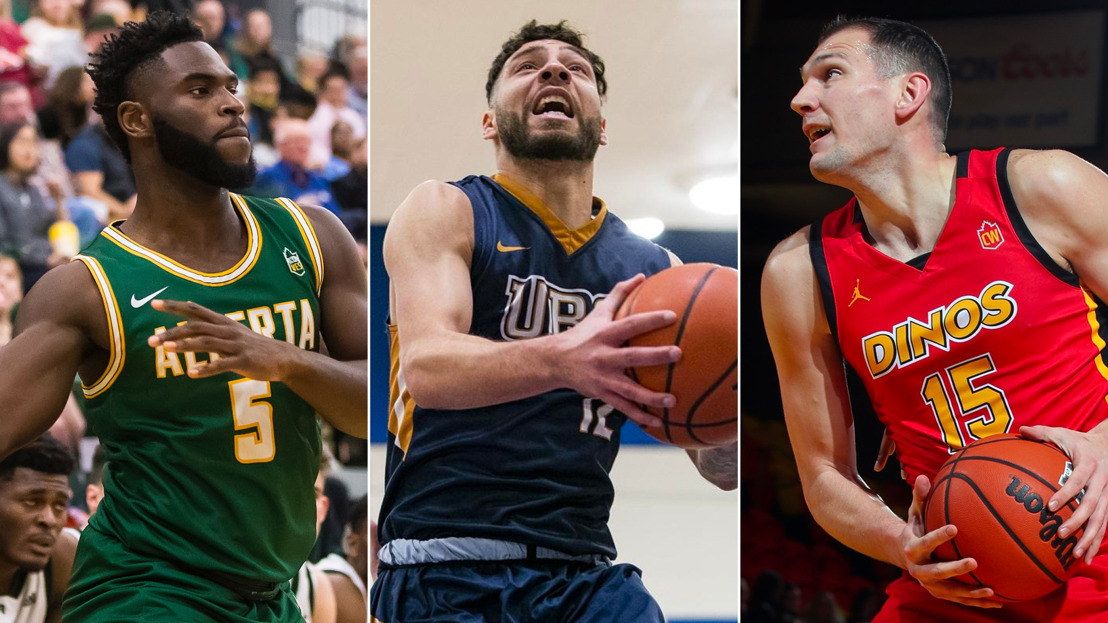 MBB: Conference's best unveiled ahead of big weekend
Conference all-stars announced ahead of quarter-finals, semis in Edmonton and Calgary
EDMONTON – The conference's brightest stars from the 2019-20 season were announced Thursday, as the Canada West men's basketball all-stars and all-rookies were acknowledged.
13 of the conference's 17 teams had at least one player honoured, with six of the 13 seeing multiple players acknowledged by CW coaches, who selected the three all-star teams and one all-rookie team.
Canada West's men's basketball award winners will be unveiled Thursday, February 27 at 1 p.m. MST.
Among the players named first team all-stars were Alberta's Ivan Ikomey, UBC's Jadon Cohee, and Calgary's Brett Layton. The trio lead the top three teams in the conference into the quarter-finals, with Alberta (No. 1 seed) and Calgary (No. 2 seed) set to host the quarter-final/semifinal weekend.
CW MEN'S BASKETBALL PLAYOFF CENTRAL
You can watch every game on the road to the CW Basketball Championship Games by tuning into Canada West TV Presented by Co-op.
POSITION / NAME / UNIVERSITY / YEAR / PROGRAM / HOMETOWN
G / Parm Bains / Fraser Valley / 5 / Business Admin / Surrey, BC

G / Rashawn Browne / Manitoba / 5 / Arts / Toronto, ON

G / Jadon Cohee / UBC / 5 / Unclassified / Langley, BC

G / Ivan Ikomey / Alberta / 5 / Arts / Calgary, AB

F / Brett Layton / Calgary / 4 / Law / Calgary, AB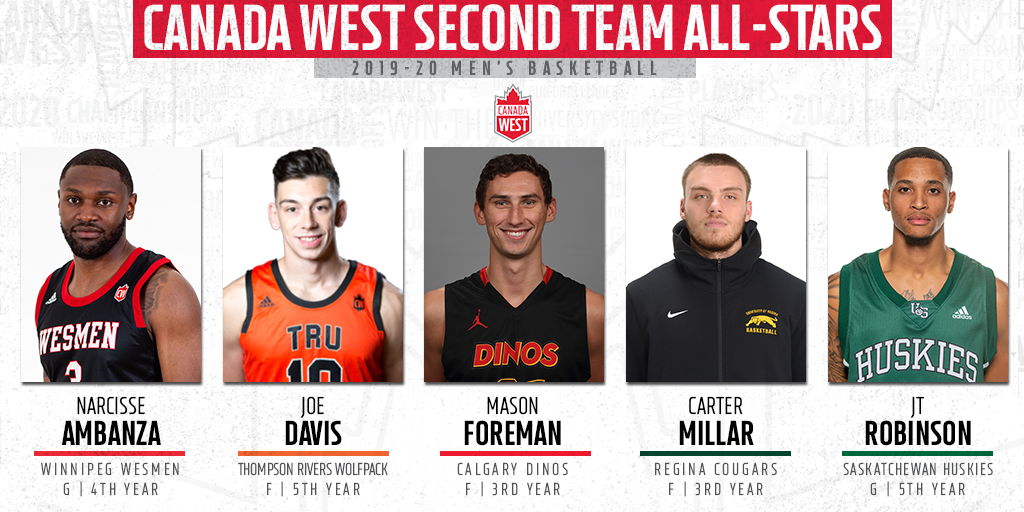 G / Narcisse Ambanza / Winnipeg / 4 / Business / Toronto, ON

F / Joe Davis / Thompson Rivers / 5 / Arts / Kamloops, B.C.

F / Mason Foreman / Calgary / 3 / Kinesiology / East Selkirk, MB

F / Carter Millar / Regina / 3 / Science / Regina, SK

G / JT Robinson / Saskatchewan / 5 / Arts & Science / Vallejo, California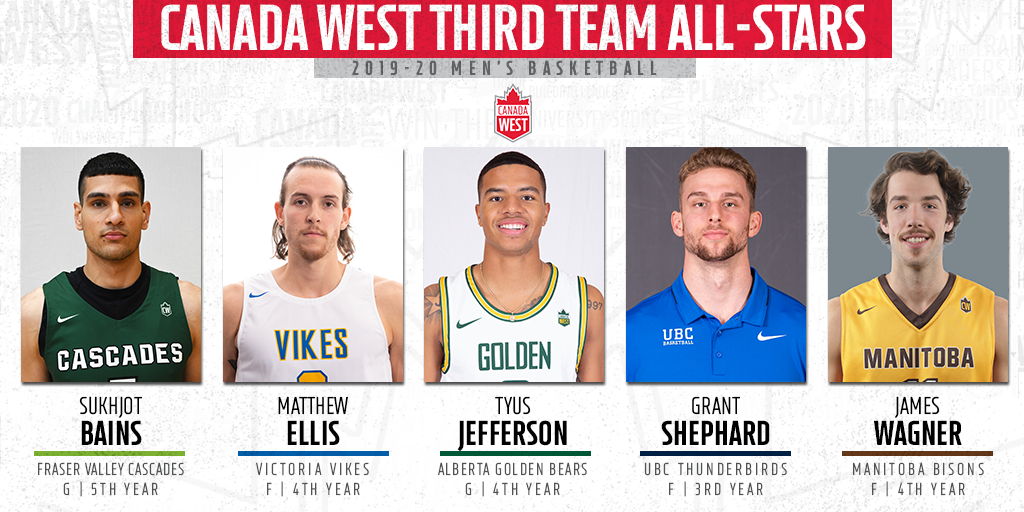 G / Sukhjot Bains / Fraser Valley / 5 / General Studies / Delta, B.C.

F / Matthew Ellis / Victoria / 4 / Social Sciences / Calgary, Alta.

G / Tyus Jefferson / Alberta / 4 / Arts / Riverton, Utah

F / Grant Shephard / UBC / 3 / Kinesiology / Kelowna, BC

F / James Wagner / Manitoba / 4 / Science / Winnipeg, MB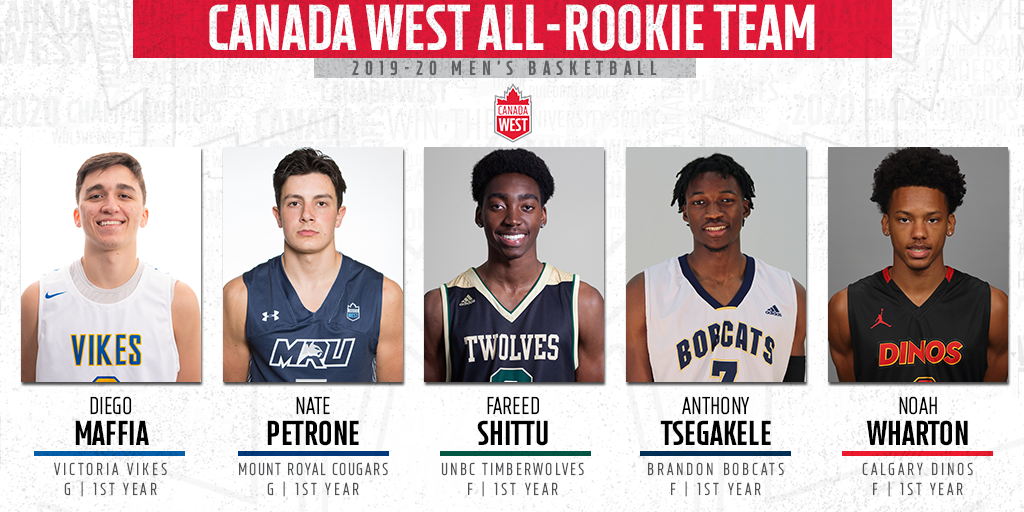 G / Diego Maffia / Victoria / Humanities / Victoria, BC

G / Nate Petrone / Mount Royal / Health & Phys. Ed. / Calgary, AB

F / Fareed Shittu / UNBC / Business / Edmonton, AB

G & F / Anthony Tsegakele / Brandon / Arts / Gatineau, QC

G / Noah Wharton / Calgary / Science / Brampton, ON