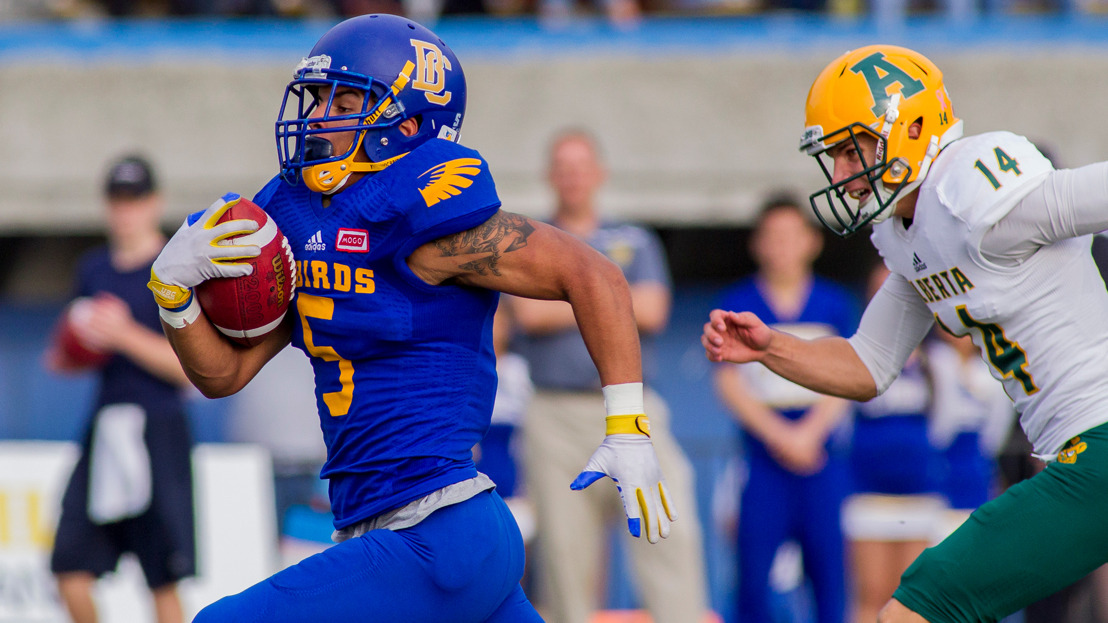 FB: T-Birds consensus pick in pre-season poll
Monday, 27 August 2018 — EDMONTON – The UBC Thunderbirds are the consensus pick to take home the Hardy Cup, as the Canada West football pre-season coaches poll was released Monday.
UBC, who has played in the last three Hardy Cups, received first-place votes from the conference's five other programs to top the poll with 25 points. The Thunderbirds return a strong team from 2017, including a core of players who helped the T-Birds win both the Hardy Cup and Vanier Cup in 2015.
Highlights:
UBC earned all five first-place votes from the rest of the conference to top the football pre-season coaches poll
Calgary came in second, earning UBC's first-place vote and second-place votes from the other four teams
The T-Birds and Dinos were the clear frontrunners, with Regina (14 pts.), Manitoba (13 pts.), and Alberta (12 pts.) in the chase pack
The 2018 CW football season opens Friday, August 31
Coming in behind UBC are the Calgary Dinos.
UBC's opponent in the last three Canada West championship games and winners of the last two, Calgary earned UBC's first-place vote, and second-place votes from the conference's other four teams.
The pair of football powers – who provided one of the greatest games in Canadian university football history last season when Calgary won the 81st Hardy Cup 44-43 with a 59-yard field goal on the final play of the game – meet twice this season. Calgary hosts UBC Friday, September 7, before UBC returns the favour Saturday, September 22.
Slotting in behind the clear frontrunners is a pack of three teams separated by just two points. The Regina Rams earned third with 14 points, while the Manitoba Bisons (13 pts.), and Alberta Golden Bears (12 pts.) weren't far behind. Along with UBC and Calgary, Regina and Alberta were the conference's two other playoff teams in 2017.
Rounding out the poll were the Saskatchewan Huskies, who received fifth-place votes from all five coaches for a total of five points.
The 2018 Canada West football season kicks off Friday, August 31 with a pair of Canada West Football Showcase games, as Regina hosts Calgary (7 p.m. CST), and Saskatchewan welcomes Alberta (7 p.m. CST).
UBC and Manitoba will open their seasons on Saturday, September 1 in Vancouver at 7 p.m. PDT.
For more on the CW Football Showcase, click here.
Be sure to visit CanadaWest.org throughout the week for season preview, including a complete team-by-team preview on Wednesday, August. 29.
WATCH ON CANADA WEST TV
You can watch every game of the 2018 CW football season on Canada West TV – the official streaming home of Canada West.
To buy your 2018 Canada West TV pass, click here.
2018 CANADA WEST FOOTBALL PRE-SEASON COACHES POLL
TEAM / POINTS (FIRST-PLACE VOTES)
1. UBC Thunderbirds / 25 (5)
2. Calgary Dinos / 21 (1)
3. Regina Rams / 14
4. Manitoba Bisons / 13
5. Alberta Golden Bears / 12
6. Saskatchewan Huskies / 5
NOTES: Coaches rank all conference teams excluding their own. First-place vote worth 5 pts., second-place 4 pts. etc.