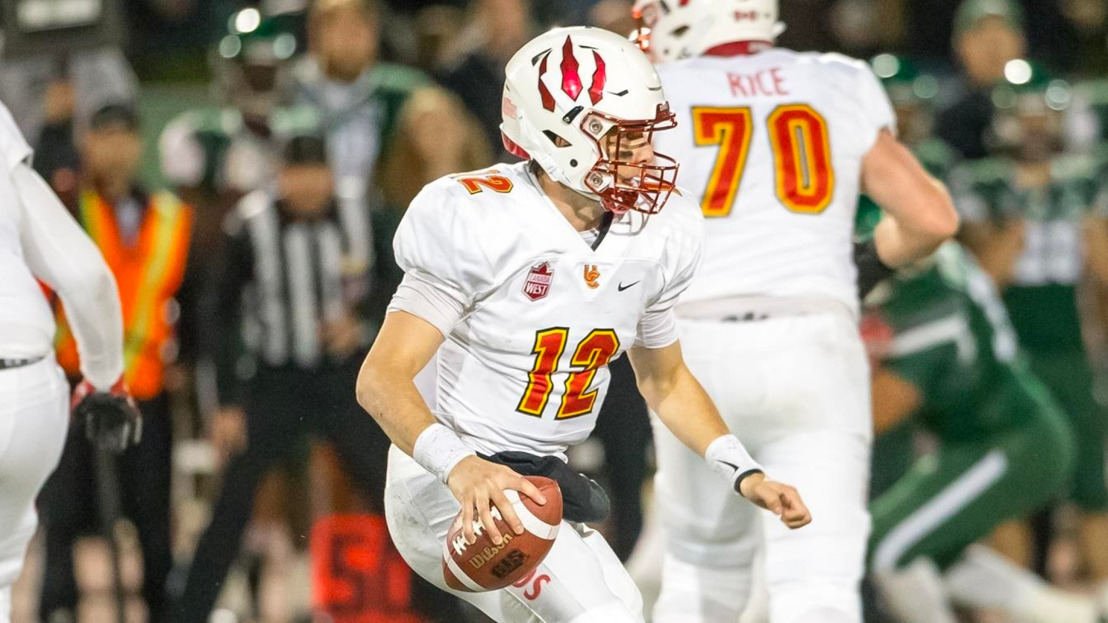 FB: Sinagra's historic night highlights Week 3 honours
Dinos QB tossed 569 yards in win over Saskatchewan
EDMONTON – Friday night couldn't have gone much better for Calgary Dinos quarterback Adam Sinagra, who posted 569 passing yards in Calgary's 37-28 road victory over the Saskatchewan Huskies.
Sinagra's passing total is the second most all-time in Canada West and U SPORTS single-game history, with fellow Dino Greg Vavra's total of 627 yards set on October 7, 1983 the only total higher in the record books.
CW OFFENSIVE PLAYER OF THE WEEK: QB – ADAM SINAGRA
Calgary Dinos
4th-year
Pointe Claire, Que.
Arts
STATS: 32-of-40 for 569 yards / 3 touchdowns / 0 interceptions / 33 yards rushing
Adam Sinagra etched his name in the Canada West and U SPORTS record books Friday night, as he posted 569 yards of passing in Calgary's 37-28 victory of the Saskatchewan Huskies.
Singara's eye-popping yardage is the second highest in CW and U SPORTS history, slotting in just behind Dino great Greg Vavra, who posted 627 yards back on Oct. 7, 1983 against Saskatchewan
Tutored by Vavra during his first two seasons as a Dino when the legendary Calgary pivot was the team's QB coach, Sinagra opened the night going 13-for-13, as Vavra watched his tutelage put to work first hand from the Griffiths Stadium stands.
While there was no shortage of brilliance put on display by Sinagra, his biggest play of the night came late in the third quarter, as he found speedster Jalen Philpot for a 50-yard touchdown on what proved to be the game's winning score.
Calgary's win pushed the defending Hardy Cup champions to 3-0 on the season, while Saskatchewan fell to 2-1 on the season.
The Dinos look to keep their perfect start to the season alive this Saturday when they travel to Vancouver to take on the UBC Thunderbirds.
That game can be seen on SaskTel, TELUS, and Bell MTS as a Canada West Football Showcase game beginning at 5 p.m. PDT.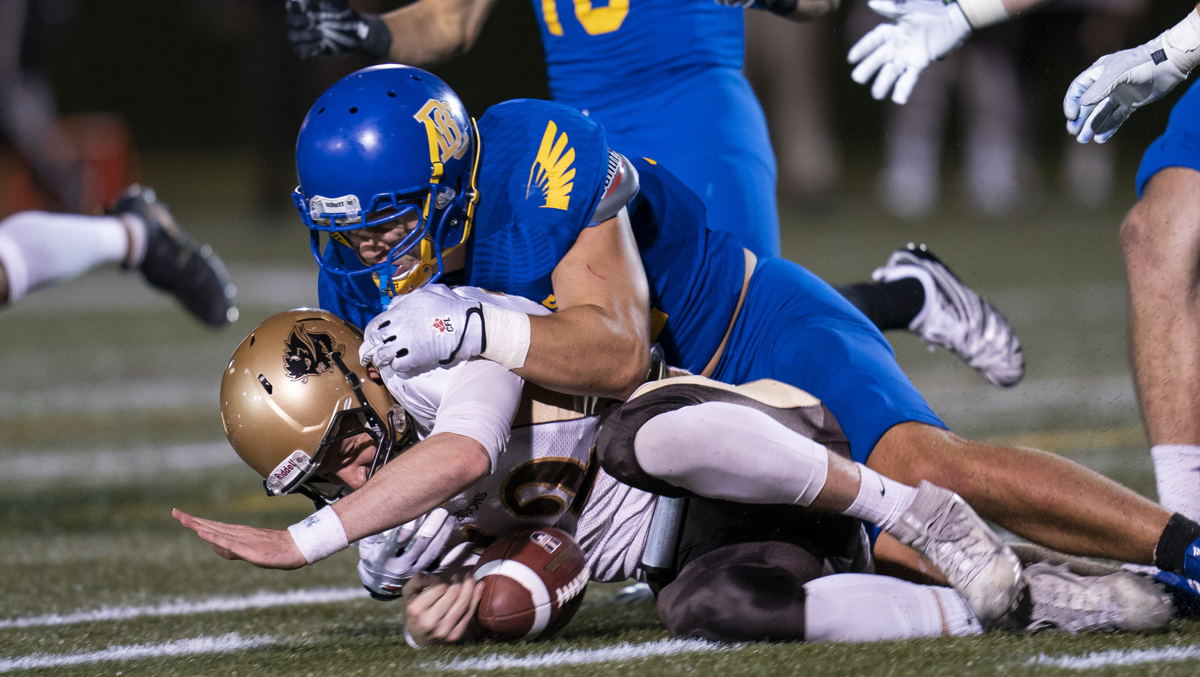 UBC Thunderbirds
2nd-year
Vernon, B.C.
Arts
STATS: 5 tackles / 1 sack / 1 forced fumble / 3 fumble recoveries
Despite coming out on the wrong end of a 19-17 scoreline against the Regina Rams Friday night, linebeacker Ben Hladik had a big night defensively for the UBC Thunderbirds, as he helped keep Regina's venerable offence in check.
Hladik made his impact known in the turnover game, as he recovered a trio of fumbles on the night. His first recovery of the game came with less than five minutes to play in the second quarter, as Ryley Butler forced a Ryan Schienbein fumble at the UBC two-yard line, before Hladik swooped in to pick up the pigskin. That play was one of two turnovers forced by the UBC defence inside their own five-yard line, as they kept their team in it with key takeaways.
A Vernon, B.C. product, Hladik added two more fumble recoveries in the fourth quarter, including a strip sack and fumble recovery on Regina quarterback Noah Picton with just under a minute to play.
The T-Birds (1-2) look to even their record this week when they welcome Calgary to Thunderbird Stadium for UBC's annual homecoming game, where nearly 10,000 fans took in the game last season.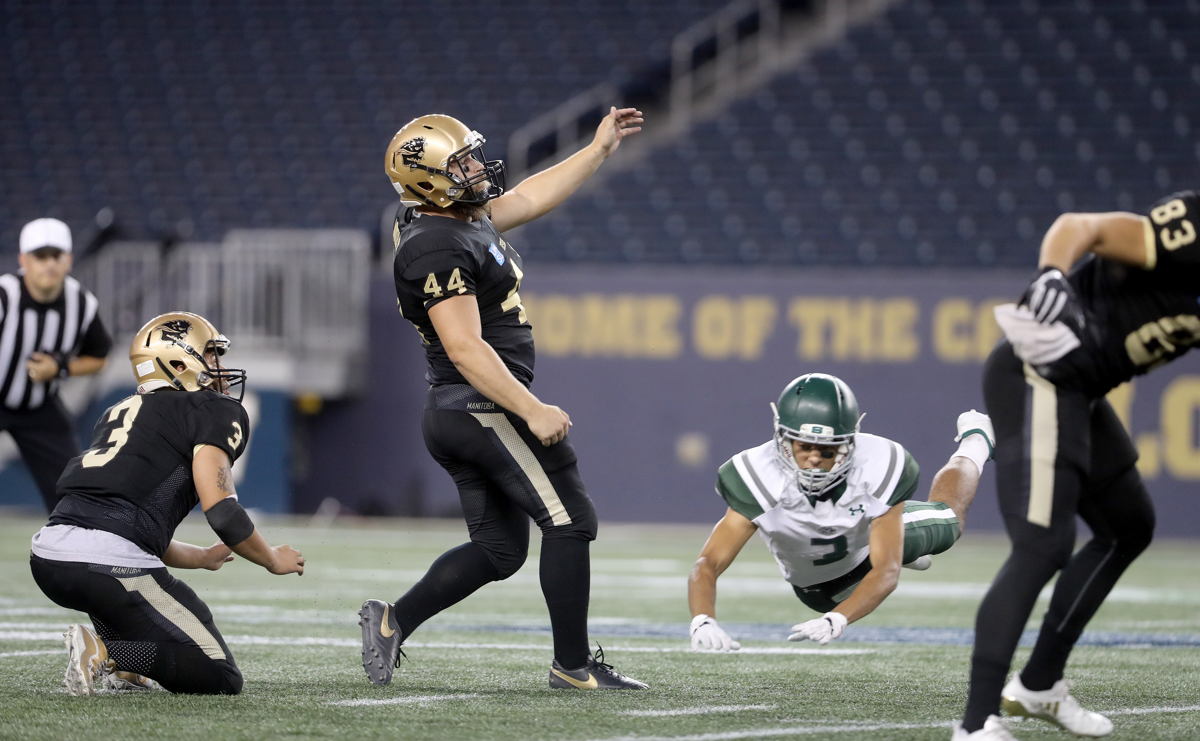 Manitoba Bisons
5th-year
Beausejour, Man.
University 1
STATS: 4-for-5 on field goals / Long of 49 / 3-for-3 on extra points / 7 punts for 285 yards / 2 punts inside 20
Veteran kicker Brad Mikoluff helped the Manitoba Bisons to their first win of the season over the weekend, as he posted 15 total points in Manitoba's 37-21 home win over the Alberta Golden Bears Saturday in Winnipeg.
Mikoluff split the uprights four times on the afternoon, including a 49-yard boot to open the scoring on Manitoba's second possession of the game. His only miss on the day came from 52 yards, which would've been tied for the sixth longest in CW history.
In addition to his field goal prowess, Mikoluff had a strong day punting, as he averaged 40.7 yards per punt, and pinned the Bears inside their own 20-yard line twice.
With the victory, Manitoba improved to 1-2 on the season. They'll travel to Edmonton this Friday for a rematch with the Bears (0-3) at 7 p.m. MDT. The game can be seen exclusively on Canada West TV.