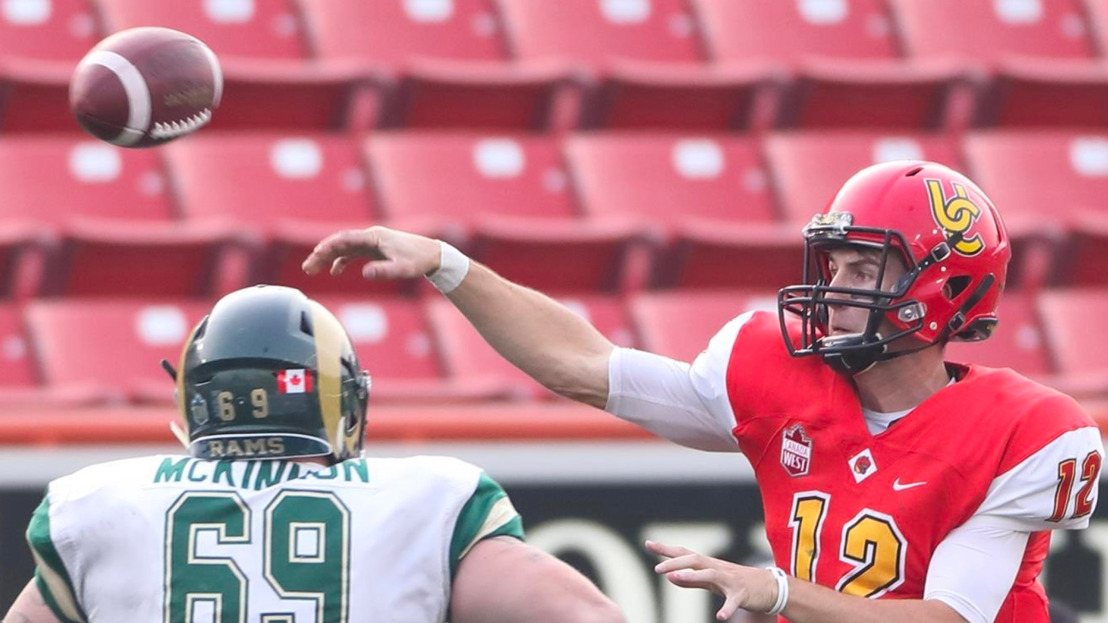 FB: Sinagra, pair of Huskies honoured as Players of the Week
Tuesday, 4 September 2018 — EDMONTON – Calgary Dinos quarterback Adam Sinagra, along with Saskatchewan Huskies defensive back Nelson Lokombo and return man Daniel Perry are the Week 1 Canada West Football Players of the Week.
The trio played starring roles in their respective team's opening night wins this past Friday, as the Dinos earned a 49-35 win over the Regina Rams, while the Huskies dominated the Alberta Golden Bears to the tune of 42-0.
OFFENCE
QB – Adam Sinagra
Calgary Dinos
4th-year
Pointe Claire, Que.
Arts
STATS: 21-of-30 / 444 yards / 3 TDs / 1 INT
It didn't take long for veteran pivot Adam Sinagra to get the Dinos offence on track in 2018, as the Pointe Claire, Que. native posted 444 passing yards and a trio of touchdowns in Calgary's 49-35 road win over the Regina Rams.
Sinagra threw two touchdown passes to Dallas Boath, while his biggest play of the night came on a 75-yard TD strike to Hunter Karl late in the third quarter. Sinagra and Karl connected for a total of 172 yards on the night, and are expected to be one of the top QB-receiver duos in the country.
Calgary hosts UBC (1-0) Friday, Sept. 7 (5:30 p.m. MDT / McMahon Stadium) in a highly-anticipated rematch of last year's epic Hardy Cup, which saw the Dinos walk away with a 44-43 win thanks to Niko DiFonte's final play field goal of 59 yards. The game can be seen exclusively on Canada West TV.
DEFENCE
DB – Nelson Lokombo
Saskatchewan Huskies
2nd-year
Abbotsford, B.C.
Arts & Science
STATS: 2 INT / 4 tackles
There were no shortage of outstanding defensive performances Friday for the Saskatchewan Huskies, as they shutout the Alberta Golden Bears 42-0 in Saskatoon.
The brightest defensive star for Saskatchewan was second-year defensive back Nelson Lokombo, who recorded a pair of interceptions and four tackles.
The brother of BC Lions linebacker Bo Lokombo, Nelson intercepted Alberta quarterback Brad Launhardt twice in the second half, as the Huskies locked down their first Canada West shutout since their 32-0 blanking of Alberta in the 2012 season opener.
The Huskies return to action on Friday, Sept. 7 (7 p.m. CDT / Investors Group Field) when they travel to Winnipeg to take on the Manitoba Bisons (0-1). The game is Week 2's Canada West Football Showcase game, and can be seen on SaskTel (348), TELUS (998), and Bell MTS (1802).
SPECIAL TEAMS
RET – Daniel Perry
Saskatchewan Huskies
1st-year
Calgary, Alta.
Arts & Science
STATS: 9 punt returns / 139 yards / Long of 42
Rookie return man Daniel Perry made his impact felt on special teams for Saskatchewan, returning nine punts for a total of 139 yards, in the Huskies rout of Alberta.
While the Calgary, Alta. product had a hiccup early in the second quarter when he fumbled a punt, he finished the night averaging just over 15 yards per return, helping position the Huskies to a win at Griffiths Stadium. The Arts & Science student had a pair of big returns for the Huskies, registering 36 yards on his first CW return, and then a 42-yarder early in the fourth quarter.
WATCH TOMORROW'S CFL PLAYERS TODAY
Fans can see the future of the CFL by watching every Canada West football regular season and playoff game this season on Canada West TV – the official streaming home of the conference.
2018-19 Canada West TV season passes are available here.
You can also watch CW football action every week by tuning into the Canada West Football Showcase on SaskTel maxTV in the province of Saskatchewan, TELUS Optik TV in British Columbia and Alberta, and Bell MTS Fibe TV in Manitoba.
For more on the CW FB Showcase, click here.
A total 36 CW players opened the 2018 CFL season on active rosters, as the conference continues to help fuel professional football in Canada by serving as a proven development pathway to the CFL.