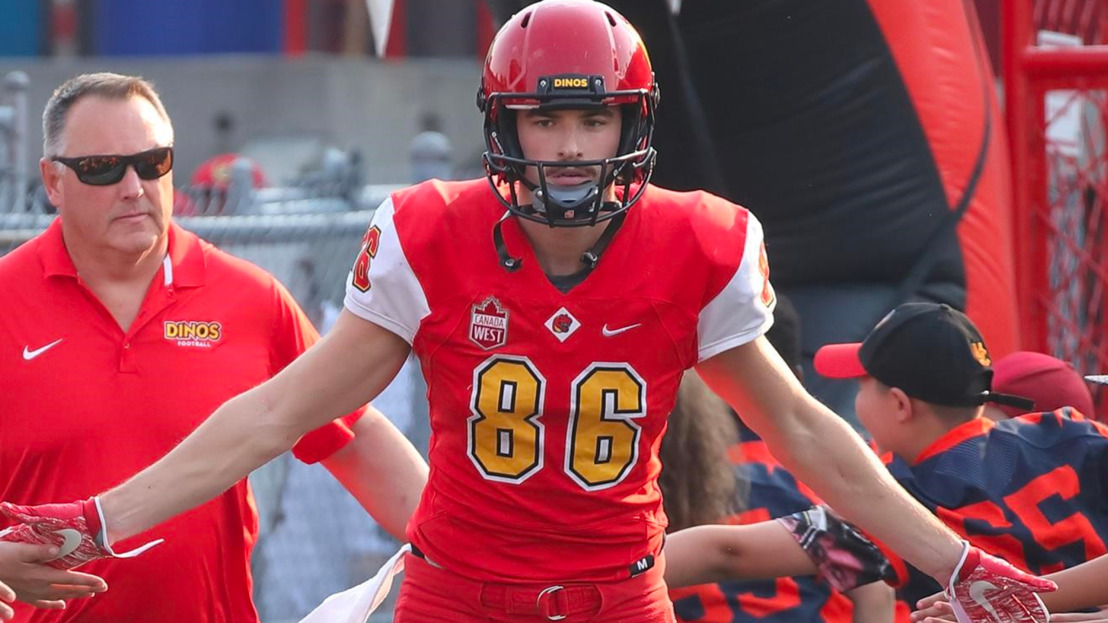 FB: Karl, Delinte, Pinto return to conference action in style
Trio named CW players of the week after leading teams to victory
EDMONTON – Calgary's Hunter Karl, Regina's Cord Delinte, and UBC's Trivel Pinto all made strong returns to the gridiron this week, as the trio were named the Canada West football players of the week Monday.
Following the conference's annual Thanksgiving week break, Karl continued his CW all-star calibre season on offence, leading all CW receivers Week 6 with 125 yards, while adding his sixth touchdown of the season.
Defensively, Delinte sparked the Rams defence in a must-win contest against the Alberta Golden Bears, posting a pair of interceptions and a clutch pass breakup.
Rounding out this week's winners is the high-flying Pinto, whose dynamic return prowess was a difference maker for the Thunderbirds in their win over the Saskatchewan Huskies.
CW OFFENSIVE PLAYER OF THE WEEK: REC – Hunter Karl
Calgary Dinos
4th-year
Okotoks, Alta.
Arts
STATS: 9 receptions for 125 yards, one touchdown
Calgary Dinos receiver Hunter Karl continues to be quarterback Adam Sinagra's favourite target in the Stampede City.
The fourth-year Arts student led the conference in receiving this week, hauling in nine receptions for 125 yards in Calgary's 34-16 victory over the Manitoba Bisons Friday night.
Karl also registered a touchdown in the win,  catching a 24-yard TD late in the first quarter, as Calgary posted 25 first half points to cruise to their sixth consecutive win, locking up first-place in the conference in the process.
With two weeks remaining in the regular season, Karl leads all CW receivers with 714 yards, and sits second in receiving touchdowns with six behind Saskatchewan's Colton Klassen (7).
The Dinos wrap up their regular season home schedule this week, as they host the Regina Rams Friday night (7:00 p.m. MDT).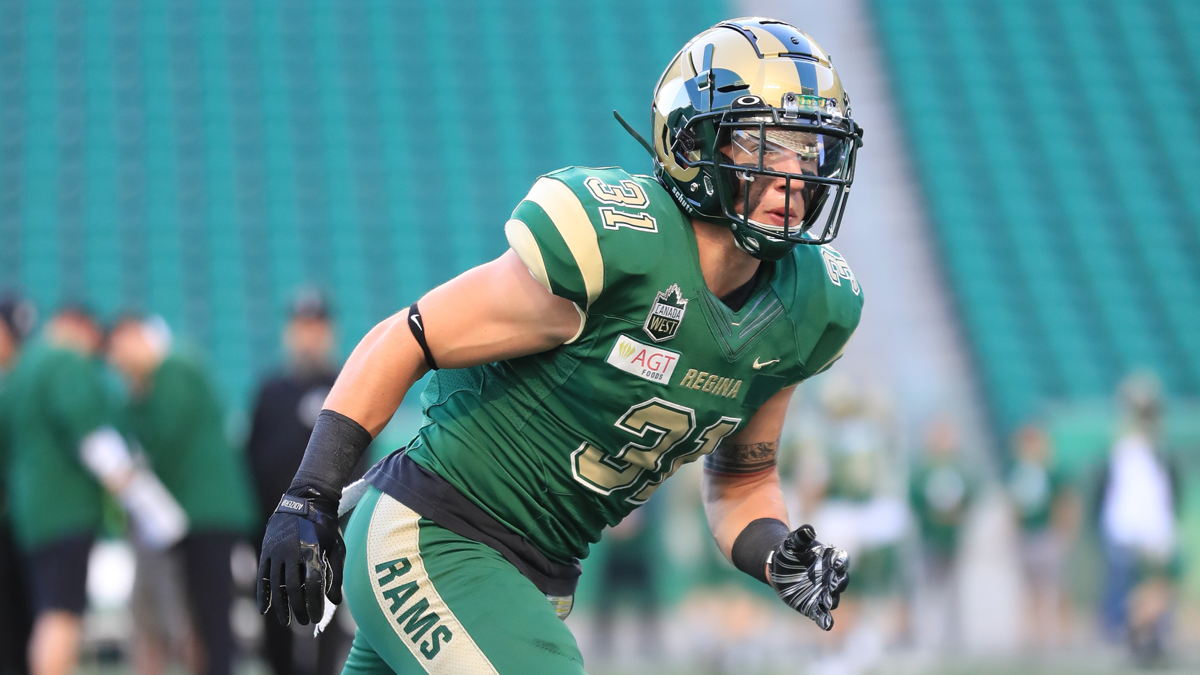 Regina Rams
4th-year
Cowley, Alta.
Education
STATS: 2 interceptions, 2 tackles, 1 pass breakup
Needing three wins to give themselves a shot at the playoffs, the Regina Rams came out with a strong effort Friday night against the Alberta Golden Bears, claiming a 32-17 victory.
Defensive back Cord Delinte had his best game of the season, becoming the first Ram in over two years to record a pair of interceptions in a single game.
The Cowley, Alta. product posted picks in the second and third quarters to help spark the Rams defence.
Delinte ran back his first interception of the game 28 yards, setting up a field goal to stretch Regina's lead to 23-7 late in the first half.
In addition to his interceptions, Delinte also had a key pass breakup in the fourth quarter, as he knocked down Alberta quarterback Brad Baker's third and goal attempt, as the Rams took over on downs and sealed the victory.
Regina will need another big performance this coming week, as they head to Calgary to take on the undefeated Dinos. A loss will eliminate the Rams from CW playoff contention.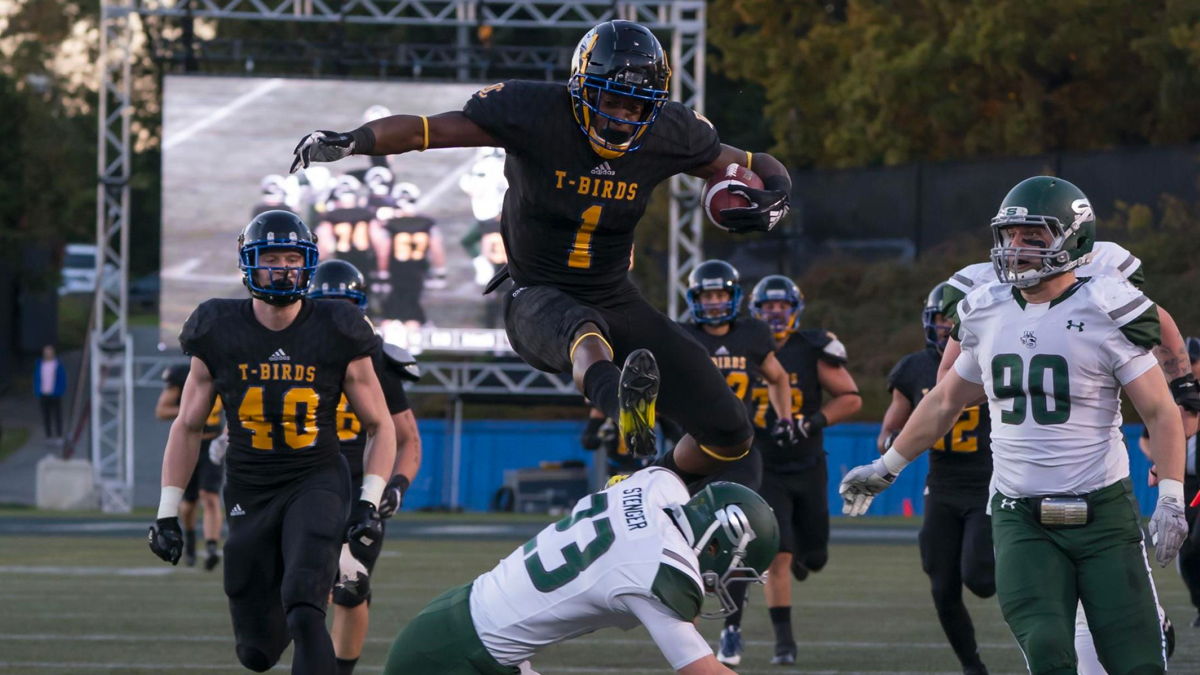 UBC Thunderbirds
4th-year
Toronto, Ont.
Arts
STATS: 178 total return yards, kickoff return long of 63, missed field goal return of 77
Dynamic receiver and return man Trivel Pinto is the special teams player of the week after helping spark the UBC Thunderbirds with 178 return yards Friday against the Saskatchewan Huskies.
Pinto's big special teams numbers came on just six combined returns, as UBC downed Saskatchewan 20-10.
The Arts student wasted no time making his impact felt, as he ran the opening kickoff back 63 yards, which fittingly led to his 11-yard touchdown reception from quarterback Michael O'Connor.
On his very next touch, Pinto ran a Saskatchewan missed field goal back 77 yards, which setup a T-Birds' field goal, running the lead to 10-0.
UBC returns to action this Saturday when they host the Alberta (1:00 p.m. PDT).