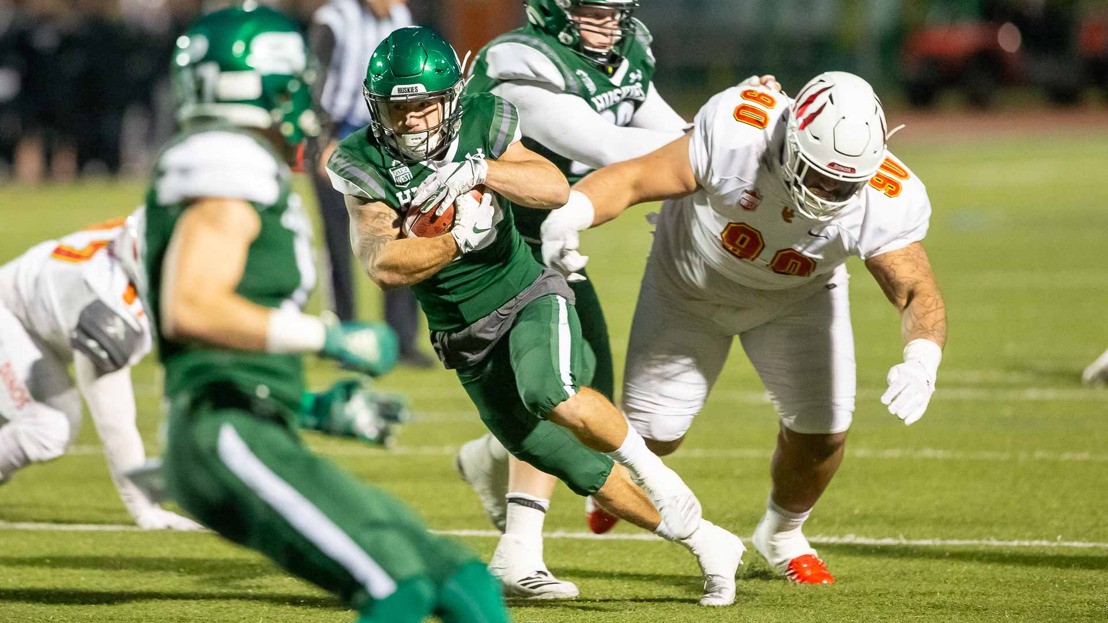 FB: Huskies dominate CW awards
Saskatchewan's Adam Machart named Player of the Year
EDMONTON – The Saskatchewan Huskies got plenty of praise Thursday, as the 2019 Canada West football major award winners were announced.
Five of the conference's seven awards are headed to Saskatoon, as the defending Hardy Cup champion Huskies prepare for their rematch with the Calgary Dinos, which is set for Saturday, Nov. 9 at 1 p.m. MST.
Running back Adam Machart headlines the winners, as the the third-year was unanimously selected as CW Player of the Year and the conference's nominee for the Hec Crighton Trophy as the nation's top university football player.
Along with Machart, teammate Ramsey Derbas was the other unanimous award winner, as conference coaches selected the Huskie linebacker as Rookie of the Year.
The conference's Outstanding Lineman (DL - Evan Machibroda), Outstanding Defensive Player (DB - Nelson Lokombo), and Coach of the Year (Scott Flory) awards also went to Huskies.
Manitoba's Derek Dufault (Student-Athlete Community Service) and Regina's Greg Nesbitt (Gino Fracas nominee) stood in the way of a Saskatchewan sweep.
Led by Machart, Saskatchewan takes aim at a second consecutive Hardy Cup Saturday in Calgary. You can watch the game by tuning into SaskTel (348), TELUS (997), BellMTS (1802) or Canada West TV Presented by Co-op.
---
PLAYER OF THE YEAR: RB - Adam Machart
Saskatchewan Huskies

3rd-year

Saskatoon, Sask.

Arts & Science

STATS: 156 rushes / 1,330 yards / 8 rushing TDs / 166.3 YPG
OUTSTANDING LINEMAN: DL - Evan Machibroda
Saskatchewan Huskies

5th-year

Saskatoon, Sask.

Engineering

STATS: 5 sacks / 22 tackles / 2 forced fumbles
OUTSTANDING DEFENSIVE PLAYER: DB - Nelson Lokombo
Saskatchewan Huskies

3rd-year

Abbotsford, B.C.

Kinesiology

STATS: 4 interceptions (2 for TDs) / 197 INT return yards / 4.5 tackles for loss / 23.5 tackles
ROOKIE OF THE YEAR: LB - Ramsey Derbas
Saskatchewan Huskies

Saskatoon, Sask.

Business

STATS: 43 tackles / 1.5 tackles for loss / 1 interception
COACH OF THE YEAR: Scott Flory
Saskatchewan Huskies

3rd season
STUDENT-ATHLETE COMMUNITY SERVICE: DL - Derek Dufault
Manitoba Bisons

5th-year

Winnipeg, Man.

Science

STATS: 7 sacks / 2 forced fumbles / 23.5 tackles
GINO FRACAS AWARD NOMINEE: Greg Nesbitt