FB: Canada West stars set to return to the field in early September
Conference announces 2022 football schedule
21 April 2022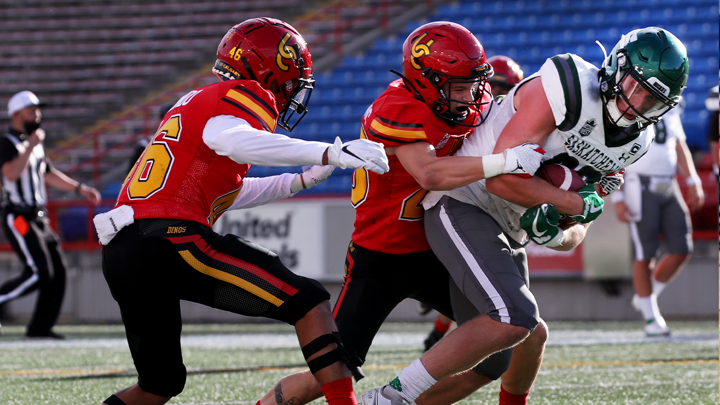 CALGARY– You can almost taste it. The sweetness that is Canda West Football is mere months away. On Thursday, the conference announced its schedule for the 2022 season, which is set to kick off September 2.
That's when fans at the University of Calgary and University of Manitoba will get their first live glimpses of their Hardy Cup-contending teams on home soil. Calgary will size up the defending champs, Saskatchewan, at 5:30 p.m. MT. The hungry Hardy Cup runner-ups, Manitoba, will look to draw the season's first blood against Regina at 7 p.m. CT. The final two teams are set to square off on September 3 at 7 p.m. PT, when the University of British Columbia takes to its home field against the University of Alberta.
The nine-week regular season sees all teams play each other at least once, with three repeat match-ups and one bye week. The schedule ends the same way it started, with each of the above-mentioned away teams drawing hosting duties this time around.
This year's schedule sees more Friday evening games than last year, but the final three weeks of the regular season feature exclusively Saturday afternoon matches.
The schedule also includes a double-header with a CFL match-up at Commonwealth Stadium, where the Golden Bears and Dinos will be showcased in a new partnership game before the Edmonton Elks take on the Toronto Argonauts.
When the regular season is all said and done, the top four teams will earn spots in the CW semi-finals on November 5, before the date you can now circle in your calendar: the Hardy Cup on November 12, 2022.
Key dates:
Friday, September 2: Opening night of the 2022 CW football season
Friday, September 9: The only Friday night on the CW schedule features all six teams in action
Saturday, October 8: Conference-wide bye week
November 5: Hardy Cup Semifinals*
​*Dates determined by host field availability
November 12: CW champion crowned at the 85th Hardy Cup*
​*Dates determined by host field availability
Due to the variability of hosting protocols at shared stadiums, exact dates for the 85th Hardy Cup and the Hardy Cup semifinals will be confirmed once hosting duties have been earned. As always, those will be given to the highest seeds in the semi-final and final match-ups.
Further details on the Canada West Football Showcase will be unveiled in the coming months.
Fans looking to watch gridiron action on Canada West TV presented by Co-op – the only home for all CW football games – will be able to buy passes beginning in July when 2022-23 packages go on sale to the public.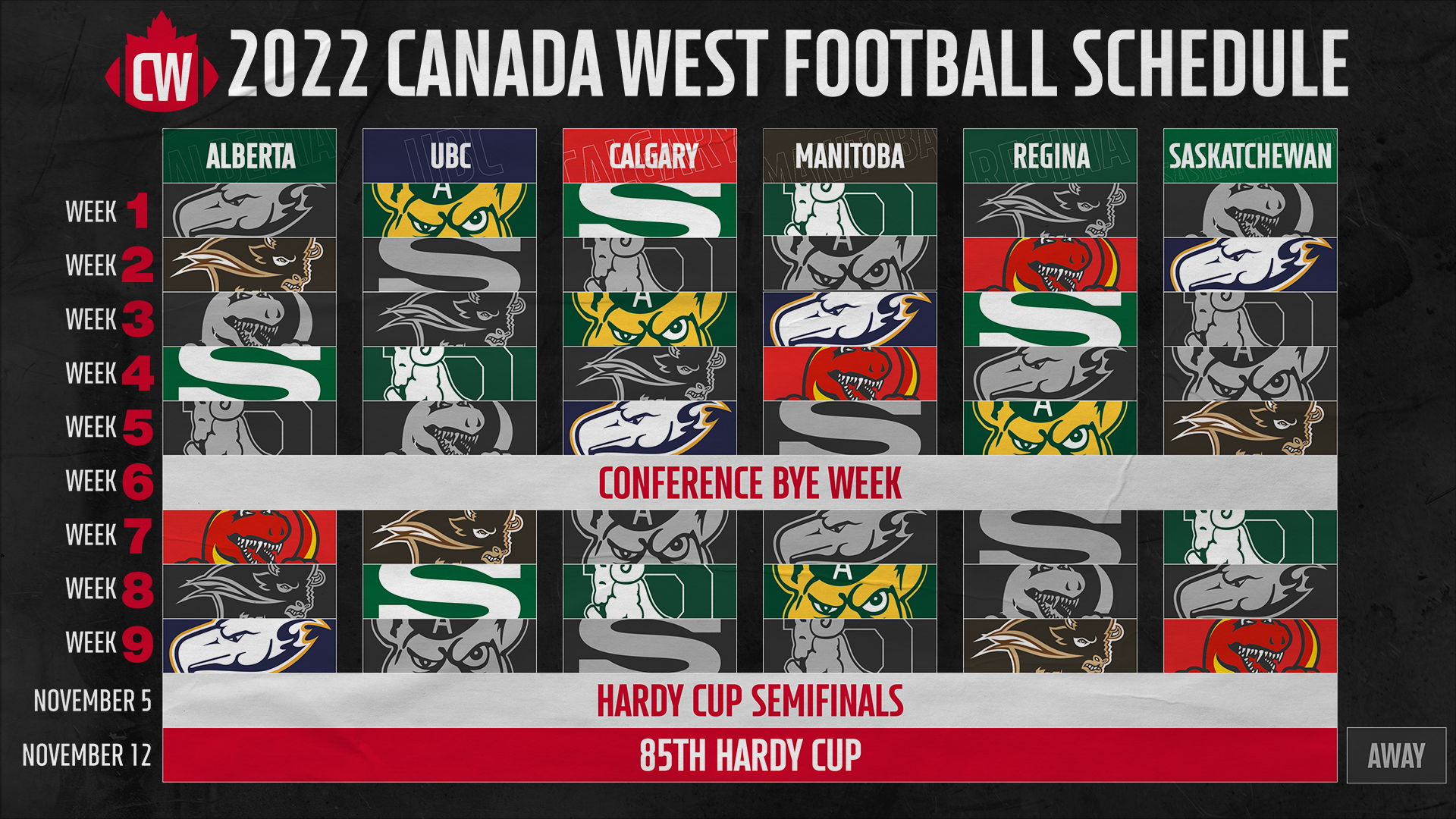 ---
2022 CANADA WEST FOOTBALL SCHEDULE 
REGULAR SEASON 
WEEK 1
Friday, Sept. 2: SSK @ CGY / 5:30 p.m. MDT / McMahon Stadium
Friday, Sept. 2: REG @ MAN / 7:00 p.m. CDT / IG Field
Saturday, Sept. 3: ALB @ UBC / 7:00 p.m. PDT / Thunderbird Stadium
WEEK 2
Friday, Sept. 9: CGY @ REG / 7:00 p.m. CST / Mosaic Stadium
Friday, Sept. 9: UBC @ SSK / 7:00 p.m. CST / ​ Griffiths Stadium in Nutrien Park
Friday, Sept. 9: MAN @ ALB / 7:00 p.m. MDT / ​ Foote Field
WEEK 3
Friday, Sept. 16: ALB @ CGY / 6:00 p.m. MDT / McMahon Stadium
Friday, Sept. 16: UBC @ MAN / 7:00 p.m. CDT / IG Field
Saturday, Sept. 17: SSK @ REG / 7:00 p.m. CST / Mosaic Stadium
WEEK 4
Friday, Sept. 23: SSK @ ALB / 7:00 p.m. MDT / Foote Field
Friday, Sept. 23: REG @ UBC / 7:00 p.m. PDT / Thunderbird Stadium
Saturday, Sept. 24: CGY @ MAN / 2:00 p.m. CDT / IG Field
WEEK 5
Friday, Sept. 30: UBC @ CGY / 6:00 p.m. MDT / McMahon Stadium
Friday, Sept. 30: MAN @ SSK / 7:00 p.m. CST / Griffiths Stadium in Nutrien Park
Saturday, Oct. 1: ALB @ REG / 2:00 p.m. CST / Leibel Field
WEEK 6 - BYE
WEEK 7
Saturday, Oct. 15: CGY @ ALB / 12:00 p.m. MDT / Commonwealth Stadium
Saturday, Oct. 15: REG @ SSK / 1:00 p.m. CST / Griffiths Stadium in Nutrien Park
Saturday, Oct. 15: MAN @ UBC / 2:00 p.m. PDT / Thunderbird Stadium
WEEK 8
Saturday, Oct. 22: REG @ CGY / 1:00 p.m. MDT / McMahon Stadium
Saturday, Oct. 22: SSK @ UBC / 1:00 p.m. PDT / Thunderbird Stadium
Saturday, Oct. 22: ALB @ MAN / 2:00 p.m. CDT / IG Field
WEEK 9
Saturday, Oct. 29: CGY @ SSK / 1:00 p.m. CST / Griffiths Stadium in Nutrien Park
Saturday, Oct. 29: UBC @ ALB / 1:00 p.m. MDT / Foote Field
Saturday, Oct. 29: MAN @ REG / 2:00 p.m. CST / Mosaic Stadium
PLAYOFFS
HARDY CUP SEMIS
Saturday, Nov. 5: No. 4 @ No. 1 / No. 3 @ No. 2 
85TH HARDY CUP
Saturday, Nov. 12: semifinal winners @ highest remaining seed