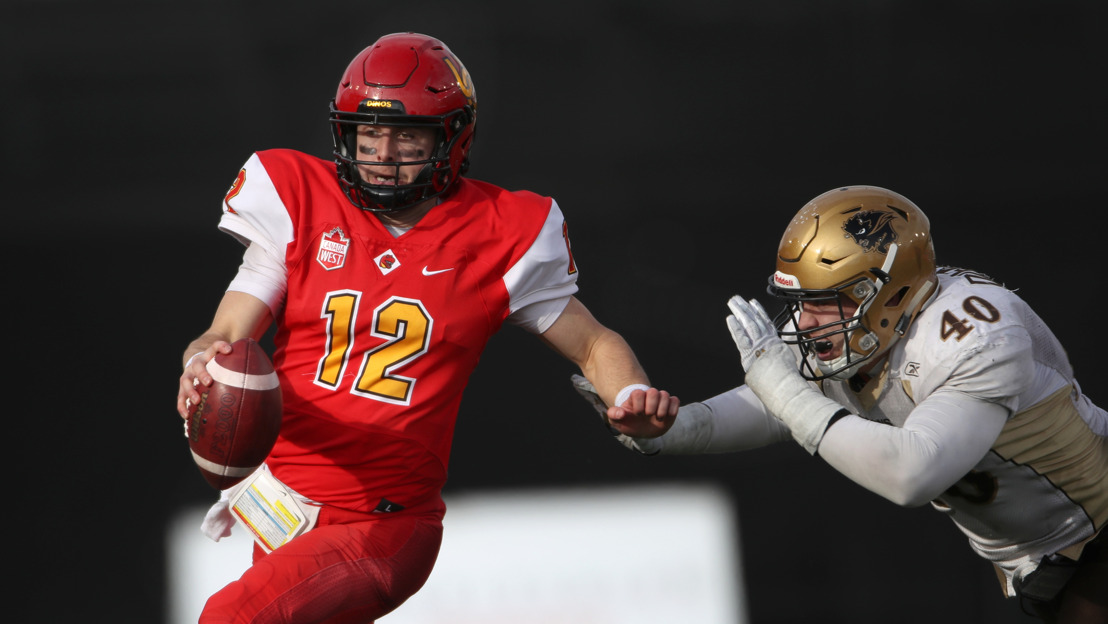 FB: Calgary set to host 83rd Hardy Cup
Dinos survived 47-46 semifinal thriller against Manitoba
EDMONTON – The Hardy Cup is headed to a familiar home.
Calgary's McMahon Stadium will host the Canada West football championship game on Saturday, November 9 at 1 p.m. MST, when the Calgary Dinos welcome the Saskatchewan Huskies for the 83rd Hardy Cup.
The game marks the 10th consecutive time the Dinos will host the game, and the 11th time in the last 12 years dating back to 2008. It'll also be a rematch of last year's Hardy Cup, which saw the Huskies down the Dinos 43-18.
In the first conference semifinal on Saturday, the Dinos survived a thrilling semifinal showdown with the Manitoba Bisons, emerging with a 47-46 win after picking off a Manitoba two-point convert on the final play of the game.
After watching a 14-point cushion evapourate in the fourth quarter, Calgary took a 47-40 lead with just 1:08 left in the game. That set the scene for an epic finish, as the Bisons used a 50-yard Hail Mary touchdown with no time on the clock to cut the lead to one.
With the game on the line, Manitoba opted for a two-point convert and the win, only to have Calgary secure an interception and the dramatic win.
Meanwhile in the second semifinal Saturday, the Huskies punched their ticket to the Hardy Cup with a 28-23 win despite the Alberta Golden Bears racing out to a 14-0 lead.
Saskatchewan used 164 rushing yards from running back Adam Machart to punch their ticket to the Hardy Cup, as the Huskies earned their first home playoff win since 2009.
The 83rd Hardy Cup will be available on SaskTel, TELUS, Bell MTS and Canada West TV Presented by Co-op.