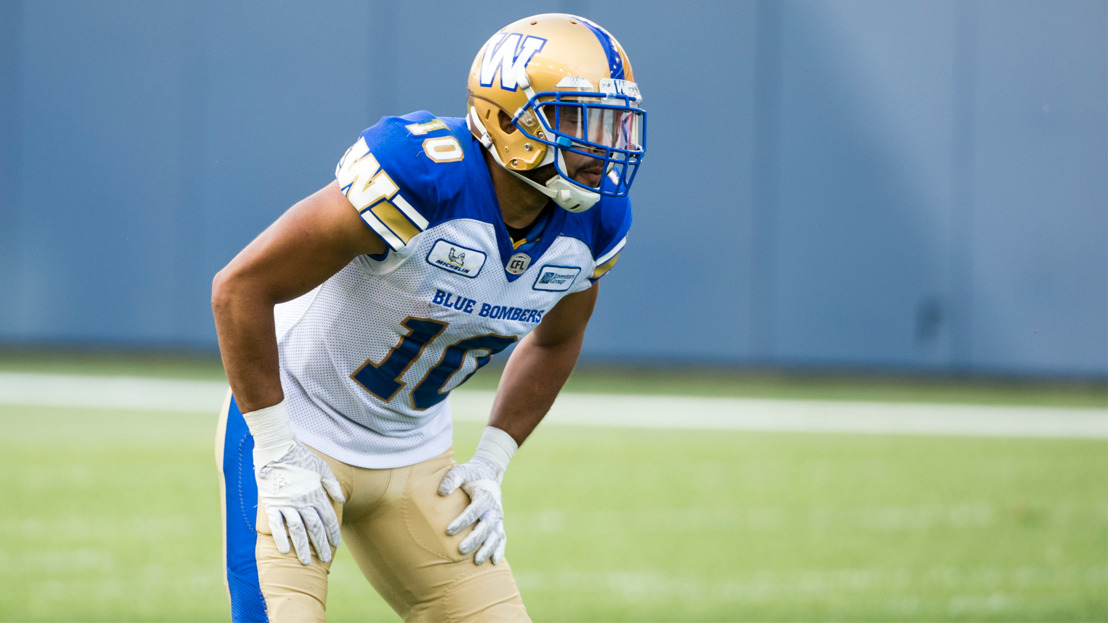 FB: Blue Bomber Demski named CW FB Alum of the Month
Wednesday, 1 August 2018 — EDMONTON – Former Manitoba Bison Nic Demski has been honoured as the Canada West (CW) Football Alumnus of the Month for July after an outstanding stretch with the Winnipeg Blue Bombers.
A four-year veteran of the Canadian Football League (CFL), the wide receiver played four games for the Bombers over the month of July, accumulating 276 total yards and a pair of touchdowns.
This marks the second time in Demski's career he has won the conference award, which honours a former CW player now excelling professionally in the CFL, after he also claimed the title in June of 2017.
Highlights:
Manitoba Bison product and current Winnipeg Blue Bomber Nic Demski is the Canada West Football Alum of the Month for July
Demski helped the Bombers to a 3-1 record last month, while accumulating 276 total yards and a pair of touchdowns
The Winnipeg native played four seasons for the Bisons, where he was a four-time CW all-star (2011-14)
After spending the previous three seasons with the Saskatchewan Roughriders, who drafted Demski sixth overall in the 2015 CFL Draft, the Winnipeg native signed with his hometown team this off-season, and helped them to a 3-1 record in July.
Through seven games this season, Demski has hauled in 28 receptions for 267 yards, while adding another seven carries for 116 yards. His biggest game of the season came in Winnipeg's 40-14 win over the Toronto Argonauts on July 27, when the Oak Park High School product had 116 yards of offence and a pair of touchdowns.
Before making the jump to the CFL, Demski was a four-time CW all-star with the Bisons (2011-2014) and a 2014 Hardy Cup champion. He sits fourth on Manitoba's all-time touchdowns list with 21, and is seventh in both receiving yards (1,577) and receptions (87).
The Canada West Football Alum of the Month program is part of the #CanadaWestCreated campaign, which showcases former student-athletes excelling in their careers, and the community.
WATCH TOMORROW'S CFL PLAYERS TODAY
Fans can see the future of the CFL by watching every Canada West football regular season and playoff game this season on Canada West TV – the official streaming home of the conference.
A total 36 CW players opened the 2018 CFL season on active rosters, as the conference continues to help fuel professional football in Canada by serving as a proven development pathway to the CFL.
2018-19 Canada West TV season passes are available here, with early bird pricing in effect until Friday, August 24. Opening night for the 2018 CW football season is slated for Friday, August 31.
For a complete look at the CW football schedule, click here.