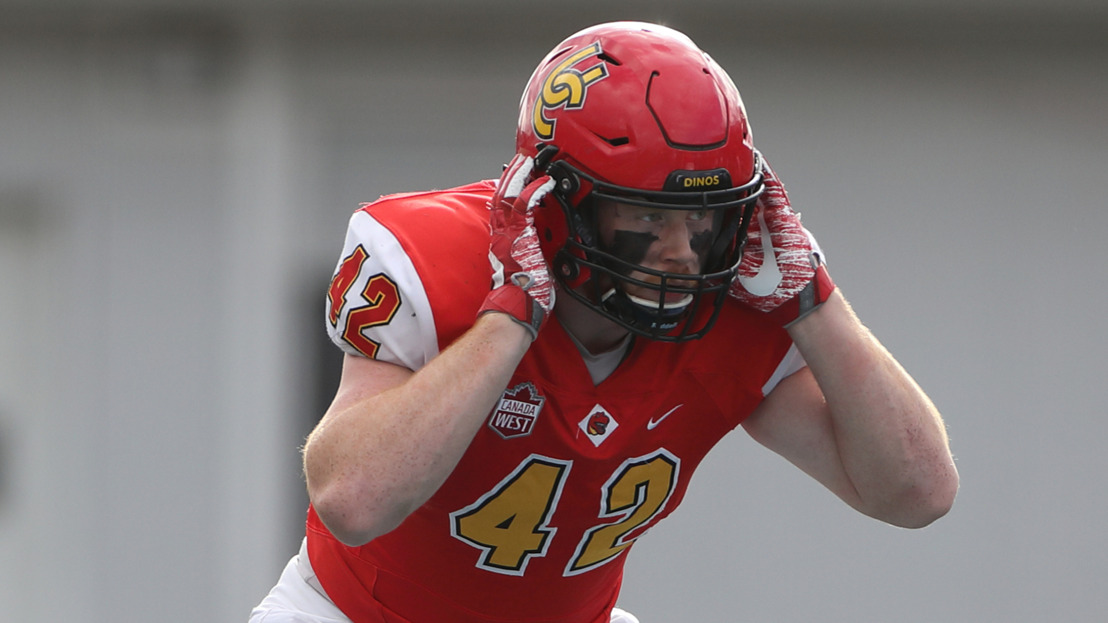 FB: 36 CW products suit up Week 1 of CFL season
Monday, 18 June 2018 — EDMONTON – A total of 36 former Canada West football players helped ring in the new Canadian Football League (CFL) season this past weekend, as the conference continued to make an impact at the pro level.
The new CFL season kicked off Father's Day weekend with four games, and Canada West products dotted game day rosters across the country. The Saskatchewan Roughriders and Winnipeg Blue Bombers had the most CW content Week 1, as both teams dressed seven former CW players.
Highlights:
36 former CW players suited up Week 1 of the CFL season
A total of 51 CW products are on CFL rosters to start the season
16 former Calgary Dinos played Week 1 of the season to lead the CW charge
Leading the way in terms of conference representation Week 1 were the Calgary Dinos, who had 16 former players in action, as the CFL rang in the earliest start to a new season in league history.
All told, 51 former Canada West products are currently on CFL rosters, with 39 on active rosters heading into the second week of the CFL season, which opens Thursday, June 21 when the Roughriders travel to our nation's capital to take on the Ottawa REDBLACKS in their first contest of 2018.
Among the 51 former CW players on CFL rosters, eight were picks in the most recent CFL Draft, when a total of 15 CW players were selected.
You can catch the next crop of CFL talent beginning Friday, August 31 when the 2018 CW season kicks off. Opening night features the Regina Rams hosting the defending Hardy Cup champion Calgary Dinos, and the Saskatchewan Huskies hosting the Alberta Golden Bears.
Every minute of CW football action can be found live and on demand this season via Canada West TV – the official streaming home of Canada West. 2018-19 Canada West TV passes go on sale Thursday, June 21.
CW players on CFL rosters (51 total)
Saskatchewan Roughriders (9)
Mike Edem / S / Calgary Dinos
Sam Hurl / LB / Calgary Dinos
Jorgen Hus / LS / Regina Rams
Brendon LaBatte / OL / Regina Rams
Denzel Radford / DB / Calgary Dinos
Eddie Steele / DL / Manitoba Bisons
Micah Teitz / LB / Calgary Dinos
# Jake Harty / WR / Calgary Dinos
* Mitch Picton / WR / Regina Rams
Winnipeg Blue Bombers (9)
Sukh Chungh / OL / Calgary Dinos
Nic Demski / WR / Manitoba Bisons
Taylor Loffler / DB / UBC Thunderbirds
Thomas Miles / LB / Manitoba Bisons
Patrick Neufeld / OL / Saskatchewan Huskies
Chad Rempel / LS / Saskatchewan Huskies
Rashaun Simonise / WR / Calgary Dinos
# Kienan LaFrance / RB / Manitoba Bisons
* Tylor Henry / WR / Alberta Golden Bears
Hamilton Tiger-Cats (7)
Darius Ciraco / OL / Calgary Dinos
Terrell Davis / LB / UBC Thunderbirds
Connor McGough / DE / Calgary Dinos
Landon Rice / OL / Manitoba Bisons
Mercer Timmis / RB / Calgary Dinos
# Braden Schram / OL / Calgary Dinos
* Brett Wade / DL / Calgary Dinos
Calgary Stampeders (7)
Riley Jones / LB / UBC Thunderbirds
Justin Lawrence / OL / Alberta Golden Bears
Charlie Power / RB / Saskatchewan Huskies
Ryan Sceviour / OL / Calgary Dinos
Richard Sindani / WR / Calgary Dinos
# Julan Lynch / WR / Saskatchewan Huskies
* Michael Klukas / WR / Calgary Dinos
Toronto Argonauts (6)
Linden Gaydosh / DT / Calgary Dinos
Sean McEwen / OL / Calgary Dinos
Jimmy Ralph / WR / Alberta Golden Bears
Robert Woodson / DB / Calgary Dinos
# Anthony Coombs / RB / Manitoba Bisons
* Evan Foster / DE / Manitoba Bisons
BC Lions (4)
Mitch Barnett / LB / UBC Thunderbirds
Cody Husband / C / UBC Thunderbirds
Dominique Termansen / DB / UBC Thunderbirds
* Will Watson, WR / UBC Thunderbirds
Ottawa REDBLACKS (4)
Austin Hartley / WR / Calgary Dinos
Evan Johnson / OL / Saskatchewan Huskies
Michael Klassen / DL / Calgary Dinos
Mark Korte / OL / Alberta Golden Bears
Edmonton Eskimos (3)
David Beard / OL / Alberta Golden Bears
Adam Konar / LB / Calgary Dinos
Hugh O'Neill / K / Alberta Golden Bears
Montreal Alouettes (2)
Kirby Fabien / G / Calgary Dinos
# DJ Lalama / LB / Manitoba Bisons
CFLers by CW school
Calgary Dinos (22)
Ryan Sceviour / OL / Calgary Stampeders
Richard Sindani / WR / Calgary Dinos
* Michael Klukas / WR / Calgary Stampeders
Adam Konar / LB / Edmonton Eskimos
Mike Edem / S / Saskatchewan Roughriders
Sam Hurl / LB / Saskatchewan Roughriders
Denzel Radford / DB / Saskatchewan Roughriders
Micah Teitz / LB / Saskatchewan Roughriders
# Jake Harty / WR / Saskatchewan Roughriders
Sukh Chungh / OL / Winnipeg Blue Bombers
Rashaun Simonise / WR / Winnipeg Blue Bombers
Darius Ciraco / OL / Hamilton Tiger-Cats
Connor McGough / DE / Hamilton Tiger-Cats
Mercer Timmis / RB / Hamilton Tiger-Cats
# Braden Schram / OL / Hamilton Tiger-Cats
* Brett Wade / DL / Hamilton Tiger-Cats
Linden Gaydosh / DT / Toronto Argonauts
Sean McEwen / OL / Toronto Argonauts
Robert Woodson / DB / Toronto Argonauts
Austin Hartley / WR / Ottawa REDBLACKS
Michael Klassen / DL / Ottawa REDBLACKS
Kirby Fabien / G / Montreal Alouettes
Manitoba Bisons (8)
Eddie Steele / DL / Saskatchewan Roughriders
Nic Demski / WR / Winnipeg Blue Bombers
Thomas Miles / LB / Winnipeg Blue Bombers
# Kienan LaFrance / RB / Winnipeg Blue Bombers
Landon Rice / OL / Hamilton Tiger-Cats
# Anthony Coombs / RB / Toronto Argonauts
* Evan Foster / DE / Toronto Argonauts
# DJ Lalama / LB / Montreal Alouettes
UBC Thunderbirds (7)
Mitch Barnett / LB / BC Lions
Cody Husband / C / BC Lions
Dominique Termansen / DB / BC Lions
* Will Watson, WR / BC Lions
Riley Jones / LB / Calgary Stampeders
Taylor Loffler / DB / Winnipeg Blue Bombers
Terrell Davis / LB / Hamilton Tiger-Cats
Alberta Golden Bears (6)
Justin Lawrence / OL / Calgary Stampeders
David Beard / OL / Edmonton Eskimos
Hugh O'Neill / K / Edmonton Eskimos
* Tylor Henry / WR / Winnipeg Blue Bombers
Jimmy Ralph / WR / Toronto Argonauts
Mark Korte / OL / Ottawa REDBLACKS
Saskatchewan Huskies (5)
Charlie Power / RB / Calgary Stampeders
# Julan Lynch / WR / Calgary Stampeders
Patrick Neufeld / OL / Winnipeg Blue Bombers
Chad Rempel / LS / Winnipeg Blue Bombers
Evan Johnson / OL / Ottawa REDBLACKS
Regina Rams (3)
Jorgen Hus / LS / Saskatchewan Roughriders
Brendon LaBatte / OL / Saskatchewan Roughriders
* Mitch Picton / WR / Saskatchewan Roughriders
NOTES: dressed Week 1 denoted in ITALICS; # denotes injured list; * denotes practice roster; bold denotes 2018 draft pick