Dominant T&F athlete named to CW Hall of Fame
Former University of Regina jumper inducted after stand out career
31 May 2022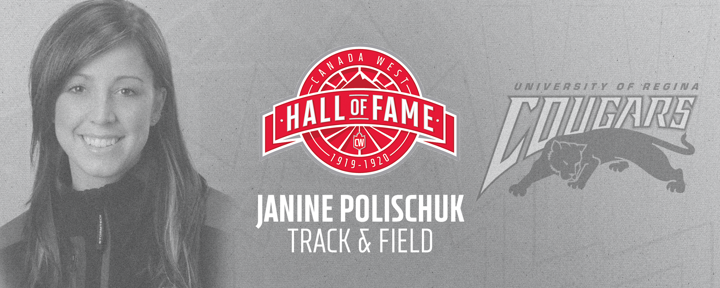 CALGARY – Janine Polischuk is the newest member of the Canada West Hall of Fame, the conference announced Tuesday. Polischuk wore the University of Regina green and gold from 2007 to 2009. In her relatively short CW career, she accumulated a lengthy list of accolades.
The track and field star won 29 major awards and medals, including two CIS Field Athlete of the Year honours, which is the top nod given to a university field athlete across Canada.
"I am thrilled to receive the news that Janine Polischuk will be inducted into the Canada West Hall of Fame. Janine was an incredibly talented multi-sport athlete who, from a very young age growing up and training in Regina, was very focused on being the best that she could possibly be. Her approach to training and preparation was unequivocal and certainly set her apart from the rest of the Canada West Athletes during her time at the U of R. Her commitment to being a student and an athlete played a critical role in changing the culture of our entire program to one of the top teams in Canada West and in the country," said Carla Nicholls, Athletics Canada Para Performance Lead & University of Regina track and field head coach from 2001 to 2009.
Polischuk gained nationwide reverence as she dominated triple jump, high jump, long jump and hurdles. Despite splitting her focus between the events, she excelled at each, claiming eight Canada West gold medals, two silvers and a bronze in her three championship appearances.
She also scooped up a silver in the pentathlon and a bronze in the 4 x 200-metre relay in 2009.
Her success translated onto the national stage, where she earned eight CIS medals in three championship meets. Four of those were gold.
Polischuk's strongest event was triple jump, where she set a Canada West championship record in 2008 with a mark of 12.54 metres. Her personal best as a Cougar was at the 2007 CIS Championships, where she jumped 12.72 metres.
The decorated CW athlete graduated in 2009 with her Bachelor of Kinesiology. Several years later, she became the first women's track and field student-athlete to be inducted into the University of Regina Sports Hall of Fame.
She can now add Canada West Hall of Fame to her impressive resumé.
ABOUT THE CANADA WEST HALL OF FAME
For the last century, organized university sport has been a central part of the student experience at institutions across Western Canada. Beginning with the University of Manitoba capturing the first Western Canadian Intercollegiate Athletic Union (WCIAU) men's hockey banner in 1919-20, student-athletes have been competing to reach their full potential in sport and the classroom, while enriching campus life. 
To commemorate 100 years of university sport across Western Canada, the Canada West Hall of Fame was created in the spring of 2019. This year's induction class will be unveiled throughout the summer of 2022.
VISIT: CanadaWestHallofFame.org
---
For more information, please contact:
Stefanie Lasuik
​Associate Director, Communications & Marketing ​
​[email protected]