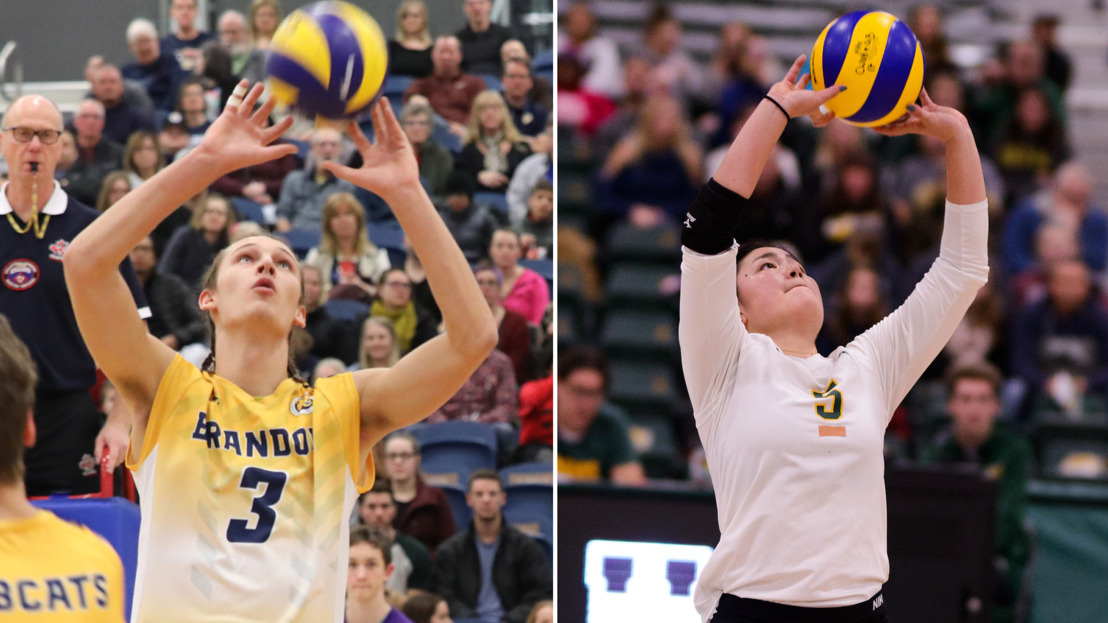 CW three stars: Volleyball setters shine
Brandon's Reece Dixon and Regina's Satomi Togawa honoured
EDMONTON – Volleyball setters Reece Dixon (Brandon Bobcats) and Satomi Togawa (Regina Cougars) are the Canada West first stars of the week for the period ending January 5.
Highlights:
Volleyball setters Reece Dixon (Brandon) and Satomi Togawa (Regina) are the conference's first stars this week, after regular season play resumed Jan. 4-5

Also earning stars this week were: Zac Overwater (Lethbridge - MBB), Mikaelyn Sych (TWU - WVB), Jamal Watson (MRU - MHKY), and Emma Kary (Alberta - WBB).
Dixon set the table for Brandon's sweep of the Trinity Western Spartans, as the previously No. 2-ranked Bobcats needed just six sets to down the Spartans (previously No. 1) in a battle of the nation's top two teams. Thanks in part to Dixon's 61 combined assists, Brandon moved to No. 1 in the U SPORTS top 10 for the first time in program history when the latest poll was released Tuesday.
In women's volleyball, Togawa set a new Regina single-game record for digs (27) in Friday's 3-2 win over the No. 4-ranked Alberta Pandas. The third-year setter has been key for the Cougars this season, as the Uji, Japan product is third in CW in assists per set (9.37).
The pair now move forward as the conference nominees for the U SPORTS athletes of the week.
---

Game log: Friday, January 4 – 28 assists, 5 digs, and 2 blocks in 3-0 home win vs. Trinity Western / Saturday, January. 5 – 33 assists, 2 digs, 1 ace, and 1 block in 3-0 home win vs. TWU.
Reece Dixon led the Brandon Bobcats men's volleyball squad to one of the most successful weekends in program history, as the previously No. 2-ranked Bobcats shocked the No. 1 Trinity Western Spartans in a dominating performance this past weekend. The Bobcats took six straight sets over the Spartans, as Dixon's play provided the spark needed to lift his team to the top of the Canada West standings.
The fourth-year Sherwood Park, Alta. product masterfully distributed the ball on offence and hustled on every defensive touch Friday, before taking a ball to the face late in the third set. Dixon returned to the floor after immediate repairs and closed out the match with 28 assists.
With his face still swollen on Saturday, Dixon's determination lifted the Bobcats to a dominating 3-0 win, which saw him register 33 assists.
Thanks to the victories, Brandon took over top spot in the U SPORTS top 10 for the first time in program history. The 'Cats will have another top 10 showdown this weekend, as Brandon takes on the No. 4 Alberta Golden Bears in Edmonton.

Game log: Friday, January 4 – 46 assists, 27 digs, 5 kills, 3 aces, and 1 block in 3-2 home win vs. Alberta  / Saturday, January. 5 – 24 assists, 9 digs, 1 kill, 1 ace, and 1 block in 3-0 home loss to Alberta.
Satomi Togawa had a monumental effort both offensively and defensively in Friday's five-set home win over the No. 4-ranked Alberta Pandas.
Togawa not only piled up 46 assists, but set a school record for digs in a single match by a setter after registering 27 of them in the win. Togawa, who was charged with the task of playing back row opposite of Alberta's All-Canadian outside hitter Kory White, also had five kills and three aces in the U of R's win on Friday.
For the weekend, Togawa finished with 70 assists, 36 digs, six kills, four aces, and a pair of blocks as the Cougars split their weekend series with the Pandas. Togawa continues to rank third in Canada West in assists and leads all of the conference's setters with 155 digs this season.
Regina travels to Saskatoon this weekend to take on the Saskatchewan Huskies Friday and Saturday.

Game log: Friday, January 4 – 32 points, 10 rebounds, 3 assists, 3 blocks, and 2 assists in 97-89 road win vs. Saskatchewan  / Saturday, January. 5 – 25 points, 10 rebounds, 2 assists, and 1 block in 98-73 road victory over Saskatchewan.
eturning from semester break and mired in a six-game losing streak, fifth-year guard Zac Overwater recorded back-to-back double-doubles to lead his Lethbridge Pronghorns to a road sweep of the Saskatchewan Huskies. The sweep was the first by the Pronghorns in Saskatoon since 1998.
In the weekend opener, Overwater led all scorers with 32 points on an efficient 13-for-19 shooting, while grabbing 10 rebounds to go along with three assists, three blocks, and two assists in a 97-89 win over the Huskies.
The next night, the new media student poured in 25 points to lead the Pronghorns to a 98-73 win. He completed the double-double, grabbing another 10 rebounds.
On the season, Overwater leads the Pronghorns in both points and rebounds averaging 18.3 point and 7.9 rebounds.
Overwater and his Pronghorn teammates will take on the Mount Royal Cougars in a home-and-home series this weekend, beginning Thursday night in Calgary.
Game log: Friday, January 4 – 15 kills, hitting .619, 7 aces, 5 blocks, 3 digs and 24.5 points in 3-2 win at Brandon  / Saturday, January. 5 – 8 kills, 5 blocks, 5 digs and 10.5 points in 3-0 win at Brandon.
Trinity Western fourth-year middle blocker Mikaelyn Sych combined for 23 kills, 10 blocks, seven aces and 35 points, while hitting .555 to lead the Spartans to two victories over the Brandon Bobcats this past weekend in Brandon, Manitoba.
On Friday night, Sych had 15 kills with a hitting percentage of .619, while adding seven aces, five blocks, three digs and 24.5 points to lead the Spartans to a 3-2 win over the Bobcats. Then on Saturday night the Airdrie, Alta. native had eight kills (hitting .467), five blocks, five digs and 10.5 points in a 3-0 win Brandon.
Over 14 matches Sych leads Canada West in blocks per set with 1.54 and is second in hitting percentage at .373, while averaging 2.52 kills/set. Her seven service aces tie for 10th best in Canada West history.
The No. 1 Spartans (14-0), who are riding a program best winning streak to start the season, will now have an off week before they host the Thompson Rivers WolfPack on January 18-19.
Game log: Friday, January 4 – 2 assists, +2 in 5-2 home win vs. UBC  / Saturday, January. 5 – 2 goals on 3 shots in 6-1 home win vs. UBC.
In a crucial matchup, MRU standout  Jamal Watson played a big offensive role in the Cougars sweep of the UBC Thunderbirds at Flames Community Arena in Calgary. The former Swift Current Bronco finished with two goals and two assists on the weekend.
Friday night, Mount Royal came out to a 3-0 lead in the first period thanks to two assists from Watson on Mount Royal's explosive first line. Saturday afternoon he continued his strong start to 2019, tallying two power play goals in six minutes.
The wins vaulted MRU into fourth in the CW standings, jumping two points ahead of the T-Birds.
Watson, a Business student, returns to action this Friday and Saturday when the Cougars travel to Winnipeg to take on the Manitoba Bisons.

Game log: Friday, January 4 – 19 points, 7 rebounds, 2 assists, and 2 steals in 87-67 home win vs. Manitoba / Saturday, January. 5 – 24 points, 12 rebounds, and 2 steals in 84-72 home victory over Manitoba.
With one of the most dominant weekends of her career, third-year guard Emma Kary powered the Pandas basketball team to a home sweep over the visiting Manitoba Bisons.
Kary finished the weekend with 43 points, 19 rebounds and four steals, as the Pandas extended their conference winning streak to eight games. Their 10-2 record is the third-best in Canada West, behind only Calgary and Saskatchewan.
Kary was incredibly efficient in Friday night's win, scoring 19 points on just 13 shots, adding seven rebounds, two steals and two assists in the Pandas 20-point win.
The third-year guard was excellent on Saturday, pouring in a game-high 24 points on 11-of-18 shooting, also adding a game-high 12 rebounds. The Calgary product also chipped in two steals and an assist in the Pandas 12-point victory.
The Pandas will look to add to their lengthy winning streak this weekend, as they travel to Brandon to take on the Bobcats.