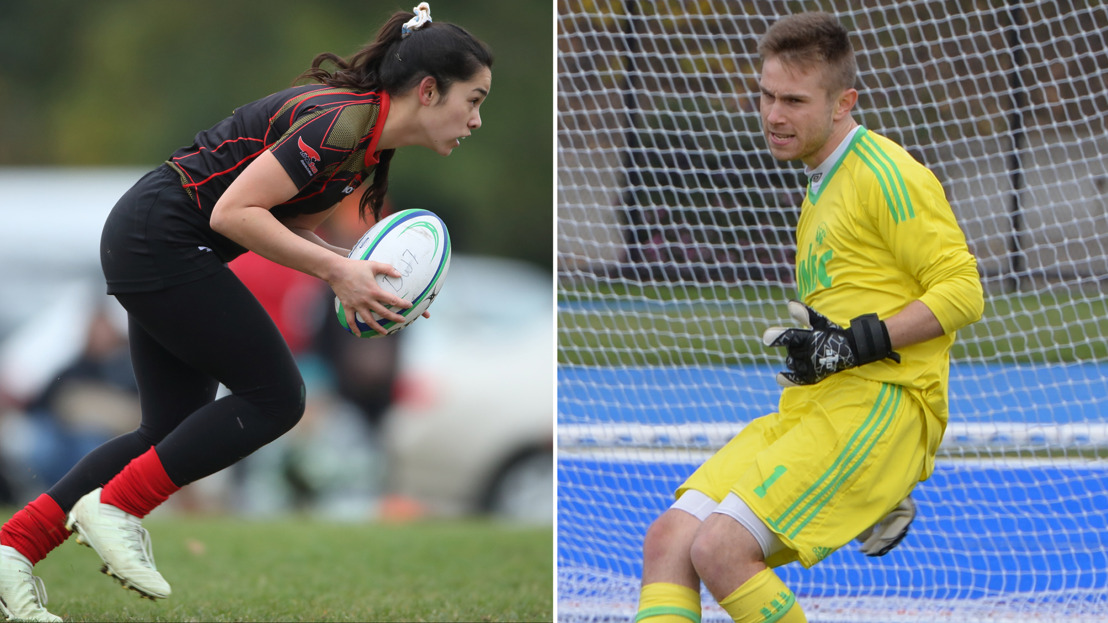 CW three stars: Thompson, Goodey lead teams to weekend sweeps
Thompson's six tries helped Calgary to a pair of rugby wins, while Goodey stopped 12 shots in UNBC's soccer sweep
EDMONTON – Calgary Dinos women's rugby player Taejah Thompson and Northern British Columbia Timberwolves men's soccer player Rob Goodey are the Canada West first stars for the period ending September 23.
Highlights:
Calgary Dino wing Taejah Thompson is the CW women's first star of the week, while UNBC Timberwolves keeper Rob Goodey is the CW men's first star of the week
Mount Royal Janai Martens, and MacEwan's Suekiana Choucair are the other women's stars
Thompson Rivers' James Fraser, and MacEwan's Everett Orgnero are the other men's stars
Thompson was the driving force behind Calgary's two-game West Coast sweep, as she combined for six tries, as the Dinos downed the Victoria Vikes and UBC Thunderbirds back-to-back. With the victories, Calgary ran their CW record to a perfect 3-0, and now sit five points clear of second-place UBC.
Meanwhile on the soccer pitch, Goodey was unbeatable, stopping a dozen shots over the weekend. The T-Wolves provided just enough offence for the third-year goalkeeper, earning 1-0 wins over Lethbridge and Calgary.
Thompson and Goodey now move forward as the conference nominees for the U SPORTS athletes of the week.

Game log: Friday, Sept. 21 – four tries in 38-22 road win over Victoria / Sunday, Sept. 23 – two tries in 36-21 road win over UBC.
Taejah Thompson led the way for the University of Calgary Dinos on their B.C. road trip, helping them move atop the Canada West standings over the weekend.
The second-year wing took over the conference scoring lead with six tries in two games over the weekend. She now has seven tries on the season, while no other player in Canada West has more than two.
In a rematch of last season's epic Canada West Final, the Dinos visited the Victoria Vikes Friday, where they got off to an electric start. Thompson scored three of her four tries in the opening half as Calgary took a commanding 31-3 lead. The Dinos eventually took the match 38-22.
Sunday the Dinos found themselves challenged by the UBC Thunderbirds, who came into the game with a matching 2-0 record. Calgary trailed at half 21-10 but outscored UBC 24-0 in the second to win 36-21. Thompson was a key contributor again with a pair of tries, including the first score of the second half.
The Dinos return home to put their undefeated record on the line against the Lethbridge Pronghorns this Sunday. Kickoff for that contest is set for 11:45 a.m. MT at McMahon Stadium

Game log: Friday, Sept. 21 – six-save shutout in 1-0 home win over Lethbridge / Sunday, Sept. 23 – six-save shutout in 1-0 home win over Calgary.
Heading into an ultra-important homestand, UNBC goalkeeper Rob Goodey stepped up his game and didn't allow a single ball to beat him over two games.
On Friday, the native of Langley faced 16 shots and seven corners from the Lethbridge Pronghorns, and held the fort, playing a crucial role in earning his second consecutive clean sheet.
On Sunday, Goodey was tested even more by the Dinos, but again was up to the challenge. Calgary had 18 shots, but Goodey was sublime, making six saves to earn this third consecutive shutout. He now sits top three in save percentage (.846) and shutouts (3) in Canada West, and has been critical in the T-Wolves early success.
UNBC is back in action this Thursday when they take on the Victoria Vikes in a game which was originally scheduled for August 25, but was moved due to air quality concerns in Prince George.

Game log: Saturday, Sept. 22 – two goals, including game-winner in 2-1 road win over Regina / Sunday, Sept. 23 – game-winning goal in 3-0 road win over Saskatchewan.
Janai Martens was a clinical finisher this past weekend and her timely goals helped Mount Royal sweep their away weekend in Saskatchewan to extend their winning streak to three games.
Saturday afternoon on wet turf at U of R field, Martens was a poacher in front of goal slotting both Erin Holt passes into the corners of the net.
On Sunday Martens opened up the scoring again. Her shot from outside the box found its way into the net in the 24th minute, as MRU went on to a 3-0 win.
The Cougars return to action this weekend at home against Manitoba and Winnipeg.

Game log: Friday, Sept. 21 – 90 minutes in 1-0 home loss to Alberta / Saturday, Sept. 22 – three goals in 4-0 home win over Mount Royal.
The WolfPack snapped a five-match winless streak with a huge win over the weekend, as James Fraser played a starring role.
Saturday against Mount Royal, Fraser ended the 'Pack's losing streak, netting a trio of goals on seven shots for the home side, as TRU won 4-0.
"The goals were just landing on my foot. I was lucky to get three," said Fraser after Saturday's win. "I'm more pumped about the win."
"He was outstanding this weekend. There is no question about that. I think he is finally rounding into form as that striker we were hoping he would be," said head coach John Antulov.
Fraser and the WolfPack visit Trinity Western and Fraser Valley this coming weekend (Sept 29-30).

Game log: Friday, Sept. 21 – goal and an assist in 3-2 road win over Trinity Western / two assists in 3-0 road win over Fraser Valley.
Fourth-year midfielder Suekiana Choucair, who takes the majority of MacEwan's free kicks and corner kicks, factored in four of the Griffins' six goals during a massive six-point road weekend in B.C.
Against U SPORTS No. 1 Trinity Western on Friday, Choucair opened the scoring in the 45th minute when her 23-yard free kick from just outside the box deflected off the wall and past goalkeeper Rachel Sydor.
In the 53rd minute, Choucair's free kick went off the crossbar and landed for Brittany Costa to put in and give MacEwan a 2-0 advantage.
Against UFV on Saturday, Choucair set up two of the Griffins' three goals in a 10-minute span in the first half. She placed a 20th-minute corner kick purposely past the box for Jamie Erickson to volley in. Then, in the 26th minute, she set up Sarah Riddle for the Griffins' third goal.
After a four-point weekend, Choucair now leads the Griffins with five points in six games.
MacEwan (4-1-1) will host Victoria (4-3-0) on Friday and UBC (5-2-0) on Sunday.

Game log: Friday, Sept. 21 – two goals on five shots in 3-2 road loss to UBC Okanagan / Saturday, Sept. 22 – goal on two shots in 3-1 road loss to UBC.
Rookie striker Everette Orgnero's scoring tear continued with a flourish during a road weekend to B.C.
With three goals in a pair of tough losses, Orgnero has now scored in four-straight games and has five goals over that span.
Against UBC Okanagan, he was a handful for the Heat, accounting for half of MacEwan's shots on net (4), while scoring in the 15th and 47th minutes. Both were beautiful strikes set up by teammate Christian Hernandez.
Orgnero is now tied for third in Canada West scoring with eight points in nine games. He's also second in the rookie scoring race. Additionally, his five goals are tied for fourth-best in the conference (and third amongst rookies).
Although MacEwan still has five regular season games remaining – including their final home matches this weekend (Saturday vs. Saskatchewan and Sunday vs. Lethbridge), Orgnero has already broken the school record for most goals in a season.