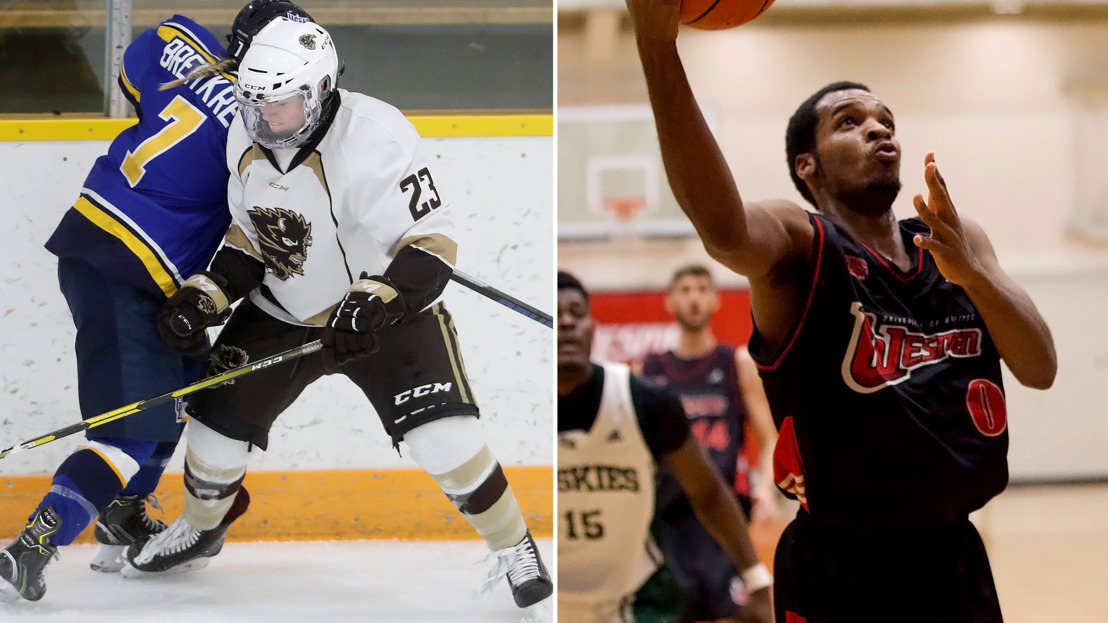 CW three stars: The Peg delivers first stars
Manitoba's Lauryn Keen and Winnipeg's Sean Tarver honoured
EDMONTON – A pair of players from the Manitoba capital have earned Canada West's top weekly honours, as Manitoba's Lauryn Keen and Winnipeg's Sean Tarver are the conference's first stars of the week for the period ending December 2.
Highlights:
Manitoba Bisons hockey player Lauryn Keen is the CW women's first star of the week, while Winnipeg Wesmen basketball player Sean Tarver is the CW men's first star of the week

CW also named UBC's Kiera Van Ryk (women's volleyball) and Calgary's Riley Sheen (men's hockey) as the conference's athletes of the month for September
Keen combined for four goals over the weekend, as the fifth-year veteran scored four of the Bisons' seven goals, in a weekend sweep of the Calgary Dinos.
Meanwhile, Tarver combined for 57 points and 31 rebounds in a home-and-home split with provincial rival Brandon.
The pair now move forward as the conference nominees for the U SPORTS athletes of the week.

In addition to naming this week's three stars, the conference also its November athletes of the month, as UBC volleyball star Kiera Van Ryk was named the women's athlete of the month, while Calgary's Riley Sheen was selected as the men's winner.
The pair now move forward for the U SPORTS athlete of the month vote, which will be conducted on social media later this week.
WOMEN'S ATHLETE OF THE MONTH: VB - Kiera Van Ryk, UBC
National team member Kiera Van Ryk, who was last year's CW and U SPORTS rookie of the year, is having another stellar season for the UBC Thunderbirds.
The outside hitter leads CW in kills (4.5), kills per set (4.5), service aces per set (0.74), and is ninth in conference hitting percentage (.263).
Through eight games in the month of November, Van Ryk had 20 or more kills in four games, helping lead the T-Birds to a 6-2 record.
MEN'S ATHLETE OF THE MONTH: HKY - Riley Sheen, Calgary
Former Red Deer Rebel Riley Sheen heads into the December break as the conference's leading goal scorer, with 20 points in 16 games.
Between Nov. 9 and Dec. 1, Sheen registered seven goals and four assists, helping Calgary to a 5-3 record.
Sheen is one of only two CW players with double-digit goals at the break, as he leads the conference goal scoring race with 12.
---

Game log: Friday, Nov. 30 – 3G, 6 shots in 4-1 road win vs. Calgary / Saturday, Dec. 1 – goal, 4 shots in 3-2 road victory vs. Calgary.
In their last weekend series of the first half, the No. 2-ranked Bison women's hockey team showed no signs of slowing down on the road in Calgary. The Herd won both games this weekend, as fifth-year forward Lauryn Keen exploded for four of the team's seven goals.
On Friday, the Manitou, Man. native notched a hat trick, the second for the Bisons this season after Jordyn Zacharias achieved it on Nov. 9. Keen scored her first goal fifteen minutes in, cleaning up a big rebound off a Karissa Kirkup slapshot to get Manitoba on the board.
Keen followed that up with two power play goals in three minutes in the second period, deflecting a point shot on one and scoring on another rebound on the other. She finished plus-two in the 4-1 win.
On Saturday, Keen followed up her three-goal game with one more, scoring an unassisted shorthanded goal in the second period to put her team up 2-1. They would eventually win 3-2.
Manitoba has now won ten of their last 12 games heading into the break. Keen, a student in the Faculty of Agriculture, leads the team in scoring and is third in Canada West with 17 points (8G-9A) and is averaging 1.06 points per contest.

Game log: Friday, Nov. 30 – 24 points, 18 rebounds, 40 minutes in 109-107 2OT loss at Brandon / Saturday, Dec. 1 – 33 points, 13 rebounds, 36 minutes in 101-81 home win over Brandon.
Sean Tarver posted a pair of career-highs in back-to-back nights as the Wesmen split with Brandon University over the weekend.
On Friday, Tarver grabbed a career-high 18 rebounds to go along with 24 points. The next night, Tarver scored 24 points in the second half to cue a Wesmen surge that turned a tie game into a 20-point win. He scored a career-high 33 points and recorded his fifth double-double of the season. He averaged 28.5 points and 15.5 rebounds while shooting 53% from the field and 54% from three.
Winnipeg returns to conference action January 4 when they travel to Langley, B.C. for a matchup with the Trinity Western Spartans.

Game log: Friday, Nov. 30 – 26 points, 15 rebounds, 2 steals, 23 minutes, in 87-63 win at Brandon / Saturday, Dec. 1 – 35 points, 12 rebounds, 2 steals, 38 minutes in 74-65 home win over Brandon.
On back-to-back nights, Faith Hezekiah put up a game's worth of stats in half the time.
Hezekiah scored 22 points with seven rebounds in the first half on Friday, and had 24 and nine before half on Saturday, as the Wesmen swept the Brandon Bobcats.
On Friday, she needed just 14 shots and 23 minutes to get her game-high 26. Hezekiah's 35 on Saturday was a career-high and the fourth time this season she's scored 30-plus points – a Canada West high. On Saturday, she scored 18 of the team's first 25 points.
For the weekend, she shot 25-for-39 (64 per cent) from the field and 55 per cent from three. She averaged 25.5 points, 13.5 rebounds and two steals per game.
The Wesmen's next Canada West action is set for the first weekend of January when they'll take on the TWU Spartans in Langley, B.C.

Game log: Friday, Nov. 30 – 20 points, 5 rebounds, 1 steal in 107-81 road win over Thompson Rivers / Saturday, Dec. 1 – 30 points, 14 rebounds, 2 blocks in 86-79 road victory vs. Thompson Rivers.
In one of his best weekends as a Golden Bear, fourth-year forward Brody Clarke led his team to a series sweep of the Thompson Rivers WolfPack in Kamloops.
Clarke finished the weekend with 50 combined points and 19 rebounds, as the Bears finished their first half with a 7-3 record. Clarke also extended his Canada West lead in rebounds per game, which stands at 11.7 per contest.
The Toronto, Ont. product was incredibly efficient on Friday night, finishing with 20 points on 7-of-11 shooting, adding five boards and one steal. Clarke was utterly dominant on Saturday, finishing with a season-high 30 points, while also adding 14 rebounds, two assists and two blocks. 14 of his points came in the second half, as he also helped the Bears erase a third-quarter deficit.
Saturday's game was also his conference-leading eighth double-double.
The Golden Bears will return to Canada West action in early January, as they host the Manitoba Bisons at Saville Community Sports Centre.
Game log: Friday, Nov. 30 – 20 kills, 10 digs, 6 blocks, 1 ace in 3-2 home win vs. Calgary / Saturday, Dec. 1 – 12 kills, 10 digs, 5 blocks, 1 ace in 3-1 home win over Calgary.
Trinity Western third-year outside hitter Hilary Howe had a combined 32 kills, 20 digs, 11 blocks, two aces, and 40 points to lead the Spartans to back-to-back victories over the No. 1 and previously unbeaten Calgary Dinos this past weekend in Langley, B.C.
On Friday night, Howe had 20 kills, 10 digs, six blocks, one and 24.5 points in 3-1 win over Calgary. Then on Saturday night the Calgary, Alta. native had 12 kills, 10 digs, five blocks and 15.5 points in 3-1 win over the Dinos. Prior to the 3-2, and 3-1 losses the Dinos had only dropped four sets all season.
Howe currently sits 10th in Canada West with 3.07 kills per set, and seventh in CW in points per set with 3.8.
The Spartans finish the semester unbeaten at 12-0 in conference play and 21-0 overall. TWU resumes Canada West play January 4-5 in Brandon, Man. against the Bobcats.

Game log: Friday, Nov. 30 – 3-0 home loss to Lethbridge / Saturday, Dec. 1 – 4G in 4-3 OT home victory over Lethbridge.
UBC captain Jerret Smith had a game for the ages Saturday afternoon, scoring four times to earn a 4-3 comeback win over the visiting Lethbridge Pronghorns.
Smith's four-goal performance marked just the fourth time in conference history a defencemen has scored four goals in a game, as Smith joined Alberta's Dave MacKay (Jan. 1939 and Jan. 1940), along with Mount Royal's Jesse Lees (Jan. 2018) as the only players to accomplish the feat.
Down 3-0 eight minutes into the third period, the 'Birds got on the board with Smith's first of the game. The third-year defenceman from Surrey then scored twice in the final two-and-a-half minutes to force the game to overtime. The former Seattle Thunderbird capped off the comeback with his fourth of the game and sixth of the season.
Not only was the game Smith's first career hat trick and four-goal game, it was his first multi-goal game in Canada West play. The business student equaled his entire 2017-18 goal production within a 15-minute span and is now up to 10 points on the season, leading the 'Birds in scoring by defencemen. His six goals are also tied for second on the team.
The T-Birds earned the weekend split with the Pronghorns giving them wins in five of their last six games heading into the December break. At 10-6, UBC currently holds down fourth place in the conference, just one point back of the Calgary Dinos.