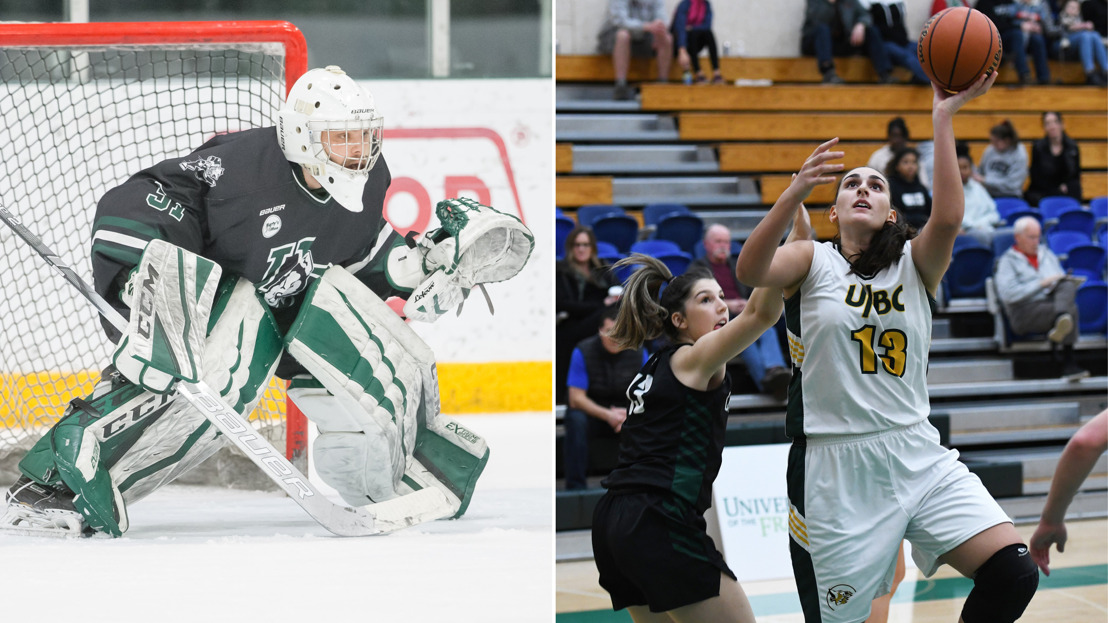 CW three stars: Shutout streak, double-doubles shine bright
Saskatchewan's Taran Kozun and UNBC's Vasiliki Louka named first stars
EDMONTON – Taran Kozun's shutout streak and Vasiliki Louka's latest pair of double-doubles have landed the pair Canada West first star honours for the period ending Sunday, February 3rd.
Highlights:
Saskatchewan goalie Taran Kozun and UNBC forward Vasiliki Louka are the Canada West first stars of the week

Also earning stars this week were: Brody Clarke (ALB - MBB), Keylyn Filewich (UBC - WBB), Riley Sheen (CGY - MHKY), and Alex Poznikoff (ALB - WHKY).
Kozun set a new conference regular season shutout record over the weekend, stretching his streak to 267:32, as the former Seattle Thunderbird backstopped the Saskatchewan Huskies to a sweep of the Mount Royal Cougars.
Meanwhile on the court, UNBC Timberwolves star Vasiliki Louka combined for 36 points and 31 rebounds, as the Greek star finished her CW regular season career with her 46th and 47th conference double-doubles.
The pair will now move on as the Canada West nominees for the U SPORTS  athletes of the week.
---

In addition to naming this week's three stars, the conference also unveiled its January athletes of the month, as Alberta Golden Bears hockey player Luke Philp was named the men's winner, and UBC volleyball star Kiera Van Ryk was named the women's athlete of the month.
The pair now move forward for the U SPORTS athlete of the month vote, which will be conducted on social media later this week.
MEN'S ATHLETE OF THE MONTH: HKY - Luke Philp / Alberta
Former Red Deer Rebel Luke Philp had a month to remember in January, as the third-year Alberta Golden Bears forward registered 17 points in eight conference games.
The Canada West leading scorer recorded 11 goals and six assists, as the Bears went a perfect 8-0-0 over the month of January. Philp registered two hat tricks in the month, scoring three goals at UBC (Jan. 12) and a career-high four goals at Regina (Jan. 25).
Philp added six points to start the month of February, as he now sits with 43 on the season, becoming the first CW player since Chad Klassen in 2010-11 to record back-to-back 40-point seasons.
WOMEN'S ATHLETE OF THE MONTH: VB - Kiera Van Ryk, UBC
For the second time this season, national team member Kiera Van Ryk is the CW women's athlete of the month.
Van Ryk, who previously took home the honour for her play in November, helped guide UBC to a 6-2 record in January, as the Thunderbirds made a move up the standings.
Her best weekend of the month came January 25-26, when she combined for 36 kills, seven aces, and 14 digs in a sweep of the previously undefeated Trinity Western Spartans.
The outside hitter leads CW in kills per set (4.6) and aces (60),  is second in kills (345), and is seventh in conference hitting percentage (.266).
---

Game log: Friday, Feb. 1 – 14-save shutout in 1-0 double overtime home win over Mount Royal / Saturday, Feb. 2 – 25 saves in 6-1 home win vs. Mount Royal.
It was an historic weekend for Taran Kozun, who broke the Canada West record for longest consecutive regular season shutout streak, with his impressive tally spanning over the course of five games and totalling 267:32 minutes. In the process, Kozun helped the Huskies extend their eight-game winning streak with a sweep over the visiting Mount Royal Cougars.
The Arts & Sciences major turned aside 39 of 40 shots fired his way during the two-game series against the Cougars.
The Nipawin, Sask. product made 14 saves on Friday night, and allowed the Huskies to eventually win the game in the second overtime frame. With the shutout, Kozun set a new Canada West single-season record with five shutouts.
Kozun faced a heavier workload on Saturday night, as he turned aside 25 the of 26 shots fired his way, with the Cougars snapping his shutout streak with 4:02 remaining in the third period. The second-year picked up his 19th win of the season with the victory and is now tied with Jordon Cooke for first in single-season victories in Huskies program history with two games remaining.
The 23-3-0 Huskies will head on the road this weekend as they wrap up their regular season with a matchup against the 6-18-2 Manitoba Bisons at Wayne Fleming Arena in Winnipeg.

Game log: Friday, Feb. 1 – 14 points, 20 rebounds, 7 assists, 2 steals, 1 block in 35 minutes played in a 77-71 home loss to Lethbridge / Saturday, Feb. 2 – 22 points, 11 rebounds, 2 steals, 1 assist, 1 block in 36 minutes played in an 79-76 home win over Lethbridge.
Playing in the final two regular season games of her historic Canada West career, Vasiliki Louka was her vintage, dominant self, posting a pair of double-doubles against the Lethbridge Pronghorns. On Friday, Louka proved why she is one of the best rebounders in conference history, grabbing 20 boards to go along with 14 points and dishing 7 assists.
The very next night, she had 22 points and 11 rebounds to power the Timberwolves to win, clinching the first winning season in program history.
Saturday's double-double was her 17th of the season and the 47th of her career – both top three numbers in Canada West history. She also finishes the season with 253 rebounds, good for top spot in Canada West and all of U SPORTS.
UNBC travels to Trinity Western this Friday for a CW play-in game, as the conference basketball playoffs open.

Game log: Friday, Feb. 1 – 18 points, 8 rebounds, and three assists in 85-75 home win over UBC / Saturday, Feb. 2 – 40 points, 11 rebounds, four assists and one block
Making his final statement in his quest to be named the CW Player of the Year, fourth-year Bear Brody Clarke led the Bears to an upset sweep over UBC with a monster weekend.
Clarke finished his weekend with 58 points, 19 rebounds and seven assists, as the No. 6 ranked Bears swept the No. 4-ranked Thunderbirds in Edmonton.
The Toronto, Ontario product led the Bears with 18 points and eight rebounds on Friday in their 10-point win over UBC. He then followed that up with one of the best games in program history on Saturday. Clarke finished with a career-high 40 points on 15/18 shooting, becoming just the fifth Bear even to score 40 in a game, and the first since 2008.
He also added 11 rebounds and four steals, recording his conference-best 14th double-double. Clarke finished the season second in conference scoring with 19.8 points per game, while leading U SPORTS with 11.0 rebounds per game.
The second-seeded Bears will get a bye through this weekend's play-in-series, before hosting a CW quarter-final from February 14-16.

Game log: Friday, Feb. 1 – 23 points, 10 rebounds, 2 assists, 1 block in an 84-73 road loss to Alberta / Saturday, Feb. 2 – 31 points, 10 rebounds, 3 assists, 1 block, 1 steal in a 90-85 road win over Alberta.
The best shooter in the conference had another pair of double-doubles on the weekend, as the Thunderbirds earned the series split against a tough Alberta team on the road.
Friday night saw Filewich lead all players on the court with 23 points while adding a team-high 10 rebounds for her 11th double-double of the season.
The third-year forward once again led all players in scoring Saturday with 31 points, just one off her season high, as the 'Birds shook off the Pandas in overtime. Filewich's second straight double-double also got her into the top-ten all-time in double-doubles for a single season, finishing the campaign with 12.
Filewich capped off the regular season with a Canada West best 60.3 shooting percentage, the Winnipeg native also led the conference with 86 offensive rebounds while sitting fifth in total rebounds, third in blocks, and fourth in points per game.
The Thunderbirds closed out the year with a 14-6 record and will host the Winnipeg Wesmen Saturday afternoon at War Memorial Gym for a Canada West play-in game looking to advance to the quarter-finals.

Game log: Tuesday, Jan. 29 – game-winning goal in the Crowchild Classic with 3.3 seconds left in regulation for 2-1 win vs. Mount Royal / Friday, Feb. 1 – four assists in 6-1 home win over Regina / Saturday, Feb. 2 – one goal in 5-2 win versus Regina.
Playing an untraditional three games last week, the University of Calgary Dinos men's hockey team got some massive contributions from their top sniper.
Riley Sheen finished the three-game stretch with six points, moving him into third in points among Canada West skaters.
On Tuesday night at the Scotiabank Saddledome, Sheen once again sent Dinos fans home happy with late-game heroics. The Edmonton product scored with 3.3 seconds left in regulation to seal a 2-1 win for Calgary over the Mount Royal Cougars.
With only a few days to prepare for the Regina Cougars, Sheen let his playmaking do the talking on Friday as he recorded a four-assist night. Three of his helpers came as the primary assists on goals.
Sheen wrapped up the week with a dazzling goal on Saturday in a 5-2 win against Regina.
The Dinos finish their regular season with a home-and-home set versus the Alberta Golden Bears, beginning at home on Friday, Feb. 8.

Game log: Friday, Feb. 1 – Two assists, two shots, and +2 rating in 4-1 road win over Lethbridge / Saturday, Feb. 2 – Two goals, two assists, and +3 rating in 5-1 road win over Lethbridge.
Reclaiming her spot atop the conference scoring lead, fourth-year Pandas forward Alex Poznikoff torched the Lethbridge Pronghorns during a two-game Pandas sweep.
Poznikoff finished the weekend with two goals and four assists, leading the Pandas to a pair of convincing wins, as they also jumped back atop the Canada West hockey standings.
The Edmonton native recorded two assists, two shots and a +2 rating on Friday night, as Alberta opened their series with a 4-1 win in Lethbridge. She then followed that up with a four-point performance on Saturday, scoring twice while adding two assists and a +3 rating in their 5-1 win.
Through 25 games, Poznikoff leads Canada West with 14 goals and 35 points, which also represents a new career-high. Poznikoff's previous best was her 25-point season in 2016/17.
The Pandas will finish their regular season this weekend with a home-and-home series against Calgary. They will also get a bye through to the semifinal series, which they will host at Clare Drake Arena in two weeks.