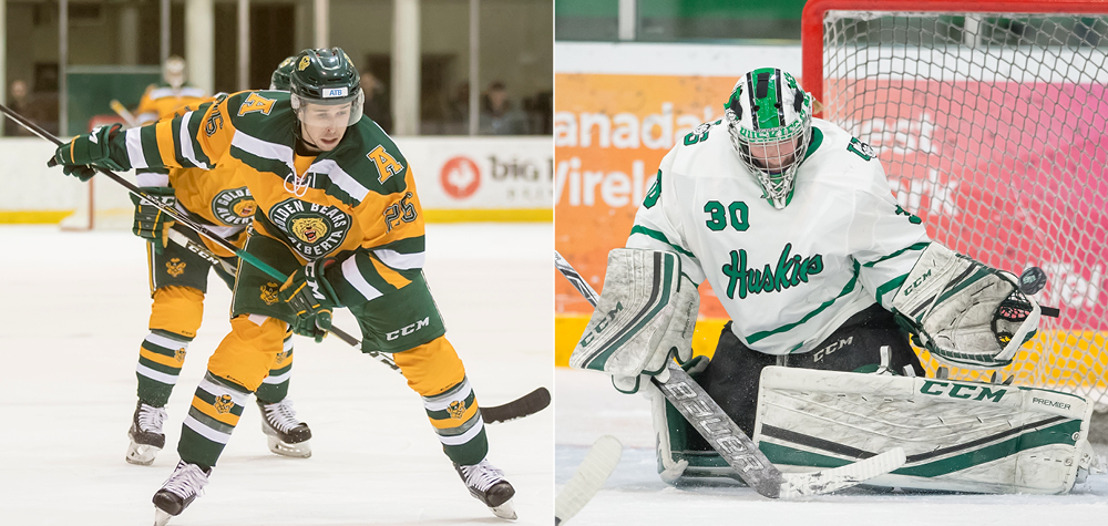 CW three stars: Sanford, Vance impress on the ice
Alberta's Cole Sanford and Saskatchewan's Jessica Vance named first stars
EDMONTON - Cole Sanford (Alberta Golden Bears) and Jessica Vance (Saskatchewan Huskies) are the Canada West first stars of the week for the period ending January 18.
Highlights:
Hockey forward Cole Sanford (Alberta Golden Bears) and goaltender Jessica Vance (Saskatchewan Huskies) are the Canada West first stars of the week after both had impressive performances on the ice over the weekend.

Also earning stars this week were: Lawrence Moore (SSK - MBB), Katie Keith (LET - WBB), Michael Stenerson (UBC - MHKY), and Hannah Tanasichuk (CGY - WVB).
Sanford recorded six points on the weekend leading the Golden Bears to a sweep of their home-and-home series with Mount Royal. The third-year forward assisted on four of Alberta's five goals in Friday's 5-0 victory. On Saturday, Sanford put home two goals himself in a second straight 5-0 Bears win.
Vance was unbeatable in Saskatchewan's weekend sweep of Lethbridge. The third-year goaltender made 23 saves in a 1-0 double overtime win on Friday before stopping another 19 shots on Saturday in a 3-0 win. Vance now leads the conference with six shutouts this season and moved into fifth on the conference's all-time list with 15.
The pair now move forward as the conference nominees for the U SPORTS athletes of the week.

Game log: Friday, January 18 – Four assists, three shots, +3 rating in 5-0 home win over MRU / Saturday, January 19 – Two goals, three shots, +1 rating in 5-0 road win over MRU
In one of his best weekends with the Golden Bears, third-year forward Cole Sanford led Alberta to a series sweep thanks to a six-point weekend.
Sanford recorded two goals, four assists and seven shots, as the Bears swept the Mount Royal Cougars with back-to-back 5-0 wins. The sweep extended their win streak to seven, as they now own a 18-3-1 conference record.
Sanford showed off his playmaking ability in Edmonton on Friday, assisting on four of the Bears five goals in their convincing win. Three of his helpers were also primary assists, while also adding three shots and a +3 rating.
The former Medicine Hat Tiger added two goals on Saturday in Calgary, his 10th and 11th of the season, leading the Bears to another shutout win. Through 22 games this season, Sanford sits second in Canada West with 29 points, leading CW with 18 assists.
Sanford and the Bears will look to extend their win streak this weekend, as they travel to Regina to battle the last-place Cougars.

Game log: Friday, January 18 – 23 save shutout in 1-0 double overtime win over Lethbridge / Saturday, January 19 – 19 save shutout in 3-0 win over Lethbridge
Reigning Canada West Player of the Year Jessica Vance was perfect on the weekend to lead the Saskatchewan Huskies to a sweep of the Lethbridge Pronghorns on home ice.
The Kinesiology major stopped all 42 shots she faced in 127 minutes of action, as the third-year goalie recorded her fifth and sixth shutouts of the season.
The Prince Albert, Sask. product made 23 saves on Friday night, as the Huskies recorded an exciting 1-0 double overtime win. Vance then added 19 saves on Saturday, helping the Huskies hold on for a 3-0 win, her 10th of the season.
In 16 games this season, Vance is first in the conference in shutouts (6), and second in both wins (10) and save percentage (0.968).
The shutout on Saturday night was a big one in the record books for Vance, who jumped up to fifth in Canada West history with 15.
The 9-6-5-2 Huskies will now hit the road to take on the 10-5-3-4 UBC Thunderbirds who sit just one point ahead of them for third in the conference.

Game log: Friday, January 18 – 22 points, three steals in 82-71 road win over MRU / Saturday, January 19 – 20 points, 12 rebounds in 84-83 road win over MRU.
Fifth-year guard Lawrence Moore returned from injury and immediately got the chance to play hero as he led the Saskatchewan Huskies to a pair of wins on the road.
The Arts & Science major put up 42 points, 14 rebounds and five steals while logging major minutes in the Huskies' sweep of the Mount Royal Cougars in Calgary.
The Chicago, Ill. product scored 22 points, 15 in the fourth quarter, on Friday night, as the Huskies erased a six-point deficit for the 82-71 win. On Saturday night Moore scored 20 points and added 12 rebounds, none bigger than with his team trailing in the dying seconds of the game where Moore grabbed an offensive rebound and was good on the put-back to score the game-winning points with just 0.3 seconds on the clock in the 84-83 win.
In 13 games played this season, Moore sits second in the conference with 19.5 points-per-game.
The 9-7 Huskies will return home to Saskatoon to take on the 12-4 Alberta Golden Bears this weekend. Moore will be honoured on Saturday as one of two fifth-year Huskies playing in their final regular season home game.

Game log: Friday, January 18 – 11 points, 8 rebounds, 4 assists in 86-82 win over Victoria / Saturday, January 19 – 22 points, 16 rebounds, 6 assists in 97-85 win over Victoria
With the season moving into the homestretch, fourth-year guard Katie Keith was instrumental in the Lethbridge Pronghorns' home sweep of the Victoria Vikes. In the two games, Keith combined for 33 points, 24 rebounds, 10 assists, 2 steals and a block.
Friday night in the Pronghorns 86-82 come from behind victory over the Vikes, the Lethbridge, Alberta product hit for 11 points, eight rebounds, four assists and a steal.
In the weekend finale, Keith had a monster performance recording her seventh double-double of the season. She poured in a game high 22 points to go along with a season high 16 rebounds in the 97-85 win. She also added six assists, a steal and a block in the win.
On the season, Keith is averaging 9.4 points and 9 rebounds.
The Pronghorn women's basketball team will host the final home games of the conference schedule this weekend, welcoming the Trinity Western Spartans for a pair of games.

Game log: Friday, January 18 – 1 goal, 1 assist in 3-2 OT loss to Calgary / Saturday, January 19 – 1 goal (game-winner), 1 assist, +2 in 4-3 double OT win over Calgary
The veteran Thunderbirds forward put up a combined four points including the double overtime game winner Saturday as UBC earned three out of a possible four point against the Dinos while clinching a playoff berth in the process.
Stenerson assisted on Jerret Smith's second period goal Friday night and later tied the game late in the third on the power play to force overtime.
Saturday, Stenerson earned another primary assist on Quentin Greenwood's second period goal. The fifth-year from Surrey then gave the 'Birds their first win of 2019 with his fifth of the season in double overtime. Stenerson finished the game +2 and a season-high six shots on goal.
In his final Canada West season, Stenerson has put up five goals, seven assists and just six penalty minutes in 16 games.
The T-Birds have punched their ticket to the post-season for the eighth straight year and still have a crack at a home ice playoff berth, currently two points behind fourth-place Mount Royal.
UBC is in Saskatoon this Friday and Saturday to face the first-place Huskies.

Game log: Friday, January 18 – 14 kills, .175 hitting percentage, 7 digs and 2 total blocks in 3-2 to versus Alberta / Saturday, January 19 – 27 kills, .273 hitting percentage, 5 digs and 2 total blocks in 3-1 win over Alberta
After being handed their first loss at home in nearly two years, the University of Calgary Dinos got a massive performance from Hannah Tanasichuk.
The third-year outside hitter pounded 27 kills to miss the school single-game record by one, helping Calgary earn a split against the Alberta Pandas and maintain their position in the Canada West standings.
The weekend began with 14 kills and seven digs by Tanasichuk, but it was not enough to stop the Dinos from falling in an epic five-set match to Alberta on Friday night.
The Dinos found themselves trailing early on Saturday, but Tanasichuk had her herself a career-night and led her team to a 3-1 win with those 27 kills.
She finished the weekend with 41 kills, two service aces, 12 digs, and four total blocks.
The defending conference champions are off until February, when they begin a two-game set versus the MacEwan Griffins in Edmonton.