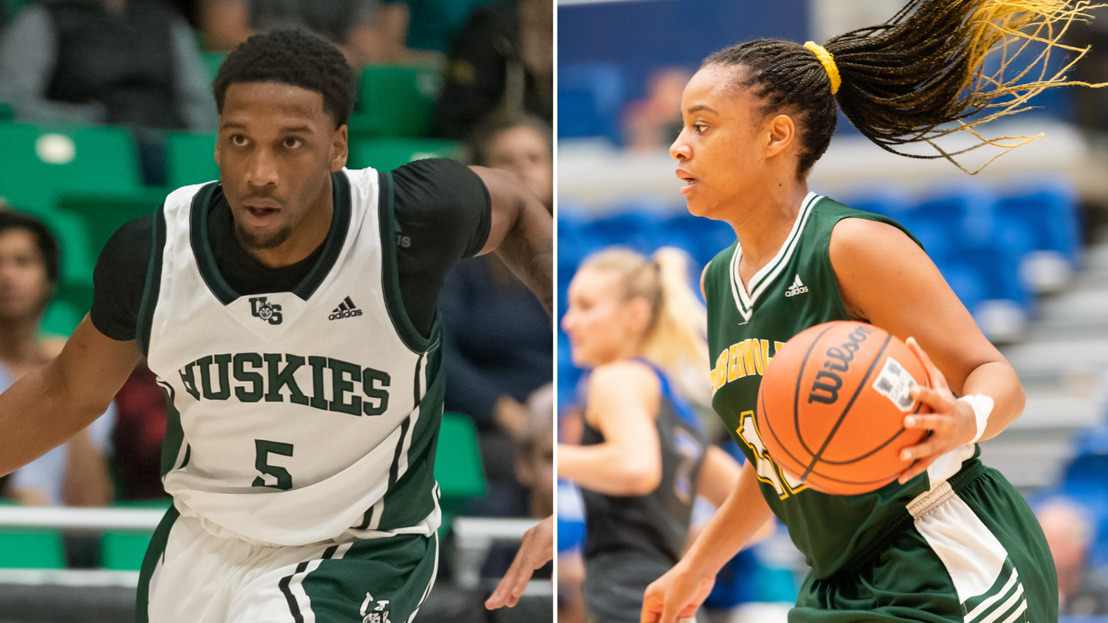 CW three stars: Moore, Mongomo post big hardcourt totals
Saskatchewan's Moore and UNBC's Mongomo posted 57 and 46 points respectively
EDMONTON – Basketball stars Lawrence Moore and Maria Mongomo are the Canada West first stars for the period ending November 18, 2018.
Highlights:
Saskatchewan's Lawrence Moore posted 41 points Friday night in his team's OT win vs. Winnipeg, before adding another 16 Saturday night

UNBC star Maria Mongomo helped the Timberwolves to a sweep of Trinity Western, posting 46 total points and 20 rebounds

Also earning stars this week were: Elliott Viles (Brandon - MVB), Mark Johnson (UFV - MBB), Kiera Van Ryk (UBC - WVB), and Jordan Korol (UBCO - WBB).
Moore was dominant Friday for the Huskies, as he posted 41 points in the Huskies' 111-104 overtime win against Winnipeg. He followed that up with 16 points Saturday in a 90-81 loss, as Saskatchewan split their weekend series in the Maniotba capital.
In Prince George, Mongomo kept the Timberwolves undefeated season alive, as she combined for 46 points and 20 rebounds in wins over the previously unbeaten Trinity Western Spartans.
The pair now move forward as the conference nominees for the U SPORTS athletes of the week.
---

Game log: Friday, Nov. 16 – 41 points, 10 rebounds, 3 steals in 111-104 OT win at Winnipeg / Saturday, Nov. 17 – 16 points, 5 rebounds, 5 steals, 2 blocks in 90-81 loss at Winnipeg.
Fifth-year guard Lawrence Moore had a dominant weekend in Winnipeg, racking up 57 points, 15 rebounds and eight steals in 79 minutes played over the course of a split with the Wesmen.
In a 111-104 overtime victory on Friday night, Moore went 16-for-32 from the field en route to putting up 41 points. The Arts & Science major was also involved defensively as he added 10 rebounds and three steals in the game.
While the Huskies lost 90-81 on Saturday night, Moore was again a key contributor in the game. The native of Chicago, Ill. scored 16 points and also added five rebounds and five steals.
Next up for the Huskies (4-4) is a home date against the Brandon Bobcats (1-5) on Nov. 23 & 24.

Game log: Friday, Nov. 16 – 17 points, 9 rebounds, 3 assists, 1 steal in 35 minutes played in a 78-77 victory over Trinity Western / Saturday, Nov. 17 – 29 points, 11 rebounds, 4 assists, 5 steals in 32 minutes played in an 83-54 win vs. Trinity Western.
The UNBC Timberwolves used a pair of signature Maria Mongomo performances to sweep the previously-unbeaten TWU Spartans, staying undefeated on the Canada West season.
On Friday, November 16th, Mongomo put up 17 points, nine rebounds, three assists, and a steal to help the TWolves come from behind in the fourth quarter to hand Trinity their first loss of the season.
The very next night, the fourth-year Canada West all-star was sensational from the opening tip-off. She scored a season-high 29 points, adding 11 rebounds, grabbing five steals, and dishing out four assists, as the Timberwolves lead wire to wire for a 29-point victory. Her weekend averages were 23 points, 10 rebounds, 3.5 assists, and three steals per game.
Mongomo now leads the conference in points per game (23.3), and sits top five in Canada West in rebounds per game (9.8), steals per game (2.7), and field goal percentage (53.5). She also scored her 1000th career CW point over the weekend.
UNBC is on the road this weekend, taking on the UFV Cascades Friday and Saturday in Abbotsford.

Game log: Friday, Nov. 16 – 16 kills on 20 swings with no errors for a .800 hitting percentage, 2 digs, 2 blocks in a 3-0 home win over Calgary / Saturday, Nov. 17 – 13 kills on 18 swings for a .722 hitting percentage, 4 blocks, 2 aces in a 3-0 home victory vs. Calgary.
Elliott Viles had a near-perfect weekend in what was a dominant performance for the Brandon Bobcats. In sweeping the Calgary Dinos in straight sets both Friday and Saturday, Viles hit an amazing 76.3 percent over both matches, registering 16 and 13 kills respectively. What was truly remarkable was that he registered those points without recording a single error all weekend. Viles was the key cog in an offensive juggernaut that simply could not be stopped.
The outstanding performance was in line with how the Australian import has been playing all-season after earning all-Canadian status last year. Viles moved to second in the conference in attack efficiency at .354 on the season following the weekend, and the Bobcats also moved to 6-2 in conference play, placing them among the top four teams in the conference standings. Viles has been a huge part of the Bobcats' success so far this season, as the third-year outside looks to take the Bobcats back to the playoffs this season and earn yet another all-Canadian award in the process.
Brandon is on the road this weekend, as they take on the UBCO Heat in Kelowna Friday and Saturday.

Game log: Thursday, Nov. 15 – 22 kills, 11 digs, 3 blocks, 23.5 points in a 3-2 road win over Regina / Friday, Nov. 16 – 23 kills, 9 digs, 3 service aces, 26.5 points in a 3-1 road victory vs. Regina.
UBC's second-year outside hitter Kiera Van Ryk had another stellar performance, helping the Thunderbirds to a weekend sweep in Regina.
Van Ryk led all players on the court in kills both nights with a combined 25 on the weekend, while adding 20 combined digs as the 'Birds earned their first sweep of the season.
The 2018 U SPORTS Rookie of the Year and Canadian senior women's team member has had a red hot start to the season, leading the Canada West in kills (168), service aces (32), and total points (211.5).
Van Ryk and Thunderbirds have now won three of their last four matches and five of their last seven. The 'Birds will look to get above the .500 mark for the first time this season when they host the Saskatchewan Huskies Friday and Saturday at War Memorial Gym.

Game log: Friday, Nov. 16 – 23 points, 10 rebounds in 94-79 win at MacEwan / Saturdday, Nov. 17, 2018 – 35 minutes played, 20 points, 10 rebounds in 84-80 win at MacEwan.
Mark Johnson put together back-to-back double-doubles to lead the University of the Fraser Valley men's basketball team to its first weekend sweep of the season.
On Friday, the fifth-year forward from Palm Springs, Calif. racked up 23 points (going 6-for-11 from beyond the arc) and 10 rebounds to spark the Cascades to a season-high offensive output in a 94-79 road win over the MacEwan Griffins. UFV completed the sweep with an 84-80 victory on Saturday behind 20 points and 10 boards from Johnson. For the weekend, Johnson went 9-for-21 from three-point range.
Johnson's 8.5 rebounds per game rank sixth in Canada West, and his 13.5 points and 37.5 per cent three-point shooting are also top-30 marks in the conference. Beyond the raw numbers, the versatile 6'6" forward is a defensive standout who provides outstanding veteran leadership to the Cascades.
Up next for the UFV men's basketball team (4-4) is a Friday-Saturday set at home vs. the UNBC Timberwolves.

Game log: Friday, Nov. 16 – 26 points, 18 rebounds, 10-22 FGM, 34 minutes played, in 73-62 loss at Mount Royal / Saturday, Nov 17 – 24 points, 15 rebounds, 11-20 FGM, 37 minutes played, in 78-76 loss at Mount Royal.
This weekend Jordan Korol put up the best numbers of her career, as the fourth-year Heat women's basketball forward posted a double-double both Friday and Saturday nights in Calgary against Mount Royal.
Korol didn't just go off for a double-double in each game, she did so in two of the four halves of basketball she played this past weekend.
On Friday, in the second half alone, Korol tallied 14 points and 12 rebounds to send her to single-game career highs in both points (26), and rebounds (18).
Then in the first half on Saturday, it was 13 points and 10 rebounds that did the trick for Korol. She finished with 24 points and 15 rebounds in 37 minutes on Saturday.
For the weekend, the Coldstream, B.C. product, finished the two-game road series with 50 total points, shooting 50-percent (21-42), and cleaning up on the glass, hauling in 33 rebounds with 14 coming on the offensive end.
Unfortunately for Korol, her Herculean effort did not result in a win, as Mount Royal was able to defend their home court dropping UBCO 73-62 on Friday night, and then holding back UBCO on Saturday and sending the visitors to a two-point loss, 78-76.
Looking to break the slide, Korol and her double-double pedigree will head to Kamloops for a pair of matinees this Friday (Nov. 23) and Saturday (Nov. 24) in a Presidents' Cup matchup against the Thompson Rivers WolfPack.