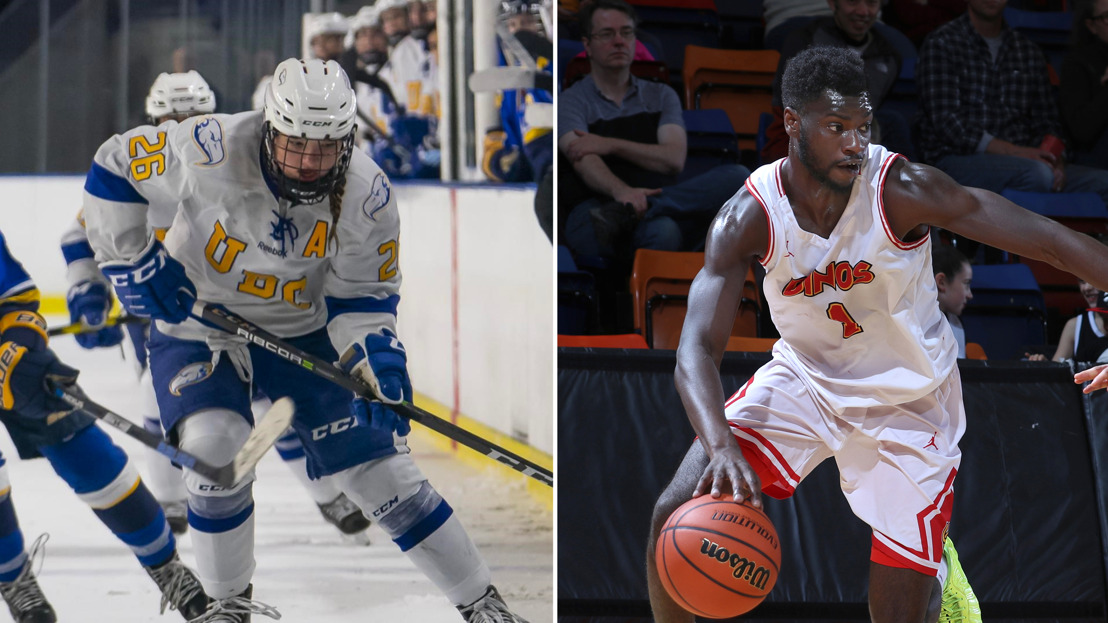 CW three stars: Fischer, Diawara power quarter-final sweeps
Pair led their teams to hockey, basketball playoff wins respectively
EDMONTON – Playoff performances on the ice and hardcourt highlight this week's Canada West three stars, which are headlined by UBC women's hockey forward Mathea Fischer and Calgary Dinos men's basketball star Mambi Diawara.
The pair are the conference first stars for the period ending Sunday, Feb. 17.
Highlights:
UBC Thunderbird Mathea Fischer and Calgary Dino Mambi Diawara are the CW first stars, after strong quarter-final performances in their respective sports

Also earning stars this week were: Asnate Fomina (LET - MBB), Grant Shephard (UBC - MBB), Cassie Bujan (MAN - WVB), and Zach Henry (MRU - MHKY).
On the ice, Fischer posted six combined points over UBC's two-game sweep of the Regina Cougars in the women's hockey quarter-finals. The Norwegian had a pair of assists in Friday's Game 1 win, before adding a goal and three assists in UBC's 5-1 Game 2 win.
East of the Rockies, Diawara was dominant for the undefeated Dinos, as he combined for 50 points and 25 rebounds in his team's quarter-final sweep of the Winnipeg Wesmen. Calgary hasn't lost this season, as the defending CW and U SPORTS champions roll into this weekend's semis against Saskatchewan.
The pair now move forward as the CW nominees for the U SPORTS Athletes of the Week.

Game log: Friday, Feb. 15 – two assists, +1 in 5-0 home win over Regina / Saturday, Feb. 16 – goal and three assists, +2 in 5-1 home win over Regina.
Veteran UBC forward Mathea Fischer had a big impact in the Thunderbirds' Canada West quarter-final sweep over the visiting Regina Cougars with a combined six points and a +3 rating.
After a pair of helpers in Friday night's series opener, the native of Oslo, Norway scored in Game 2 Saturday and added a trio of assists, included a setup on the eventual game-winner.=
Three of Fischer's points came on the power play and the fourth-year Sauder School of Business student leads the conference playoff scoring race by two points.
The series win advances the Thunderbirds to their seventh straight Canada West semifinal, as they now head to Winnipeg to face the reigningCW and U SPORTS champion Manitoba Bisons beginning Friday night.

Game log: Friday, Feb. 15 – 25 points, 11 rebounds, four assists, two steals in 98-57 home win over Winnipeg / Saturday, Feb. 16 – 25 points, 14 rebounds, six assists, one steal in 88-75 home win vs. Winnipeg.
The leading scorer during the regular season for the University of Calgary Dinos, Mambi Diawara brought it during his team's Canada West quarter-final matchup with the Winnipeg Wesmen.
The Montreal native scored 25 points in both games, well above his season average of 17.9 points-per game.
The Dinos asserted themselves early in the series, taking a 55-22 lead into halftime of Game 1. Along with his 25 points, Diawara added 11 rebounds, four assists and two steals as Calgary beat Winnipeg 98-57.
Diawara matched a season-high with 34 minutes on the floor during Saturday's Game 2. The Dinos won the game 88-75, with the senior guard posting 25 points, 14 rebounds, six assists, and one steal.
The Dinos will host the Canada West semifinal against the Saskatchewan Huskies, Feb. 21-23 at the Jack Simpson Gym.

Game log: Thursday, Feb. 14 – 22 points, seven assists, three rebounds and two steals in 90-66 road win over Alberta / Friday, Feb. 15 – 17 points, six assists, rebound and steal in 67-60 win over Alberta.
Leading the Lethbridge Pronghorn women's basketball team to a place they have not been in 24 years, fourth-year guard Asnate Fomina paced the Pronghorns to a road playoff sweep of the Alberta Pandas and a berth in the Canada West semifinals.
In the series opener, the Latvian national scored a game-high 22 points to lead the Pronghorns to a convincing 90-66 win over the Pandas. She also added seven assists, three rebounds, and two steals to her Thursday night stats line.
The next night the NCAA transfer and masters student poured in another 17 points, including a perfect 4-4 from behind the arc as the Pronghorns completed the upset sweep of the Pandas with a 67-60 win. She also had another six assists Friday night.
Moving on to the Canada West semis for the first time since 1995, the Pronghorns travel to Saskatoon to face the conference top seeded Saskatchewan Huskies in a best-of-three series starting Thursday night.

Game log: Thursday, Feb. 14 – 29 points, 12 rebounds in a 92-79 UBC home loss to Fraser Valley / Friday, Feb. 15 – 21 points, 10 rebounds, 72.7% shooting in an 85-58 UBC home win over Fraser Valley / Saturday, Feb. 16 – 15 points, six rebounds in an 85-73 home win over Fraser Valley.
Leading all players with a combined 65 points in the series, second-year forward Grant Shephard helped the T-Birds punch their ticket to the Canada West semifinals with the three-game quarter-final win over the visiting Fraser Valley Cascades.
Shephard set a new career post-season high of 29 points in Thursday night's series opener to go along with 12 rebounds. The Kelowna, B.C. native followed that up with another double-double in Game 2 Friday with 21 points and 10 boards, along with an impressive 72.7 shooting percentage from the field.
The Thunderbirds closed out the series in Game 3 Saturday thanks in part to Shephard's 15-point, six-rebound performance.
So far these playoffs, Shephard leads the 'Birds in points per game (21.7), shooting percentage (58.1), and rebounds per game (9.3) while sitting in the conference top ten in each category.
The T-Birds continue their playoff run in Edmonton this weekend when they visit the Alberta Golden Bears for a best-of-three semifinal starting Friday night.

Game log: Friday, Feb. 15 – 25 digs, kill in 3-2 road win vs. Trinity Western / Saturday, Feb. 16 – 22 digs (set new CW season record for total digs, digs per set) in 3-1 road loss to TWU.
Needing a strong weekend of play to get into the post-season, the Bison women's volleyball team got a critical split against No. 5-ranked Trinity Western, with plenty of help from fifth-year libero Cassie Bujan — who set some records along the way.
In two matches, Bujan racked up a total of 47 digs. That brought her season total to 448, which sets a new Canada West record for digs in a season, previously set by Regina's Taylor Ungar in 2017-18 (426).
Bujan also set a new conference record for digs per set (4.87) this season, breaking a 12-year-old record set by Spartans alumna Julie Blackburn in 2006-07 (4.703).
In Friday's match, the Bisons came back from down 0-2 to the Spartans to win in five sets, keeping themselves in the playoff race heading into the final match. Bujan had a match-high 25 digs, also recording a kill in the win, making multiple critical plays against the Spartans' big hitters to keep rallies alive for the Bisons.
In Saturday's four-set loss to Trinity Western, Bujan had 22 more digs.
Bujan, a student in the Faculty of Science, finishes her regular season career with 1,332 digs — the second-most ever for a women's volleyball player in Canada West.
Manitoba heads into the playoffs as the No. 8 seed, travelling to Calgary this weekend to take on the Dinos in the quarter-finals.

Game log: Friday, Feb. 15 – assist, +1 rating in 4-2 road win vs. UBC / Saturday, Feb. 16 – goal, +1 rating in 3-1 road loss to UBC / Sunday, Feb. 17 – two assists +2 rating in 5-2 road win vs. UBC.
The Canada West hockey playoffs kicked off last weekend, as the No. 5 seed MRU Cougars travelled to Vancouver to take on No. 4 UBC.  Mount Royal was able to come away with a three-game series win led by the inspiring play of fifth-year Zach Henry.
It was a back-and-forth battle over the weekend, as MRU skated away with a 4-2 win Game 1 Friday night, before dropping Game 2 on Saturday 3-1.
Henry's best night of the series came in Game 3, as he assisted on a pair of goals, to lift MRU to the series win.
Henry finished with four points on the weekend, including a shorthanded goal on Saturday. He played a huge role on the penalty kill for the Cougars, and finished with a plus-four rating through the three games.
MRU now travels to Saskatoon to take on the conference regular season champion Saskatchewan Huskies, beginning Friday night.