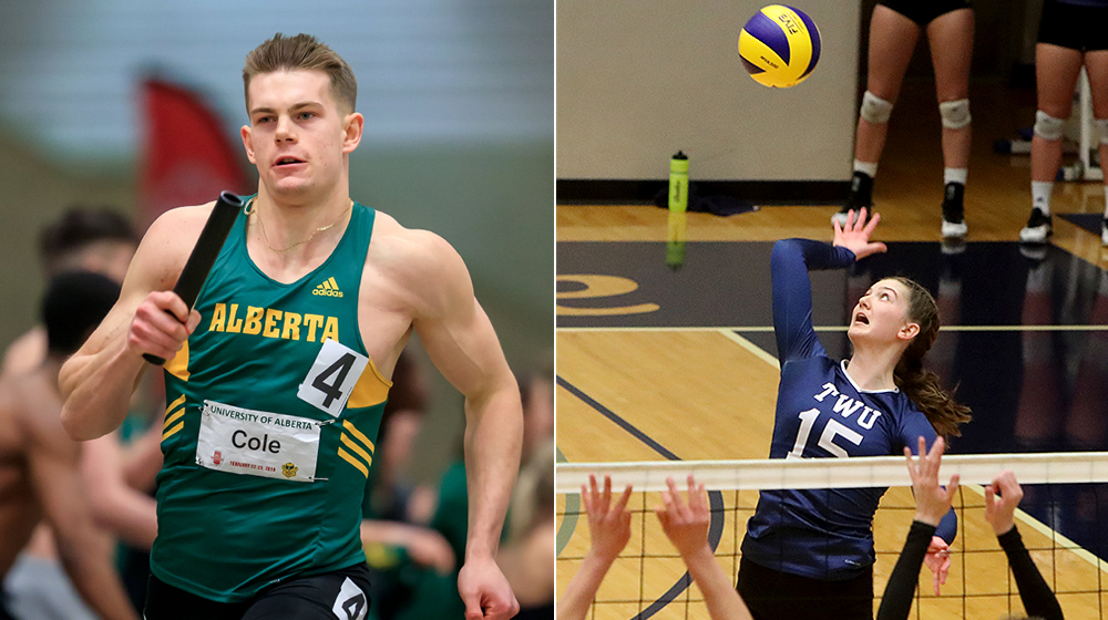 CW three stars: Cole, Purdy earn weekly conference honours
Alberta's Austin Cole and Trinity Western's Savannah Purdy named first stars
EDMONTON – National record breaker Austin Cole and Canada West champion Savannah Purdy are the conference's first stars for the period ending Sunday, March 10.
Highlights:
Alberta track and field star Austin Cole and Trinity Western outside hitter Savannah Purdy are the conference first stars

Also earning stars this week were: Mambi Diawara (CGY - MBB), Julianne Labach (SSK - TF), Brady Nault (BDN - MVB), and Niki Oudenaarden (CGY - TF).
Cole shattered the U SPORTS and U23 Canadian record in the 300m with a time of 32.89. His gold medal in the event marked the third straight national title for the Alberta sprinter. In addition to his gold medal, Cole added a silver in the 4x400m relay and a bronze in the 4x200m relay, while also being named the U SPORTS Track Athlete of the Year.
Purdy helped Trinity Western capture its third Canada West title in program history with a big performance in the Spartans 3-0 win over Calgary. The Canada West Rookie of the Year recorded a match-high 10 kills without a single attack error, finishing the match with a .769 hitting percentage. Purdy added seven digs, three blocks and a pair of aces in the match.
The pair will now move on as the Canada West nominees for the U SPORTS athletes of the week.
---

Championship log: Gold Medal and U SPORTS record in men's 300m dash / silver medal in 4x400m relay / bronze medal in 4x200m relay
Two weeks after torching the Canada West Track and Field Championships in Edmonton, third-year sprinter Austin Cole turned in a historic performance at the U SPORTS Championships in Winnipeg.
Cole added to his already illustrious career with three more medals at the 2019 national championship, while also shattering his national 300 metre record.
One year after setting the U SPORTS 300m record with a time of 33.37, Cole turned it up another notch this past weekend. His time of 32.89 set a new U SPORTS and U23 Canadian record and also earned him his third straight national title in the event.
Cole added to his medal haul on Saturday with a silver medal in the 4x400m relay, and a bronze medal in the 4x200m relay. In three seasons, Cole has racked up nine U SPORTS medals.
Prior to the championship, Cole was also awarded the U SPORTS 2019 Male Track Athlete of the Year.

Game log: Friday, Mar. 8 (CW Championship) – 10 kills, .769 hitting percentage, 2 aces, 7 digs, 3 blocks in Canada West Final win over Calgary.
Just three days after winning Canada West Rookie of the Year, Savannah Purdy proved the voters made the right call, as she was nearly unstoppable in helping lead TWU to their third conference championship in the last five years.
Purdy earned a match-high 10 kills and didn't make a single attacking error while hitting .769. She also added two aces, seven digs and three blocks. Purdy was influential in one of the Spartans most dominant performances of the year in which they didn't allow Calgary to collect more than 18 points in any of the three sets.
With Purdy's effort, the Spartans capped the conference playoffs with a perfect 5-0 record, which ultimately sent TWU into the national championship tournament as the No. 1 seed. TWU will open the U SPORTS Championship Friday (12 p.m. PT) against local rival UBC in the quarter-finals.

Game log: Thursday, Mar. 8 (QF) - 17 points, 11 rebounds, 10 assists / Friday, Mar. 9 (SF) - 17 points, 11 rebounds, 7 steals / Sunday, Mar. 10 (Final) - 13 points, five rebounds
2019 Canada West player of the year Mambi Diawara finishes his varsity career with a national championship and two silver medals following a tournament all-star performance at the U SPORTS Men's Basketball Final 8 last week in Halifax.
The fifth-year Montreal native started his weekend earning a first team All-Canadian nod, then put up the first triple-double for the Dinos in more than four years with his 17-point, 11-rebound, 10-assist performance against Saint Mary's in the national quarter-final. In the semi against Ryerson, Diawara picked up 17 points, 11 rebounds, and seven steals, then added 13 points and five rebounds in the championship game against Carleton.

Championship log: Gold in 600m / silver in 1000m / silver in 4x400m relay
In her final trip to the U SPORTS Track & Field Championships, fifth-year athlete Julianne Labach made sure that she went out on top.
Before the meet even started, Labach was named the U SPORTS track athlete of the year, and then went on to claim three medals, two gold and one silver, at the national championship meet hosted in Winnipeg, MB.
The law student won gold in the 600-metre race in a time of 1:28.70, breaking a Huskie record that had stood since 1984 in the process. Labach also claimed national silver in the 1000-metre and 4x400-metre relay.
Medalling in all three of the events she competed in, the product of Saskatoon helped a Huskies' women's team comprised of just 12 athletes to second place in the team standings, their best finish in 14 years.

Game log: Friday, Mar. 8 (CW Championship) – 11 digs, 1 assist in 3-2 win over Trinity Western.
Fifth-year libero and team co-captain Brady Nault had one of the biggest matches of his five-year career on Friday and in doing so lifted the Bobcats to the team's second Canada West conference championship and first on home court.
Nault made plenty of highlight-reel plays against the hard-hitting and high-flying No. 2 ranked Spartans in Brandon's 3-2 (25-23, 18-25, 25-21, 22-25, 15-12) win.
Nault managed several spectacular plays in recording his match-high 11 digs, including a hard-shot from first-team all-star Eric Loeppky late in the third set that looked like it may have ended Nault's night. The Winnipeg product did not miss a beat however, as he not only finished the match, but
Nault and the Bobcats now switch focuses to next weekend as the team enters U SPORTS nationals as the No. 1 seed and will take on the Montreal Carabins to open the tournament on Friday.

Championship log: Gold in pentathlon (4168 pts) / bronze in 4x400m relay / 4th in shot put / 6th in long jump / 7th in high jump
Niki Oudenaarden wrapped up her university career with another dominant performance, winning the pentathlon by nearly 400 points and adding a relay bronze medal at the 2019 U SPORTS track and field championships in Winnipeg.
Oudenaarden's pentathlon score of 4,168 points set a new facility record at the University of Manitoba fieldhouse and was just over 200 points shy of Jessica Zelinka's U SPORTS record of 4,380. It beat her Canada West-winning score by eight points and is one of the top 50 performances in the world this year.
And she wasn't done there: Oudenaarden went on to win a bronze medal with the Dinos in the 4 x 400-metre relay and finished fourth in the shot put, sixth in long jump, and seventh in high jump.