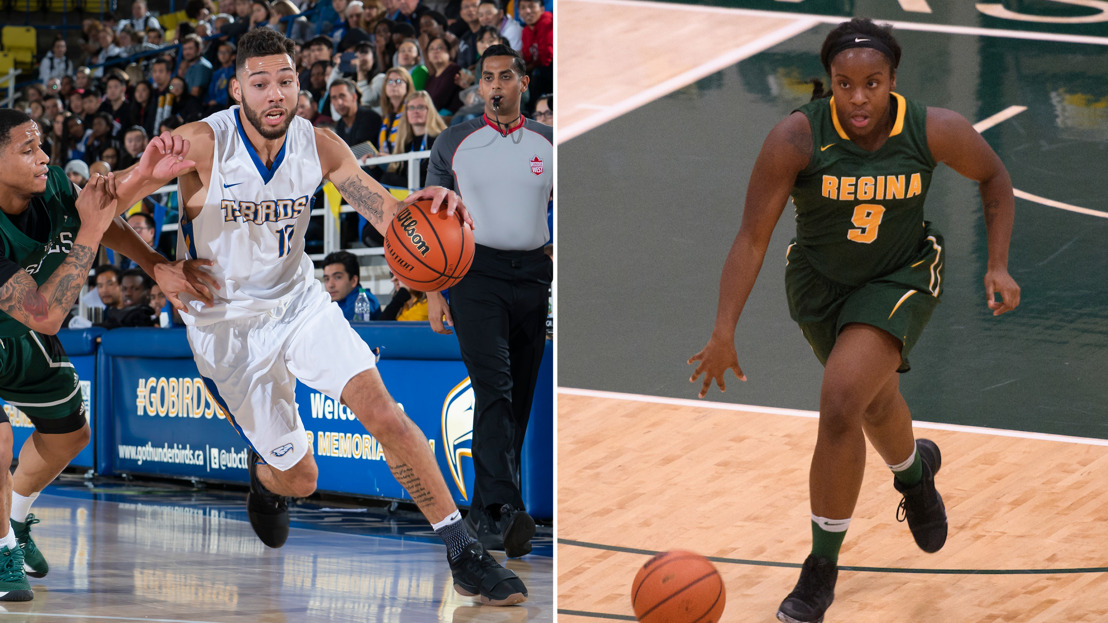 CW three stars: Basketball standouts shine opening weekend
October athletes of the month also named Tuesday
EDMONTON – A pair of big performances during the opening weekend of Canada West basketball play have landed UBC's Jadon Cohee and Regina's Kyanna Giles first star honours for the week ending Sunday, October 28.
Highlights:
UBC Thunderbird Jadon Cohee is the CW men's first star of the week, while Regina's Kyanna Giles is the CW women's first star of the week

CW also named UBC's Kristian Yli-Hietanen (men's soccer) and Calgary's Lauren Houghton (women's soccer) as the conference's athletes of the month for October
Cohee, a transfer from Southern Utah, posted a combined 62 points as UBC split their opening weekend series with the Saskatchewan Huskies.
Meanwhile, Giles was stellar for Regina in their opening weekend sweep of the Calgary Dinos, as the defending conference champs got out to a hot start. The third-year guard combined for 44 points, 21 rebounds, 10 assists, and nine steals in the victories.
Cohee and Giles now move forward as the conference nominees for the U SPORTS athletes of the week.
---

In addition to naming this week's three stars, the conference also honoured the October athletes of the month, as UBC's Kristian Yli-Hietanen and Calgary's Lauren Houghton were selected the winners.
The pair now move forward for the U SPORTS athlete of the month vote, which will be conducted on social media later this week.
MEN'S ATHLETE OF THE MONTH: Kristian Yli-Hietanen
Yli-Hietanen was twice a weekly star during the month of October, earning second star honours Oct. 2, and first star honours back on Oct. 9.
The fourth-year forward from North Vancouver, B.C. was dominant over the month of October, registering seven goals in six games played. Yli-Hietanen scored five goals in as many regular season games over the month, before adding two playoff goals in UBC's 3-0 quarter-final win last week against Mount Royal.
He finished the CW regular season tied for third in goals with 10, and was one of only five conference players to finish the season with a double-digit goal total.
WOMEN'S ATHLETE OF THE MONTH: Lauren Houghton
The Calgary goalkeeper enjoyed a stellar month of October, as the Dinos put the finishing touches on a 13-game win streak heading into the playoffs.
Houghton set new CW single-season records in shutouts (11) and wins (13) this season, with six of those wins and five of the shutouts coming in the month of October.
In addition to a terrific finish to the regular season, Houghton backstopped the Dinos in their 2-1 quarter-final win over the Saskatchewan Huskies last weekend, as the team punched its ticket to this weekend's CW Final Four.
---

Game log: Friday, Oct. 26 – 29 points, 5 rebounds, 1 steal in 92-87 home win over Saskatchewan / Saturday, Oct. 27 – 33 points, 4 rebounds, 7 assists, 1 steal, 1 block in a 102-93 home loss to Saskatchewan.
Jadon Cohee made his first Canada West weekend one to remember, leading all players in the conference with a combined 62 points.
The fourth-year transfer put up 29 points and five rebounds in UBC's home opener Friday night, helping power the T-Birds to a 92-87 come-from-behind win over Saskatchewan. The product of Langley, B.C. was a workhorse for head coach Kevin Hanson, as he played a full 40 minutes in Saturday's rematch putting up a game-high 33 points along with seven assists in a 102-93 loss to Saskatchewan.
Cohee's 31 points per game and seven free throws per game are both tops through the Canada West's opening weekend.
After splitting their opening weekend, UBC has another strong test this week with a home-and-home series against the University of Victoria. UBC visits the Vikes Thursday night before hosting their cross-water rivals at War Memorial Gym on Saturday.

Game log: Friday, Oct. 26 – 29 points, 9 rebounds, 4 assists, 4 steals in 81-76 road win over CGY / Saturday, Oct. 27 – 15 points, 12 rebounds, 6 assists, 5 steals in 85-75 road win over CGY
Kyanna Giles helped the Regina Cougars open up the Canada West women's basketball schedule with an 81-76 road win on Friday night, piling up 29 points and adding nine rebounds, four assists, and four steals in the victory. The Cougars completed the weekend sweep on Saturday, winning 85-75 thanks in large part to Giles' double-double. The third-year guard finished with 15 points, 12 rebounds, six assists, and five steals in the second game of the weekend doubleheader.
Giles is all over the early Canada West leaderboards. She's ranked fifth in the conference in scoring, tied for sixth in rebounding, third in assists, and is Canada West's outright leader in steals.
The Cougars host their Canada West home openers next weekend against Trinity Western.

Game log: Friday, Oct. 27 – Four saves in regulation/OT, three saves in PK shootout in 1-1 road win (3-1 on PKs) over Saskatchewan in Canada West quarter-finals
Goalkeeper David Hicks had a heroic performance for the University of the Fraser Valley men's soccer team on Saturday, leading his squad to a dramatic victory over the Saskatchewan Huskies on the road in the Canada West quarter-finals.
The fifth-year goalkeeper from Surrey, B.C. made four saves over the course of regulation and extra time – the lone shot to get past him was a top-corner wonder-strike from Sask's Nikolas Baikas in the 120th minute that knotted the score 1-1. That set the stage for penalty kicks, and Hick dominated. He stopped three of the Huskies' four attempts – a nearly incomprehensible feat, considering the expected success rate on a PK could be estimated at upwards of 70 per cent. The Cascades won the shootout 3-1, punching their ticket to the Canada West Final Four, where they'll face the host UBC Thunderbirds at 7 p.m. Saturday.
Game log: Friday, Oct. 26 – 20-save shutout in 4-0 road win over Calgary / Saturday, Oct. 27 – 32-save shutout in 1-0 home win vs. Calgary.
Looking to end an extended losing streak, fourth-year Alicia Anderson led the way, stopping all 52 shots she faced to earn back-to-back shutouts and help the Lethbridge Pronghorns to a weekend sweep of the Calgary Dinos in a home-and-home series.
Friday night in Calgary, the fourth-year Science student made 20 saves to backstop the Pronghorns to a 4-0 win over the Dinos, snapping a five-game losing streak for the Pronghorns.
In the back half of the home-and-home series, Anderson turned aside another 32 shots to earn a second straight shutout in a closely contested 1-0 victory over Calgary.
On the season, Anderson leads Canada West goaltenders with three shutouts and total saves with 235. She also sports a 1.30 goals-against average and 0.962 save percentage.
Anderson and her Pronghorn teammates have a bye this weekend and will return to action Nov. 9-10, traveling to Winnipeg to face the defending U SPORTS Champion Manitoba Bisons.

Game log: Saturday, October 27 – 19 kills, .350%, 2 service aces, 3 digs, 23 pts. in 3-1 home win over MacEwan / Sunday, October 28 – 26 kills, .548%, 2 sevice aces, 8 digs, 29.5 pts in 3-0 home victory vs. MacEwan.
There was the usual home opener energy for Bison men's volleyball this past weekend, but two wins over MacEwan and a sensational weekend for fourth-year right side Kevin Negus added an exclamation point.
Manitoba won both matches against the visiting Griffins, doing so in four sets on Saturday, and in three on Sunday. Even in just seven sets, though, Negus amassed 45 kills — propelling him to the top of Canada West in kills per set (4.69).
On Saturday, Negus led Manitoba with 18 kills on 40 attempts, good for a .350 percentage. He added a pair of service aces and three digs to his stat line.
Then, on Sunday, Negus unleashed a torrent of successive attacks to down the Griffins in three sets. Down 19-16 in the third, he had four kills to wrest control back for Manitoba, allowing them to finish the match. The line tells the story: Negus had 26 kills on 42 attempts (.548), adding two service aces and eight digs.
Negus, a native of Sioux Lookout, Ont. and a student in Kinesiology and Recreation Management, is in his fourth season with the Herd.
Manitoba returns to action Nov. 9-10 when they travel to Vancouver to take on UBC.

Game log: Sunday, Oct. 28 – 2 goals, 1 assist, three shots on goal in a 3-1 UBC home win over UNBC (CW quarter-final).
The Canada West's regular season goal scoring leader nearly single-handedly punched UBC's ticket into this weekend's Final Four with two goals, setting up another and firing three shots on net in UBC's 3-1 quarter-final win over UNBC.
Steer scored her first of the post-season in the 13th minute of Sunday's quarter-final matchup at Thunderbird Stadium to give UBC the early lead. Just three minutes later, she played the ball forward to Margaret Hadley who gave the 'Birds a 2-0 lead with a low shot that stood up as the game-winner.
Steer added her second of the game on an 88th minute penalty kick to seal the victory.
After finishing the regular season as the points per game leader, Steer is tied atop the playoff scoring race with two goals and three points.
The T-Birds will face the Calgary Dinos Friday afternoon in Langley for a berth in the Canada West gold medal match, looking to get back to the U SPORTS national championship tournament for the third time in the last four seasons.