CW Stars: Winnipeg friendly to first stars
Basketball opening weekend provided big stat lines
EDMONTON – Winnipeg was seemingly the place to be this past weekend for big basketball performances, as UBCO's Jaeli Ibbetson and Manitoba's Rashawn Browne had big weekends in the Manitoba capital.
Ibbetson is the CW Women's First Star of the Week after combining for 41 points and 30 rebounds in UBCO's setbacks to the Manitoba Bisons.
Meanwhile in men's action, Browne posted a combined 58 points in wins over UBCO to claim first star honours.
The pair now move forward as the conference's nominees for the U SPORTS Athletes of the Week.
---
WOMEN'S THREE STARS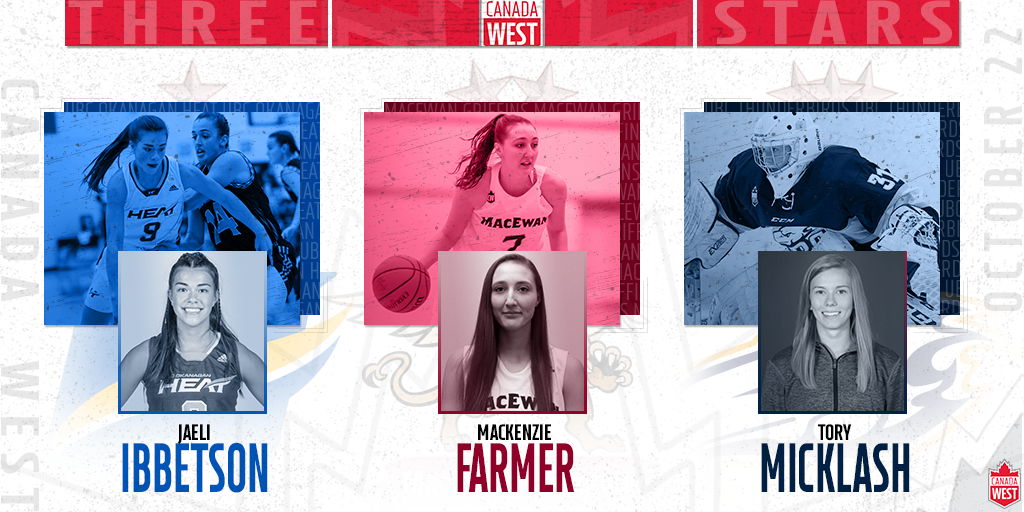 FIRST STAR: F - Jaeli Ibbetson
UBCO Heat / Basketball

1st-year

Kelowna, B.C.

Sciences

GAME LOG: Friday, Nov. 1 – 20 points, 13 rebounds in 82-69 loss at Manitoba / Saturday, Nov. 2 – 21 points, 17 rebounds in 60-59 loss at Manitoba.
Jaeli Ibbetson's Canada West basketball career started off white-hot. After her first weekend of games, the Kelowna Secondary grad is leading the conference in rebounding and is second in scoring.
On Friday night in Winnipeg against the University of Manitoba, Ibbetson lifted off with 20 points, and 13 rebounds. She produced an even better encore with 21 points and 17 rebounds on Saturday night.
Unfortunately, those numbers weren't enough to get UBCO a win in Bisons country. The Heat fell 82-69 on Friday and had a chance to win it at the buzzer on Saturday, but the game-winner for UBCO rimmed out and the final score remained 60-59.
UBC Okanagan's home opener is this Friday (Nov. 8) when they play host to the Thompson Rivers WolfPack in the first Presidents' Cup matchup in women's basketball.
SECOND STAR: F - Mackenzie Farmer
MacEwan Griffins / Basketball

3rd-year

Sherwood Park, Alta.

Arts

GAME LOG: Friday, Nov. 1 – 19 points, six rebounds, seven steals in 65-53 win vs. Mount Royal / Saturday, Nov. 2 – 14 points, six rebounds, seven steals in 62-58 loss vs. Mount Royal.
Third-year forward Mackenzie Farmer produced a monster multi-cat opening weekend at both ends of the court for the Griffins, recording a combined 33 points, 12 rebounds, 14 steals and four blocks in a two-game split with Mount Royal University.
Her 14 combined steals matches the MacEwan University record for the most in a two-game weekend of play since the Griffins joined Canada West in 2014.
On Friday, Farmer had a game-high 19 points on 7-for-10 shooting from the field, adding five more points off free throws.
On Saturday, Farmer scored 14 points on 5-for13 shooting, adding four more from the charity stripe.
Farmer currently leads Canada West in steals/game (7.0), is tied for the lead in blocks/game (2.0) and sits in the top 10 in points/game (16.5).
THIRD STAR: G - Tory Micklash
UBC Thunderbirds / Hockey

4th-year

East St. Paul, Man.

Kinesiology

GAME LOG: Friday, Nov. 1 – 22 saves in 3-2 OT win at Saskatchewan / Saturday, Nov. 2 – 18-save shutout in 1-0 win at Saskatchewan.
UBC fourth-year goaltender Tory Micklash allowed just two goals against on 40 combined shots as the Thunderbirds swept the two game series with the Saskatchewan Huskies in Saskatoon on the weekend.
After a 22-save performance Friday night, the Manitoba native made 18 saves for her sixth win of the season and her conference leading fourth shutout.
Micklash has put up three shutouts in her last five four games, helping lead the Thunderbirds to four straight wins with points in eight straight. Micklash's win Saturday night in Saskatoon set a new program record for career Canada West wins with 40.
The Thunderbirds now find themselves atop the conference standings with a 5-2-1-2 record, two points ahead of the second place Calgary Dinos.
UBC is off from Canada West action on a bye week before heading to Lethbridge to face the Pronghorns November 15th and 16th.
---
MEN'S THREE STARS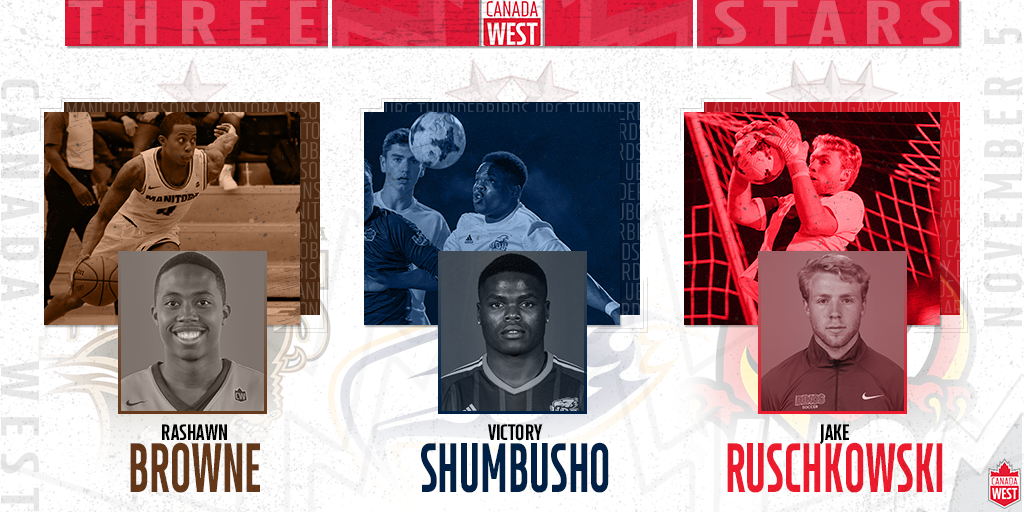 FIRST STAR: G - Rashawn Browne
Manitoba Bisons / Basketball

5th-year

Toronto, Ont.

Arts

GAME LOG: Friday, Nov. 1 – 18 points, 5 assists, 3 rebounds in 86-58 win vs. UBCO / Saturday, Nov. 2 – 40 points, 5 rebounds, 3 assists in 91-66 win vs. UBCO.
If the first weekend was an indication of what fifth-year guard Rashawn Browne can offer, the Manitoba Bisons could be in for a highlight-filled season in 2019-20.
Up against the UBC Okanagan Heat, Browne led the Bisons scoring in two straight wins (86-58 on Nov. 1; 91-66 on Nov. 2). Browne scored a combined 58 points in the two games, with the biggest performance coming on Saturday.
In a game more competitive than the night before, Browne dropped 40 points on an ultra-efficient 15-for-26 shooting from the field, including 6-for-8 from three. The performance was just four points shy of a top 20 scoring performance in conference history, as Browne also added five rebounds, three assists and a steal in his well-rounded performance.
Thanks to this game, the Toronto native studying in the Faculty of Arts is the opening week points leader in Canada West, averaging 29.0 PPG.
SECOND STAR: F - Victory Shumbusho
UBC Thunderbirds / Soccer

3rd-year

Chilliwack, B.C.

Arts

GAME LOG: Friday, Nov. 1 – 2 shots on goal in 2-0 CW SF win vs. Saskatchewan / Saturday, Nov. 2 – goal and an assist in CW championship game vs. Calgary.
In what has been an incredible season for the third-year forward, Victory Shumbusho may have saved his best for when it mattered most, scoring the Canada West championship clinching goal while setting up an insurance marker with an incredible attacking display as the Thunderbirds claimed their third straight conference banner Saturday night.
Shumbusho made good on a penalty kick in the 27th minute in Saturday's final against the Dinos. Later in the half he made a perfect cross over to Thomas Gardner who fired the ball into the net to double the T-Birds' lead.
With a Canada West leading 10 goals in the regular season, Shumbusho was named a first team conference All-Star and showed exactly why in the final four, powering the 'Birds to a record 20th Canada West banner.
Shumbusho and the T-Birds are now off to Montreal for the U SPORTS national championship, their fifth straight appearance at the tournament as they search for their 14th national title and first since 2013.
THIRD STAR: GK - Jake Ruschkowski
Calgary Dinos / Soccer

3rd-year

Calgary, Alta.

Engineering

GAME LOG: Friday, Nov. 1 – 5 saves in 2-1 CW SF win vs. Mount Royal / Saturday, Nov. 2 – 9 saves in 2-0 CW championship game loss to UBC.
Canada West first team all-star Jake Ruschkowski was busy this past weekend at the conference's final four in Vancouver.
The third-year goalkeeper made 14 saves over two games as the University of Calgary Dinos claimed a silver medal and clinched their first-ever appearance at the national championship.
On Friday against the crosstown rival Mount Royal Cougars, Ruschkowski made five saves – only surrendering a penalty kick late in the first half – as the Dinos knocked off the top team in the Prairie Division 2-1.
In the Canada West Final, the Calgary goalkeeper was busy again with nine saves, including a flurry in the second half. The Dinos would fall short of the championship, dropping a 2-0 decision to the UBC Thunderbirds.
The team now travels to U SPORTS Men's Soccer Championship next week in Montreal.