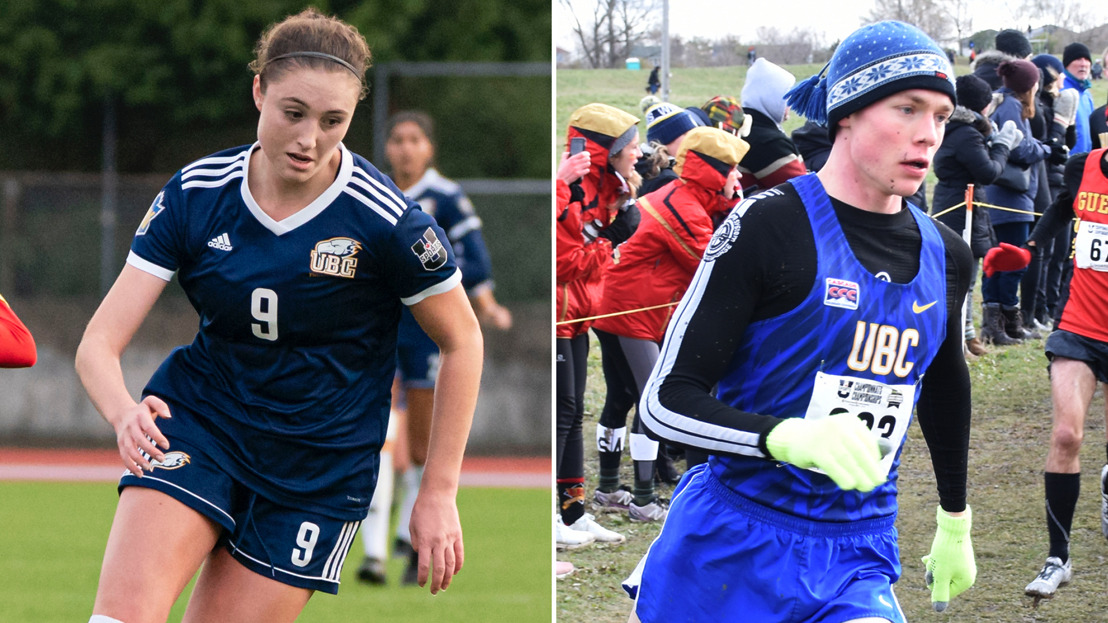 CW Stars: T-Birds soar to stars
UBC's Danielle Steer and Kieran Lumb named first stars
EDMONTON - A pair of UBC Thunderbirds are this week's Canada West First Stars.
Soccer's Danielle Steer and cross country runner Kieran Lumb take home the honours after outstanding performances for the T-Birds.
Steer came up clutch at the U SPORTS Women's Soccer Championship in Victoria over the weekend, netting the game-winning goal in a pair of 1-0 UBC wins in the semis and final.
Meanwhile in Kingston, Ont., Lumb took home the men's individual title at the U SPORTS Cross Country Championship.
The pair will now move forward as the CW nominees for the U SPORTS Athlete of the Week awards.
---
WOMEN'S THREE STARS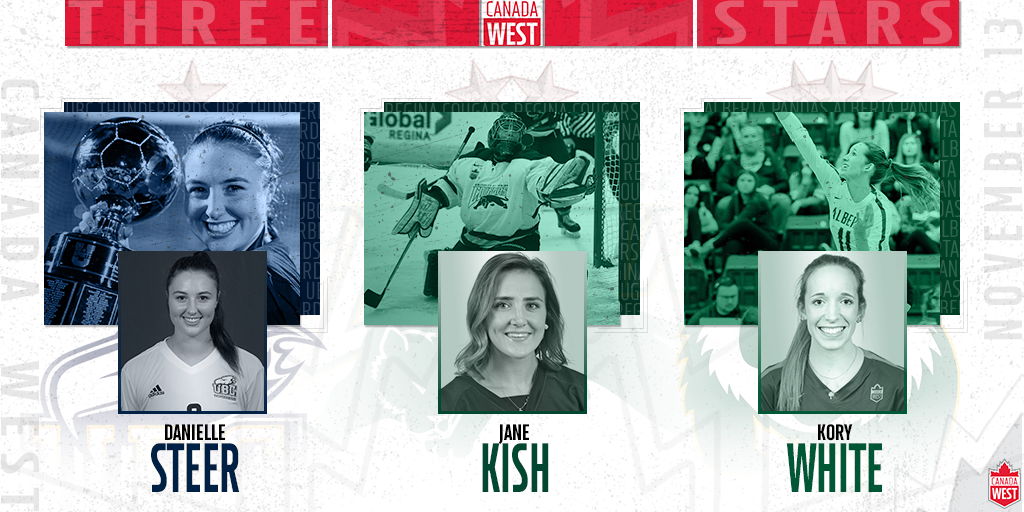 FIRST STAR: F - Danielle Steer
UBC Thunderbirds / Soccer

3rd-year

Surrey, B.C.

Arts

GAME LOG: Thursday, Nov. 7 – 90 minutes in 1-0 win vs. Montreal in U SPORTS QF / Saturday, Nov. 9 – game-winning goal in 1-0 win vs. Acadia in U SPORTS SF / Sunday, Nov. 10 – game-winning goal in 1-0 win vs. Calgary in U SPORTS Final.
Scoring two game winning goals, including the gold medal clinching marker against the Calgary Dinos, third-year forward Danielle Steer was a force, leading the Thunderbirds to their record seventh national championship title.
With three consecutive 1-0 victories to clinch the banner, Steer's two game-winning goals stood even bigger as the Surrey, B.C. product was named a tournament All-Star as well as the national championship Most Valuable Player.
Not only did Steer score the only goal of both the T-Birds' final two matches, she did so in incredibly timely fashion, both coming with less than 14 minutes remaining in regulation time.
SECOND STAR: G - Jane Kish
Regina Cougars / Hockey

5th-year

Weyburn, Sask.

Education

GAME LOG: Friday, Nov. 8 – 24-save shutout in 1-0 win at Manitoba  / Saturday, Nov. 9 – 26-save shutout in 1-0 win at Manitoba.
Jane Kish moved into the University of Regina's women's hockey record books in style, picking up the 9th and 10th shutouts of her career to move her into sole possession on the most in Cougar history.
Kish was perfect on the weekend, making 24 saves in a 1-0 win against the Manitoba Bisons on Friday night before adding a 26-save overtime shutout in her encore performance on Saturday afternoon.
The fifth-year Weyburn product helped the Cougars to their third and fourth wins of the season and the first weekend sweep for Regina during the 2019-20 campaign.
Kish began the season tied with Jennifer Schmidt in the Cougar record books with eight career shutouts, and has now registered multiple shutouts in three of her five seasons in the green and gold.
Kish sits in second place in the conference in shutouts (2), goals-against average (0.95) and save percentage (.959) this season.
THIRD STAR: OH - Kory White
Alberta Pandas / Volleyball

4th-year

Edmonton, Alta.

Agriculture, Life & Environmental Sciences

GAME LOG: Friday, Nov. 8 – 33 kills, 12 digs, 3 aces in 3-2 win at Thompson Rivers  / Saturday, Nov. 9 – 15 kills, 6 digs in 3-1 loss at Thompson Rivers.
Fourth-year Pandas outside hitter Kory White continued her torrid start to the Canada West season, ripping in 48 combined kills in a road split with the Thompson Rivers WolfPack.
White was sensational on Friday night, finishing with 33 kills, 12 digs and three aces in the Pandas thrilling 3-2 win over TRU.
Her 33 kills broke her own Pandas single match record, and were the second-most in one match in Canada West history. Her 37 points were also second most ever in one match.
The Edmonton, Alta. followed that up with another 15 kills on Saturday night, as the Pandas came up short with a 3-1 loss to the 'Pack.
Through six matches, White leads Canada West and U SPORTS with 132 kills, 5.28 kills per set, and 141.0 points.
The 2-4 Pandas will look to get back to .500 this weekend, as they host the 2-4 Winnipeg Wesmen at Saville Community Sports Centre.
---
MEN'S THREE STARS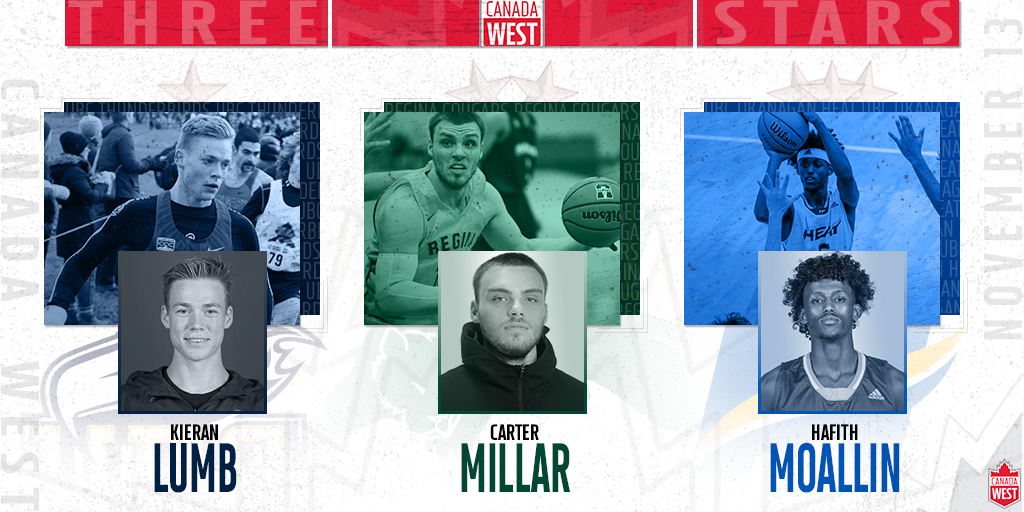 FIRST STAR: Kieran Lumb
UBC Thunderbirds / Cross country

4th-year

Vancouver, B.C.

Applied Science

MEET LOG: Saturday, Nov. 9 – first-place at U SPORTS Championships in Kingston, Ont.
On the heels of a bronze medal at the Canada West championship two weeks ago, UBC distance specialist Kieran Lumb is now a national champion, taking gold at the 2019 U SPORTS cross country national championship in Kingston, Ontario.
Running in frigid conditions at the Fort Henry National Historic Site on Saturday afternoon, Lumb stuck with a large leading pack through the first three laps of the course before breaking out to what turned into an eight-second gap by the end of the race.
Lumb finished the 10-kilometre course in 30:41.8, helping lead the Thunderbirds to a sixth-place team finish, improving on UBC's seventh-place showing in 2018.
The Vancouver native's championship run earned him automatic first team All-Canadian status while also being named the U SPORTS men's cross country Athlete of the Year.
SECOND STAR: F - Carter Millar
Regina Cougars / Basketball

3rd-year

Regina, Sask.

Science

GAME LOG: Friday, Nov. 8 – 26 points, 17 rebounds, 4 assists in 96-87 loss at Mount Royal  / Saturday, Nov. 9 – 17 points, 11 rebounds in 101-59 win at Mount Royal.
Carter Millar had back-to-back double doubles against Mount Royal on the weekend, helping the U of R Cougars to a weekend split.
The third-year forward posted a monster line on Thursday afternoon with a 26 point, 17 rebound effort as the Cougars lost a close one to hometown MRU. Millar went 9-21 from the floor with two three pointers on Thursday, and also snatched nine offensive rebounds.
The Regina product was in fine form again on Friday, scoring 17 points and grabbing 11 boards in just 20 minutes of action. Millar shot an efficient 7-12 from the field and was perfect on three attempts from the free throw stripe.
Millar has posted double doubles in three of the Cougars' four games this season, and is currently averaging 18.5 points and 11.5 rebounds per game.
The Cougars are back at home this weekend with a pair of matchups against the Winnipeg Wesmen at the CKHS.
THIRD STAR: G - Hafith Moallin
UBCO Heat / Basketball

2nd-year

Mississauga, Ont.

Arts

GAME LOG: Friday, Nov. 8 – 16 points, 11 rebounds, 11 assists in 93-91 win vs. Thompson Rivers  / Saturday, Nov. 9 – 5 points, 4 rebounds, 4 assists in 85-59 loss to Thompson Rivers.
In the Heat's home opener, Hafith Moallin, delighted the crowd as he led his UBCO squad to a 93-91 comeback victory over TRU. The second year guard finished the game with a triple double, scoring 16 points, dishing off for 11 assists and hauling down 11 rebounds.
On Saturday, Moallin scored five points, grabbed four rebounds and he passed for four assists as the Heat fell to TRU, 85-59.
The Heat are back on the road this week when they play Friday and Saturday nights at UFV.