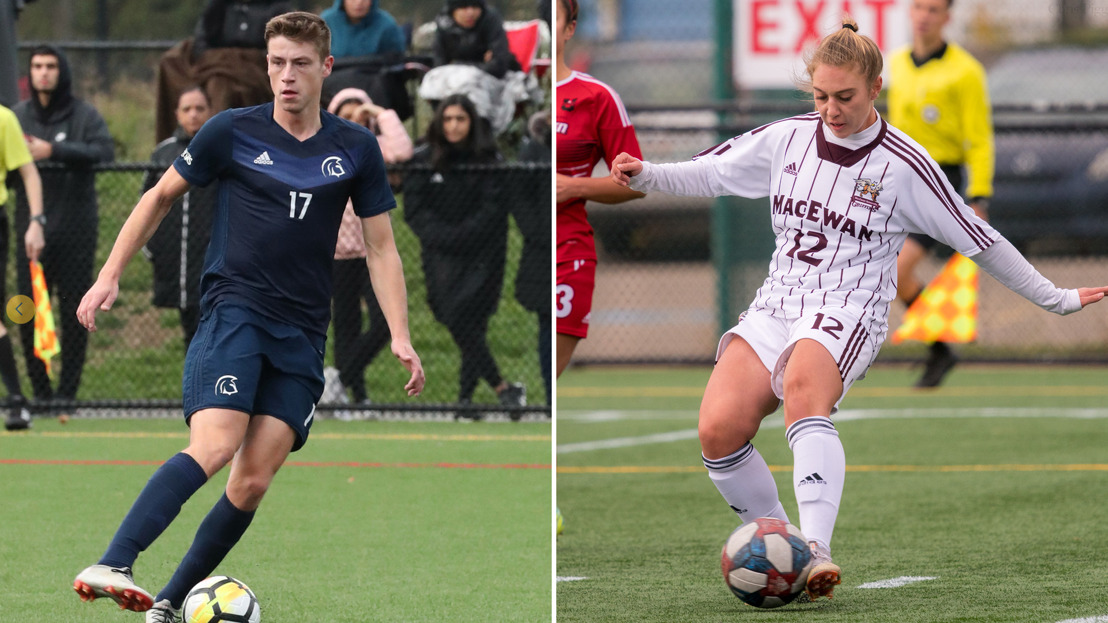 CW Stars: Soccer scorers net first stars
Conference soccer playoffs open this weekend
EDMONTON – Trinity Western's Cody Fransen and MacEwan's Salma Kamel are this week's Canada West First Stars of the Week after posting some big offensive numbers.
Fransen netted a hat trick Friday, while Kamel scored a MacEwan record four goals Tuesday before adding another marker on Saturday.
The pair will now move forward as the conference's nominees for the U SPORTS Athletes of the Week.
Fransen and Kamel are both in action this weekend, as the conference soccer playoffs open. Trinity Western is set to host the Calgary Dinos on Saturday in a men's quarter-final, while MacEwan hosts either Victoria or Regina Sunday in their women's quarter-final.
You can watch both games by tuning into Canada West TV Presented by Co-op.
---
MEN'S THREE STARS
FIRST STAR: M - Cody Fransen
Trinity Western Spartans / Soccer

5th-year

Lynden, Wash.

Business

GAME LOG: Friday, Oct. 18 –  3 goals, 4 shots on goal in 4-1 win vs. UBC / Saturday, Oct. 19 – 90 minutes played in 3-0 win vs. Victoria.
Cody Fransen's fifth and final season as a Spartan has been his most dominant, and he ended his Canada West regular season career with an exclamation point this past weekend.
In Saturday's 4-1 win against UBC, Fransen scored three goals for his second hat trick of the season, propelling TWU to their first win over the Thunderbirds since Oct. 20, 2017. The fifth-year forward then played a full 90 minutes against Victoria on Saturday, helping guide the Spartans to a 3-0 win and securing a home playoff date.
TWU is back in action this Saturday as they take on Calgary in the Canada West quarter-final at Chase Office Field (7:15 p.m. PT).
SECOND STAR: M - Justin Donaldson
Thompson Rivers WolfPack / Soccer

5th-year

Kamloops, B.C.

Business/Early Childcare Education

GAME LOG: Saturday, Oct. 20 – 2 goals, 4 shots on goal in 4-0 win at UNBC / Sunday, Oct. 21 – goal, 5 shots on goal in 2-0 win at UNBC.
Justin Donaldson made it clear this weekend: he wants his Canada West soccer career to continue. With eight regulars out for the season, Donaldson has put the TRU WolfPack on his back and carried them into the postseason.
The Pack used a sweep of UNBC to secure the fourth and final playoff berth in the Pacific Division.
Donaldson netted a pair of goals in a 4-0 win Saturday, including one on a penalty kick, before adding another goal Sunday to finish with five on the season.
Thompson Rivers will now take on Mount Royal on Saturday (Oct. 29) in a Canada West quarter-final in Calgary.
THIRD STAR: OH - Coltyn Liu
UBC Thunderbirds / Volleyball

3rd-year

Vancouver, B.C.

Kinesiology

GAME LOG: Saturday, Oct. 19 – 16 kills, .423 attack percentage, 17 points in 3-1 loss at Winnipeg / Sunday, Oct. 19 – 17 kills, .407 attack percentage, 6 service aces, 24 points in a 3-1 win at Winnipeg
Leading the Thunderbirds with a combined 33 kills on the weekend, third-year outside hitter Coltyn Liu was a force to be reckoned with, as his six service aces Sunday helped the 'Birds bounce back to split their weekend series with the Winnipeg Wesmen.
Liu tied for the match-lead in kills Saturday night with 16 while leading all players on the court with 17 points credited to his name in the 3-1 loss.
Sunday, the Vancouver native upped his game with a team-leading 17 kills, 24 points, and six aces, leading UBC to a 3-1 win.
Through the opening weekend of the Canada West season, Liu leads the conference in service aces, sits fourth in kills with 33, and fourth in hitting percentage with an impressive .415.
Liu and the T-Birds are on the road for a second straight weekend when they visit the Saskatchewan Huskies Friday and Saturday.
---
WOMEN'S THREE STARS
FIRST STAR: F - Salma Kamel
MacEwan Griffins / Soccer

4th-year

Edmonton, Alta.

Arts

GAME LOG: Tuesday, Oct. 15 – 4 goals in 7-1 win at Mount Royal / Friday, Oct. 19 – 2 shots on goal in 2-1 loss at Saskatchewan / Saturday, Oct. 19 – game-winning goal in 2-1 win at Regina.
Salma Kamel had the best individual week in Griffins women's soccer history, scoring five goals in three games to help MacEwan secure a division title for the first time since joining the conference in 2014.
Kamel's four-goal effort against MRU in Calgary on Oct. 15 – a rare Tuesday affair after being  rescheduled from Sept. 29 – is tied for third-best in Canada West history, marking just the 14th time a women's soccer player has scored four times in a match.
It's the first four-goal game in conference play since Manitoba's Hailey Lavarias accomplished the feat on Oct. 7, 2017. The performance also breaks the MacEwan program record for most in a game.
Kamel finished the season in style, scoring the game-winning goal in the Griffins' 2-1 win over Regina on Sunday that clinched first place in the Prairie Division.
Kamel, who didn't start a match until the fourth weekend of the season while she recovered from an injury, still managed to finish with seven goals and eight points in 10 games.
MacEwan will play the winner of Friday's Regina-Victoria play-in game on Sunday.
SECOND STAR: M - Brittney Zacharuk
Trinity Western Spartans / Soccer

5th-year

Delta, B.C.

Arts

GAME LOG: Friday, Oct. 18 – 2 goals and 2 assists in 4-2 win vs. Thompson Rivers  / Saturday, Oct. 19 – goal and assist in 4-2 win vs. UBCO.
Brittney Zacharuk played her final Canada West regular-season games with a flourish, racking up three goals and three assists to pace the University of the Fraser Valley women's soccer team to wins over Thompson Rivers and UBC Okanagan.
On Friday, needing a win over TRU to clinch a playoff berth, the fifth-year senior from Delta, B.C. watched her team fall behind 2-0 in the early going. She took over the game at that point, scoring two goals and setting up two others to lead UFV to a 4-2 win.
With the team's playoff berth secure, Zacharuk only played 30 minutes in Saturday's finale vs. UBCO, yet still managed to score a goal and add an assist to ignite another 4-2 triumph.
The Cascades captain's weekend production allowed her to claim a share of UFV career record for goals (23) and sole possession of the program's all-time points record (42). Earlier this season she surpassed UFV's previous mark for career assists (she finished with 19), putting her atop all of the Cascades' most meaningful offensive stat leaderboards.
Zacharuk looks to extend her career this week as the Cascades begin their playoff run in a quadrant hosted by the Trinity Western Spartans. UFV clashes with the Alberta Pandas in the first round on Friday, with the winner advancing to face TWU in the quarter-finals Sunday.
THIRD STAR: C - Shoshanah Seumanutafa
UBC Thunderbirds / Rugby

3rd-year

Vancouver, B.C.

Arts

GAME LOG: Friday, Oct. 18 – try and 3 converts in 21-19 win vs. Victoria in CW SF / Sunday, Oct. 13 – 2 converts in a 26-12 win vs. Calgary in CW Championship Game.
Named the Canada West Player of the Year on Sunday, Seumanutafa played a massive role in helping the UBC Thunderbirds clinch their first ever rugby conference title, taking down the four-time defending champion Calgary Dinos in the process.
The third-year centre scored a try in Friday's 21-19 semifinal win against the Victoria Vikes while also scoring all three of UBC's converts.
Seumanutafa followed up with two more successful converts in Sunday's 26-12 win over the three-time defending CW champion Calgary Dinos.
During the regular season, the Vancouver product led the Canada West in tries (7), converts (11), and points (57).
The T-Birds will now begin preparing for the U SPORTS national championship tournament in Ottawa Oct 31 - Nov. 3.