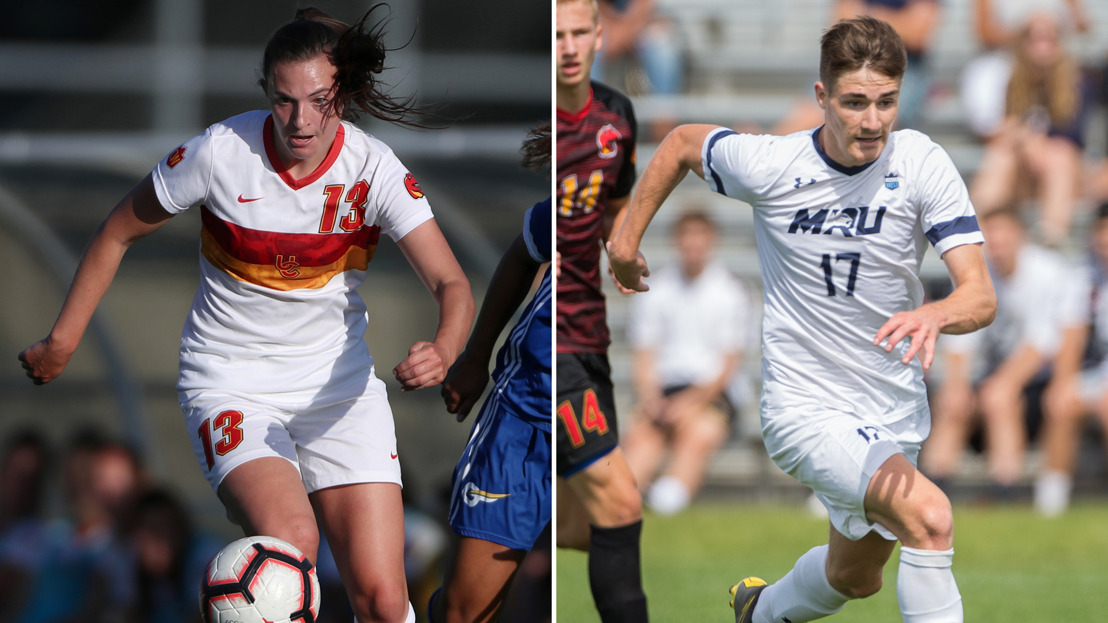 CW Stars: MacDonald named women's first star
Soccer kicks off 2019 women's conference schedule
EDMONTON - The first women's three stars of 2019 highlight this week's Canada West honours, as conference soccer action was in full swing.
Below are the conference three stars of the week for the period of September 5-8.
The conference first stars move forward weekly as the Canada West nominees for the U SPORTS Athletes of the Week.
WOMEN'S THREE STARS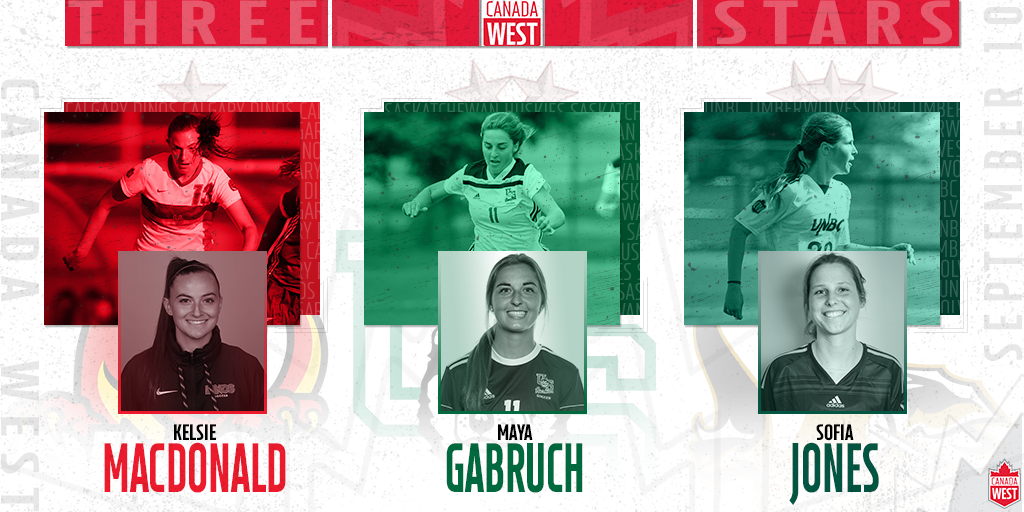 FIRST STAR: F - Kelsie MacDonald
Calgary Dinos / Soccer

4th-year

Calgary, Alta.

Science

GAME LOG: Thursday, Sept. 5 – 3 goals, 1 assist, 3 shots on goal in 5-0 win vs. UBC Okanagan / Saturday, Sept. 7 – 4 shots on goal in 1-1 tie versus Thompson Rivers.
The 2019 Canada West season could not have gotten off to a better start for Kelsie MacDonald.
The Calgary Dinos fourth-year forward completed the opening weekend with three goals and one assist – with all four of those points coming during Thursday night's 5-0 win over the UBC Okanagan Heat.
MacDonald scored the game's first goal and then set up the evening's second tally by Montana Leonard. The Calgary native added another goal late in the first half before completing the hat trick in the 50th minute.
When the Dinos returned to action on Saturday afternoon, MacDonald was one of Calgary's largest offence threats, but was held off the scoresheet with four shots on goal as the Dinos and Thompson Rivers Wolfpack tied 1-1.
The Dinos head east this weekend for games against the Regina Cougars and Saskatchewan Huskies, Sept. 14-15.
SECOND STAR: M - Maya Gabruch
Saskatchewan Huskies / Soccer

4th-year

Saskatoon, Sask.

Kinesiology

GAME LOG: Friday, Sept. 6 – goal in 2-1 road win at Manitoba / Saturday, Sept. 7 – 2 goals in 4-0 road win at Winnipeg.
Fourth-year midfielder Maya Gabruch had a torrid start to the 2019 season, leading the way offensively for the Huskies as they swept the Winnipeg schools on the road this past weekend.
Gabruch, a kinesiology student, scored the game-winner in the 80th minute in Saskatchewan's 2-1 victory over Manitoba on Friday night, then tallied twice in a 4-0 win against Winnipeg Saturday.
Gabruch leads the conference with two game-winning goals and is tied for the lead with three goals scored. Saskatchewan now returns home to face the University of Northern British Columbia Timberwolves and Calgary Dinos Sept. 14-15.
THIRD STAR: F - Sofia Jones
Northern British Columbia Timberwolves / Soccer

3rd-year

San Francisco, Cali.

Computer Science

GAME LOG: Thursday, Sept. 5 – assist, three shots in 1-0 home win vs. Thompson Rivers / Saturday, Sept. 7 – 2 goals in 3-0 home win vs. UBC Okanagan.
Sofia Jones wasted no time leaving her mark on the 2019 season, as the third-year San Francisco product was the best player on the pitch for the UNBC Timberwolves.
On opening night, with UNBC welcoming their divisional rivals the TRU WolfPack, Jones played the entire 90 minutes, setting up teammates for a number of excellent scoring chances and registering an assist.
On Saturday, against the UBCO Heat, Jones scored just ten minutes into the game, added another goal in the 85th minute, and was a major factor in UNBC's 2-0 start to the Canada West season.
UNBC takes on Saskatchewan and Regina this weekend on the road.
---
MEN'S THREE STARS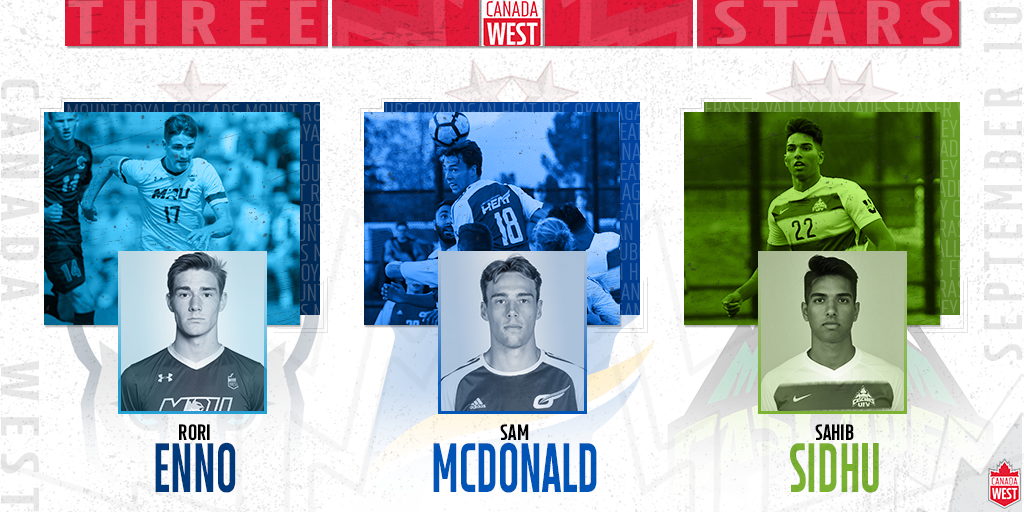 FIRST STAR: F - Rori Enno
Mount Royal Cougars / Soccer

1st-year

Calgary, Alta.

Business

GAME LOG: Saturday, Sept. 7 – goal in 2-0 road win at Alberta / Sunday, Sept. 8 – goal in road win at MacEwan.
The Cougars extended their undefeated record to 5-0 in Edmonton this past weekend taking care of both the Golden Bears and the Griffins. Freshman Rori Enno was key to the Cougars success scoring a goal in both games.
Saturday's game was a challenge the Cougars were looking forward to as the Bears didn't lose a regular season game in 2018. Knowing that opportunities would be hard to come by, Enno took advantage in the first half to give MRU a 2-0 lead the Cougars would never relinquish.
Sunday was a different story as MRU fell behind early for the first time this season, with MacEwan taking a 1-0 lead. An MRU free kick goal that followed a Griffins ejection created a huge momentum swing, before Enno chipped in the winning goal to make it a 2-1 lead in the 72nd minute.
Enno, a first-year of Business student, will be looking continue his scoring ways as the Cougars take off on a UNBC Friday and Fraser Valley Sunday on a BC road trip.
SECOND STAR: D - Sam McDonald
UBC Okanagan Heat / Soccer

3rd-year

Kelowna, B.C.

Management

GAME LOG: Friday, Sept. 6 – goal in 1-1 draw at Fraser Valley / Saturday, Sept. 7 – goal in 1-0 win at Trinity Western.
Sam McDonald has only been healthy enough to play in four of the six Heat matches this season.
In all four of those matches, however, the Heat's central defender has been able to find the net. His timely goals are a large reason why UBCO currently sit atop the Pacific Division table.
On the road this past weekend, McDonald was the entire offence for UBC Okanagan, scoring both Heat goals, as UBCO earned four points in the standings.
On Friday night it was McDonald's early goal that gave the Heat the lead. Unfortunately for UBCO, Fraser Valley was able to notch a late equalizer in the 1-1 draw.
Against Trinity Western on Saturday night, McDonald's goal in the second half held up for the Heat and they earned a 1-0 victory over the Spartans.
The Heat return home this weekend to play teams from outside their division for the first time this season, as the MacEwan Griffins and Alberta Golden Bears are in Kelowna Friday and Saturday respectively for a pair of matches, both with 7:30 p.m. start times.
THIRD STAR: D - Sahib Sidhu
Fraser Valley Cascades / Soccer

2nd-year

Surrey, B.C.

Kinesiology

GAME LOG: Friday, Sept. 6 – goal in 1-1 draw vs. UBC Okanagan / Saturday, Sept. 7 – shot, 90 minutes played in 1-1 draw vs. Thompson Rivers
Sahib Sidhu's chief proficiency is in preventing goals rather than scoring them, but the University of the Fraser Valley sophomore defender made a key contribution on the scoresheet this past weekend.
The Surrey, B.C. product – a Canada West all-rookie selection last season – netted his first career goal in conference play in the 72nd minute on Friday vs. UBC Okanagan. He pounced on a Gurmaan Jhaj rebound and fired it into the top corner to lift the Cascades to a 1-1 draw with the Pacific Division frontrunners. On Saturday, he played all 90 minutes for the second straight day and was a defensive standout as UFV earned a 1-1 tie with U SPORTS No. 7-ranked Thompson Rivers.
Sidhu and the Cascades (1-2-3) are in action at home this weekend, hosting the Calgary Dinos on Friday (8 p.m.) and the Mount Royal Cougars on Sunday (1 p.m.) at MRC Sports Complex.