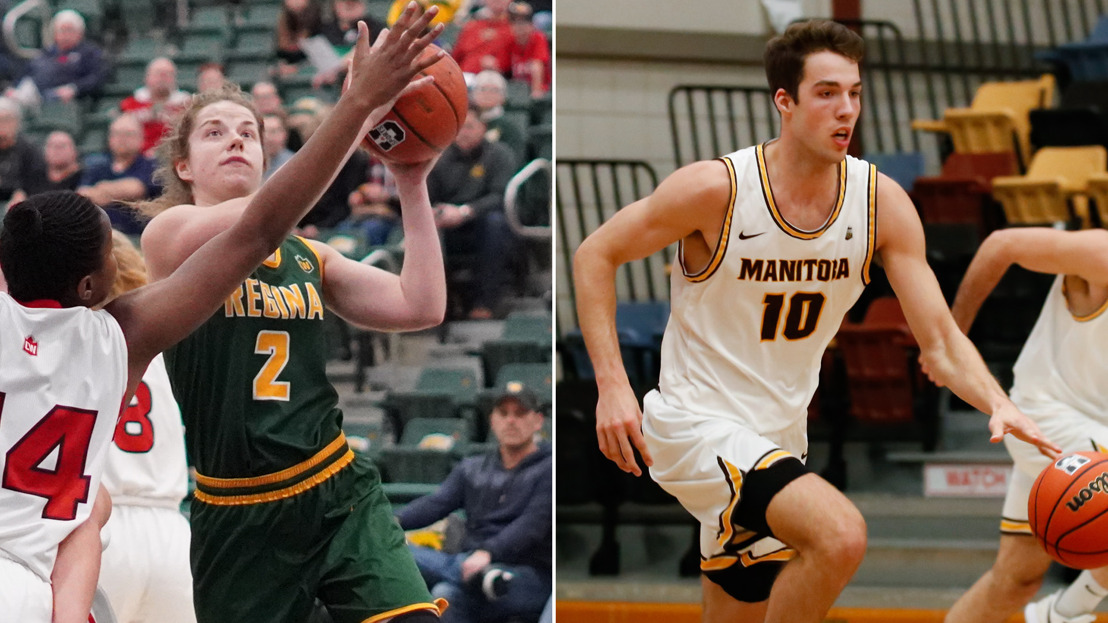 CW Stars: Kleisinger, Wagner provide hardwood heroics
Regina Cougar and Manitoba Bisons named CW first stars
EDMONTON - A pair of basketball standouts are this week's Canada West first stars of the week, as Regina's Michaela Kleisinger and Manitoba's James Wagner got it done on the hardwood.
Kleisinger became the first Cougars player ever to record a triple-double Friday with 12 points, 11 rebounds, and 11 assists, before duplicating the feat Saturday with 17 points, 12 rebounds, and 11 assists.
Meanwhile Wagner combined for 47 points and 20 rebounds in a split with the Lethbridge Pronghorns.
The pair will now move forward as the Canada West nominees for the U SPORTS Athletes of the Week.
---
WOMEN'S THREE STARS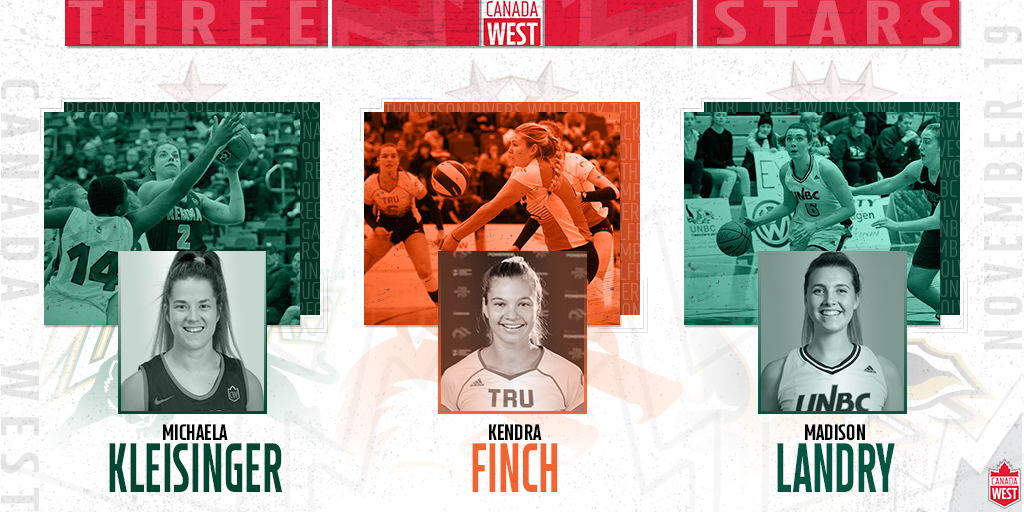 FIRST STAR: G - Michaela Kleisinger
Regina Cougars / Basketball

5th-year

Regina, Sask.

Kinesiology & Health Studies

GAME LOG: Friday, Nov. 15 – 12 points, 11 rebounds, 11 assists in 92-46 win vs. Winnipeg / Saturday, Nov. 16 – 17 points, 12 rebounds, 11 assists in 84-51 win vs. Winnipeg.
Michaela Kleisinger recorded back-to-back triple doubles as the University of Regina women's basketball team swept the Winnipeg Wesmen at the Centre for Kinesiology, Health & Sport on the weekend.
Kleisinger registered the first triple-double in program history on Friday, notching 12 points, 11 rebounds and 11 assists as the Cougars rolled to a 92-46 win. The fifth-year guard shot 5-12 from the field and added two steals as she etched her name in the Cougar record book.
Kleisinger was hardly done there, getting off to a roaring start on Saturday night. The Regina product had 17 points, seven rebounds and five assists by halftime to help the Cougars jump out to a big lead. Kleisinger finished the contest with her second-straight triple double, notching 17 points, 12 boards and 11 dimes.
Kleisinger had only four turnovers on the weekend, connecting on four triples and adding three steals.
Kleisinger and the Cougars (3-3) will be on the road next weekend, with a rivalry matchup against the No. 1-ranked Saskatchewan Huskies in Saskatoon.
SECOND STAR: OH - Kendra Finch
Thompson Rivers WolfPack / Volleyball

5th-year

North Vancouver, B.C.

Sciences

GAME LOG: Friday, Nov. 15 – 10 kills in 25 chances, and 13 digs in 3-0 win vs. Regina / Saturday, Nov. 16 – 10 kills in 27 swings, 3 service aces, and 14 digs in 3-0 win vs. Regina.
Kendra Finch, Thompson Rivers' lone fifth-year player, led by example as the WolfPack continue to make noise in what has been the team's best start in school history.
Friday, before more than 1,300 fans, she led the team to a straight-sets victory and did the same on Saturday. Both nights she had double-digit kills and digs as the Pack moved to 7-1 on the season.
She sits fifth in Canada West in kills per set at 3.48 and kills at 108 and stands fifth in points per set (3.9), seven in digs per set (3.29) and eighth in digs (102) .
The four-time U SPORTS Academic All Canadian and team co captain will lead her squad this coming week as they go to Vancouver to visit the UBC Thunderbirds.
THIRD STAR: G - Madison Landry
UNBC Timberwolves / Basketball

4th-year

Prince George, B.C.

Biomedical Studies

GAME LOG: Friday, Nov. 15 – 24 points, 4 rebounds, 4 assists, and 3 steals in 80-63 win vs. UBC / Saturday, Nov. 16 – 21 points, 3 rebounds, 3 assists, 4 steals in 80-62 loss vs. UBC
With a very tough UBC Thunderbirds team in town, Madison Landry did everything in her power to help the UNBC Timberwolves to a weekend split, with a pair of signature, well-rounded performances.
On Friday, November 15th, the Prince George product led the TWolves with 24 points, adding four boards, four assists, and three steals as they topped the T-Birds 80-63.
On Saturday, November 16th, Landry was again the leading scorer for UNBC, dropping 21 points, to go along with three rebounds, three assists, and four steals.
The fourth-year guard, coming off a season that saw her finish top five in Canada West in scoring, has seen an increase in that area, and is doing it with great efficiency. She is the only player in the conference to sit Top 10 in FG%, FT%, and 3PT%.
Landry and the Timberwolves are on the road this weekend, visiting the Thompson Rivers University WolfPack.
---
MEN'S THREE STARS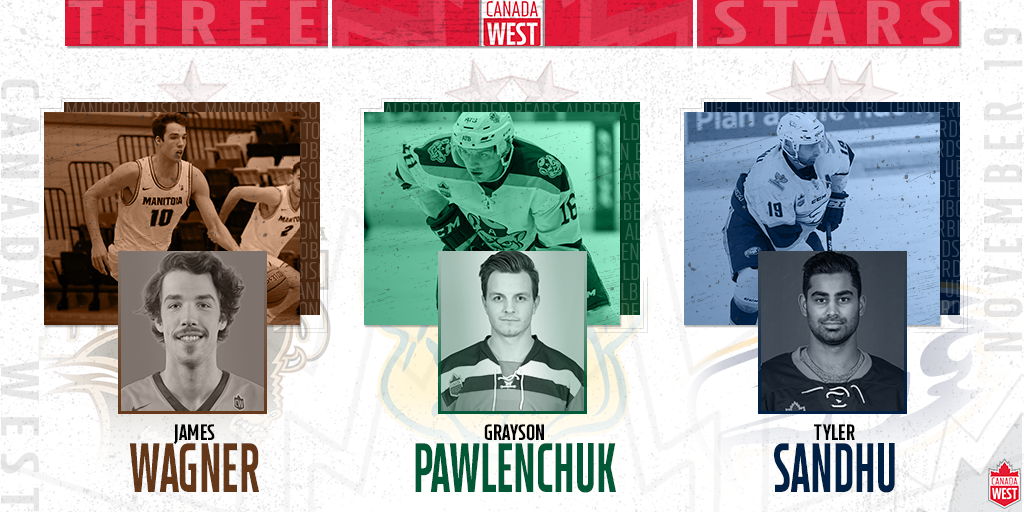 FIRST STAR: F - James Wagner
Manitoba Bisons / Basketball

5th-year

Winnipeg, Man.

Science

GAME LOG: Friday, Nov. 15 – 25 points (10-for-20 FG), 10 rebounds, 1 block in 101-99 win vs. Lethbridge / Saturday, Nov. 16 – 22 points (7-for-13 FG, 1-for-2 3PT), 10 rebounds, 1 steal in 84-79 loss vs. Lethbridge.
After getting 40 points from their guard Rashawn Browne in a win two weeks ago over UBC Okanagan, Bisons men's basketball showed against Lethbridge that they have another potent weapon in the frontcourt, as fourth-year forward James Wagner dominated the Pronghorns in a weekend split.
Wagner led the Bisons in scoring and notched double-doubles in both Friday's win (101-99) and a narrow Saturday loss in overtime (79-84).
On Friday, Manitoba needed every one of Wagner's ten made field goals, as he shot 50% to score 25 points — adding ten rebounds. On Saturday, the former John Taylor Piper was even more efficient, shooting 7-for-13 to get 22 points — again with ten rebounds.
Wagner's workload was heavy as well, playing all but three minutes on Friday and 42 of a possible 45 minutes on Saturday.
Through four games, Wagner is averaging 16.3 PPG and is seventh in the conference in both offensive rebounds (16) and rebounds per game (9.8).
SECOND STAR: F - Grayson Pawlenchuk
Alberta Golden Bears / Hockey

2nd-year

Edmonton, Alta.

Business

GAME LOG: Friday, Nov. 15 – 2 goals and 2 assists in 4-2 win vs. Regina / Saturday, Nov. 16 – goal and 3 assists in 9-0 win vs. Regina.
Leading the Bears to a convincing home sweep of the Regina Cougars, sophomore winger Grayson Pawlenchuk poured in eight points over two games to extend Alberta's conference winning streak.
The reigning Canada West Rookie of the Year scored three goals in two games, while also adding five assists and 10 shots as the Bears earned their sixth and seventh straight wins. With the sweep, the Bears also extended their win streak over Regina to 51.
Pawlenchuk recorded a point on every Alberta goal in their 4-2 win on Friday night, scoring twice in the third period. He followed that up with another four-point performance in Saturday's 9-0 rout of the Cougars.
Following his monster weekend, Pawlenchuk now sits second in Canada West with 19 points in 12 games, leading the conference with 10 goals.
The Canada West leading Golden Bears (11-1-0) will visit the 5-6-1 Manitoba Bisons this weekend in Winnipeg.
THIRD STAR: F - Tyler Sandhu
UBC Thunderbirds / Hockey

3rd-year

Richmond, B.C.

Arts

GAME LOG: Friday, Nov. 15 – 3 goals in 7-1 win vs. Lethbridge / Saturday, Nov. 16 – goal and an assist in 5-0 win vs. Lethbridge.
In what was a dominant weekend series for the Thunderbirds, Tyler Sandhu led the way with a combined four goals and five points along with two first-star performances as UBC completed their first weekend sweep of the season.
Sandhu opened scoring Friday night on the power play, scored his second of the game just 27 seconds into the second period and completed his first career Canada West hat trick in the third for UBC's biggest margin of victory in the Sven Butenschon era.
The Richmond, BC native followed up with another power play goal and an assist on Saturday as the 'Birds earned a critical four points against a team they will likely be battling with for a playoff berth come February.
Sandhu leads the T-Birds in both goals (7) and points (11). Four of his seven goals have come on the power play.
The weekend sweep over the Pronghorns allowed UBC to leapfrog Lethbridge as the 'Birds now sit in a tie with Manitoba for fifth in the Canada West.