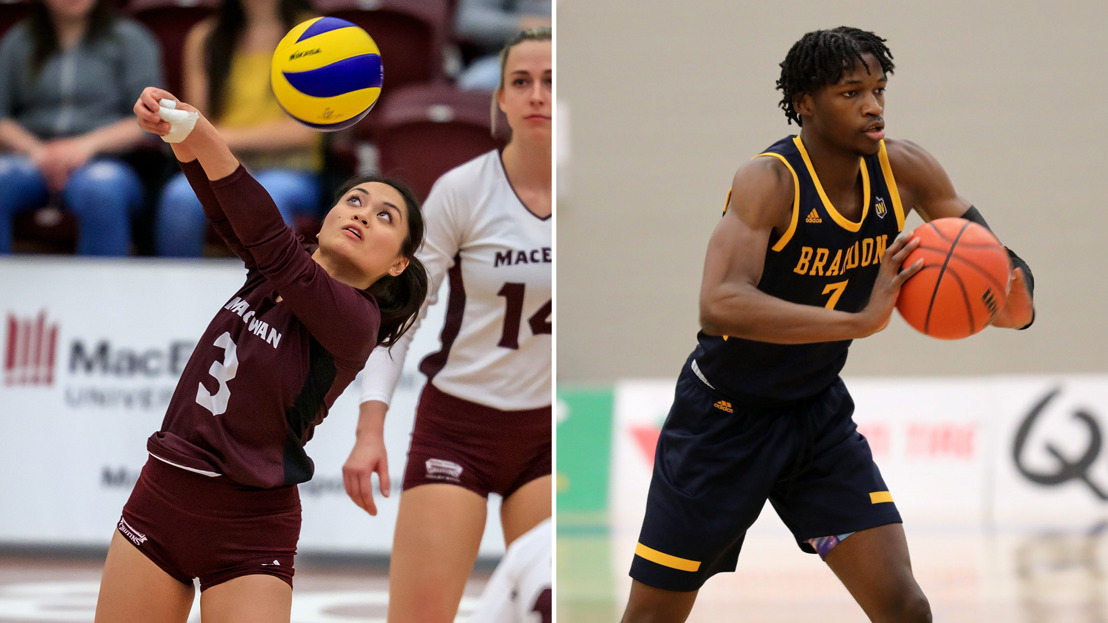 CW Stars: Jorvina posts record night for MacEwan
Tsegakele's double-doubles keep Brandon in playoff mix
EDMONTON – MacEwan University's Rachel Jorvina and Brandon University's Anthony Tsegakele are this week's Canada West first stars.
Jorvina had a record-setting weekend in Winnipeg, as the MacEwan volleyball player etched her name in the Canada West record book with a conference single-game record 63 digs in the Griffins' five-set win over the Wesmen on Saturday.
Meanwhile in Prince George, the Bobcats got a much needed sweep of UNBC thanks to Tsegakele's double-doubles. The rookie combined for 41 points and 27 rebounds, as Brandon pulled within a game of UNBC in the race for the final CW playoff berth.
The pair now move forward as the CW nominees for the U SPORTS Athletes of the Week.
---
WOMEN'S THREE STARS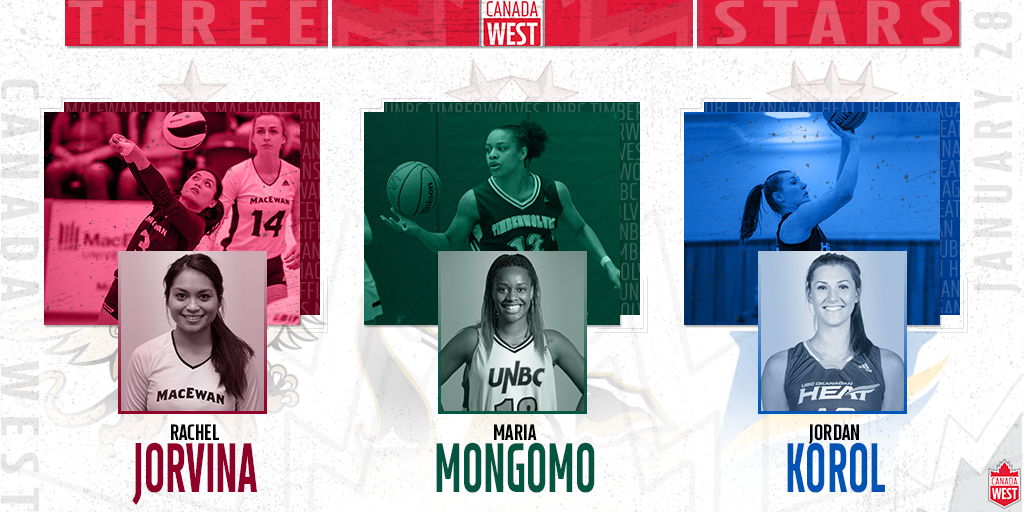 FIRST STAR: LIB - Rachel Jorvina
MacEwan Griffins / Volleyball

4th-year

Edmonton, Alta.

Arts

GAME LOG: Friday, Jan. 24 – Match-high 26 digs, 1 assist in MacEwan's 3-1 win over Winnipeg / Saturday, Jan. 25 – Canada West record 63 digs, five assists, two kills in MacEwan's 3-2 win over Winnipeg.
In what may go down as the match of the year in Canada West, MacEwan libero Rachel Jorvina shattered the conference's single-game digs mark with 63 in a 3-2 win over the Winnipeg Wesmen on Saturday.
The teams combined for an eye-popping 519 attacking attempts in the epic contest, which saw the Griffins rally from two sets down and dodge two match points in the fifth set to eventually triumph.
Jorvina displayed quickness and tenacity in recording the best defensive performance in the history of Canada West women's volleyball, eclipsing the 46 digs recorded by Winnipeg counterpart Madison Fyvie in the same game.
Both marks broke the old Canada West record of 39, set by Brandon's Caitlin Le in a match earlier this season.
Jorvina's performance came on the same day the Griffins officially clinched a Canada West playoff spot for the first time in program history.
She also had 26 digs in Friday's 3-1 win over Winnipeg.
For the season, Jorvina leads the conference in digs/set (4.46) and is third in digs (299).
SECOND STAR: F - Maria Mongomo
UNBC Timberwolves / Basketball

5th-year

Las Palmas, Spain

Psychology

GAME LOG: Friday, Jan. 24 – 31 points, 12 rebounds, 6 steals, 2 assists in 78-67 win vs. Brandon / Saturday, Jan. 25 – 17 points, 9 rebounds, 2 steals in 93-60 win vs. Brandon.
Last week, Maria Mongomo made history by becoming the first Canada West Women's player in eight seasons to record consecutive 30-point games. This weekend, she stretched that to a third game, making history in the process.
Mongomo had 31 points, 12 rebounds, six steals, and two assists in a hard fought 78-67 win over the Bobcats on Friday night.
The following night, less was asked of the product of Las Palmas, Spain, but she still added 17 points, nine rebounds, and a pair of steals.
Most importantly, the fifth-year has led UNBC to four consecutive wins; a much needed string of success for a team fighting for its playoff lives. She also reached the 1600-point plateau over the weekend, moving her into the top 10 all-time in Canada West.
Mongomo sits top five in points per game, rebounds per game, and steals per game this season. She has never, in her five seasons, finished outside the top ten in conference scoring.
THIRD STAR: F - Jordan Korol
UBCO Heat / Basketball

5th-year

Coldstream, B.C.

Arts

GAME LOG: Friday, Jan. 24 – 8 points and 23 rebounds in 67-60 loss vs. Winnipeg / Saturday, Jan. 25 – 21 points and 18 rebounds in 73-55 loss vs. Winnipeg.
Jordan Korol put up outstanding numbers in her final home games as the Heat entertained the Winnipeg Wesmen for the final games in Kelowna this year.
For the weekend, Korol combined for 29 points, and 41 rebounds, with 18 of those on the offensive end.
The senior would finish her penultimate home game with a career-high 23 boards, including 10 offensive to set a new program record in Canada West play as the Heat fell 67-60 to the visiting Wesmen.
In her final home game, it was Korol once again who led a UBCO third quarter push but it was not enough to overcome a 24-point first-half deficit, as the Heat eventually fell 73-55. Korol finished the night with 21 points and 18 rebounds.
The Heat's final two games are this weekend in Saskatoon where they take on the first-place Saskatchewan Huskies.
---
MEN'S THREE STARS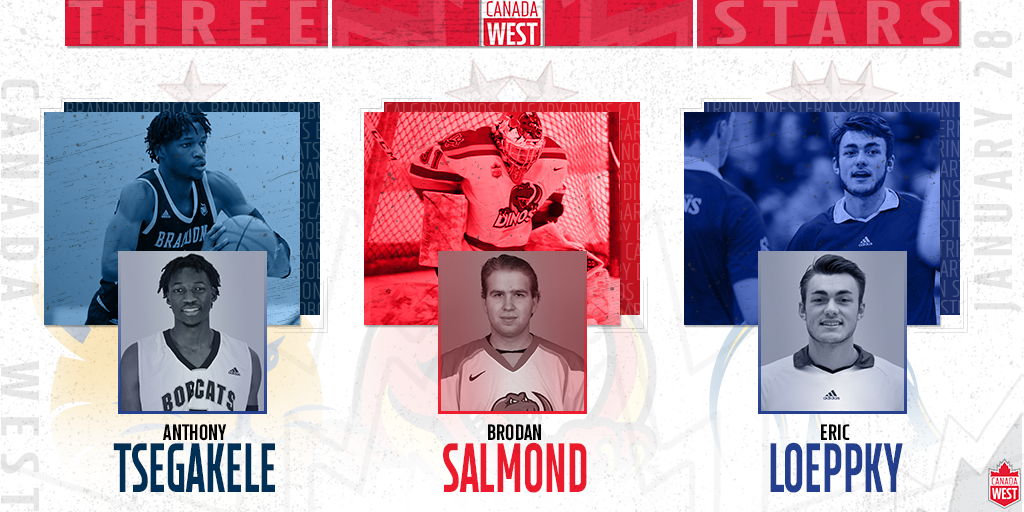 FIRST STAR: F - Anthony Tsegakele
Brandon Bobcats / Basketball

1st-year

Gatineau, Que.

Arts

GAME LOG: Friday, Jan. 24 – 24 points, 12 rebounds, 5 assists, 2 blocks, 3 steals in 36 mins in 76-74 win over UNBC / Saturday, Jan. 25 – 17 points, 15 rebounds, 2 assists, 2 blocks, 2 steals in 37 minutes in 96-74 win over UNBC.
Anthony Tsegakele has quickly made a name for himself in Brandon and now the freshman forward is making a name for himself in the Canada West conference.
Tsegakele had the best weekends of his young career, as the Gatineau, Que. product put up back-to-back double-doubles, leading the Bobcats to two huge wins over the UNBC Timberwolves.
Two wins that didn't come easy either - the Bobcats have been playing with a diminished roster due to injuries for most of the season, and faced a complicated travel schedule to get from Brandon to Prince George. The team had three separate flights over the course of a full day of travel, making Tsegakele's performance even more special.
Tsegakele posted game-highs in points on Friday (24) and rebounds on Saturday (15). Those totals have become the norm for the rookie, who is averaging a double-double on the season with 16.0 points per game and 12.1 rebounds per game.
The weekend sweep kept the Bobcats playoff hopes alive, as they now sit a game back of UNBC for the final playoff spot with two weeks to play.
SECOND STAR: G - Brodan Salmond
Calgary Dinos / Hockey

1st-year

Calgary, Alta.

Open Studies

GAME LOG: Friday, Jan. 24 – 31 saves in 5-2 win at Alberta / Saturday, Jan. 25 – 29 saves in 3-1 win vs. Alberta.
A last-minute starter on Friday night against the No. 2 Alberta Golden Bears, Brodan Salmond turned in his best weekend as a University of Calgary Dino.
The former Moose Jaw Warrior and Kelowna Rocket replaced Matt Greenfield on Friday and helped the Dinos to a win in one of the most hostile territories in Canada West. Salmond finished the game with 31 saves as the Dinos beat the Golden Bears 5-2 at Clare Drake Arena in Edmonton.
The Dinos were back at home on Saturday night and Salmond once again got the nod in net. The Calgary native turned away 29 of 30 chances to lead the Dinos to a 3-1 win and their first sweep of Alberta since 2016.
With 11 appearances on the season, Salmond now holds a 7-1-0-2 record with a 2.47 goals-against average and a 0.895 save percentage.
The Dinos are back in action on Thursday night as they take on the the Mount Royal Cougars in the Crowchild Classic at the Scotiabank Saddledome.
THIRD STAR: OH - Eric Loeppky
Trinity Western Spartans / Volleyball

4th-year

Steinbach, Man.

General Studies

GAME LOG: Friday, Jan. 24 –  21 kills, four aces, four digs, four blocks, .417 hitting in 3-2 win at UBC / Saturday, Jan. 25 – 11 kills, .556 hitting, three aces, two blocks, in 3-0 win at UBC.
As impressive as Eric Loeppky has been for the Trinity Western Spartans this season, last weekend's record-setting performance might have been his best yet.
In TWU's five set win over No. 2 UBC Friday, Eric had a game-high 21 kills alongside four service aces and a season-high four blocks. With his four service aces, Loeppky surpassed Paul Sanderson's nearly nine-year conference record for career aces.
Saturday wasn't much different for the fourth-year outside, as Loeppky hit a staggering .556 with 11 kills and three more aces to lead the Spartans to a weekend sweep over their cross-town rivals. He leads all Canada West with a .438 hitting percentage this season, while sitting fourth with a 3.73 kills-per set mark.
Loeppky will look to build upon his now conference record 150 career aces this weekend as the Spartans host the Brandon Bobcats in the midst of a 16 game win streak.